Coastes, the popular beachfront bar and restaurant in Singapore situated on Siloso Beach Sentosa, presents a revitalised à la carte menu featuring a delightful array of sharing plates, savoury pastas, and juicy burgers. Moreover, they have expanded their offerings to include a diverse selection of vegetarian and plant-based options. Enhancing the beach dining experience, Coastes now offers an enticing $65++ free-flow wines & bubbly package every weekend from 12 pm to 3 pm, establishing it as one of the most reasonably priced free-flow options available on the island.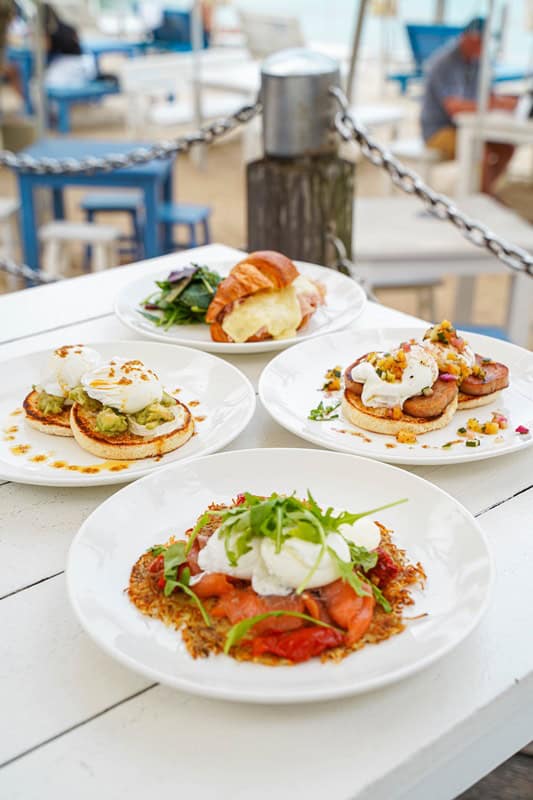 Start your day with a refreshing and satisfying breakfast at Coastes, where you can indulge in their hearty morning delights available daily from 9 am to 3 pm. Savour the delectable Ham & Cheese Croissant ($18++) fresh straight from the oven, filled with luscious Gruyére cheese. Alternatively, try the playful twist on the classic brunch favourite, the Spam Benedict ($18++), which features thinly-crisped spam slices topped with roasted pineapple salsa, poached eggs, and a delectable burnt butter orange sauce.
In perfect harmony with its relaxed beach ambiance adored by families, couples, and tourists alike, Coastes unveils a sumptuous array of sharing plates meticulously curated with premium ingredients and artfully presented. Embracing the robust flavours of each dish, the menu features enticing options such as Fresh Tiger Prawn Aglio Olio, Smoked Duck Salad, and Chilli Prawns, all set to delight the discerning palate.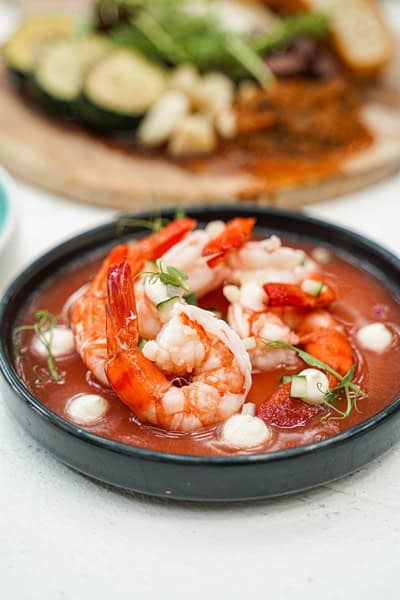 Coastes – Poached Prawns with Gazpacho
For seafood enthusiasts, Coastes presents an abundance of delectable options to choose from. Indulge in the delightful Beetroot Scallops ($24++), featuring three chilled pan-seared Japanese scallops marinated in beetroot jus and served on a bed of zucchini, elegantly topped with soy caviar. Additionally, savour the enticing flavours of Smoked Salmon ($20++), Poached Prawns with Gazpacho ($22++), and an array of other tantalising dishes that await your taste buds.
Diners can anticipate a whole new line up of savoury pastas, risottos, and juicy burgers, thoughtfully designed to satisfy every palate. For meat lovers, the menu features delectable options like the Beef Cheek Ragu Risotto ($28++) and BBQ Pulled Pork Burger ($24++). Seafood enthusiasts will relish the Crispy Fried Cod Burger ($26++) and the Creamy Prawn Fettuccine ($28++), where succulent tiger prawns bathe in a delectable creamy garlic sauce, ensuring a delightful dining experience.
Vegetarians will find a good selection of plant-based options thoughtfully incorporated into every category of the Coastes menu. Among the new additions is the Spinach & Feta Filo ($18++), a nutritious breakfast delight featuring flaky filo dough enveloping a comforting blend of spinach and feta cheese. For sharing, the Grilled Vegetable Antipasti ($22++) is a must-try Mediterranean-style platter, showcasing caramelised zucchini and eggplant, crostini, and goat cheese served with kalamata olives, roasted garlic, and tomato jam— an invigorating starter for any meal. As for mains, one can savor the classic Spaghetti Arrabbiata ($22++) or opt for the mouthwatering and satisfying Grilled Eggplant Ciabatta ($24++) with goat cheese and porcini truffle mayonnaise. These delectable choices guarantee a delightful dining experience for vegetarian guests.
Enhance your ultimate weekend brunch experience at Coastes with breathtaking beach views and indulge in unlimited pours of house wines & bubbly from 12 pm to 3 pm every Saturday and Sunday, all for the incredible price of just $65++.  
Coastes
Location: 50 Siloso Beach Walk #01-06 (3-min walk from nearest drop-off: Sentosa Beach Station/Carpark)
Operating Hours:
Sunday to Thursday: 9am – 9.30pm
Friday & Saturday: 9am – 10.30pm
For more information and full menu offerings at Coastes, please visit www.coastes.com/menu