This June School holidays, Our Parenting World, KJ attended Scratch Beginners Course by Coding Lab. KJ decided to sign up for the course after going through the holiday programs listed at Today Got Class. 
If you are looking for the best enrichment classes for your kid, go to Today Got Class (TGC), it is created For Parents, By Parents – TGC is an online kids enrichment booking platform, listing quality enrichment classes curated by parents, and exclusive discounts. Parents, this is a free-to-use service that enable you book the best classes for your kid. To find out more, please go to http://www.todaygotclass.com/ and to read about our Exclusive Interview with the Founders of TGC, Lydia Ang and Jaclyn Yap, please click HERE.

About Coding Lab, it is about nurturing future leaders in Technology! Coding Lab is the winner of Best Coding Curriculum, as voted by Parents (Parents World – 2016/17). It is founded by an MIT Alumnus who has worked in Silicon Valley, the company's Award-Winning curriculum challenges children to develop computational thinking and creativity of expression, with a strong emphasis on inquiry-based learning and the application of key mathematical concepts. Coding Lab offers programming classes for ages 4-16 in Japan, Perth and Singapore. To read about our Exclusive Interview with the Founder of Coding Lab, Yong Ning Foo, please click HERE. 
Read on to find out more about Scratch Beginners Course by Coding Lab.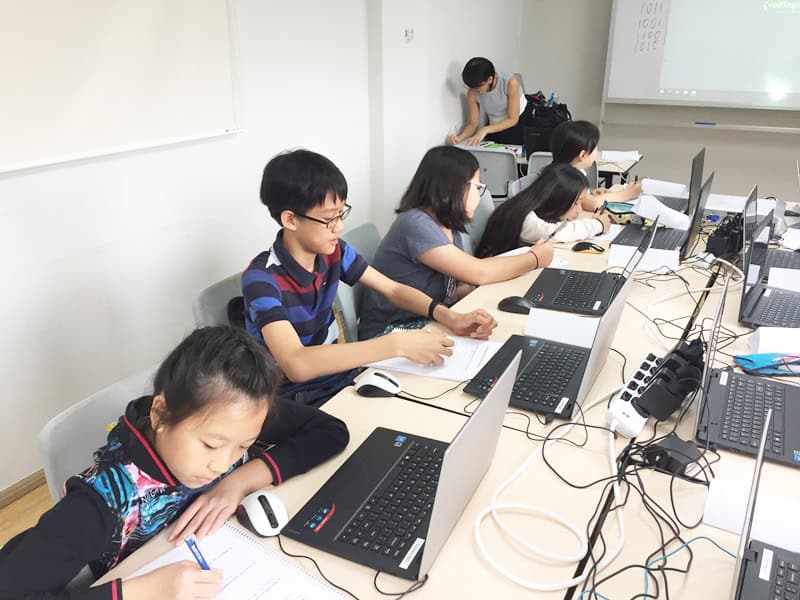 KJ has always been interested in everything about technology and it is a natural choice for him to sign up with Coding Lab to learn more about coding. 
What is Scratch Beginners Course about?
This course is designed specifically for children (age 10-12) who are completely new to programming / coding, this program introduces them to a lifelong skill that is important for the future.
Children will be using Scratch, a graphics-based computer coding language developed by Mitchel Resnick, LEGO Papert Professor of Learning Research and head of the Lifelong Kindergarten group at the MIT media labs.
At the end of the course, students feel empowered to create, design and develop computational media which they enjoy in their daily lives. They start their journey to build the next blockbuster game (Eg. Angry Birds or Flappy Bird) here.
Most importantly, this programme strengthens their logical and problem solving skills which are useful in many aspects of life, be it immediately in their studies (e.g. Mathematics Problem Sums, Science, etc) or in the future. 
This is a drop off class and parents need not accompany their children.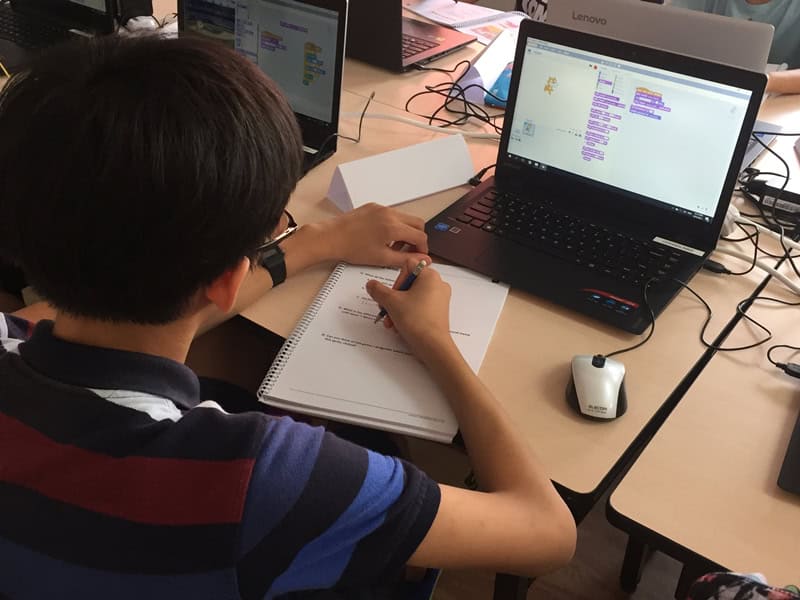 Scratch Beginners Course by Coding Lab is a five days course from 9am to 12.30pm. There is a short break during the lesson, student is advised to bring a water bottle, snacks, stationery and a jacket to the workshop.
What will student learn in this 5 days course? 
Introduction to Scratch
Explore scratch and familiarise with interface.
Basic step by step animation (loops, events and parallelism techniques)
Animation
Hands on experience and application of techniques.
Making your animation come alive (music, colour, costumes)
Telling stories
Creating a story board using scratch
Create your own characters, coordinate interactions
Manage timing and broadcasting of these events
Gaming time
Learn how to build interactive games
Add your own score count and games.
Tackle 9 scratch programming puzzles
Learn to debug your game
Project showcase
Work on your game/app/animation concept
Use the techniques you have learnt over the past 4 days
Show and tell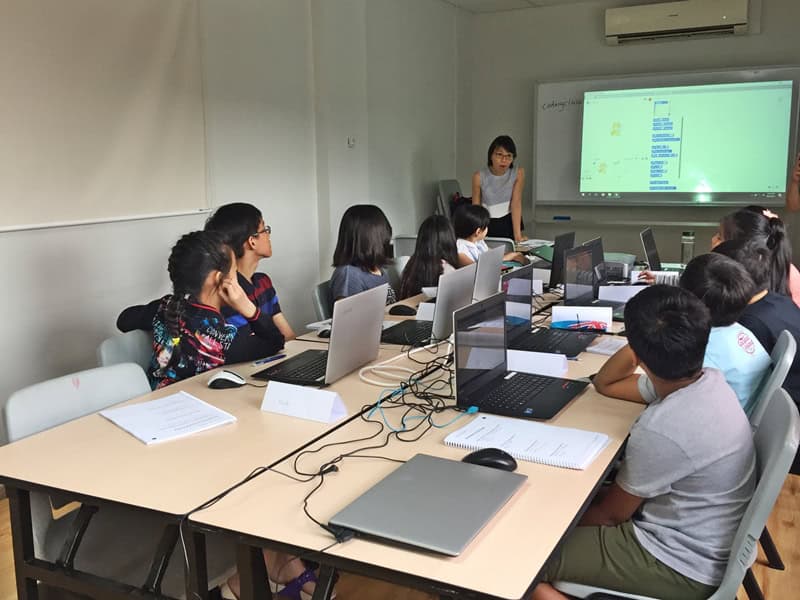 All the above images credit to Coding Lab (Thanks to Coding Lab for providing the images)
Student can look forward to embark on a fruitful and educational journey during the 5 days course to learn more about Coding. Most importantly, enjoy the process of learning!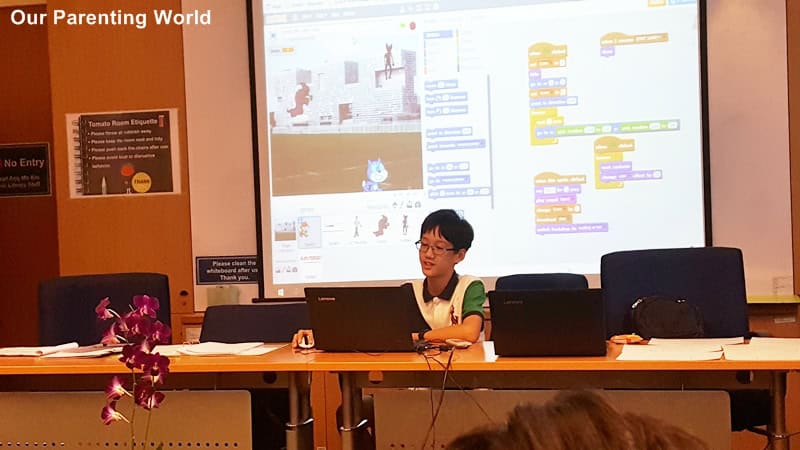 KJ did a presentation during the show and tell session at the end of the 5 days course where he demonstrated the techniques that he has learnt to create a game. The objective of the game that he had created was to shoot as many bad guys as possible before the time is up. Different enemies that you shoot will give you different points ranging from 1 to 10 and there is no limit to the amount of points, you can score. To add interesting elements to the game, there are different characters like a person who disguise as a bomb, if you happened to click the person, you will lose a point. There are also three villain characters in the game in the form of a scratch cat, ghost and bendy. The scratch cat is programmed to change colours every second. If you shoot the scratch cat, you will score 1 point, ghost for 5 points and bendy for 10 points.
During the show and tell, his instructor commented that the scratch cat that he created with flashing colours was not easy to create and he did it!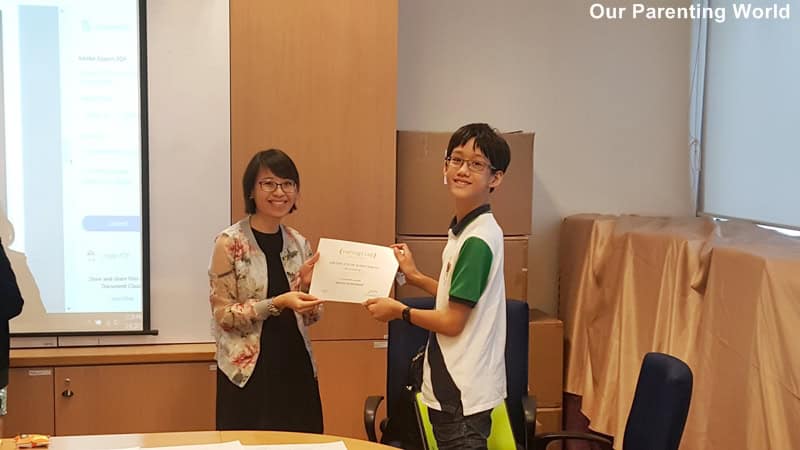 The unique part of the course is the final presentation on Day 5 as parents are invited to sit in to a special presentation where the young coders will showcase their impressive projects. Parents will get to watch their children present their newly created games.
We have to say that the kids are all outstanding and we are so amazed with the games they have come up with. Each young coder will be awarded with a Certificate of Achievement upon completing the course.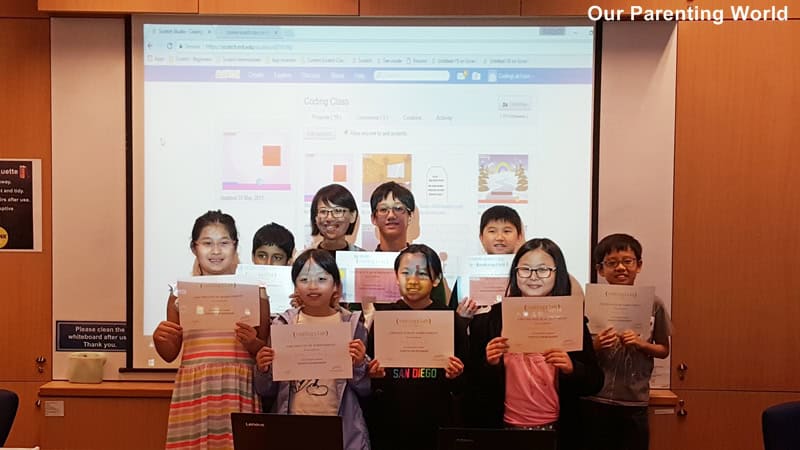 Congratulations to all the young coders for completing the Scratch Beginners course! 
Thank you to the lovely instructor and Coding Lab for the enjoyable and meaningful course! KJ has learnt a lot about Coding and it has sparkled his interests to continue his journey to learn more. 
More about Scratch Beginners Course by Coding Lab
Who is this coding class for?
Children 10-12 years old

No prior knowledge required

Laptop provided (one per child)
Class Structure
Total hours of instructions: 17.5 hours

Number of lessons: 5

Hours per lesson: 3.5

Small Class Size: 8 students maximum
Read More: http://www.codinglab.com.sg/our-classes/singapore-upper-primary/ 
To find out more about Coding Lab and to find the best coding class for your child, please go to: 
Website: www.codinglab.com.sg 
Facebook: https://www.facebook.com/CodingLabAsia/