Naked Blend is founded and made in Singapore, sets to redefine the wellness and beauty realm through consumption of sustainably-sourced, healthy and delectable beverages that are mostly plant-based.
Naked Blend, born with the aim to redefine health and wellness helps to take health and wellness routine holistically inside out. Products by Naked Blend cater to multiple unique diets – be it plant-based, halal, gluten-free, refined-sugar free while being pregnancy-friendly and nursing-friendly.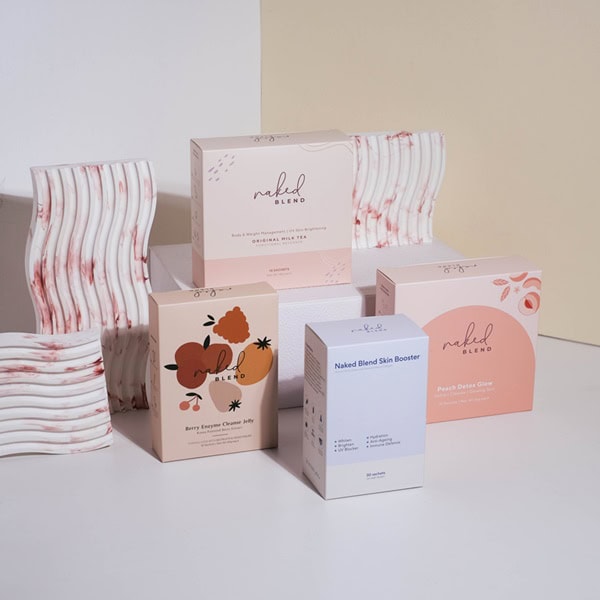 With Naked Blend, a "me-first" routine is made easy and natural, just pick out any of Naked Blend's tasty products and consume it to start the day off right or to complete the nightly wind-down ritual.
Kickstart The Day with The Original Milk Tea
Naked Blend's Original Milk Tea is a healthier and better alternative to coffee and bubble tea. A combo of an enjoyable cuppa and healthy goodness in a cup, the beverage contains plant-based milk that is suitable for all diets and is thoughtfully curated with several premium tea blends – pu'er tea, black tea and green tea to complete the indulgent concoction. This creamy beverage is packed with multiple nutrients like Vitamin A, Vitamin C, Vitamin D, Curcumin, Ginkgo and Glutathione to help with skin rejuvenation for a healthy glow from within. It also helps to slow down signs of ageing and protect the skin from harmful UV rays in sunny Singapore. 
Wind Down with Peach Detox Glow
Packed with natural plant prebiotics, fibre, fruit enzymes, and antioxidants, this natural detox  cleanse is an effective drink that comforts constipation and bloating. By encouraging a gentle intestinal flush and cultivating a healthy gut, the drink supports the body's natural detoxification process and ultimately improves overall well-being and skin. Naked Blend's formulation promotes a healthy immune system, boosts natural collagen production, supports hormonal balance, and revives skin's natural glow. Best to consume before bedtime, the Peach Detox Glow is an easy-to-drink beverage and a perfect companion for a wind-down ritual with a book or a self pampering session of skincare routine.
Delectable Flavours For Health & Beauty
Naked Blend's line of consumables are constantly expanding with new flavours. The first product collaboration was with Lalalostyou, an online beauty marketplace curated by a local beauty enthusiast to create the Naked Blend Skin Booster – a premium blend of natural ingredients in one handy pack. This drink contains patented ingredients from the USA and Japan, such as patented Hydrolysed Marine Collagen and Muscat White Grape to fight off negative effects of environmental aggressors as well as signs of premature ageing.
The local beauty and wellness brand also combined powers with nnpower, another local wellness brand by personality and content creator Naomi Neo to come up with Naked Blend Hair Strengthening Booster – a refreshing consumable with vitamin-enriched jelly for those who are looking to achieve luscious, flowing manes. The product has distinctive notes of natural pomegranate, apple and lychee, boosts and nourishes the hair from within, improving follicle growth while maintaining healthy hair strength and minimising premature hair fall out.
Vikki Tear, founder of Naked Blend shared that "I started Naked Blend as I realised there weren't many choices of plant-based supplements available in the market that provide nutrients the body needs yet delectable or something to be indulged in. It is always a quick nutrition solution that traditionally comes in pill forms. I wanted to offer something that provides not just a boost in Vitamins but also in maintaining beauty wellness like hair and skin, achieving a radiant glow from within, supplements to be enjoyed and be easily blended in daily routines. You can start the day with a quick drink of Matcha Milk Tea or have a glass of Peach Detox Glow with a good book as you wind down for the night. Our products are made with the highest standards of quality with highly-experienced R&D experts specially curating nutritional consumables to suit a wide range of diets, be it plant-based, halal, gluten-free and even for nursing and pregnant women. We strongly believe in staying au naturel in all our products, with flavourings and ingredients that are derived from natural sources to keep them safe for ingestion."
To learn more about Naked Blend and their exciting full range of products, please visit https://nakedblend.co/