Comvita, the leading producer of Mānuka honey in New Zealand, launches the Special Reserve UMF™ 25+ Mānuka Honey as part of its limited edition collection. This exceptionally rare, high-grade monofloral Mānuka honey is harvested from some of the most remote locations in New Zealand's North Island with large, pristine Mānuka forests.
From the untamed shores of Taranaki and Wairarapa to the agricultural expanses of Te Kauwhata and the forested hills of Northland, every drop of honey harvested by Comvita is treated with absolute care towards cultivating the world's finest Mānuka honey.
Each jar of the Comvita Special Reserve UMF™ 25+ Mānuka Honey is distinct, carrying a batch number and independent certification. It boasts a minimum MGO of 1200+ with nearly 50% higher bioactivity compared to UMF™ 20+ Mānuka honey. This pure UMF™ 25+ grade Mānuka honey also contains the highest concentrations of MGO, Leptosperin and DHA, known for their antibacterial prowess supporting our body's natural immunity. Retailing at SG$ 588 per jar, this exclusive product will be available at Comvita's new store, located at Takashimaya Department Store (B2, Food Hall).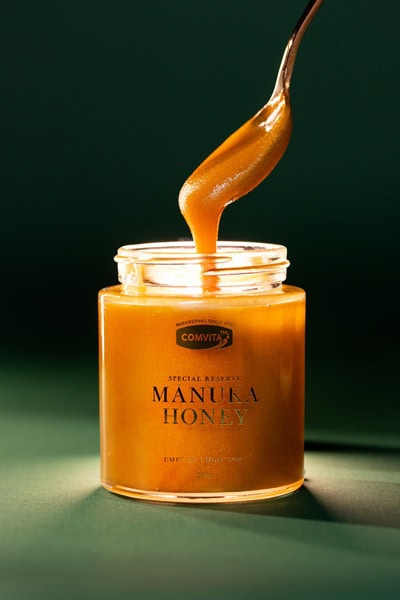 A unique offering from Mother Nature
Each jar is extremely special as honey with such high levels of unique Mānuka properties can only be produced in areas abundant with native Mānuka blossoms. This phenomenon occurs when all environmental elements, including the sun, wind, and rain, align harmoniously during a brief Mānuka flower bloom, often lasting as little as two weeks. Meticulously sourced and harvested by Comvita, this superfood encapsulates the essence of nature's wonder. 
Led by decades of world-leading research and respect for Papatūānuku (Māori for 'Earth Mother'), Comvita stands as one of the world's most trusted brands for authentic Mānuka honey. Its rare and precious honeys consistently uphold the highest standards of quality and purity. The Comvita Special Reserve UMF™ 25+ Mānuka Honey, a testament to this commitment, proves to be an ideal gift for those who appreciate the finer things in life or seek to embrace moments of tranquility, well-being, and self-care. Authentically crafted, this rare jar also adds a touch of elegance to any special occasion or life's beautiful moments.
The dense, smooth texture, intense caramel flavour, and bittersweet finish of Mānuka honey can also be savoured as part of mindfulness rituals and meditations. The UMF™ 25+ Mānuka Honey boasts a distinctive and robust flavour profile that is delightful on its own and equally versatile as a natural sweetener or flavour enhancer, adding a delectable richness to a variety of foods and beverages.
Beyond its exquisite taste, UMF™ 25+ Mānuka Honey encapsulates manifold benefits absent in ordinary honey. It possesses bioactive potency and topical anti-inflammatory properties, promoting well-being for both body and skin. A daily spoonful of this remarkable honey supports overall wellness, boosts the immune system, alleviates dry throats, and aids in digestive and gut health. For those seeking a clean and natural energy source to enhance their fitness routine, Mānuka honey proves to be a wholesome choice. Furthermore, Mānuka honey doubles as a natural moisturiser, revitalising the skin with a clean, radiant glow when applied as a facemask.
In alignment with the Maori concept of 'Kaitiakitanga' or 'Guardians of the Forest,' each precious jar of the Comvita Special Reserve UMF™ 25+ Mānuka Honey is elegantly presented in a special box. The lush, deep green packaging, reminiscent of the Mānuka leaf, pays homage to the native forests of New Zealand, the pristine source of this exceptional honey.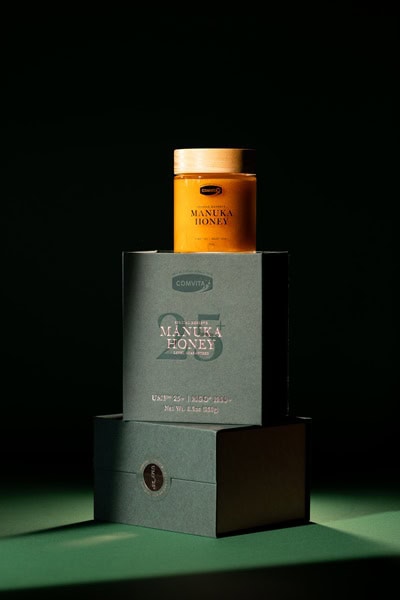 Every box includes a special QR code designed to guide customers through a multi-sensory journey meticulously curated by Professor Charles Spence, a leading gastrophysicist and sensory science expert from the University of Oxford. This immersive experience unveils the perfect way to savour this exceptionally rare product. Blending Comvita's ethos in the healing power of nature with its legacy in producing high quality, authentic Mānuka Honey, the Special Reserve UMF™ 25+ Mānuka Honey is truly a gift from nature crafted with the utmost care.
The Comvita Special Reserve UMF™ 25+ Mānuka Honey is available for SG$ 588 per jar (250g).
Aotearoa Escape

From now to 31 December 2023, customers stand a chance to win a 5D4N trip to New Zealand for two and experience the wonders of Aotearoa with an exclusive visit to the Comvita Wellness Lab, as well as other prizes when they spend a minimum of SG$ 50 on any Comvita or HoneyWorld products. 
For additional chances to win,
● Participants are entitled to 5 entries for purchases of Collagen Peptide UMF™ 10+ Mānuka Honey Drink, Immune Bee Propolis Veg Capsule PFL™ 60 Ultra Strength, Rejuvenating Night Mānuka Honey Drink and UMF™ 25+ Mānuka Honey (preorders included).
● Participants are entitled to 3 entries for purchases of Comvita products from Comvita.com.sg, Comvita Official Stores at LazMall and Shopee Mall, Comvita x HoneyWorld Store, HoneyWorld Stores and Departmental Store counters, HoneyWorld.sg and HoneyWorld Official Stores at iShopChangi, KrisShop, Lazada, Qoo10, Robinsons Singapore and Shopee.