Our Parenting World recently visited the multi-award winning 5-star hotel, Conrad Centennial Singapore hotel located in the heart of Marina Bay.
In celebration of this fine hotel's 20th anniversary, we would like to prepare a special feature and highlight "20 things you did not know about Conrad Centennial Singapore". 
1. This 5-star luxury hotel in Singapore is celebrating its 20th anniversary this year!
2. Conrad is part of the Hilton chain. It is the luxury arm of this international renowned hotel chain. Travellers who have Hilton Hhonors Rewards Programme can also collect their points if they stay in Conrad hotel.
3. Conrad Centennial Singapore has a total of 507 guestrooms including 25 suites.
4. It is one of the most popular hotels during National Day period because you can have an impressive view of the firework displays during the National Day celebrations held at Singapore Sports Hub on August 9 this year. 
5. Oscar's restaurant at the hotel lobby operates 24 hours on Fridays to Sundays making it one of the best places to go for midnight supper on weekends.
6. Their Chinese restaurant, Golden Peony, is well recognised as one of the top Chinese restaurants in Singapore having won multiple prestigious dining awards.
7. Furry pets like dogs and cats are welcome to stay in the room as it is one of the few pet-friendly hotels in Singapore.
8. Your pets will also have its own dining menu during its stay in the hotel.
9. You can select from the pillow menu different types of pillow during your stay in the hotel.
10. It introduced the 1/3/5 programme for their hotel guests. The 1/3/5 means that if you have 1 hour, 3 hour or 5 hour free and would like to explore around the hotel, the concierge would be able to guide you where are the interesting places to go based on the time you have. To find the various curated Conrad 1/3/5 experiences, please go to www.singapore.stayinspired.com
11. It is located close to the exit of East Coast Parkway and thus for visitors arriving from or departing to Changi Airport it is very convenient and less risk of encountering traffic jam during peak hours. It only takes less than 20 minutes to reach the airport from the hotel.
12. Room service is available round the clock 24 hours, unlike many hotels the in-room dining is up till 11pm.
13. Guests staying in the hotel will receive a small cute mascot bear when they check-in to their room.
14. The highest floor which is the 31st floor is where the Executive lounge is. You can have a bird's eye view of Singapore from the lounge.
15. The hotel boasts an art collection featuring over 3,400 pieces of sculptures and paintings by local and international artists such as Tay Bak Koi and Rafael Barrios.
16. Guests can choose from 4 different brands of amenities from Aromatherapy Associates, Shanghai Tang, Tara Smith, or The Refinery for men during their stay in the hotel.
17. The swimming pool located at level 4 also has an amazing view. You can see the iconic Singapore Flyer as part of the skyline when you swim in the pool.
18. For hotel guests who would like to try other dining options, there are several restaurants and pubs located beside the hotel making it very convenient for the guests to dine out.
19. Guests can download and use Conrad Concierge App to order services and request for amenities at the guest's fingertips, from ordering of room service or a wake-up call to customizing the room's pillow options or arranging dining reservations.
20. Similarly there is a Press Reader App which allows guests complimentary access to thousands of newspapers and magazines during their stay at the hotel.
Happy 20th Anniversary Conrad Centennial Singapore!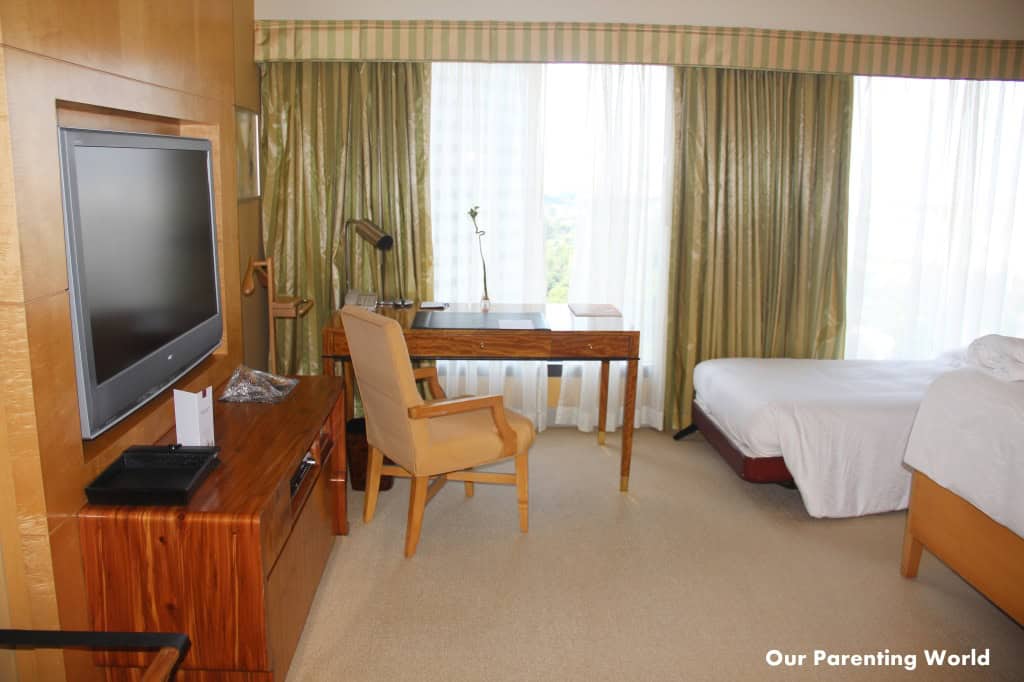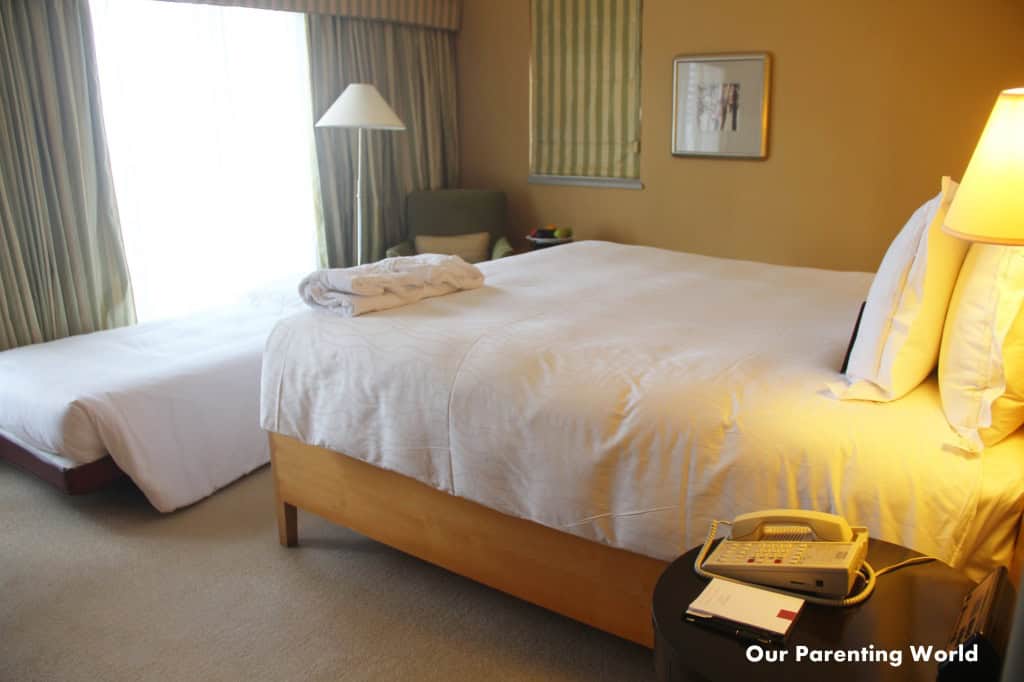 Our team checked into the Executive King located on the 24th floor and above, this spacious 40-43 sq. m./430-460 sq. ft. room comes with one king size bed and we had an additional rollaway bed. Guests can request for the rollaway bed if you have more people staying in the hotel room.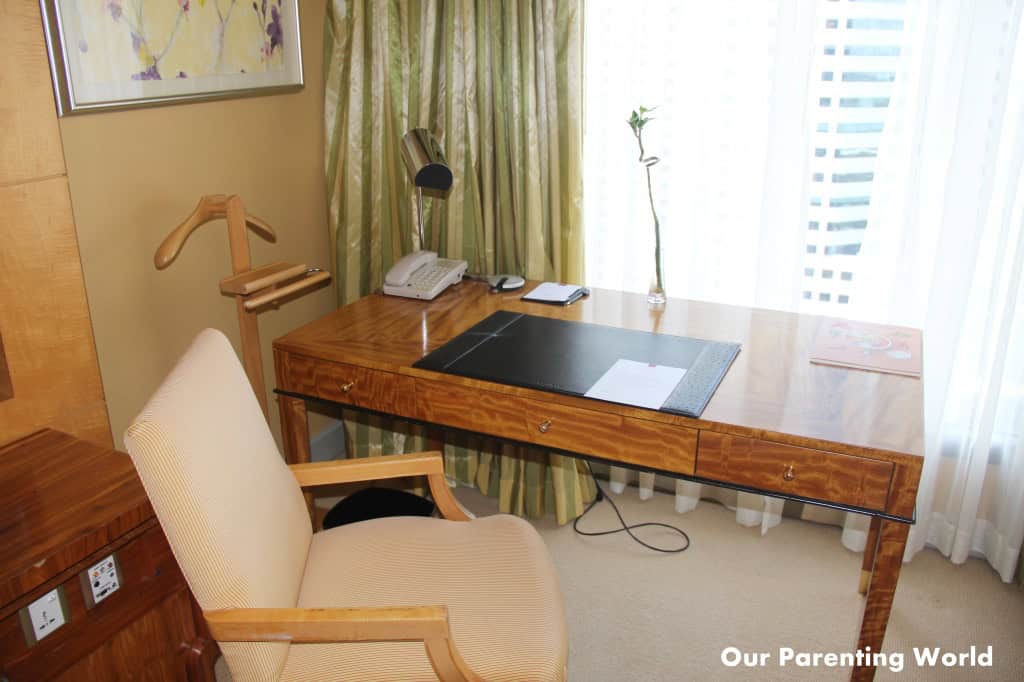 You can do your work comfortably on the large desk and stay connected with complimentary local calls and WiFi.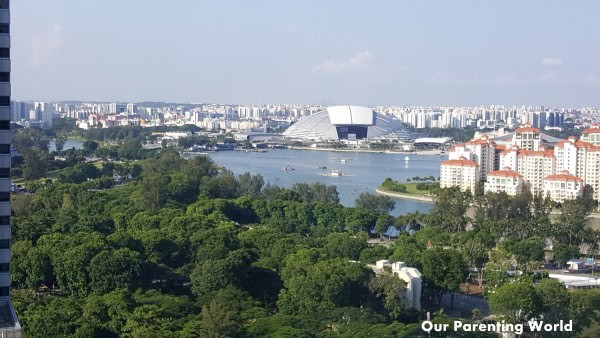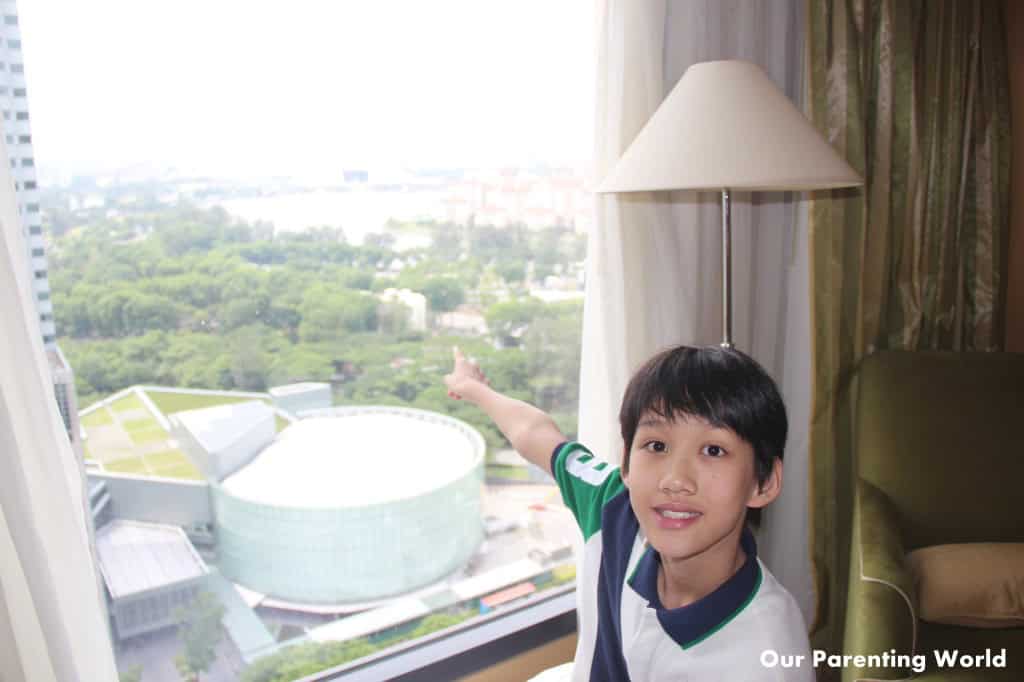 The hotel boasts a stunning view facing well-known landmarks like Suntec City Fountain of Wealth, Marina Bay, Singapore Sports Hub and this year, Conrad Centennial Singapore enjoyed one of the best views for National Day Fireworks coming from the Sports Hub.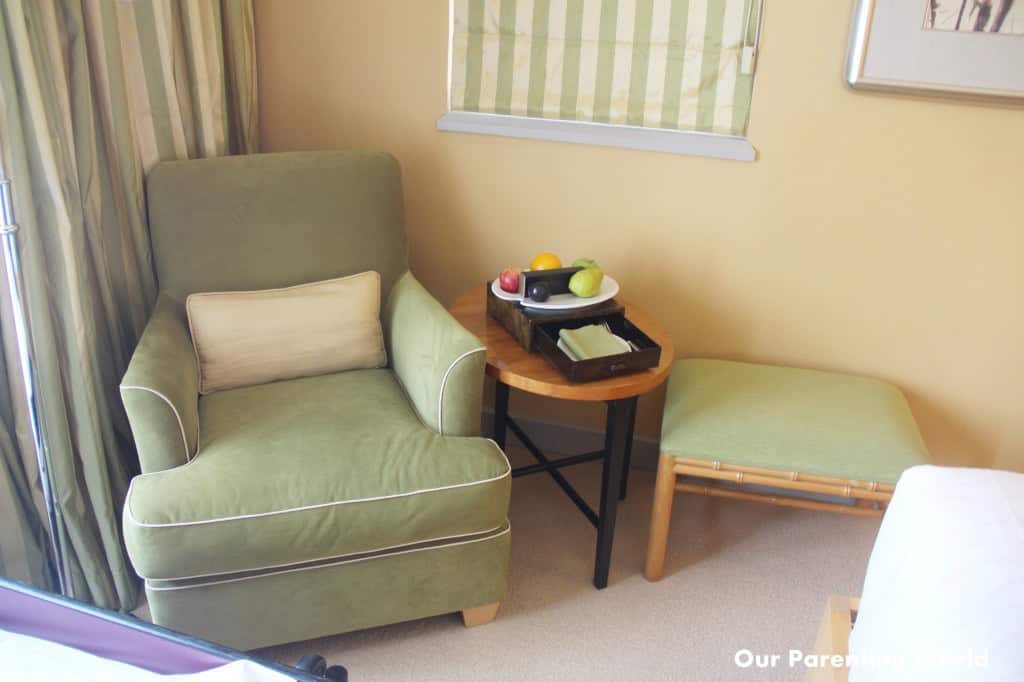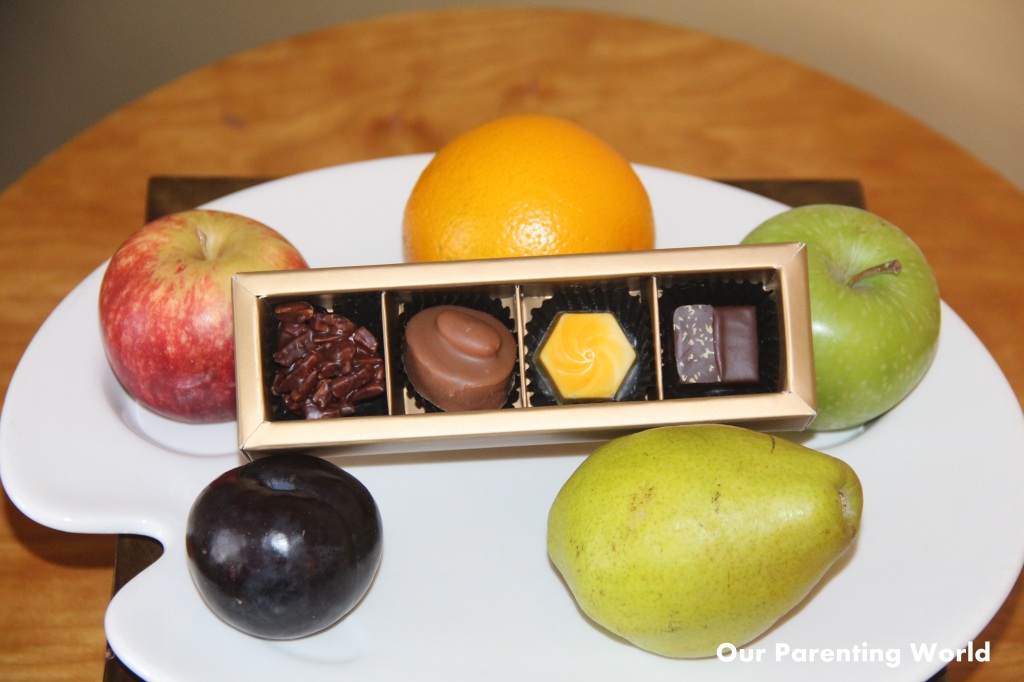 Relax on the couch and enjoy a welcome box of pralines and fruit plate thoughtfully prepared by the hotel.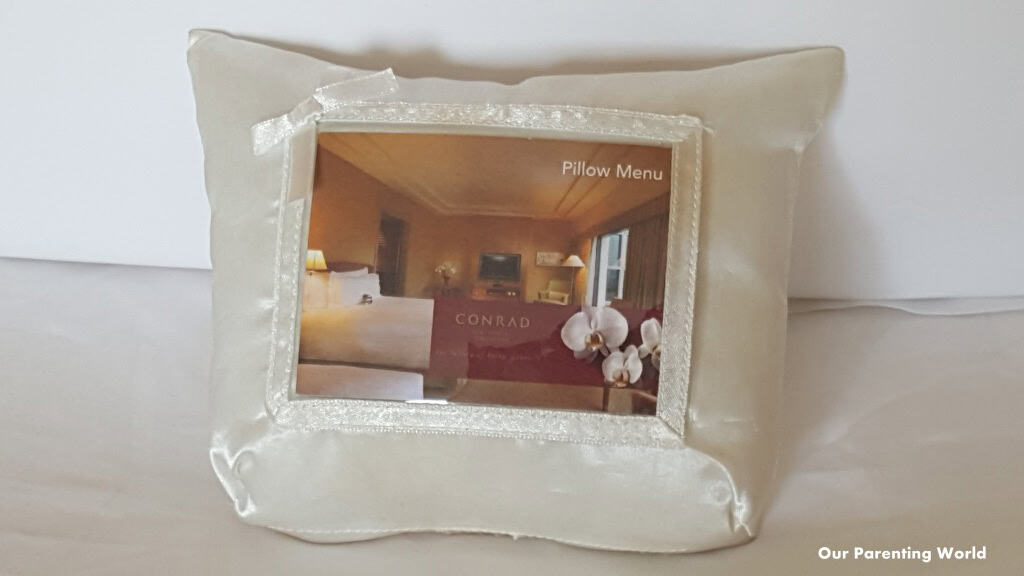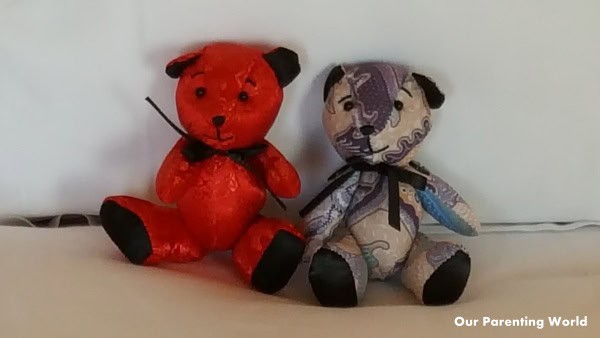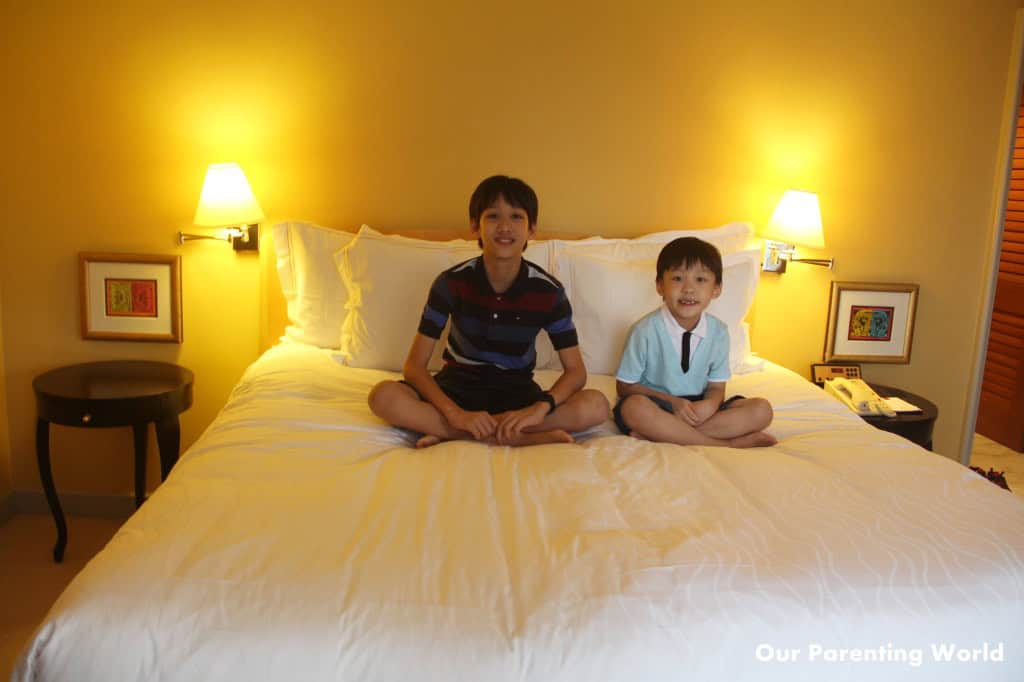 We love staying at Conrad Centennial Singapore!
Conrad Centennial Singapore has so many thoughtful gestures that make their guests fall in love with this beautiful hotel. There is a pillow menu that guests can choose from a wide variety of pillows with 15 pillow options from very soft to firm. Enjoy good quality sleep on its luxurious king size bed.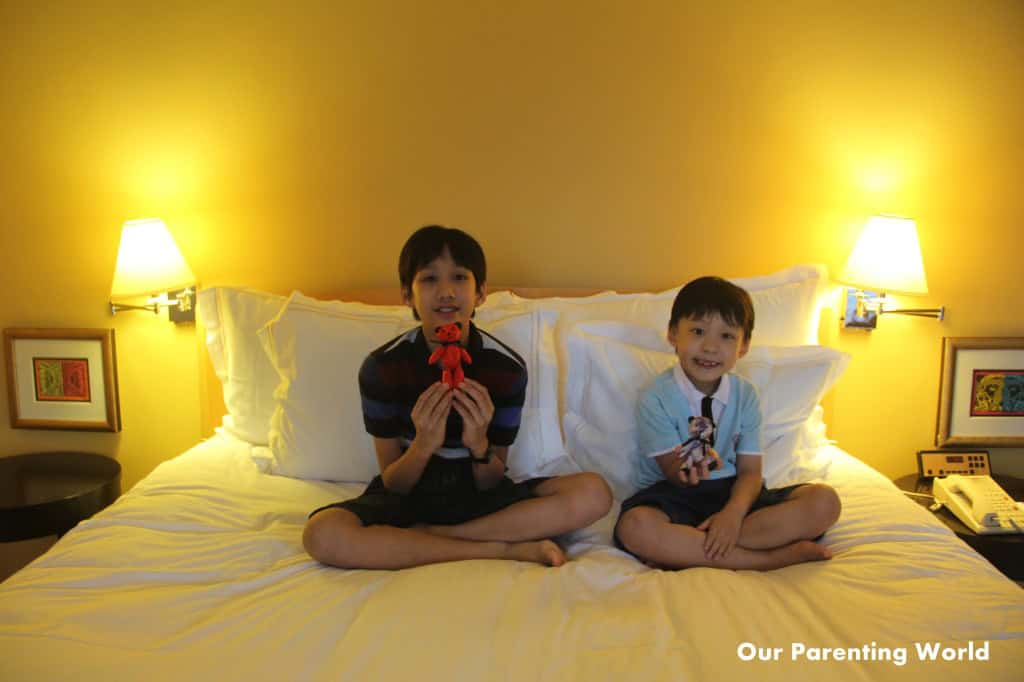 Guests will be delighted to see the adorable Conrad bears at the hotel room, the two new mascot bear designs was newly launched early this year featuring an oriental and a batik design to reflect the culture and heritage of Singapore. These bears are given to hotel guests when they check in as a memento of their stay at the hotel.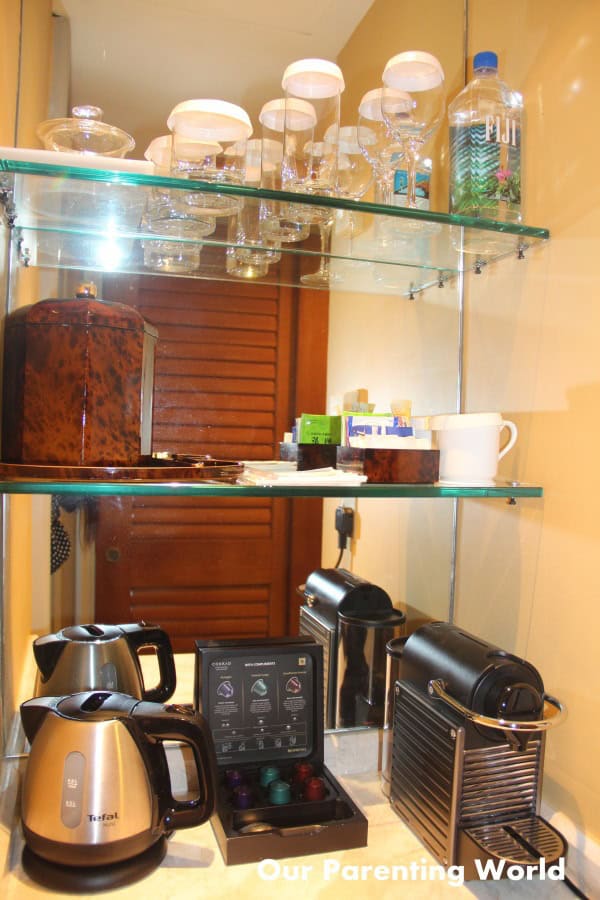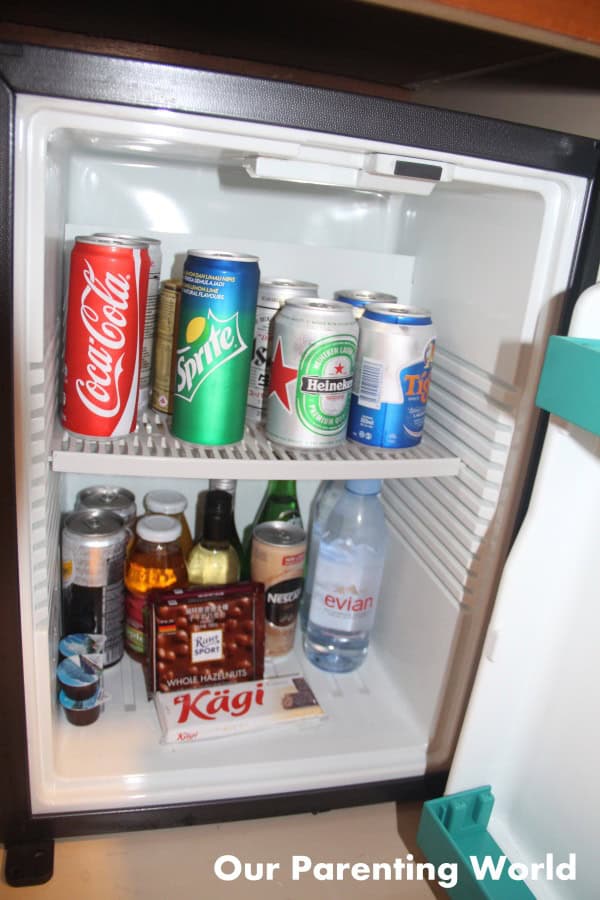 The room has a well-stocked minibar, coffee and tea bags are provided. Coffee lovers will be pleased to know that a Nespresso® machine is also provided.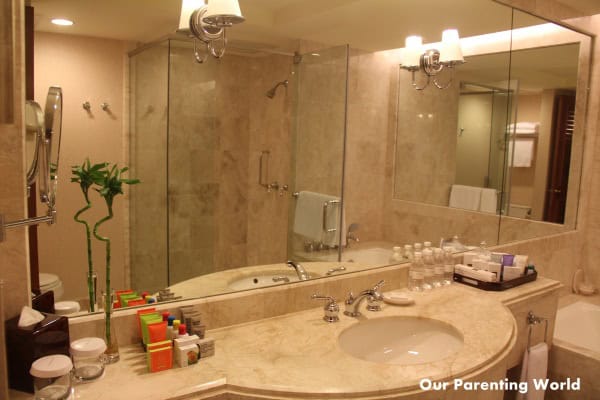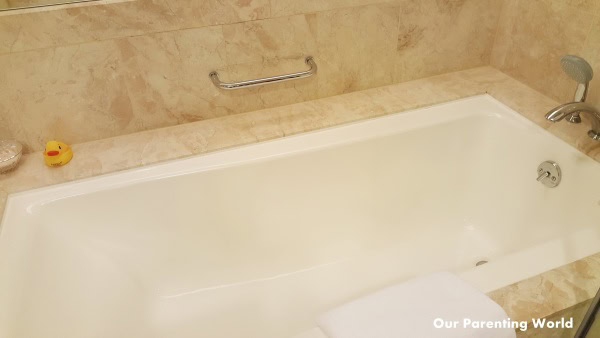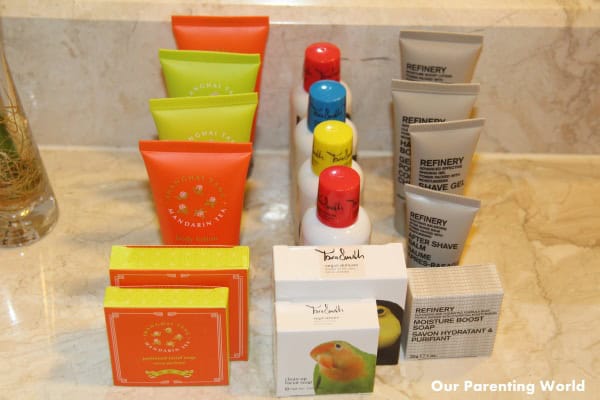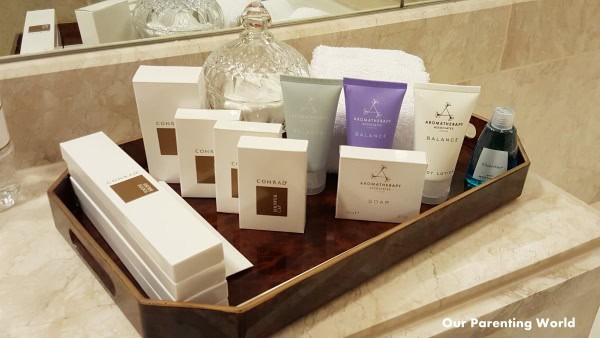 We are very impressed with the luxurious and spacious marble bathroom that has a large bathtub and separate glass shower. It's so beautiful and there is a cute yellow rubber duckling at the side of the bathtub. You can even bring it home. Guests can choose from four types of bathroom amenities which include Shanghai Tang, Tara Smith, The Refinery and or Aromatherapy Associates. The brand Aromatherapy Associates is provided by the hotel by default and if you prefer any of the other three brands, you can request it over the phone or use the Conrad Concierge app. Prior to your arrival, you can customize your stay with the Conrad Concierge mobile app.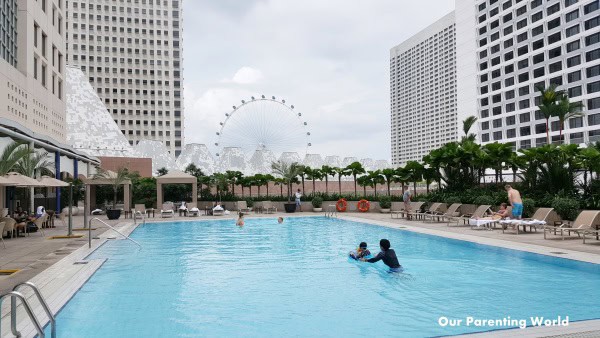 Guests can enjoy swimming in the huge 65 foot / 20 metre lap pool and enjoy the view overlooking Singapore's iconic Flyer and the city view.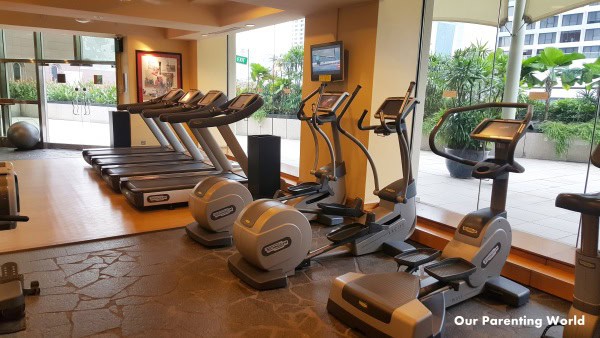 Gearing to do some workout, visit its 24-hour fitness centre and sweat it out using its state-of-the-art exercise equipment. 
Conrad Centennial Singapore Executive Floor privileges include:
Access to the Executive Lounge located on Level 31; open daily from 6.30am to 11pm
Buffet breakfast in the lounge or at Oscar's
Delightful afternoon tea from 3pm to 5pm
Evening drinks with hors d'oeuvres from 5.30pm to 8pm
All day tea, coffee and soft drinks till 10pm
· Alcoholic drinks menu available after 8pm till closing at a charge
Complimentary WiFi access
Complimentary light-pressing for up to 3 items on the day of arrival
Complimentary local calls
· 20% discount on a la carte spa treatments
Complimentary use of meeting room for a maximum of 2 hours per day, subject to availability
A smart dress code is appreciated. Bathrobes, swim-wear, hotel-slippers and singlets (for men) are not allowed
Your guests are welcome to join you in the Executive Lounge. Invited guest(s) consumption will be chargeable.
If you stay at the Executive floor, you can enjoy unlimited access to the Executive Lounge on the 31st floor. At the lounge, guests can indulge in a wide and sumptuous range of buffet breakfast, afternoon tea and evening cocktail with hors d'oeuvres and canapés.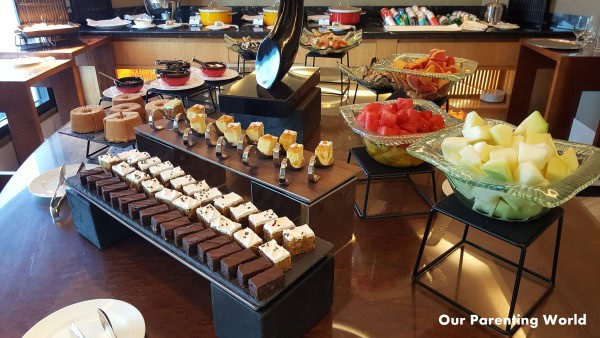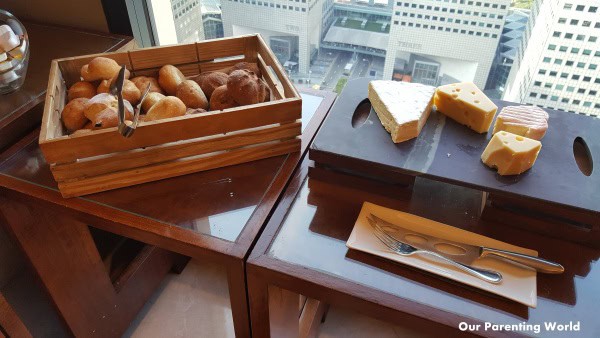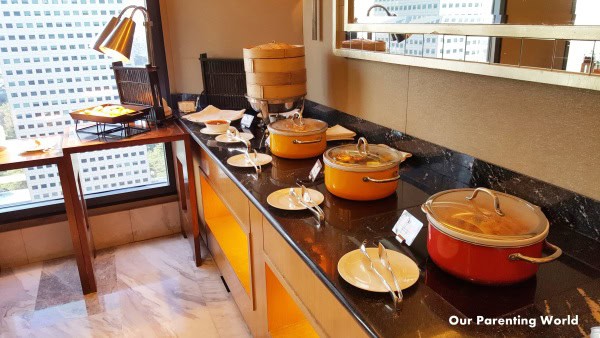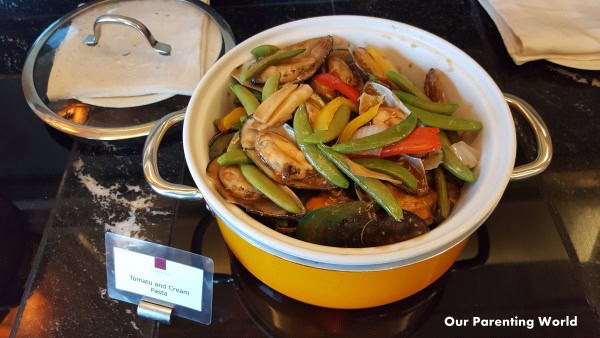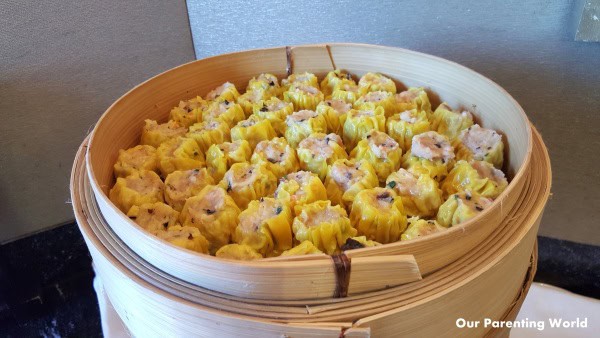 We visited the lounge during the evening cocktail where it has pastries, breads, cheese, salads, fruits and hot items like steamed siew mai, pasta, mussels and many more. For beverages, you can enjoy a wide varieties of tea, coffee, drinks available throughout the day.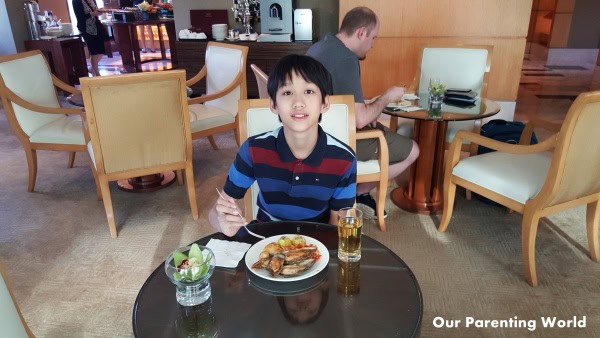 Yummy! The food and environment at the Executive Lounge are excellent!
The Executive Lounge located at Level 31 is the highest floor of Conrad Centennial Singapore where you can relax and chill out over good food and drinks while overlooking the spectacular view of Suntec City fountain of wealth, city or Marina Bay. Complimentary WiFi is available.
The next morning, we had breakfast at the all-time favourite Oscar's where it served full buffet breakfast.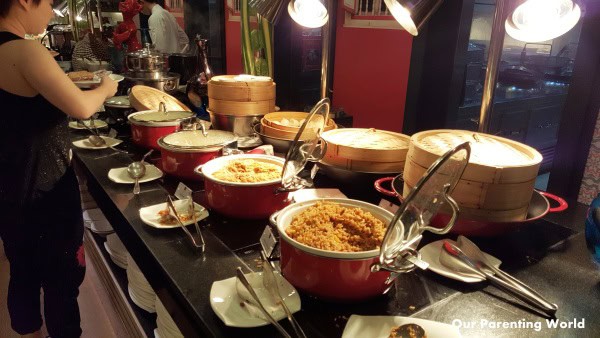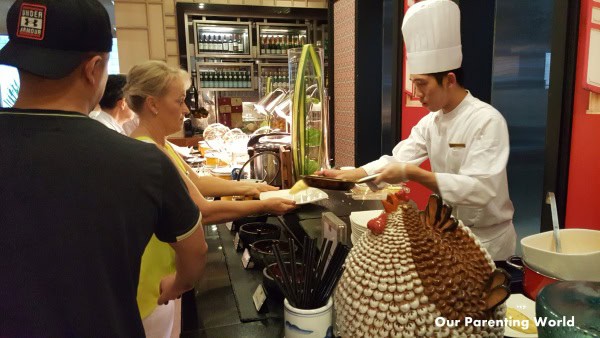 Do have your breakfast earlier at Oscar's as it can be really crowded, it shows how popular Oscar's is!
It has a great selection for breakfast buffet items from Asian to International cuisine including cereals, breads, waffles, hot items from rice, noodles, dim sums to eggs, sausages and even various gelato.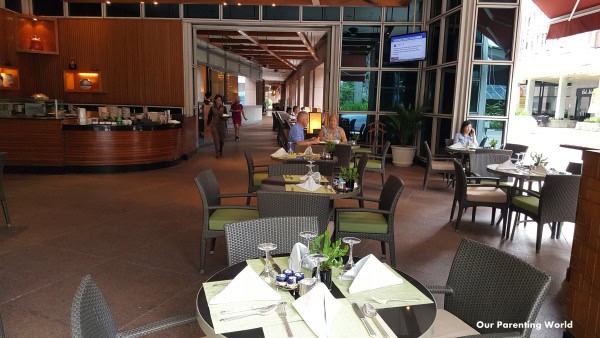 Guests can also choose to sit outdoor if you like to relax, enjoy the scenery and people watch while having your breakfast.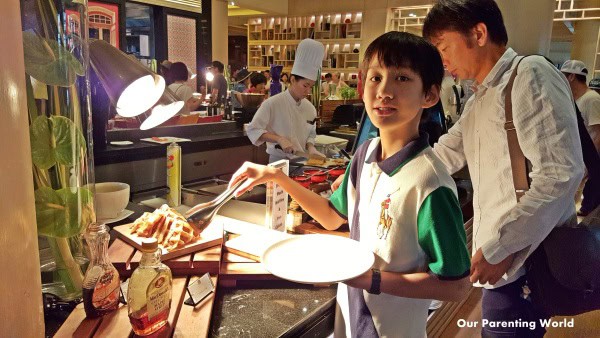 I enjoyed my breakfast at Oscar's!
Oscar's buffet breakfast starts from 6pm till 10.30pm. Oscar's serves local and international cuisine in buffet style and à la carte in a friendly, vibrant atmosphere with both indoor and outdoor settings. 
The restaurant serves breakfast, lunch, dinner and supper. Open 24 hours on Fridays to Sundays, eve of and on Public Holidays.
Golden Peony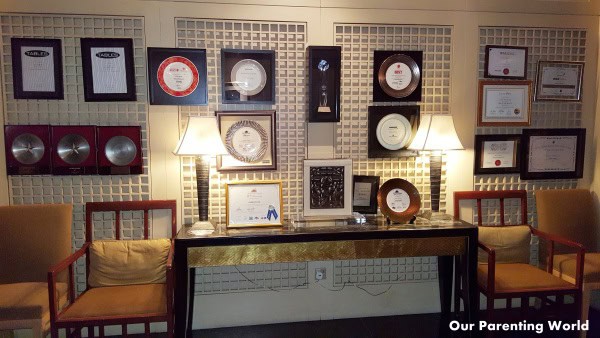 Gourmet food lovers will be pleased to know that the Award-winning Cantonese Restaurant, Golden Peony launches New Set Menus by Celebrity Chef Ku Keung. Golden Peony, one of the fine restaurants at Conrad Centennial Singapore launches three new set menus catering to weekend family diners as well as a tasting menu featuring Executive Chinese Chef Ku Keung's speciality and new dishes. 
Diners will be able to indulge in a 5-course tasting menu that is specially curated by local celebrity Chef Ku Keung for S$100++ per person. 
Chef Ku Keung has made several appearances in Channel 8 TV shows, including current series "What's in the Fridge" as well as "Neighbourhood Chef", fans will be able to sample Chef Ku's speciality dishes such as Lobster meat wrapped with sliced fish and fish roe, served with baby spinach, Roast 'London' duck served two ways, and Baked sweet potato filo pastry and chilled cream of avocado with vanilla ice cream served in whole young coconut.
Golden Peony Executive Chinese Chef Ku Keung's Tasting Menu will be refreshed every three months to feature new signature dishes, don't miss it! 
Our Parenting World team tried out the Golden Peony Weekend Dinner Family Set Menu for a group of four persons. This is a 5-course family dinner for S$180++ where you can get to indulge and savour exceptional dishes such as Whole roast 'London' duck, Steamed 'soon hock' fish with superior soy sauce and Traditional claypot rice with Chinese sausage, liver sausage, wax duck and wax meat in the serenity of this elegant restaurant.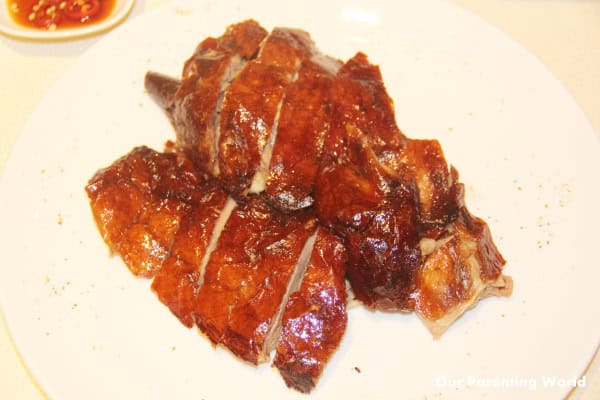 Roast 'London' duck 
We are very impressed with the roast duck, it is so tender, succulent and full of flavour! 
Double-boiled Superior Fish Soup with Fish Maw, Bamboo Pith and Wolfberries
We love to drink soups! This is a thick rich soup, full of nutritious goodness from the fish cartilage, fish maw, chewy bamboo pith and wolfberries best known for being rich in antioxidant and good for vision.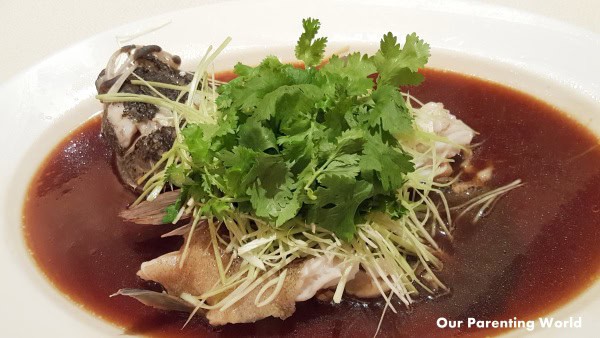 Steamed 'Soon Hock' fish with superior soy sauce
The fish is very fresh and so delicious especially with the soy sauce, it is good to go with rice.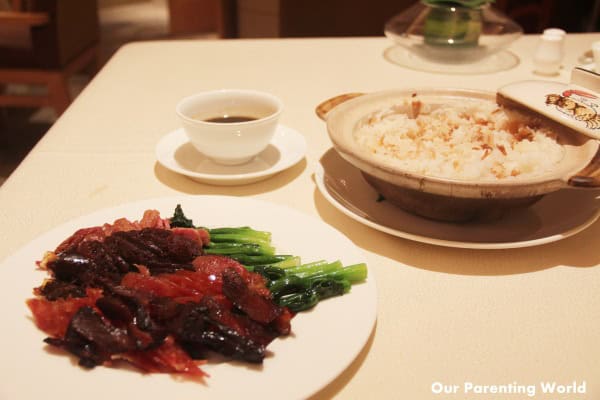 Traditional claypot rice with Chinese sausage, liver sausage, wax duck and wax meat
This dish is very often seen and enjoyed during Chinese New Year by the whole family. It is a typical Chinese New Year's dish for some families prepared in a claypot. We love the wax meat and it goes very well with the savoury rice.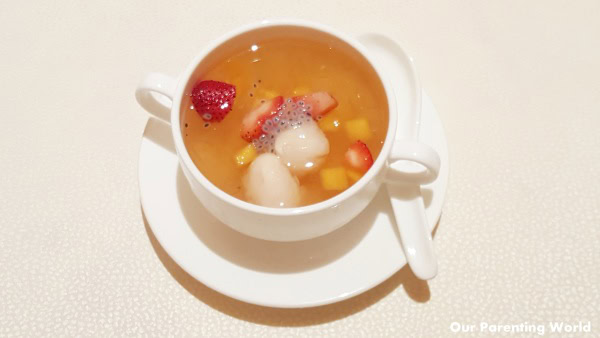 We completed our enjoyable meal experiences with a refreshing cold dessert, Chilled Lemongrass Jelly with Aloe Vera and Lychee.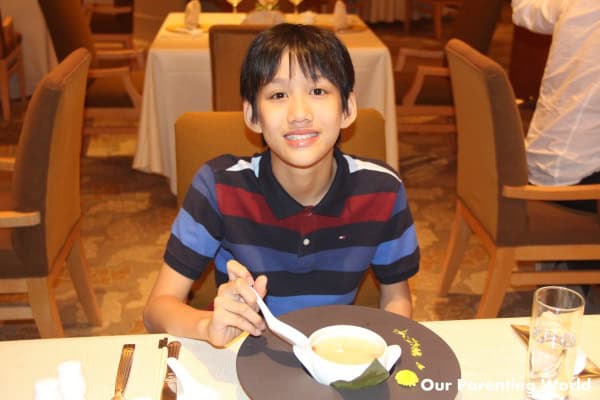 The food here is so delicious!
Golden Peony is a great place to try out mouthwatering cuisines and the services are impeccable! 
Golden Peony's three new menus are currently available:
1) Golden Peony Executive Chinese Chef  Ku Keung's Tasting Menu 
S$100++ per person
Available daily for Lunch and Dinner
Menu will be refreshed every 3 months
2) Golden Peony Dim Sum Weekend Experience  
S$59++ per person
Available for Lunch on:
Saturday, 11.30am to 2.30pm and Sunday, 10.30am to 2.30pm
3) Golden Peony Weekend Dinner Family Set Menu
S$180++ for 4 persons
Available for Dinner on:
Saturday & Sunday, 6.30pm to 10.30pm
All prices are subject to service charge and prevailing GST.
Golden Peony
2 Temasek Blvd, Level 3
Conrad Centennial Singapore Hotel
Singapore 038983
Reservations or enquiries :
Tel: 6432 7482/88 or email: [email protected]
Conrad Centennial Singapore is so convenient, located within Marina Bay, it is a 3-minute walk from Promenade MRT station, walking distance to shopping malls like Suntec City and Marina Square Shopping Centre, 15 minutes walk to tourist attractions like Singapore Flyer and Esplanade – Theatres on the Bay and it is a 20 minute drive from Changi International Airport. The hotel is also home to some of the finest restaurants like Oscar's and Golden Peony in Singapore.
Conrad Centennial Singapore is a great place to relax, enjoy, chill out and spend quality bonding time with your family!
Conrad Centennial Singapore
2 Temasek Blvd, Singapore 038982 
Tel: 6334 8888 
To find out more about Conrad Centennial Singapore and for hotel booking, please click HERE.