Most of us spend a lot of time at home, it is a place where we relax, wind down after a hectic day and a place where we spend time with our family. But did you know that the air in our homes maybe more polluted than outdoor air? It is important to have cleaner and better air quality as it helps to prevent asthma, respiratory issues and reduce allergies.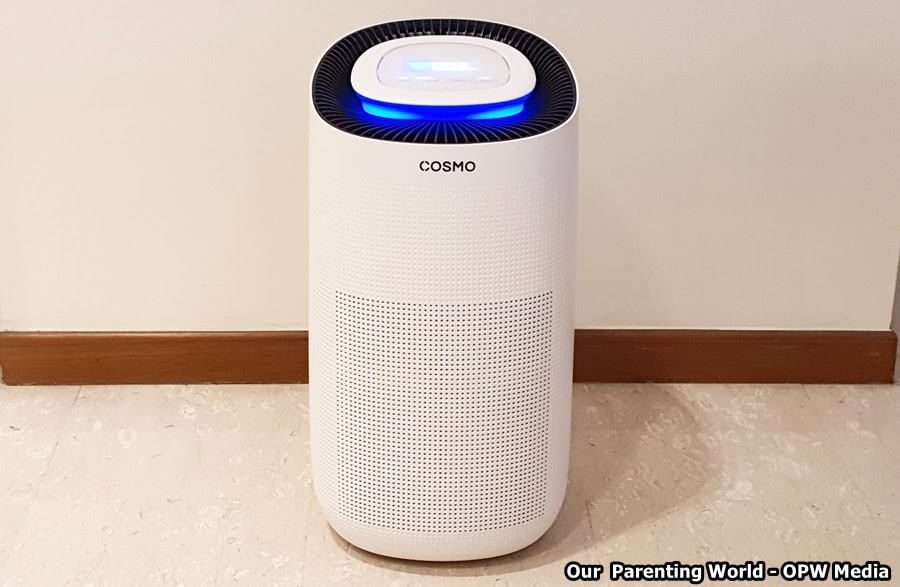 Cosmo's Prime® Air Purifier is the answer to cleaner air for your home for healthy body and mind. This sleek, stylish minimalist air purifier is designed in Germany and with the following dimensions: 
Height: 49.7 cm
Width: 27 cm
Length: 30.3 cm
It uses trademarked technology and smart design to provide a long-lasting, silent and powerful air purifier. Now you can enjoy superior air quality for your home.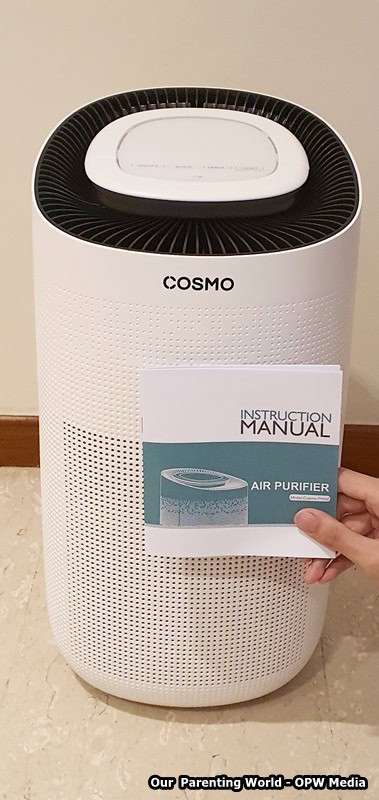 Cosmo's Prime® Air Purifier is user-friendly and easy to operate. It comes with a detailed instruction manual that you can follow easily.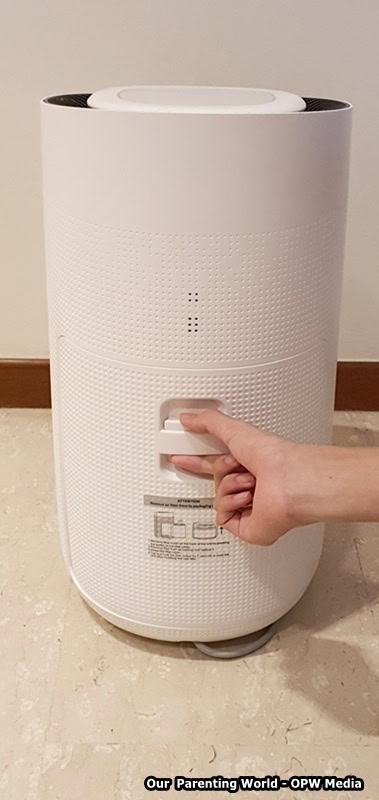 First, open up the filter cover at the back of the unit by pressing the switch. Remove the filter from the plastic wrapping and place it back before using the air purifier.
The Air Purifier is made of medical-grade H13 HEPA filter. The HEPA filter is of the highest grade, designed to be able to filter 99.97% of air pollutants in the air, up to 0.1 microns and with coverage area up to 80m².
The '3-in-1' filter contains 3 layers, the first layer has a pre-filter to trap the largest particles like hair, dust, lint and fur. The second layer removes smaller particles and trap bacteria, pollen and dust mites. The final and third layer consists of activated carbon that helps to neutralise odours in the air, which is great for pet owners, remove odours in the air and absorbs formaldehyde. It is recommended to change the filter every 12 to 18 months depending on the usage and air quality. 
With the powerful 3-in-1 HEPA Filter, you can be assured that you are having cleaner and better air quality for your home. 
It comes with easy to operate smart touch panel with The ParticleCount Sensor™. The chic air purifier informs you of the air quality with clear LED lights and is able to measure the PM2.5 particles in the air in real-time. You can look at the colour change to know the quality of the air at your home. Blue light means good air quality, yellow light means average while red light means poor air quality. 
Upon using the Cosmo's Prime® Air Purifier, we can see that our number is getting lower signaling to us that the air purifier is working and our air quality is getting better and better. 
The touch panel has other functions like Mode, Timer, Light and Anion/Filter. The Mode controls the speed of the wind which you can adjust to Auto, Medium, High or Sleep according to your preference. The timer comes with 2 hours, 4 hours or 8 hours, once the time is up, the air purifier will be on standby mode. The Light mode allows you to control the light intensity transmitting from the air purifier. Anion/Filter produces anions, it cleans the air and remove the bacteria, dust, pollen, mold and contaminated particulates. The touch panel also comes with child-lock function to prevent curious little fingers from playing with the buttons.  
What we like about this air purifier is that it is equipped with SilentMotor-VX™ Technology that enables it to function quietly. The noise level is at a mere 20 decibels which is softer than a whisper. It is very quiet and great to use it when we are sleeping. It won't disturb our sleep. The blue light transmitting from the air purifier is like a calming night light allowing us to have a quality and deep sleep. You can have the option to leave the night light on or switch it off. Best of all, the anion/filter clears the air and fresher air helps to improve our health and mind.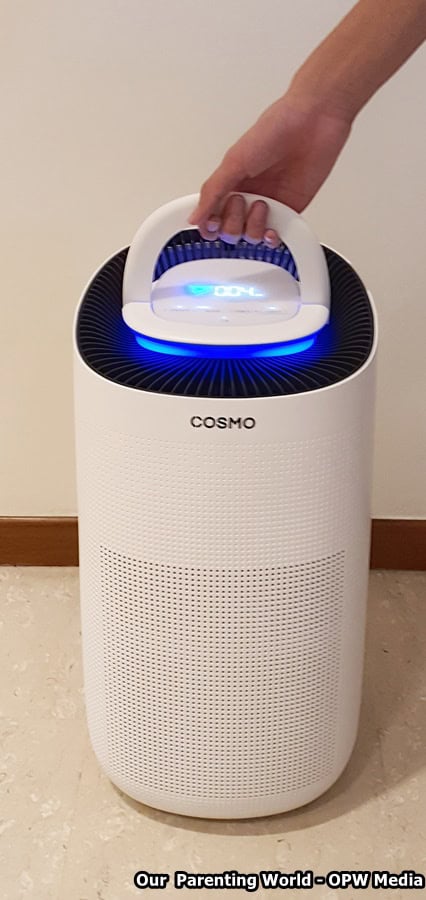 Cosmo's Prime® Air Purifier is compact and doesn't take up too much space. What's more, it comes with a handle, it is portable and so convenient. You can place it at any area of your house wherever you need it. Although it is compact in size, it is big on efficiency, able to create twice the volume of clean air compared to most purifiers in the market.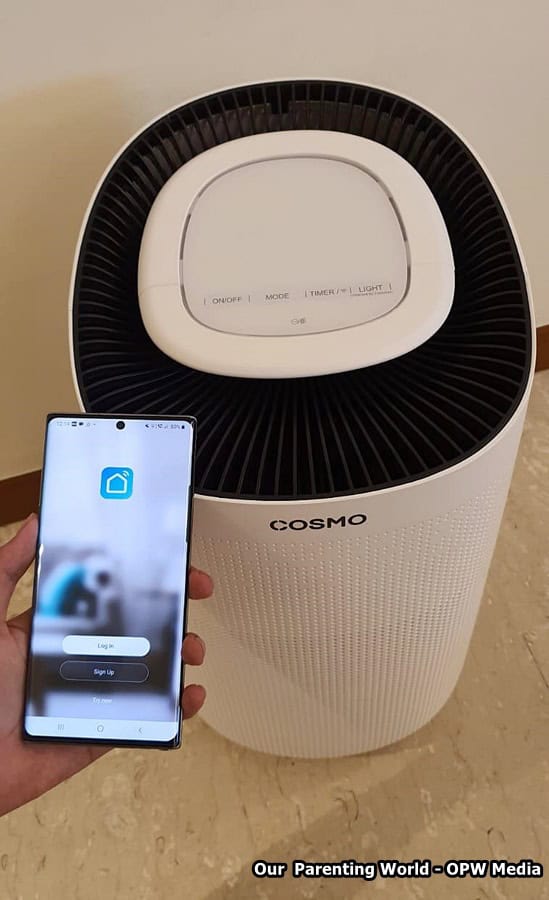 Cosmo's Prime® Air Purifier comes with Smart Mobile Application where you can download for free.  We are able to monitor the air purifier with the app remotely from our phone. The air access data collected helps to manage our air and learn how well our air quality is which can be very useful!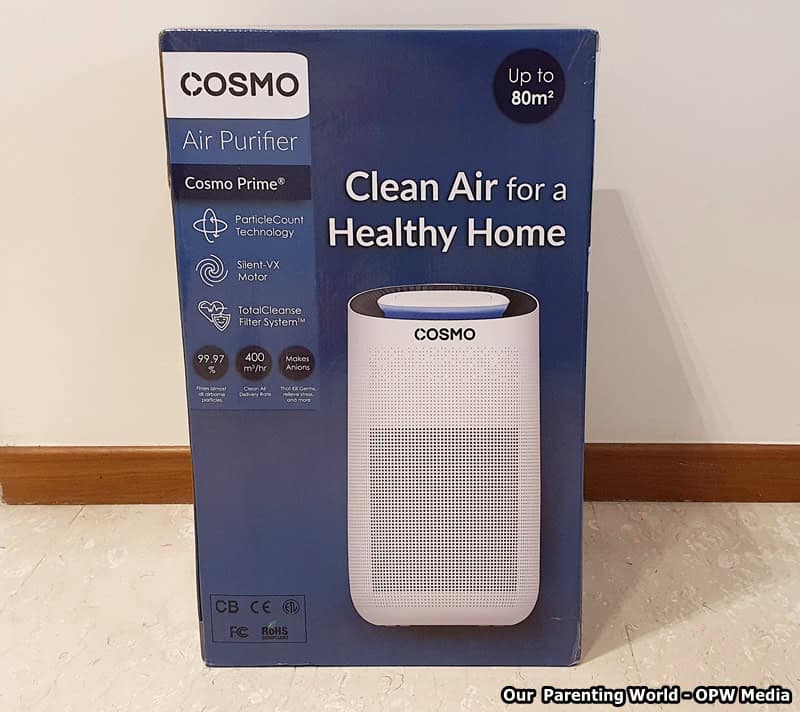 Cosmo Prime® Air Purifier + 3-in-1 HEPA filter is retailing at $399.00 for a limited time only, you can save up to 26% from its usual price of $538.00. It comes with free delivery and you can even choose to have it delivered within the same day. Right now, it is offering a 100% satisfaction with a no risk, 20 day free trial. Full refund after 20 days trial if you are not satisfied with the product. To give you a bigger peace of mind, all its products qualify for a 5-year warranty with terms and conditions applied. 
If you are looking for a good and reliable air purifier, Cosmo's Prime® Air Purifier + 3-in-1 HEPA Filter is the one for you and your family!
To purchase and for more information about the air purifier please go to https://airpurifiers.sg/product/cosmos-prime-air-purifier/.

You can also visit their showroom, details as follows: 
Showroom Address:
Mactech Building
2 Kallang Pudding Road
#02-04 S349307
Showroom Opening Hours:
Monday to Sundays 11am – 5pm
Closed on Public Holidays
Calls: +65 6977 9637
Stay updated and follow them at the following:
Website: https://airpurifiers.sg/
Facebook: https://www.facebook.com/cosmohometech/
Instagram: https://www.instagram.com/cosmo.purifiers/
About Liquid Gateway 
If you are looking for online payment gateway service provider, Liquid Gateway is a payment service provider who provides a comprehensive range of centralized and secure in-store transaction management services.
Payment is brought to you by Liquid Gateway and if you are interested to find out more, you can read this article on Best 10 Online Payment Gateways in Singapore researched by Best in Singapore for more information.
About Best in Singapore
Best in Singapore publishes well-researched, tested, and informative articles by focusing on the best in Singapore. Know the best. Buy the Best! Find out more about Best in Singapore as follows: