Covet Crystals Jewelry, a homegrown premium crystal healing jewelry label with an artistic touch started by Singaporean crystal jewelry artist, Shu in 2017. Crystals are prized for their powerful natural healing abilities and revitalising powers for the mind, body, and soul that can benefit your overall well-being. 
Handcrafted with the highest quality of natural crystals sourced globally by Artist Shu herself, Covet Crystals prioritizes the authenticity and quality of the crystals along with the artistry of its design. No two jewellery pieces are alike, just as how no two gemstones are alike.
Our team speaks to Shu where she shares more about Covet Crystals Jewelry, her entrepreneurial journey, on choosing the right crystal for healing and others. Read on to find out more. 
All the above images credit to Shu and Covet Crystals Jewelry
Exclusive Interview with Singaporean Crystal Jewelry Artist and Covet Crystals Jewelry's Founder, Shu 
1. Can you share with us more about your background, what inspired you to become a jewellery designer and set up Covet Crystals Jewelry (CCJ)?
Art has always been a big part of my life since young as I was gifted with the ability to draw rather well. Spotting such potential, my mother sent me for external Art classes since the age of 5 years old.
But I would say the person pivotal to my love for Art was my Primary 6 teacher, Mr Bates. I was studying in an American International School in Yanbu, Saudi Arabia as my father had work there. Mr Bates exposed me to the grand Art masters of Leonardo Da Vinci, Monet, Vincent Van Gogh etc which triggered something within me. Since then, I've taken an immense interest Art from Secondary School till Tertiary levels. I've a Minor in Fine Arts from University Of Western Australia and I majored in Art from NIE/NTU. I would consider myself as an Artist than a jewelry designer as some people use paints, ceramics or metals to create Art. I use natural crystals and gemstones to create my Art which happens to be wearable so that I could wear them to enjoy crystal healing and fashion, the latter being very important to my identity. Also due to the quality and size of the gemstones I use, they are highly suitable for crystal healing. And thus I would say that CCJ was born out of my love for fashion as I wish to wear stylish jewelry that can still aid me in my crystal healing journey.
2. Can you tell us more about the power of crystal healing, what are the benefits and how can one find the right crystal for healing?
Crystal Healing can promote better physical and mental health by improving the flow of energy. It can also help block or rid the body of negative energy which can affect the mind and body.
I personally believe in having affinity with the crystals I choose. We believe in the school of thought that crystals actually choose us, and not the other way around. When a new client is unsure of which CCJ piece to start on her journey, I would suggest to them to listen to their inner wisdom. This means to shortlist 3-5 pieces which attract them the most. Then we will have a chat about their concerns and I will be able to point out the most suitable piece for them. They can also choose to take the Chakra Test available on our online boutique so I can aid to assess their chakra scores which can lead to a better understanding of what they possibly require.
3. Where and how do you source for the crystals, gems and pearls that you used in your jewelry and their quality?
Our crystals and gemstones come from all over the world due to their original sources. We have been around since 2017 and thus have established excellent relationships and network with some trusted dealers which supply me with the gemstones I would approve of, to use for my Art.
4. What can customers expect and look out for when they want to buy the jewelry pieces at Covet Crystals Jewelry?
Our clients can expect real gemstones, original Art and experience crystal healing in the most luxe way as I always aim to give them the best stones of their categories and provide the best after-sales care. We are always available online to attend to any questions & enquiries as we understand that people new to crystal healing would have many questions and wish to find out more before they embark on their journey with CCJ.
5. What are some of the jewelry collections available at Covet Crystals Jewelry that you would like to share and highlight to our readers?
We recently launched the Femininity Series. This collection is inspired by my respect & love for modern women. Times have changed and many women are taking on more roles to survive. I had been doing a little research on traits which #ccjgirls would like to have that can allow them to live easier and happier lives. The jewelry created for this Femininity Series are made with the ideal gemstone combinations to manifest the following desired traits- Love & Intimacy, Beauty & Allure, Financial Stability & Abundance, Confidence & Self-Worth and Devotion & Steadfastness. I hope for the gemstones to bless and empower our women and at the same time, bring them some swag to their #ootd.
6. Can you share with us some of your favourite jewelry that you have created?
I would say there are 2 pieces which I'm very proud of and they are considered CCJ Classics. They are the Jade Supreme & the Mother Reissue bracelets. Jade Supreme is a very beautiful and eye-catching bracelet made only from 'A Grade' Jade. This means the Jade gemstones used are all natural and untreated. Also, the style is highly versatile. One can wear it easily with jeans or with a cocktail dress.
The other bracelet, Mother Reissue, was inspired by the love and characteristics I felt from my late mom. The gemstones within are Black Onyx to represent protection, Pink Tridacna for mental hugs, Howlite for anti-frustration and Rose Quartz for unconditional love. This piece has been launched 3 times due to popular demand.
7. As a successful jewelry designer and owner, any practical advice for someone who aspires to be like you to go into jewelry designing and set up their own jewelry shop?
I would say I'm still learning and rather new to the fashion industry. But I do believe in not giving up and following your dreams if you strongly believe in it. Always protect your beliefs and don't allow anyone to taint them.
8. Where can one learn and pick up the skills in jewelry designing and making in Singapore?
I'm self-taught in my Art. But I'm sure there are many good schools in Singapore which one can pick up on jewelry design.
9. How can we clean and take care of our jewelry like for crystals, gems and pearls?
Use a soft, dry cloth without chemicals to pat your jewelry lightly to whisk moisture/dirt away. Keep your jewelry in a dry space, away from sunlight. You may choose to return them to the plastic pouches they came with, to slow down oxidation. Please keep CCJ jewelry away from liquids. We always include care card instructions with all orders but should it be misplaced, clients can always refer to our online boutique for details- https://covetcrystals.com/pages/how-to-care-for-your-ccj-jewelry.
10. Lastly, moving forward, what's your future plan for Covet Crystals Jewelry? Any upcoming promotion or highlights that you would like to share with our readers?
We have never had a pop-up nor have I actually met most of our #ccjgirls. Our recent Media Launch was in fact, my first exhibit. We hope to arrange trunk shows soon so that clients can actually come to view, touch and try the latest jewelry collections before ordering them. Also, I wish to meet and thank my patrons in person as if it weren't for our #ccjgirls, CCJ would never have make it til today. I am grateful for their support and love.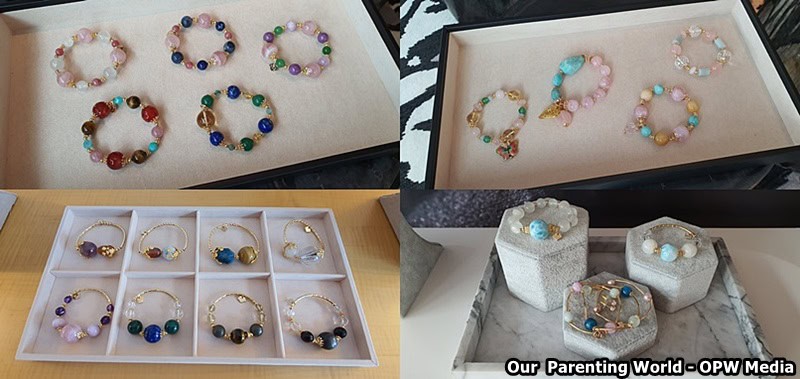 Artist Shu strongly believes in the power of crystal healing and that crystal-wearing is one of the most effective psychophysical therapies to help one overcome difficult times. She aims to help elevate her customers' emotional and mental wellbeing through the natural healing properties of crystals, as well as create stylish, wearable crystal jewelry art that perfectly resonates one's individual style.
We are very impressed with the extensive collection of lovely jewelry and Shu's jewelry craftsmanship during Covet Crystals Jewelry's media launch. Shu is very creative, her designs are so unique and elegant. If you are looking for premium jewelry and or custom made jewelry that is beautiful, stylish and with healing properties that is good for your overall well-being, Covet Crystals Jewelry is the one for you! Visit Covet Crystals Jewelry to find out more at  www.covetcrystals.com.