With the Korean wave and popularity spread all over the world, many people are familiar with all things Korean. How about Korean hot pots? Our Parenting World team was invited to Guksu Restaurant to find out more about this popular Korean restaurant. 
Mr Junho Park, General Manager of H Group Holdings and his team gave us an introduction to Guksu Restaurant which is the first specialized Jeongol restaurant in Singapore. Its other specialities include Hankook style hot pots and Korean fried chicken. Under the same H group Holdings which is the parent company of Guksu Restaurant. It has been operating the popular Kimchi Korean Restaurant (www.kimchi.com.sg) since February 2014. Guksu is well-known for its popular handmade noodles, is introducing more delightful Korean dishes. It has up to 10 varieties of Jeongol, customers can also choose from seven types of delicious broths! 
Sound yummy and we can't wait to try out Guksu's specialities!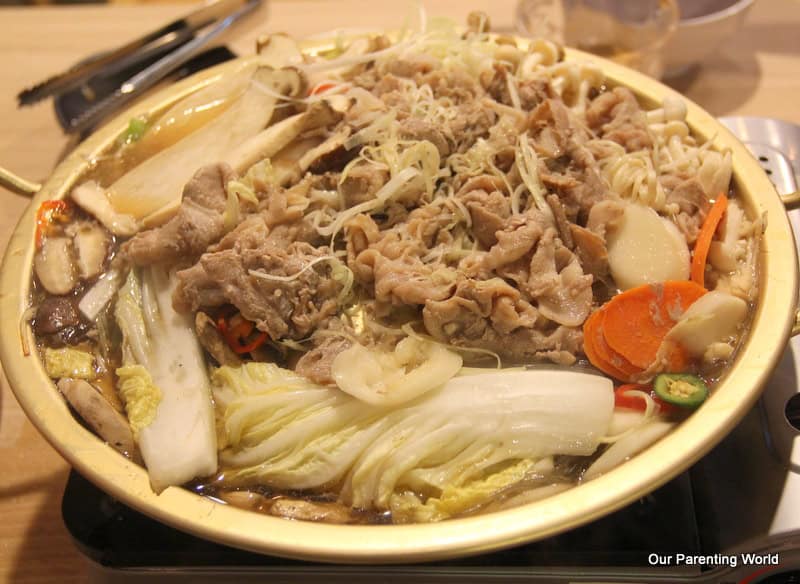 First hot pot that we tried was Daeji Gogi Jeongol, this is a classic Korean stew with vegetables broth and Korean sweet soya sauce that is filled with sliced pork, glass noodles, vegetables and mushrooms.
A background on Guksu's new dish, Jeongol, it is an elaborate stew which was historically served to members of the Korean royal court as well as the nobility. Later on, during the late Joseon Era, soldiers will cook their food in iron war helmets during times of war for the lack of cooking utensils, to crate a Jeongol-like dish.
It is a good comforting hot pot for those who prefer to have something light and tasty that is suitable for the whole family or a group of friends to share. The broth is flavourful and healthy with lots of crunchy vegetables, carrots, leeks and mushrooms. If you like to eat meat, this pot is also loaded with slices of pork to satisfy your cravings. 
The 2nd hot pot that we tried was Haemul Jjim Dak which is a vegetable broth filled with root vegetables, red chili, glass noodles, flower crab, baby octopus, mussels and Korean special sauce.
The whole hot pot is filled generously with seafood and also big chunks of tender chicken thigh meat for added taste. The gravy for this pot is rich, thicker and stronger in taste and it is good to go with rice. Mr Junho Park told us that customers can actually choose 10 levels of spiciness for this hot pot. If you love spicy food, you can challenge your taste buds by increasing the spicy level.
Each hot pot is good for 2 to 4 persons and served with kimchi and 2 bowls of rice. 
When you visit Guksu, besides its specialities, one of the must-try its their signature Korean fried chicken drumsticks. 
We tried three versions which are classic, spicy and soya sauce. Its classic version is crispy and the chicken meat remains moist inside. It is best to dip it with honey mustard sauce for the extra oomph! If you like to eat spicy food, try the spicy version which is tossed with Korean spicy sauce. Its soya sauce version is dipped in Korean soya sauce which further enhanced the taste making the drumstick even more appetizing! The drumsticks are all fried till golden brown regardless of its version, the skins are so crispy when you bite it, you can heard the sound of the skin cracklings. The flesh is juicy and we enjoyed every bite of it. 
The Korean fried chicken is priced at $3.90 for 1 piece, $11 for 3 pieces and $21 for 6 pieces. It has other versions which include garlic, sweet and sour and honey-glaze.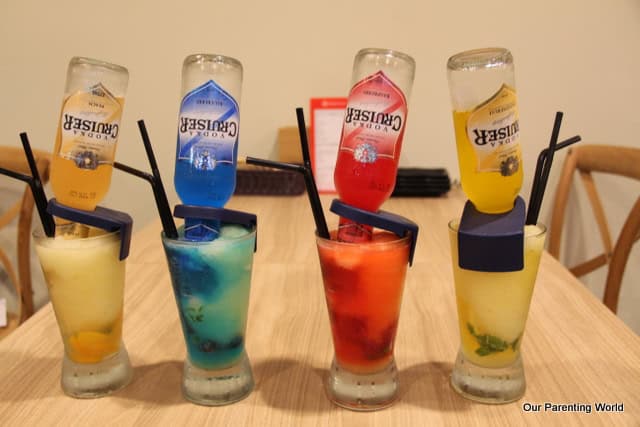 Another interesting item that we were introduced to at Guksu is their wide variety of Cocktails. Starting from left in the above picture is Bunhong (peach), Parang (blueberry), Bbargang (raspberry) and Norang (passion fruit with lemon). All the cocktail is priced at $13.80 each. To us, the cocktails taste like fruit juice with real fruits in the drinks that you will almost forget that they are actually alcoholic beverages. 
Chef Khang Heunsung and Haden Hee, Managing Director of H Group Holdings Pte Ltd, in the above picture from the left to right including Mr Junho Park are all from Korea. Customers can be assured that this is an authentic Korean restaurant. It is a great place to enjoy comforting and delicious meal with families and friends. 
In addition, Guksu has other new hot pot dishes served in hankook style with Guksu's signature kimchi and herbal ginseng chicken broth.
To find out more about Guksu's new dishes, please click HERE. 
Guksu Restaurant
3 Temasek Boulevard #02-385
Suntec City
Singapore 038983
Opening hours: 11 am – 10:30 pm daily
Tel: 6334 7950