This June, get ready to embark on a whimsical journey with Creamier and CatBee yet again.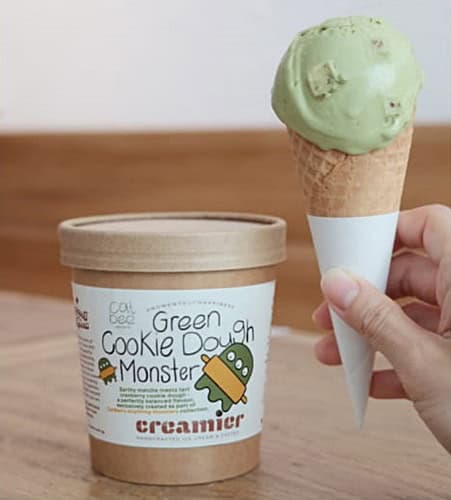 Creamier presents a unique handcrafted ice cream that draws inspiration from Aisha, the talented young artist with autism responsible for CatBee's imaginative creations known as Anything Monsters. Aisha's deep affection for all things green and her cherished weekend baking sessions with her mother have influenced this unique creation. Introducing the Green Cookie Dough Monster, a delightful fusion of earthy matcha and the tangy sweetness of cranberry cookie dough, resulting in a harmonious blend of flavours.
On 9th June, the highly anticipated auction was launched featuring the CatBee Anything Monsters one-of-a-kind collectible dolls. Limited Edition Plushies, created in collaboration with Shian (@shiaaaan), and Limited Edition Crochet Monsters, crafted in collaboration with Amigurumei (@amigurumei), will be showcased and auctioned exclusively on CatBee's website. These cute and lovable handcrafted creations are sure to captivate whimsical art lovers, providing a rare opportunity to own a collaborative art piece.
https://www.iamcatbee.com/auction-time
Proceeds from the auction will be donated to My Inspiring Journey (MIJ), the first Special Needs hub founded by parents with a special needs child in Singapore. Aisha is currently attending their Day Activity Care programme.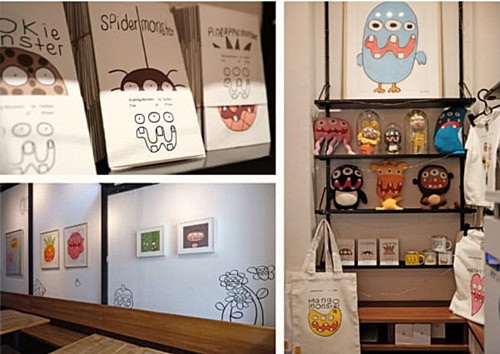 The Art Exhibition and Retail Collection will continue to be exclusively available at Creamier Tiong Bahru, with additions and refreshes from time to time.
Some of the art include a series of 50 one-of-a-kind gesso boards – each individually hand-painted using markers and acrylic paints, framed originals works as well as limited edition prints. Retail items such as adult and children's t-shirts, enamel mugs, tote bags and posters are also on display, so there's something for every whimsical art lover out there. These are available for immediate purchase at the café, and for advance ordering on their online shop for self collection.
EXHIBITION LOCATION
Creamier Tiong Bahru
78 Yong Siak Street, #01-18, Singapore 163078
Open Weekdays 1-10pm, Weekends 12-10pm
(Special hours apply on public holidays)
ABOUT CATBEE
Meet Aisha aka CatBee. As a kid with autism, Aisha finds comfort in spending many hours alone with her coloured pencils everyday, drawing on paper, books and all sorts of surfaces. Her extraordinary ability to focus on the same task for long periods of time allows her to create art pieces that play around with pattern and repetition. Her quiet brilliance and unique way of looking at everyday things are expressed in her quirky characters and colours.
www.iamcatbee.com
@iamcatbee
ABOUT CREAMIER
Creamier is an artisanal ice cream company with its roots in one of the oldest heartland estates in Singapore. Our single-minded focus is to create luxuriously good ice cream for the neighbourhood and community. We've put a lot of care into creating our own recipes, sourcing for quality ingredients and working with local communities to produce honestly good and delicious ice creams. More importantly, we hope for Creamier to represent happiness – where many precious bonds and happy moments are created through our ice creams. We are dedicated to upkeep this ethos with the way we run our company – with a lot of heart, care and integrity.
www.creamier.com.sg
@creamier_sg