Crusty's is a homegrown brand well-known for producing a wide variety of ready-to-eat gourmet snacks such as potato chips, popcorn, fish skin, soy skin crisps and especially their signature crispy salted egg potato chips. Using original wok-prepared recipe since 2016, Crusty's selection of snacks undergo unique preparation methods to deliver their signature Crust! 
The team at Crusty's has been constantly innovating and coming up with new products. Their latest new creation is inspired by Singapore's Hawker Culture where people come together to dine and enjoy various cuisines that each hawker centre offers, this is part of our heritage and food culture in Singapore.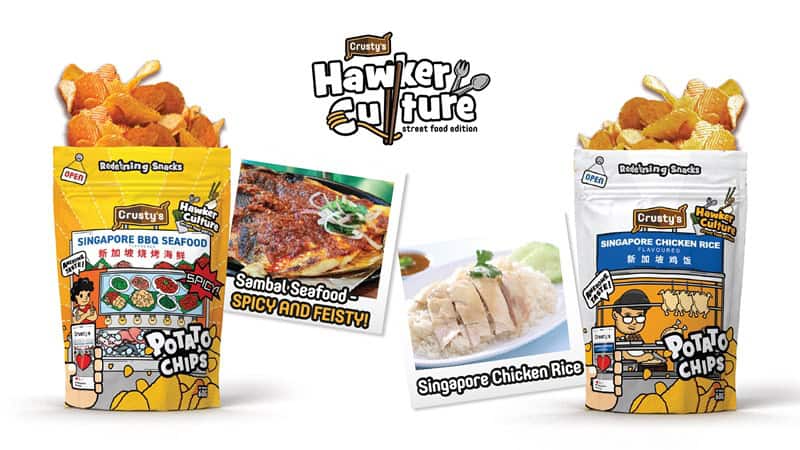 Introducing the two new iconic flavours, they are Singapore Sambal Seafood and Chicken Rice, in a snack pack! These are popular and favourite dishes for many of us! If you like spicy food, try the Singapore Sambal Seafood where you can experience the feisty grilled seafood platter slathered with a generous serving of sambal, encapsulated in golden ridged chips with spicy, smokey taste. What's more, this is the first ever Sambal BBQ Seafood flavoured potato chips in Singapore, so good and so addictive! 
Singapore Chicken Rice Potato Chip is a savoury concoction of flavour poached chicken where you  enjoy our iconic, famous local dish in potato chips form. Get the new Crusty's – Hawker Culture Street Food Edition delights, #singaporefood bursting with umami and delicate local flavours, available exclusively on iShopChangi at https://bit.ly/ishopchangicrustys and check out their website.