This September, you can look forward to craft your own delectable tasting menu at Golden Peony that you can enjoy from just S$48++ for a 5 course lunch and S$68++ for a 6 course dinner with signature dishes created from award winning Executive Chinese Chef Ku Keung's new menu.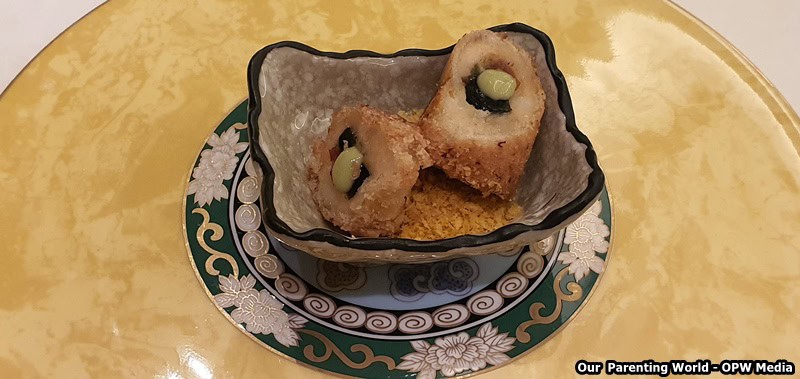 Century Egg Prawn Roll
We started our 6 course dinner with Century Egg Prawn Roll as an appetizer. This yummy crispy roll is filled with prawn meat, century egg, bak kwa and wasabi mayonnaise. A great way to start our dinner and we are excited to try out the rest of the dishes.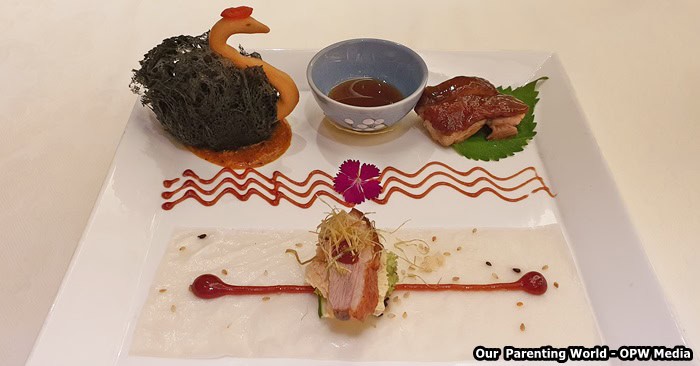 London' Duck Pancake Roll, Parma Ham, Pineapple, Crispy Beancurd Skin Swan Pastry with Chili Crab Meat.
We were so impressed when this elegantly arranged dish was served and this is for individual portion. First, wrapped the succulent London Duck meat with its homemade pancake skin and enjoy the delicate taste in your mouth. Dip the tender duck meat served at the side into the plum sauce for an extra oomph! Enjoy the beautiful swan pastry with Singapore's Signature Chili Crab, the pastry is so light and flaky combined perfectly with the savoury chili crab meat and sauce.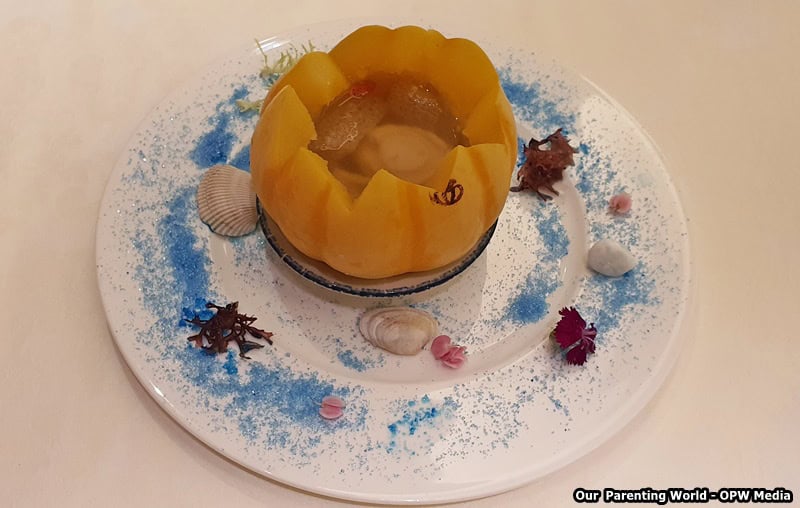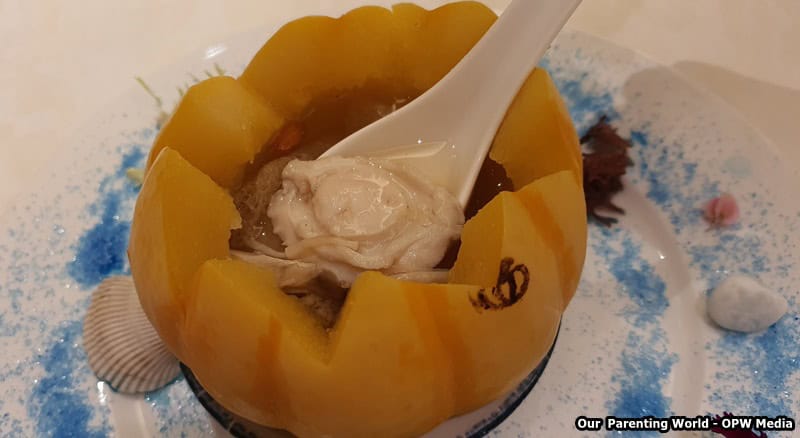 Double-boiled Baby Abalone Soup with Sea Whelk, Conpoy and Bamboo Pith in Mini Golden Pumpkin.
A beautifully plated, stunning nourishing soup that is filled with premium ingredients with treasures and flavours of the sea like Baby Abalone, Sea Whelk and Conpoy. The hearty soup has been double-boiled with pumpkin to give a natural sweetness. The soup is so good that we finished every drop of it.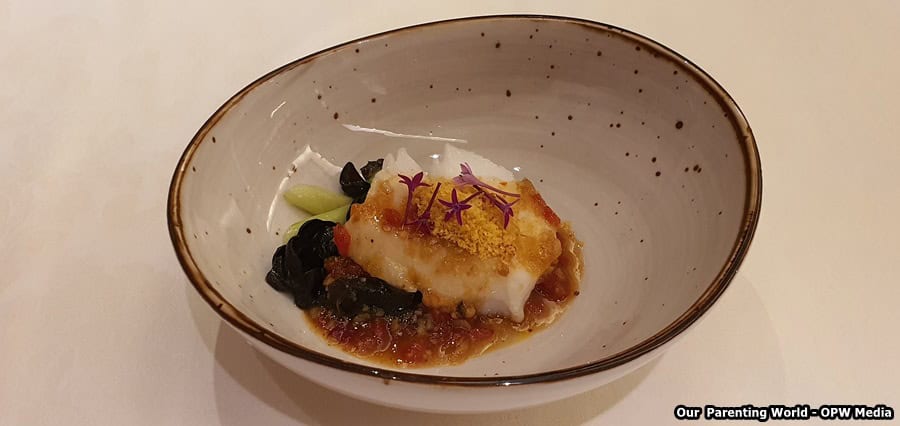 Steamed Sea Perch, Capsicum Preserved Chili.
Sea Perch fillet has been steamed perfectly, the meat is so fresh and has a smooth texture, drizzled with Capsicum Preserved Chili to give that extra punch of flavour. Coupled with asparagus and fungus for the additional crunch to this tasty and healthy dish.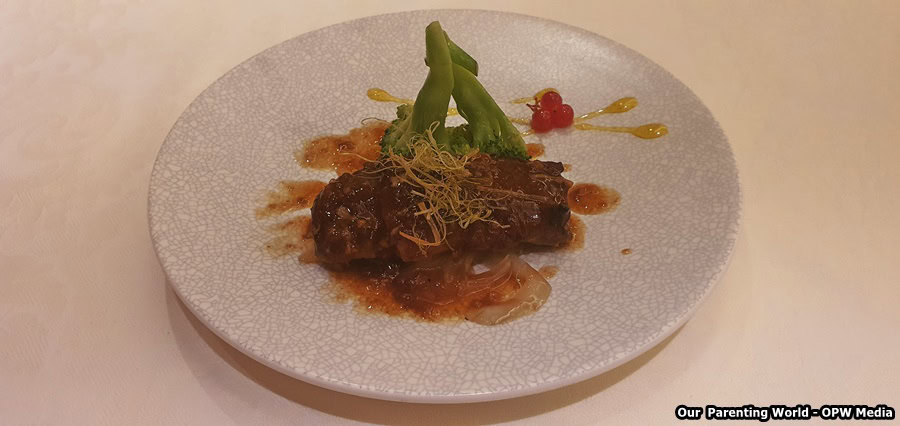 Baked Kurobuta Pork with Bacon and XO Chili Sauce.
It is a such a delight to indulge in this tender, juicy and succulent baked Kurobuta Pork that is wrapped with bacon and infused with XO Chili Sauce. An excellent meat dish!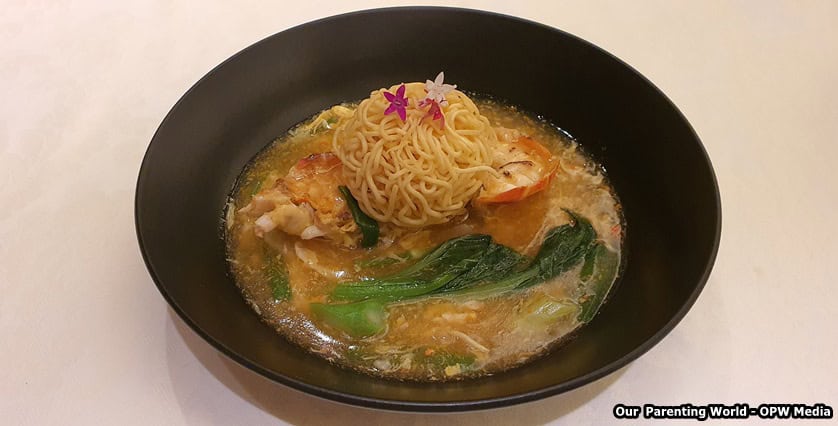 Stewed River Prawn with Crispy Egg Noodle Ball, Ginger, Spring Onion and Egg Gravy.
The ball of crispy egg noodles catches our eyes when this dish was served, it was beautifully made and the noodles are so crunchy. The stewed river prawn is huge, juicy and very fresh, you can soaked the noodles in the goodness of the rich, savoury prawn and egg infused gravy, that is so delicious!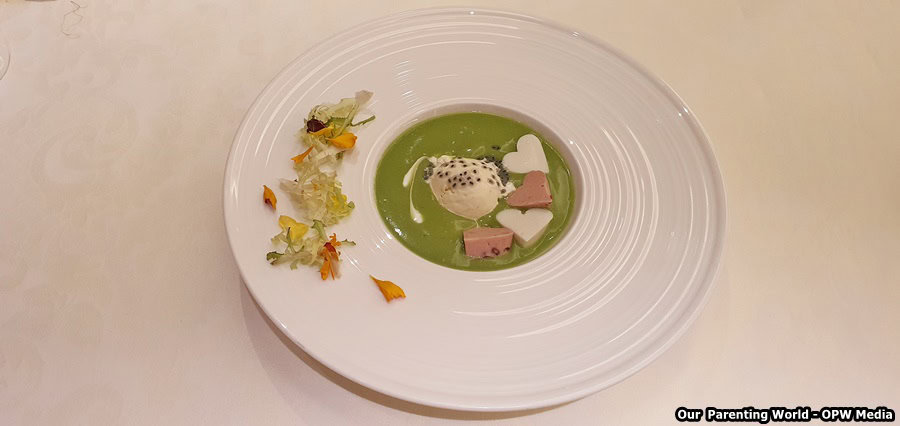 Chilled Cream of Avocado, Vanilla Ice Cream, Red Bean, Coconut Pudding
This tempting dessert consists of smooth, creamy Avocado with Vanilla Ice Cream and lovely heart-shaped Red Bean and Coconut Pudding. What a great way to end an extraordinary meal! 
Three top reasons why you should curate your own dining experience at Golden Peony as follows:
1) Enjoy a one-of-the-kind dining experience where you can arrange your own delectable tasting menu featuring award-winning Chef Ku Keung's signature dishes.
2) Be in awe with a variety of extraordinary dishes using premium ingredients wonderfully crafted that will satisfy any palette.
3) Indulge in luxurious and multi-sensory dining experiences with value for money menus for both lunch and dinner at Golden Peony.
We had a fantastic meal at Golden Peony and we absolutely love Chef Ku's creation. Hurry, don't miss the opportunity to try out the new menu wonderfully crafted by the talented Executive Chinese Chef Ku Keung and his team at the highly acclaimed Golden Peony. 
Curate Your Own Dining Experience at Golden Peony 
Duration:
Menus are available starting from 8 September 2020
Click below to view the menus as follows: 
Discovery Set Lunch Menu: 5 course menu for S$48++ per person
Discovery Special Set Dinner Menu: 6 course menu for S$68++ per person
Venue: 
Conrad Centennial Singapore, Golden Peony, Level 3
Two Temasek Boulevard Singapore 038982
Operating Hours:
Tuesday – Sunday (Closed on Mondays)
Lunch: 11:30 – 14:30
Dinner: 18:30 – 22:30
For reservations:
Please call Tel: 6432 7482/88
Email: [email protected]
To find out more, please visit http://www.connoisseur.sg/curate-your-own-dining-experience/