Exclusive Interview with Ryan Flores, Senior Manager, Forward-Looking Threat Research, Trend Micro, Asia Pacific, a member of the Cyber Security Awareness Alliance by Cyber Security Agency (CSA) Singapore.
Our Parenting World team has earlier attended the Live Savvy with Cybersecurity campaign which was the first National Cybersecurity Awareness Campaign organised by Cyber Security Agency (CSA) of Singapore. We realised how important Cybersecurity is and we have the pleasure to interview Ryan Flores, Senior Manager, Forward-Looking Threat Research, Trend Micro, Asia Pacific and a member of Cyber Security Awareness Alliance to find out more. 
1) How vulnerable are children to cyber threats?
To certain extent, children are more vulnerable to cybersecurity threats than any other groups of people.  
First of all, mobile devices and the internet are becoming increasingly accessible for kids; nowadays many primary school students have their own smartphones or laptops to go online and stay in touch with their friends. The growing demographic inevitably leads to more cybersecurity attacks targeting children.
Secondly, kids usually lack the ability to discern threats or identify the perils of their online activities. For example, they can be tricked into downloading a piece of malware disguising as a legitimate gaming app, or sharing personal information that could be later used for extortion purposes.
The knowledge of protecting oneself online should be taught as early as elementary school, for kids to nurture a good, healthy attitude towards digital technology and cybersecurity. On the other hand, parents also need to be more alert in detecting online and mobile threats targeting their children and construct parameters for their kids' device or internet use.
2) What are the common threats children might face?
Children are exposed to a slew of threats when they go online, such as inappropriate content or cyberbullying. On top of those, kids are also victims to cybersecurity risks taking advantage of IoT devices or objects, such as mobile phones, PCs, wearables, electronic learning toys, and games. In fact, back in 2015, a global provider of internet-connected learning toys was breached, resulting in the attacker gaining access to more than 6.3 million child-related profiles and 4.8 million parental accounts, demonstrating the severity of such incidents.
3) Is there a difference in the type of threats that children of different ages face? For example, those aged below seven years old compared to those aged between seven to 14 years old.
Kids of different age group or gender or family background tend to use different devices and apps, at varying frequencies. However, the attacks they're exposed to are largely the same – most cybercriminals are looking to breach privacy and steal personal information.
Given that no one can be exempted from the ever-expanding cybersecurity threats, there is growing urgency in knowing and understanding current or ongoing cyberattacks that could potentially harm children.
4) There are so many things to look out for when protecting my children online. Where do I begin for kids aged seven years and below?  
It is highly advised for parents to keep an eye on and be involved in what their children are doing online, and establish boundaries in the context of safe and unsafe online activities.
When it comes to IoT device security, there are a couple of things parents should know and have visibility into before handing their children such devices and giving them the free rein to use the device. You can refer to the infographic below or take this quiz to see how safe a device is.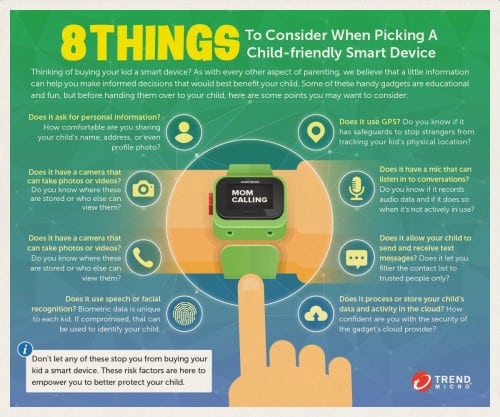 In addition, parents can also choose to employ security software tools such as Trend Micro's Parental Control, which allows parents to set specific rules around device and internet usage, capping the time spent on a certain app and reducing the risks exposed to by their children.
5) How do I ensure that my older children (aged seven to 14 years old) are protected as well?
The above advice is applicable for kids ranging from different age groups. On top of that, education is paramount in making parents and kids understand and appreciate good cybersecurity hygiene.
According to CSA Singapore, it was found that 41% of citizens admitted to not conducting virus scans on mobile, USBs, external hard disk devices, and files before activating them. This is basic cybersecurity practice and more awareness is needed for a wider adoption.
In fact, the Live Savvy with Cybersecurity public education campaign by CSA aims to dole out simple tips for citizens – parents and kids alike – to protect themselves better as they navigate the increasingly complex digital world. Visit Go Safe Online for more information on how to be cybersecure.
Thank you Ryan Flores for taking our interview! 
********
Cyber Security Agency (CSA) Launches First National Cybersecurity Awareness Campaign – Published on February 12, 2017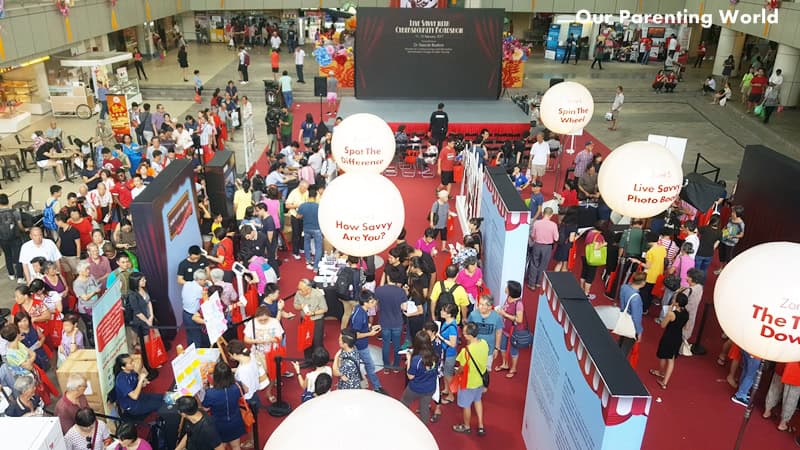 Cybersecurity is important and it affects everyone, not just IT personnel. This is the message Our Parenting World understood from the campaign. For example, the use of smartphones which is part and parcel of our lives may put us vulnerable to cyberattack.
Live Savvy with Cybersecurity campaign was the first National Cybersecurity Awareness Campaign organised by Cyber Security Agency (CSA) of Singapore. It is all about breaking down cybersecurity into simple steps to help Singaporeans better understand and apply cybersecurity into their daily lives. This public awareness campaign was launched on 11-12 February at the Atrium @ Toa Payoh Hub, 10am-6pm. 
CSA also released key findings from first Cybersecurity Public Awareness Survey which showed about 3 out of 5 respondents were extremely concerned about the security of their financial and personal information. However, the findings revealed that there is room for improvement when it comes to cyber hygiene awareness and practices.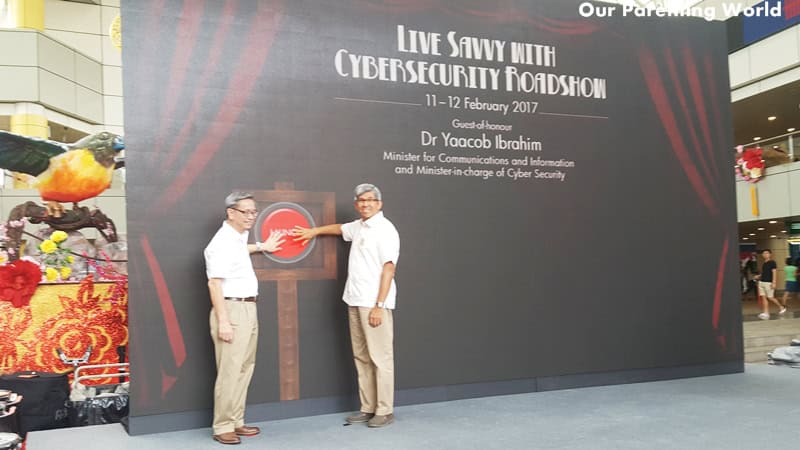 To create awareness and instill the importance of cybersecurity, Cyber Security Agency (CSA) launched its first-ever public education campaign, "Live Savvy with Cybersecurity" with a family-friendly cybersecurity carnival, where Chief Executive of CSA, Mr David Koh, and Dr Yaacob Ibrahim, Minister for Communications and Information and Minister-in-charge of Cyber Security were present to launch the campaign. 
The event was very popular attended by many consisting of families, elderly and youth where they learnt easy-to-adopt cybersecurity measures, check which cybersecurity level they stand at, and play games to "take down" cyber threats. There were also many fun activities and treats where public could enjoy popcorn, candy floss, carnival games, quizzes and prizes to be won!
Our Parenting World is pleased to share the latest results from Cyber Security Agency (CSA) where it announced the key findings of its first Cybersecurity Public Awareness Survey which is commissioned across 2000 respondents aged 15 years and above, the survey revealed findings such as:
·         86% said they used a complex password but one in three do not manage their passwords securely.
·         One third of respondents indicated that they did not install applications in their mobile phones.
·         67% expressed interest in learning more about cybersecurity and how they can protect their identities online. 
For more information on the key findings from the survey, please click HERE. 
Let's take action and work together to increase the awareness of practicing cybersecurity in our lives! 
Additional Information: 
About Cyber Security Agency of Singapore
Established on 1 April 2015, the Cyber Security Agency of Singapore (CSA) provides dedicated and centralised oversight of national cyber security functions, and works with sector leads to protect Singapore's critical services. It also engages with various industries and stakeholders to heighten cyber security awareness as well as to ensure the holistic development of Singapore's cyber security landscape. The Agency was established under the Prime Minister's Office and is managed by the Ministry of Communications and Information. Information on CSA is available at www.csa.gov.sg.