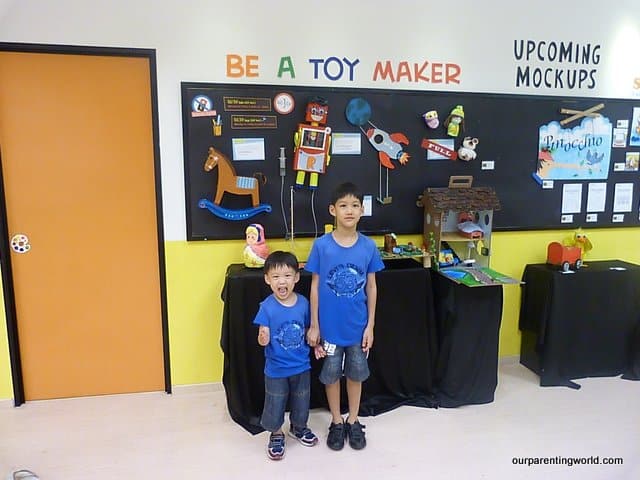 Our Parenting World, Gor Gor and Di Di were very excited to start their 5 days workshop on Be a Toy Maker at Da Little School.
Da Little School is a new preschool centre started up by Kids' Gallery Singapore which was founded in Hong Kong in 1996 to offer an unique concept and curriculum in art enrichment education for children. 
Kids' Gallery was proud to celebrate 15 years as Hong Kong's leading children's arts centre in 2011. Today, Kids' Gallery operates centres in Hong Kong, China, India, and Singapore. 
During the June holidays, Da Little School has lined up interesting and exciting programs for children to attend. Please click HERE to see the complete list of programs. Gor Gor and Di Di attended the Mechanical Toys workshop for its Be a Toy Maker series and here's an inside peek of what they have been doing during the 5 days workshop.
At day 1 of the workshop: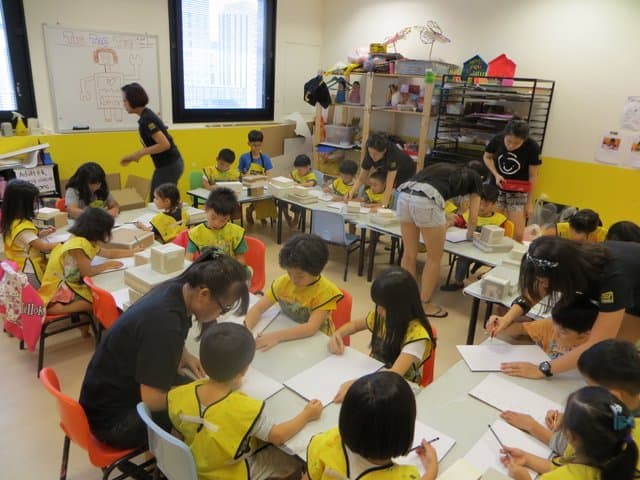 Children started off by designing how they wanted their robot to look like, what kind of robot they would like to have. Each child was given a small box for the robot head, and big box for the robot body. The children painted the 2 boxes with the colors they wanted for their robot head and body. They were given cardboards to design and cut out their robot arms.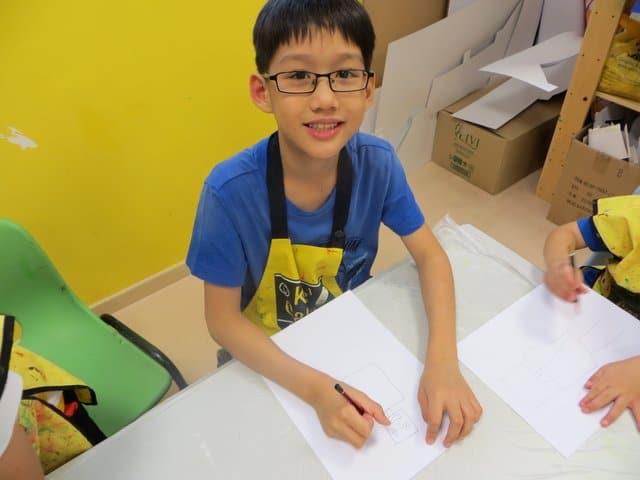 "I am sketching the design of my robot and I want to build a powerful robot!"
 "You want to see my robot?"
"I want to build a robot like Transformers!"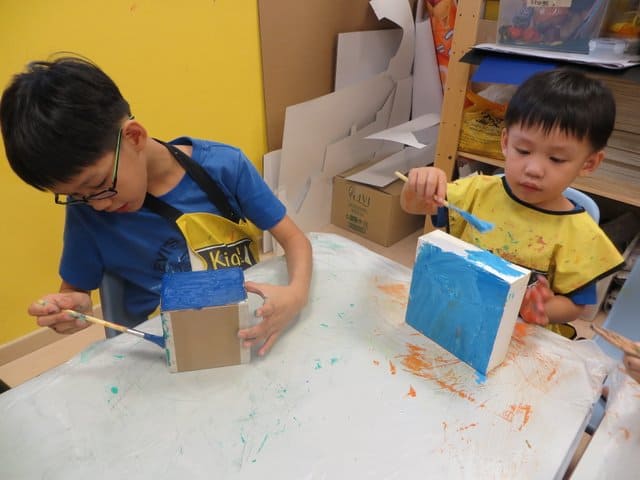 Gor Gor and Di Di started to work on their robots. 
The children were shown some examples of mechanical toys like cars, wind-up toys and even pinwheels. Children were encouraged to observe how these toys were made to move and what caused them to move.
Educational Focus:
The teachers will describe the movements and introduce the following scientific terms to the children: Push and Pull, Elasticity, Pneumatic Systems, Gears.

As most children have many toys that they love, the lesson ended with a story reading about a boy who has "Too Many Toys" (by David Shannon). This humorous and heart-warming story talked about a boy who has a lot of toys that he loves but has to pick some to give away.
At day 2 of the workshop: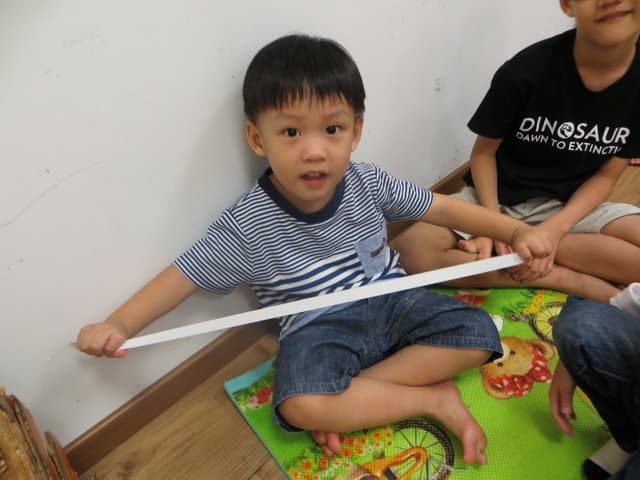 Day 2, the teachers  focused on the topic of  Push and Pull.
Children were encouraged to explore toy cars that required pushing or pulling to make them move.
Educational Focus:
Why certain cars needs a push while others needed to be pulled back before they can move? Children were encouraged to work this out. The children found out that some cars uses elasticity and gears that enable them to store energy when the cars were pulled back and thus able to move by themselves when they were released.

Children were encouraged to try pushing the cars softly and then harder and observed what happened. Children found out that how hard they pushed the cars could affect how fast and how far a car could move.

The teachers set up a ramp for the children to play their cars. Children also looked into why cars could go down a ramp without the need to push or pull those cars.
Gor Gor and Di Di get back to work on their robots. Look how excited Di Di is!
Day 2, children continued to work on their robots where they will stick the facial features and hair on their robot heads. They also get to paint the robot's arms and feet.
At day 3 of the workshop: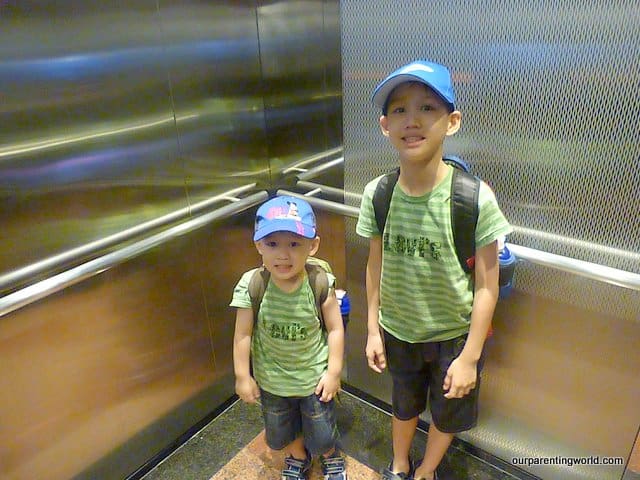 Gor Gor and Di Di get to go on an excusion trip on Day 3. They kept talking excitedly about it the day before and looking forward to the trip with their teachers and friends.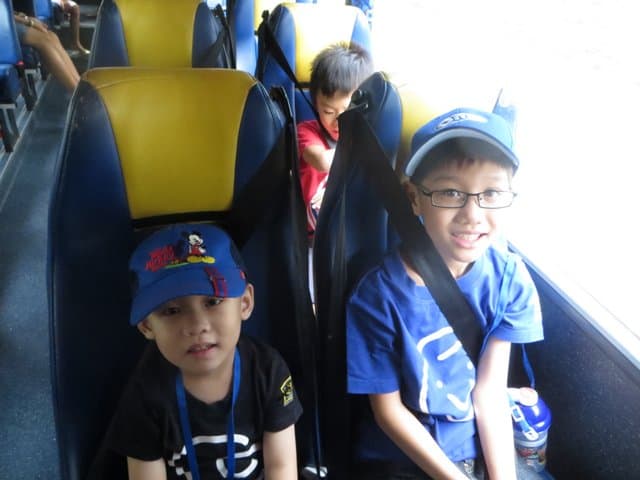 "Hooray! We are on our way to Sembawang Battleship Playground".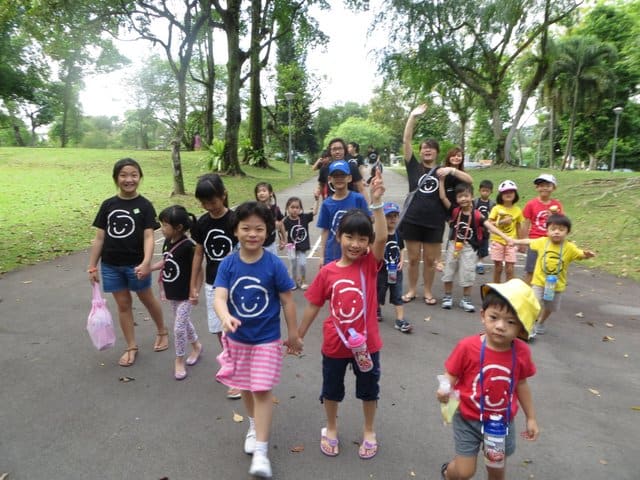 The weather was good, the teachers and children set up a picnic area near the Battleship Playground, and after some safety instructions to the children, they went off to play, with the teachers close by to supervise and assist.
The Battleship Playground is a structure with plenty of climbing rope ladders, spiral slides and a series of tunnels and rope walkways.
Gor Gor had so much fun climbing and exploring the various parts of the playground.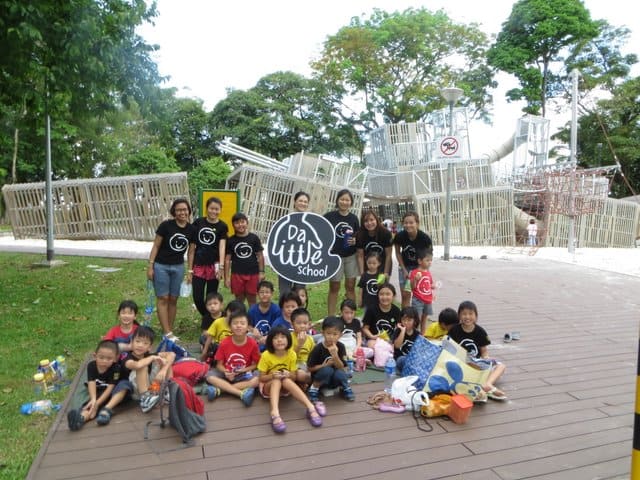 The children had such an enjoyable time!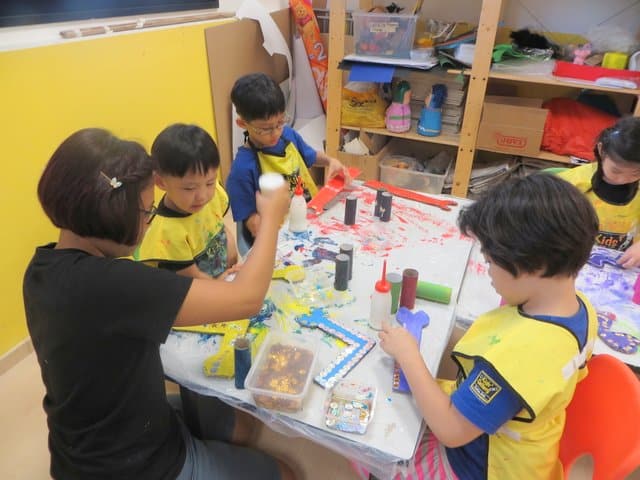 After the excusion, the children went back to class to continue to work on their robots to decorate the arms and legs of the robot with accessories.
At day 4 of the workshop: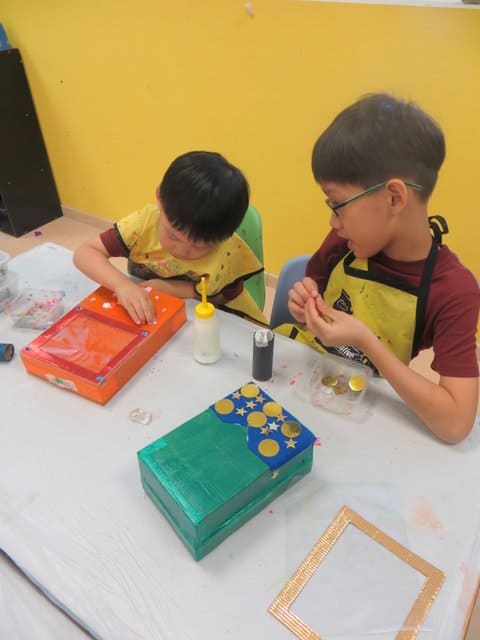 Educational Focus:
Day 4 lesson was about Elasticity. The children were given different types of elastic materials to explore, some were thin, some were thick elastic materials.
What is Elasticity? The children thought about it and discovered that elasticity in a material means that when it stretches, it can return back to its original state, like a rubber band. After 'feeling' and testing all the elastic materials, the children were able to determine which was strong, and which were weak. They concluded that the thicker the elastic material, the stronger its elasticity.
Children were given a demonstration on a DIY cardboard rubber band card to demonstrate how elasticity could be used to make a toy move. The lesson ended with the reading of a book that shows how springs were used to make some mechanical children toys.
Gor Gor and Di Di continued working on their robots and decorating the bodies with accessories. Very soon, they will be able to see their completed work the next day.
At day 5 of the workshop: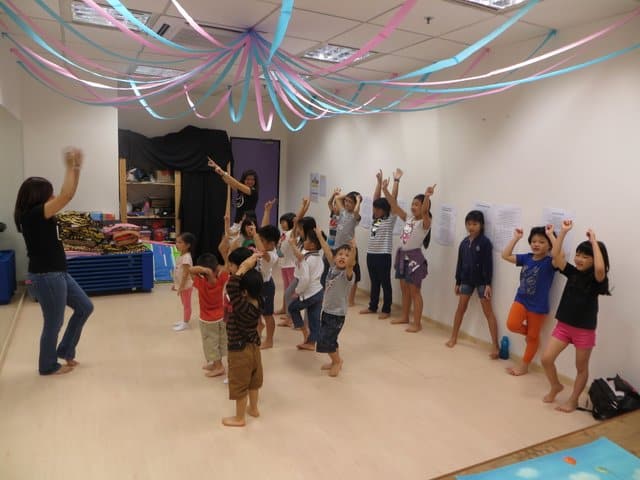 Everyday there will be a music and movement session where children will learn to sing and dance to 4 songs. Gor Gor and Di Di loved the singing and dancing session where they can flex their muscles for some physical activity and sing along.
Educational Focus:
At day 5 the final day, children were taught scientific concepts on Pneumatic Systems and Gears. Pneumatic system is a way of using air to create movement. The concept of Pneumatic Systems was explained and demonstrated to the children using DIY teaching aids made from recycled materials, balloons, balloon pumps and syringes. The children enjoyed testing out the contraptions to see the balloons expanding and contracting. The teachers demonstrated the concept by making a cardboard crocodile mouth move using pneumatic systems. To understand what gears are, children were shown pictures of gears and also demonstrated how they work with a toy gear set. Children could observe that moving one gear caused all the other gears connected to move, in opposite directions!
On day 5 lesson, the story is about Robots – "Robot Rumpus!" by Sean Taylor & Ross Collins.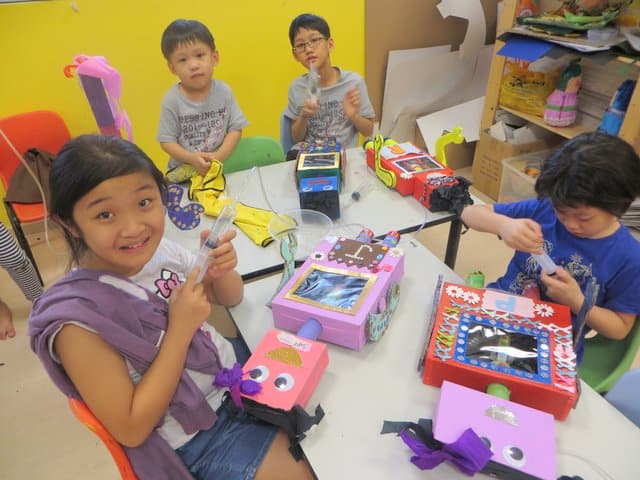 At the last day of the workshop, the children assembled all the robot parts together with its mechanical features.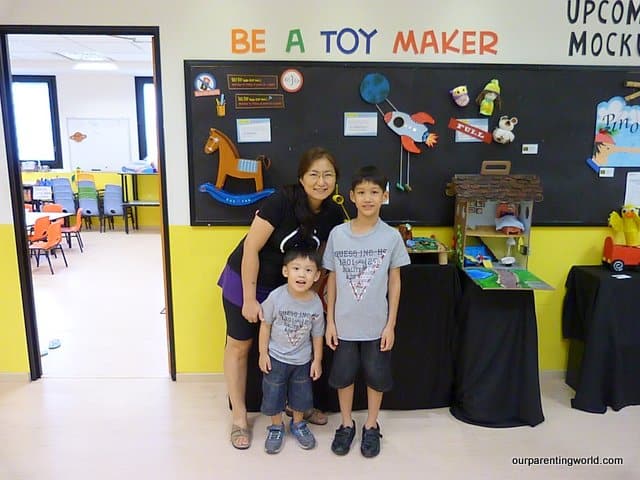 Time flies, Gor Gor and Di Di have finished the 5 days workshop. They enjoyed the class and have learned a lot on the science behind building a mechanical toy and having a fun time going for an excusion to visit the theme playground.
Here, we would like to thank Da Little School and Kids' Gallery for having us and the passionate and dedicated teachers for teaching us and making the lessons so fun and interesting. Thumbs up to Da Little School!
Both Gor Gor and Di Di actually didn't want to be picked up earlier before the class finished as they would like to stay in their classroom a little longer to be with their friends and teachers. We know that they really like the school and both also commented that the lunch from school was simply delicious!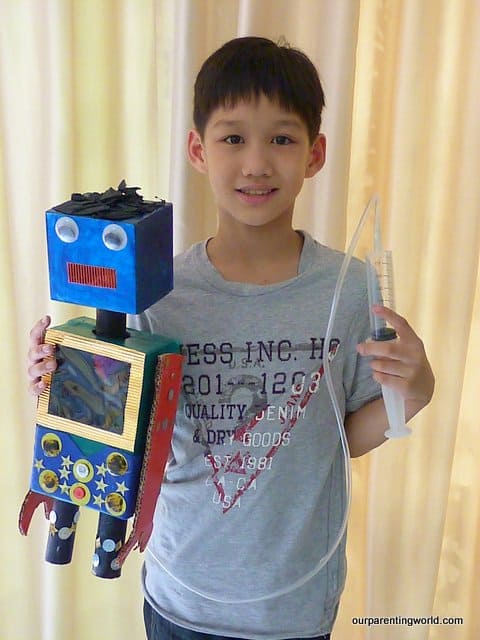 This is Gor Gor's completed robot.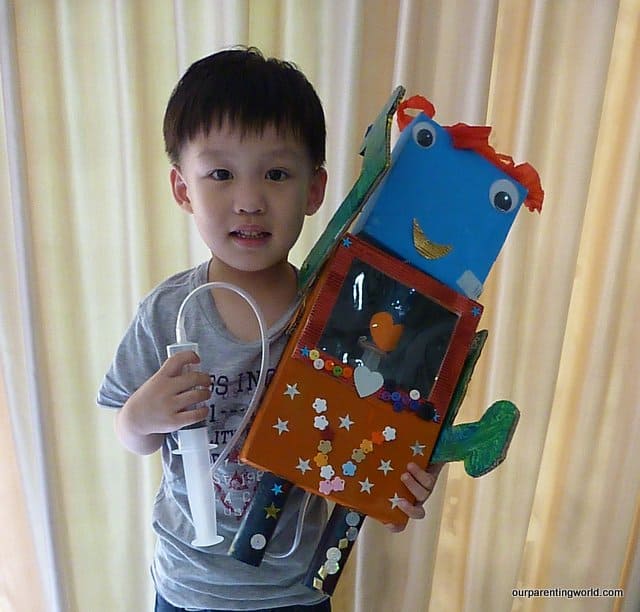 This is Di Di's completed robot.
The boys love their robots and they kept demonstrating to Mummy and Daddy that their robots can move too!
After the boys have completed their workshops, the school is very thoughtful to send the songs and lyrics that the children had been practicing to the parents. This is very useful as the boys are still humming and singing the songs from the workshop. That's not all, the school will send a detailed newsletter with pictures and description of what is going on in class.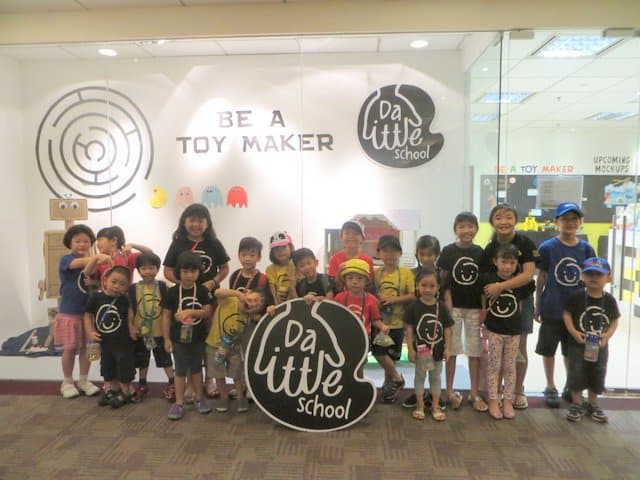 Additional Information:
Da Little School Private Limited
391B Orchard Road #13-03
Ngee Ann City Tower B Singapore 238874
Phone : 65 6235 5993   Fax : 65 6235 7096
Web : www.dalittleschool.com.sg
Email: [email protected]