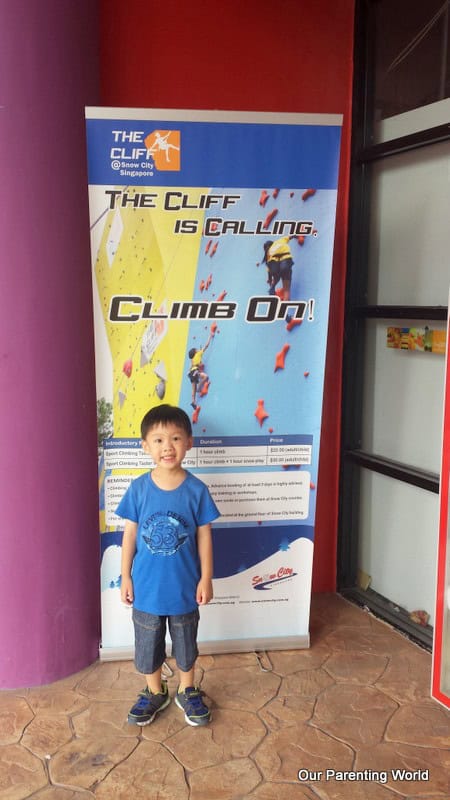 Our Parenting World is invited to the media preview of the "Dare to Climb" school holiday programme at the Cliff, located outside Snow City, 21 Jurong Town Hall Road, Singapore 609433 to try our hands at rock climbing.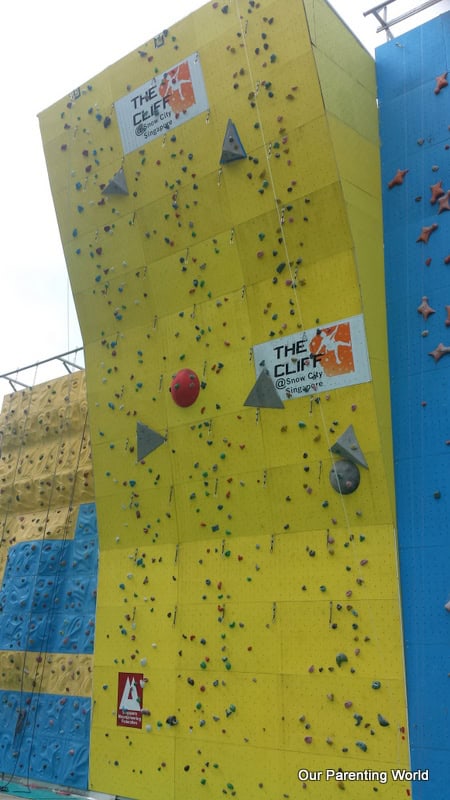 In recent years, wall climbing has become a popular sport. This could be due to the interest gained after the Singapore's team success in climbing Mount Everest, the highest mountain in the world, in 1998.
Unlike climbing Mount Everest which can be dangerous, wall climbing in Singapore is considered to be a very safe sport, as long as you do it under proper supervision by qualified instructors. Even young children like Di Di can safely learn the sport.
This wall climbing is located outside Snow City, it has a wall comprises of 10 climbing lanes of various difficulty levels suitable for Lead and Speed climbing and is big enough to allow 20 climbers to participate simultaneously. If you look at the wall in our picture, on your left are for the beginner climb, where there are more anchors and grips compared to the more difficult wall on your right is also higher and at the top part, the wall angled towards you instead of being straight.
This wall climbing activity is a collaboration between Snow City and Nphibian Outdoor Consultants Pte Ltd, a leading expert in Wall Climbing facilities and member of the Singapore Mountaineering Federation (SMF). The Cliff is the latest sport climbing facility to be built in Singapore, using the international Vertigo Climbing System, which was last used locally at the 2012 World Youth Climbing Championship held in Singapore. The Cliff is also the first Vertigo Climbing System to be installed at a permanent location locally.
The first step in preparing for rock climbing is to wear suitably. Comfortable tops with long slacks or tights are recommended, but not jeans. For shoes, track shoes or sneakers are recommended but not outdoor boots or slippers.
Di Di is very excited and all ready to start his climb. 
After a short briefing and introduction by the instructors, we would prepare for the climb. First, we would need to wear a safety harness. It is quite easy to wear, like slipping into a pair of shorts and then the instructors help to tighten the harness sufficiently before we proceed. We learned techniques like using the foot to push yourself up to the next step and at any one time, you should have at least one hand and one foot anchored to the wall diagonally (for example, if your right hand is holding to an anchor, your left foot should also anchored, while your free left hand and free right foot can look for the next anchor).
The sport is very safe because you would be anchored tightly by your instructor who is on the ground. If you missed your step and slipped, your safety rope which is anchored by your instructor through an overhead pulley would keep you floating in the air instead of crashing downwards. When you reach the top, you could let go and your instructor would slowly lowered you back to the ground.
Wall climbing can help to build up your confidence and also agility. It is a good sport for both individuals and also in a group.
Introducing "Dare to Climb" which is a three-hour holiday programme for families with children aged 10 to 12 years old, where attendees get to learn about the tips and tricks about rock climbing and challenge their skills at The Cliff. For more information on the various climbing activities organised by them, especially for their junior academy participants, please click HERE for more information.