DBS is bolstering its suite of digital offerings this Chinese New Year (CNY) so customers can usher in the Year of the Ox joyfully and safely, amid Covid-19 measures. Comprising digital gifting alternatives like the DBS eGift and DBS QR Gift, and a line-up of interactive experiences including games and a virtual Chingay event, this assures customers can continue to keep long-standing festive CNY traditions alive even in the new normal.
Jeremy Soo, Managing Director and Head of Consumer Banking Group (Singapore), DBS Bank said, "CNY is a special time for family and friends to gather and welcome the new year with warmth and excitement. Though celebrations may look slightly different this year, it is our hope to keep the CNY spirit alive and flourishing even as we take care of our customers' health and well-being. To help customers stay safe and go digital this CNY, we have prepared an exciting range of digital solutions and experiences with which to celebrate the festive season."
Gift safely, conveniently and sustainably with DBS eGift and DBS QR Gift
Customers can beat the queues for CNY new notes and enjoy contactless, hassle-free gifting with digital alternatives such as the DBS QR Gift and DBS eGift. Hosted on DBS PayLah!, one of Singapore's most popular mobile platforms with over 1.8 million users, these also serve as more environmentally friendly options as compared to cash: according to the Monetary Authority of Singapore, the production of new notes for CNY each year is estimated to generate about 330 tonnes in carbon emissions.
The DBS QR Gift, which aims to replace cash while preserving the meaningful CNY tradition of exchanging physical red packets, has grown increasingly popular with customers since its introduction in 2019. The number of DBS QR Gift cards used during CNY in 2020 tripled from the previous year, with the amount of money loaded on them in the same period nearly doubling to SGD 2.8 million.
This CNY, DBS is introducing a new customisable expiry feature that allows customers to choose their preferred expiry date of up to eight weeks from the date of loading. DBS QR Gift cards not redeemed by this date will be refunded to the givers thereafter. This new and enhanced version of DBS QR Gift has a shelf life of up to three years.
To use a DBS QR Gift card, customers simply need to scan its QR code via DBS PayLah! to load their desired cash value, then gift it to a recipient for redemption via DBS PayLah! or PayNow. Teens below the age of 16 can also scan and receive DBS QR Gift cards directly by registering for their own DBS PayLah! wallets, which can be done with their parents' authorisation via SingPass. Up to 10 DBS QR Gift cards with the same cash value, message, expiry date and animation can be loaded at once, providing greater convenience to time-strapped users.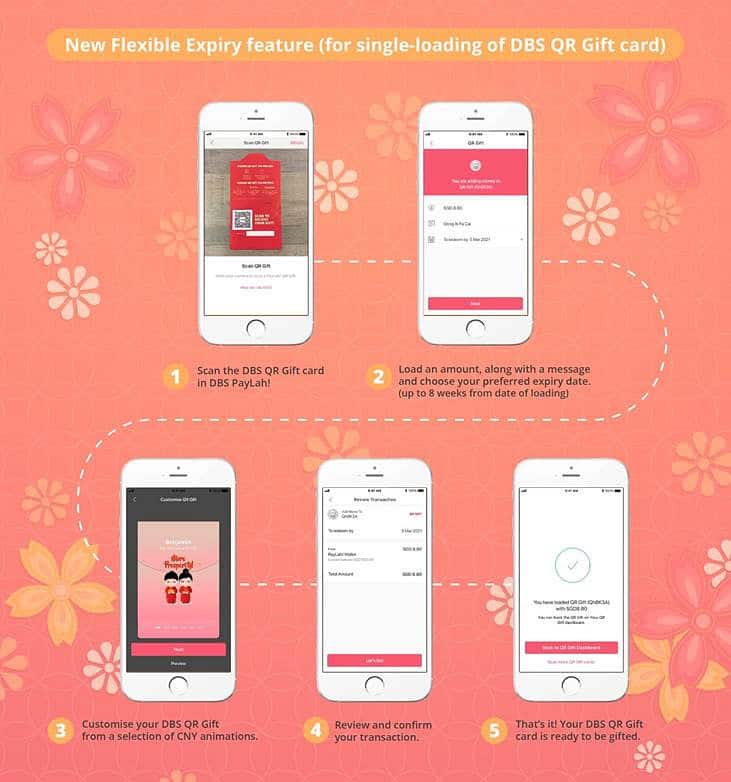 Flexible expiry feature for single-loading of the DBS QR Gift card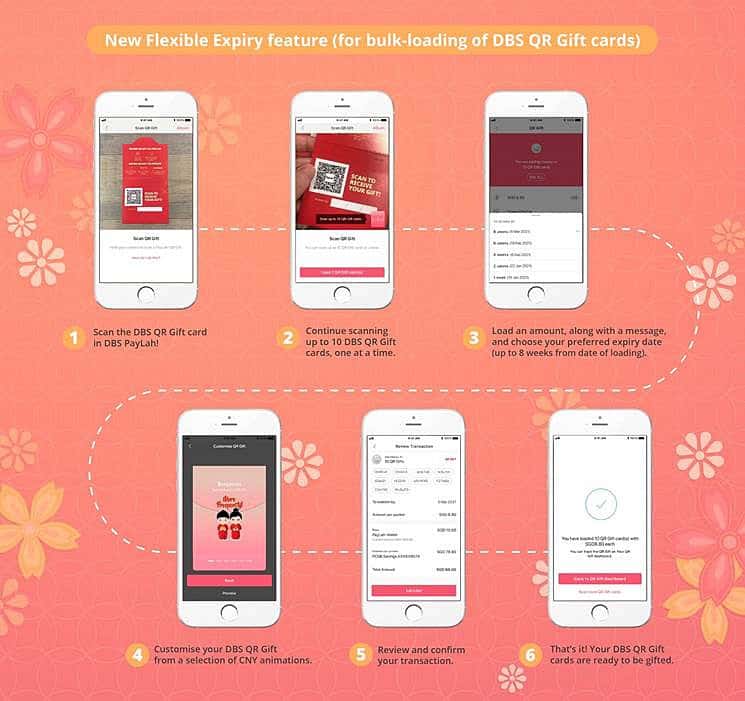 Flexible expiry feature for bulk-loading of DBS QR Gift cards
This year's DBS QR Gift cards come in packs of eight, with each pack featuring two designs: one specifically designed for CNY festivities, and a generic design suitable for all special occasions such as weddings and birthdays. DBS QR Gift cards can be collected for free at all DBS/POSB full-service branches and DBS Treasures Centres as of 11 January, and at POSB new notes pop-up ATMs starting 25 January.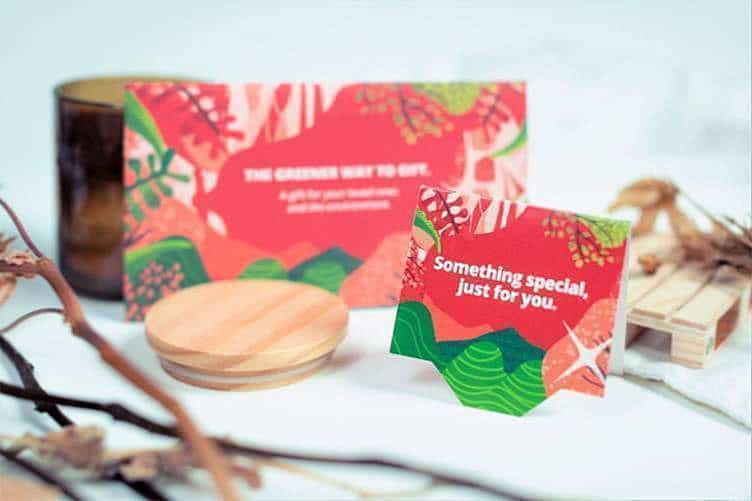 All images credited to DBS/POSB
For customers who prefer a fully digital option, DBS eGift allows them to gift loved ones from the safety and comfort of their homes. Customers simply need to tap the in-app 'eGift' icon in DBS PayLah! and indicate their preferred amount, along with a message and animation of their choice. Both DBS eGift and DBS QR Gift can be redeemed by users of DBS PayLah! and PayNow.
"We may not be able to visit all our family and friends this CNY, and many have loved ones who are overseas. With digital gifting alternatives such as DBS eGift, we can bridge the physical distance and still send them our well-wishes, which are especially precious during these trying times. We also encourage customers to use DBS QR Gift cards instead of cash, to avoid the hassle and risk of travelling to get new notes," said Jeremy Soo.
More corporates making the shift towards digital gifting with DBS QR Gift
More companies are embracing digital gifting to promote sustainable consumption during festive celebrations. So far, more than 10 corporates including LGT Bank (Singapore) Ltd, ERA Realty Network Pte Ltd, Oiltanking Asia Pacific Pte Ltd and returning partners SMRT Corporation Ltd, Chubb Insurance Singapore Ltd and VICOM have joined DBS in pledging to use DBS QR Gift cards for employee gifting this CNY, instead of cash.
Scott Simpson, Country President of Chubb in Singapore said, "Chubb recognises the importance of adopting sustainable practices in our operations and we continuously explore options to reduce our environmental footprint. A little effort goes a long way – with the adoption of the DBS QR Gift since 2020, we want to help reduce paper waste as well as make it seamless and convenient for our employees with this digital solution."
Sim Wing Yew, Chief Executive Officer at VICOM Ltd, said, "We're glad to be part of this meaningful initiative that not only embraces digital transformation, but also goes towards building a more sustainable future. Our overall experience with the DBS QR Gift has been very pleasant and comfortable, and we look forward to using it for employee gifting again this Chinese New Year."
First piloted last CNY, the initiative saw the participation of SMRT Corporation Ltd, Chubb Insurance Singapore Ltd, Manulife, Tribal Worldwide Singapore and VICOM, which collectively used close to 13,000 DBS QR Gift cards.
A range of interactive games and experiences for families and friends to enjoy
DBS has also lined up a series of interactive digital games and experiences for families and friends to enjoy this CNY. These include the return of the DBS TapLah! Contest, a scaled-up version of the highly anticipated POSB #HuntYourZodiac virtual game, and virtual showcases at Chingay 2021.
Up to SGD 888 in cash prizes to be won in the DBS TapLah! Contest
Hosted on DBS PayLah!, the DBS TapLah! mobile game challenges players to collect as many gold coins (+3 points) and red packets (+25 points) as possible within 30 seconds, while avoiding "bombs" (-10 points). DBS TapLah! exceeded 36,000 gameplays in a span of 15 days last CNY.
The game will go live on DBS PayLah! from 12 to 26 February ("game period"). Daily prizes of SGD 88 will be awarded to the top 10 players at the end of each day, while the player with the highest score of the entire game period will walk away with the grand prize of SGD 800.
To participate, customers simply need to partake in a qualifying transaction – defined as the giving and receiving of a DBS eGift or DBS QR Gift (minimum transaction of SGD 2) between a unique giver-receiver pair (i.e. multiple transactions between the same giver-receiver pair are counted as one transaction) – between 16 January to 26 February, both dates inclusive. Customers gain one chance to play for every qualifying transaction made.
| | |
| --- | --- |
| Qualifying Transactions | |
| DBS PayLah! user gives a DBS QR Gift or DBS eGift to a unique receiver, who redeems it by 26 February 2020*It counts as a qualifying transaction for the giver regardless whether the receiver redeems a DBS QR Gift or DBS eGift via DBS PayLah! or PayNow | 1 chance |
| DBS PayLah! user redeems a DBS QR Gift or receives a DBS eGift from a unique giver by 26 February 2020 | 1 chance |
Game On! POSB #HuntYourZodiac goes island-wide
POSB #HuntYourZodiac, an interactive virtual game designed for River Hongbao (RHB) last year, is back bigger and better this year!
POSB #HuntYourZodiac creates an immersive virtual experience where players can search for, encounter and hunt the twelve Chinese zodiac animals via their mobile screens, in exchange for cash prizes and specialised Chinese horoscope predictions based not only on their zodiac animal, but also the zodiac element (metal, wood, fire, water, earth) corresponding to their birth date. Piloted last CNY, the game site racked up more than 19,000 unique visitors over five days.
Previously confined to RHB grounds, #HuntYourZodiac is levelling up this year to be an exciting island-wide hunt with over SGD 150,000 worth of prizes to be won! From 10 to 14 February, customers will be able to join the nation's largest virtual hunt for zodiac animals from anywhere in Singapore.
Chingay Parade 2021: Going digital with virtual showcases and talent shows
Organised by The People's Association (PA), the Chingay Parade 2021 will be conducted as a digital showcase to be aired live on television, online and social media channels on 20 February 2021, 8pm – 9pm.
As a longstanding partner of the Chingay Parade, DBS is sponsoring the 'We've Got Talent' segment, which seeks to inspire and spark creativity by giving local talents a chance to showcase their skills. DBS will also leverage this platform to highlight homegrown small and medium-sized merchants, including social enterprises, by offering them more opportunities to reach out to more people in the community.