At Gor Gor's friend's birthday party, Di Di decided to amuse himself by being a racing car driver and a motorcyclist.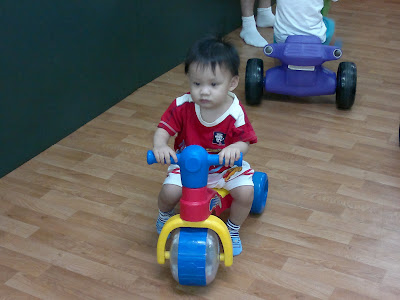 I start off with a motorbike rider, look at me riding the bike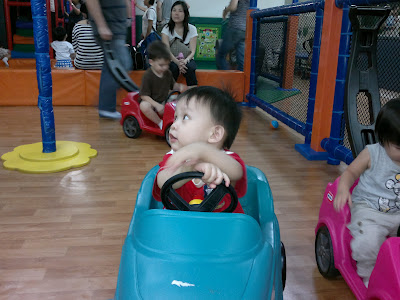 I am a racing car driver, look at me winning the race
Fidgets is good place for children to play. There are areas for bigger children (eg 4 years old and above) to play, like the obstacle course and slides, and also an area for younger kids (eg 1-3 years old) to play like this driving range.
There is also a cafe area for parents to have food and drinks while their kids are playing. The only downside of this place is the entrance is quite difficult to find. You need to go to the back entrance of Giant supermarket at Turf City and look for the small lift which brings you up to the place. There are some sign boards indicating the direction to go when you are at the back entrance of Giant.