Di Di has his first concert on the 1st December at KKH Auditorium. This is Di Di first performance on a BIG stage and we are so excited to see Di Di performing. As Di Di is the youngest child in school, we hope his performances will be smooth and most importantly, enjoy himself on stage.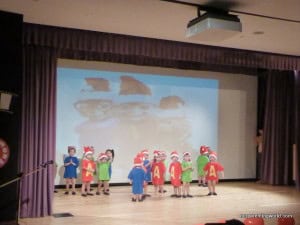 First performance, the children are dressed as chipmunks, they look so cute when they appeared on the stage. We tried to find where is Di Di as the children all look so different in their costumes, can you spot him?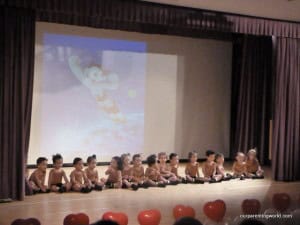 Second performance, all the children look so adorable in their next costume change.
When the music starts, the older children start to get up and perform. The younger ones are all sitting down, most of them are crying. Look at Di Di, he sits down and looks at the audience.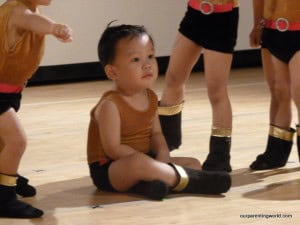 Di Di is enjoying looking at the audience. Hee hee …
When the performance is about to end, Di Di suddenly get up and walk to the middle of the stage ! He looks like he enjoys performing now.
After the concert, Di Di taking a break while the older children are performing, the school is holding a graduation ceremony for the Kindergarten 2 students. All the students from other classes are also taking part in the concert.
Di Di taking a picture with his teacher and thanks to the delicated teachers for teaching the children.