Di Di is 17 months already. What has he been playing with? These are some of the big items toys that he has been playing with.
Di Di is having so much fun exploring the toy.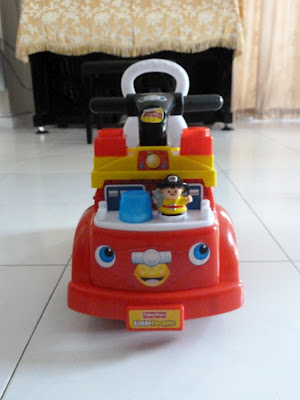 These two riders, both Di Di and Gor Gor love to ride on them. Each of them will take one and ride together. Even though Gor Gor is so big now, he uses them so that he can play with Di Di. Both riders have stimulants with lights, sounds and music.
Activity table that can be a walker too.
Activity Table with musical instruments and learning alphabets.
Di Di likes to sit in it and play with the control panel. This cushion car is so soft and it comes with a key and sound control panel.
Educational walker
Di Di loves to play with this educational walker, he gets thrilled with the various sounds and lights. He likes to amuse himself with the phone. "Hello, anyone there?"
Giant Tonka Truck. Boys are boys, they love vehicles.