Dining at Holiday Inn Singapore Atrium now comes with greater savings! From the halal-certified Atrium Restaurant to the award-winning Xin Cuisine Chinese Restaurant or the hotel's eShop, make every penny count when you shop at Holiday Inn Singapore Atrium.
ATRIUM RESTAURANT
In celebration of Singapore's 55th birthday, Atrium Restaurant's buffet vouchers will be sold at 55% off from 7 Aug – 9 Aug 2020. This limited time offer will be made available for purchase through the hotel's eShop from 7 Aug 2020 and the vouchers are redeemable till 31 October 2020.
Diners can expect an enriched spread of dishes at Atrium Restaurant's Buffet-on-the-Table (also known as a la carte buffet), a new buffet dining concept introduced with safe distancing measures in mind. Diners will place orders from their tables and freshly cooked food will be served to them. Whilst food won't be displayed on the counters, diners can view the action at the Live Cooking Stations from their seats.
We recommend an order of the following dishes from the buffet menu:
 Seafood on Ice – Fine De Claire Oysters, Poached Tiger Prawn, Australian Black Mussels, Sea Whelks, Half-shell Scallops
 Salad of your choice or Greek-style, Citrus Cous Cous, Chinese Rojak & Gado Gado
 Chinese Delights – Singapore Chilli Crab, Carrot Cake
 Nyonya Specialities – Beef Rendang, Ayam Sioh, Chap Chye
 Indian Corner – Mutton Briyani, Aloo Gobi
 Western Cuisine – Truffle Mashed Potato with Mozzarella, Grilled Lamb Leg with Mint Sauce,       Seafood Stew in Tomato Compote & Olives
 Dessert Table – Durian Pengat, Pisang Pengat, Hawker Uncle Ice Cream, Ice Chendol
 Live Cooking Stations – Grilled Satay, Hainanese Chicken Rice, Singapore Popiah, Prata, Executive Chef Chua's Signature Laksa
If you have a small appetite but would like to savour a sizable variety of our offerings, check out Atrium Restaurant's set menu. At $25++ per set per person, enjoy value-for-money thematic set meals from around the world – Western, Indian, Peranakan or Chinese.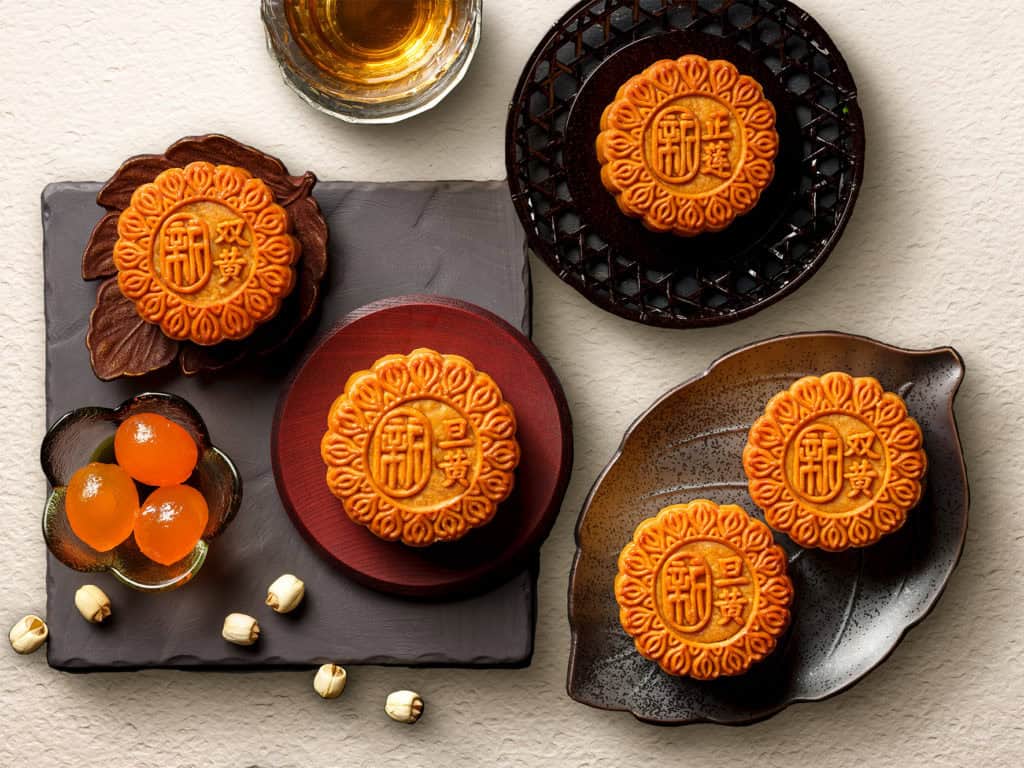 XIN CUISINE CHINESE RESTAURANT
Apart from 55% off buffet vouchers, Xin Cuisine's Mooncakes will also be on sale at 55% off per box from 7 Aug – 9 Aug 2020. The current Buy 1 Free 1 offer is still valid during this period, which means customers have 2 offer options to choose from – either 55% off or buy 1 free 1. Both offers are valid for purchases made through the hotel's eShop only. 
Mooncakes are available for collection / delivery* from 1 September 2020 to 1 October 2020.
Collection Point: Xin Cuisine Chinese Restaurant, Level 4 of Holiday Inn Singapore Atrium
Address: 317 Outram Road Singapore 169075
Collection Period & Time: 1 September 2020 – 1 October 2020, 12pm – 8pm daily
*Delivery charges apply.
The restaurant would also like to celebrate the marriage of newly-weds with a 30% discount off their bill. Couples who were solemnised in March 2020 and after will be eligible to redeem this offer. To enjoy this entitlement, an e-copy of their wedding certificate has to be presented at Xin Cuisine Chinese Restaurant.
HOTEL'S E-SHOP
For every order made through at eShop, a 25% off applies to all food items except mooncake and vouchers. With this discount, bento boxes are priced from $4.20 which is definitely a steal! Even Xin Cuisine's Signature 'Home-style' Roasted Duck with Tea Leaves bento box is sold at only $9.75!
Atrium Restaurant's Operating Hours
A La Carte Dining: 11:30am to 9:30pm daily
Buffet Lunch (Sat & Sun): 12pm – 3pm
Buffet Dinner (Fri & Sat): 5.30pm – 9.30pm
Only for this weekend (9 & 10 Aug 2020), Atrium Restaurant is also open for buffet dining on Sunday dinner and Monday lunch.
Xin Cuisine Chinese Restaurant's Operating Hours
Lunch: 11:30am – 3:00pm
Dinner: 5:30pm – 9:30pm
Closed on Mondays & Tuesdays.
e-Shop: singaporeatrium.holidayinn.com/eshop
For more information on Holiday Inn Singapore Atrium's restaurants, please visit
https://singaporeatrium.holidayinn.com/dining.