Back by popular demand, renowned composer Gu Guan Ren (顾冠仁) will be leading Ding Yi Music Company (鼎艺团) together with its Principal Guest Conductor Quek Ling Kiong (郭勇德) to showcase his best works in the concert titled, Masterpieces by Gu Guan Ren 《蓝色畅 想》顾冠仁作品音乐会 on 9 June 2018. 
Featuring a whole suite of his best works during the concert, this will be the 76-year-old composing master's second time collaborating and conducting Ding Yi, but this time in a bigger scale, in a bigger hall. 
The concert which will be held at the SCO Concert Hall, presents Gu's Chinese chamber works during the first segment and special performance starring Ding Yi's musicians with specially invited youth musicians to perform Gu's classics during the second segment.
Gu's Chinese music works are performed in many countries, such as China, Hong Kong, Taiwan, Malaysia and Singapore, and is recognised as one of the key influential composer in the Chinese music scene. The 76-year-old reputable veteran has continuously producing new works throughout his composing lifetime, the highlight of the concert Capriccio in Blue《蓝色畅想》, a local premiere composition is his most recent represented work.
Sponsored by Qiu Zhai Art Foundation. Together with Ding Yi's Principal Guest Conductor Quek Ling Kiong, the concert will not only feature Gu's Chinese chamber music works, but will also present special performance starring Ding Yi's musicians with specially invited youth musicians to perform his Chinese music classics such as Spring Suite 《春天组曲》and Fisherman's Song of the East China Sea《东海渔歌》
Exclusive Interview with Gu Guan Ren, National Class One Composer in China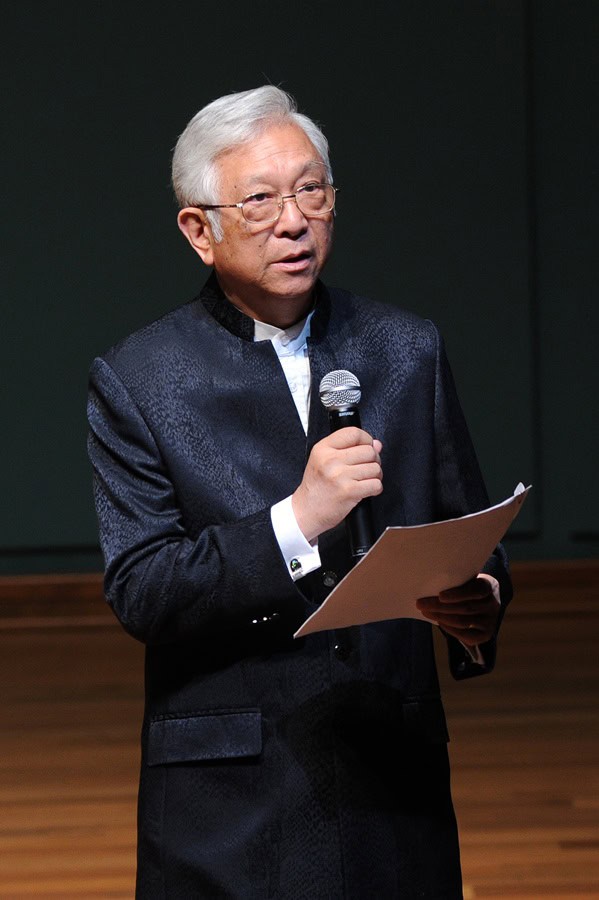 This coming concert is the second collaboration with Gu Guan Ren, together with Ding Yi's Principal Guest Conductor Quek Ling Kiong which will kick off as Ding Yi's new "Composer Series" initiative. Our Parenting World team is pleased to be able to interview Gu Guan Ren (GGR) to find out more.
1) Please share with us more about your background, when did you develop an interest in being a Composer? 请与我们分享您的背景与故事,是什么时候对作曲感兴趣?
GGR: I started learning the pipa since young, under the immersion of Jiangnan folk music such as Jiangnan Silk and Bamboo music and opera folk tunes. I was filled with curiosity towards music as there were simply too much interesting and in-depth knowledge for me to learn, therefore I took a step into this field.
I chanced upon an opportunity to enter the Shanghai Chinese Orchestra, from there I realised that the sound produced by a full orchestra can be so beautiful and harmonious. So I decided to pursue composition and writing for Chinese music. Besides playing in the orchestra as a musician, I committed the rest of my free time learning different music theories and listening to various music excerpts.
2) What are some of the challenges that you faced in your composing career and what do you enjoy most about being a composer? 在作曲的生涯中,会遇到什么困难吗?身为作曲家,最享受的是什么呢?
GGR: After working in Shanghai Chinese Orchestra in 1957, I visited the border of Zhejiang province to interview a group of fishermen with Ma Sheng Long (another reputed composer). From then on, we started to research and collect more information about their local culture and characteristics. As a result, Ma and I jointly composed the celebrated piece Fishermen's Song of the Eastern Sea. Now that I look at this piece again, its instrumentation and composition technique are generally simple and homogeneous, but what makes it attractive are the resounding tunes which portrayed the fishermen's strong emotions, culture and characteristics of that time. For example, the sound of the horn and Zhou San Luo Gu are excellent imagery representations of the music.
With the success of Fishermen's Song of the Eastern Sea, using element of Bejing opera, I arranged The Peking Opera Tune as a chamber piece for dizi and chamber ensemble. I have also arranged Three-Six for plucked string ensemble using elements from traditional Jiangnan Silk and Bamboo music.
From then, this growing passion in composition culminated my decision to pursue formal composition training in a music institute and I was excused from my formal work. This major decision made a great impact in my life and forged a strong foundation for my compositions for the future. This is one of the most memorable periods of my life.
As soon as I return to Shanghai Chinese Orchestra after graduation, the progress of arts was halted so as my composition, by the Cultural Revolution then. Because of that, I was deployed to Shanghai Peking Opera Troupe to play Shanghai Opera where I came in contact with Peking Opera and other forms of traditional opera music.
3) How do you find inspiration to compose music? 你的作曲、音乐是从哪里得到启发的?
GGR: I feel that composition is a challenging and tedious work. As a composer, we must always aim to present original content to our audience. We cannot allow ourselves to get repetitive or to plagiarize content of others. In every new work we should try to boost our creativity and innovation, which from there this piece of work can be unique on its own.
4) What are some of the music pieces that are your favourites and the ones that you are most proud of having composed? 作过的乐曲中,那几个是你最喜欢的作品、那个作品也是你最引以为傲的?
GGR: Following the reopening of Shanghai Chinese Orchestra in 1978, my passion for composition rekindled. In 1979, I composed two titular pieces from my work: pipa Concerto Hua Mua Lan and Spring Suite, which would be performed in this upcoming concert. After my retirement in 2002, I had more time to work on composition such as New Tunes of Yingzhou, Beauty of Jiangnan and Capriccio in Blue which would also be presented to you in this concert.
5) This is your second time collaborating and conducting with Ding Yi Music Company, together with Ding Yi's Principal Guest Conductor Quek Ling Kiong. How is this different from the first collaboration? 我们知道这是第二次顾老师与鼎艺团合作了,觉得这次会与第一次不同吗?
GGR: In our first collaboration in 2016, that recital had a very distinct theme of showcasing the traditional and contemporary form of Jiangnan Silk and Bamboo music which was arranged by me. The scope encompasses a bigger scale this time, as it will be showcasing works across different periods of my life where content and styles are unique to the respective periods that they were composed.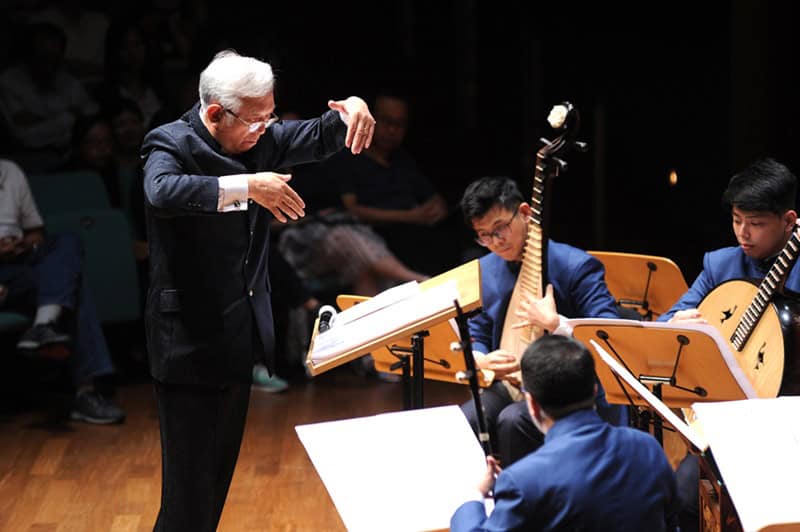 6) Do you have any advice to someone who aspires to be a successful composer like you? 对想往作曲发展的年轻一代,您有什么忠告与鼓励吗?
GGR: Unlike the older generation of composers, I feel that our young composers are very privileged, living in a world where information are easily obtainable at the palm of your hand. Therefore, the young composers should ride on this opportunity to learn as much as possible.
On the other hand, one should also value your own culture roots, like our Chinese culture, which is deeply rooted into our history. As a Chinese, you should feel privilege as there are so much you can write because resources are so readily available. With advanced composition techniques, readily information and vast culture instilled as foundation for your work, I believe the younger generation will definitely surpasses us.
7) Lastly, do you have anything you would like to add on and share with our readers about Masterpieces by Gu Guan Ren and what can audience expect when they watch the concert? 最后,老师还有什么能与本网页的读者们分享有关这场音乐会,《蓝色畅想》顾冠仁作品音乐会吗?
GGR: My 56 years of work from the span of 1959 to 2016 would be reflected and performed in this concert, each of the pieces are unique by its own, which was influenced during their respective periods that were composed.
How a composer composes as his music, compositional techniques and creativity are greatly link with his life experience. If I remain stagnant and continue to compose using the same style and framework of my popular pieces like Three-Six and The Peking Opera Tune from the past, I will never be able to produce works like Spring Suite and Capriccio in Blue (more modern music style). Even I chose to continue to write in that style, the audience now may not favour your work as much as before.
Times has change, so does audience aural and aesthetic preferences. You can only continue to innovate and improve your composition techniques to stay relevant with the current trend. There may be certain fans who are very much into your past works, however as a composer you should and must always continue to move forward. This concert is a reflection of my ideal and I hope that the Singapore audience will enjoy it.
Thank you Mr Gu Guan Ren for taking our interview! 

Masterpieces by Gu Guan Ren 《蓝色畅想》顾冠仁作品音乐会
Programme Highlights 精彩节目:
Beauty of Jiangnan 《江南美》
Three-Six 《三六》
The Peking Opera Tune 《京调》
Fishermans' Song of the East China Sea 《东海渔歌 》
Show Date: 9 June 2018, Saturday
Show Time: 7.30pm
Venue: SCO Concert Hall (Singapore Conference Hall)
Ticket prices: $28
To purchase the tickets at Sistic, please visit https://www.sistic.com.sg/events/cggr0618
Good News! Giveaway Alert!
In addition, thanks to Ding Yi Music Company, we are giving away 2 pairs of tickets to TWO lucky readers for you and your partner to enjoy Masterpieces by Gu Guan Ren 《蓝色畅想》顾冠仁作品音乐会 on 9 June 2018, Saturday. 
To win the tickets, please visit Our Parenting World Facebook Page at https://www.facebook.com/our.parentingworld/posts/1679272062186378
Hurry, giveaway will close on 4 June 2018 at 23:59Hr. Winners will be announced on 5 June, please check this place for winners' announcement. 
Thank you and Good Luck! 🙂 
Giveaway closed and winners announced on 5 June 2018, for winners' details, please check our facebook's announcement at:
https://www.facebook.com/our.parentingworld/posts/1679272062186378
Terms and Conditions 
Entry into the giveaway contest will be deemed as acceptance of these terms and conditions. The rules of the giveaway contest and how to enter are as follows:
1) The prize is as stated, subject to change and fulfillment by the sponsors. Winners are not allowed to change the prizes. The prize will be non-transferable, non-refundable and non-exchangeable for other products/dates/times. The sponsors reserve the right to amend the competition, substitute any prize or with another of equivalent value without giving notice.
2) All participants have the opportunity to win as long as you have completed and fulfilled all the steps required by the giveaway contest. Please make sure your likes and shares are set to public for verification purposes. Incomplete entries and fake accounts will be disqualified at the discretion of the organisers.
3) Winners of past giveaways in the last one month will not qualify for this giveaway, please wait till after one month from the date that you have won to participate in the current giveaways. 
4) Giveaway contest is open to all Singapore residents with a valid Singapore mailing address
5) The organiser (ourparentingworld.com) is not responsible for inaccurate prize details supplied to any entrant by any third party connected with the giveaway contest by the sponsors.
6) Winners will be notified by email /Facebook/Instagram after the contest has ended. If the winner cannot be contacted or do not claim the prize, we reserve the right to withdraw the prize from the winner and or pick a replacement winner. 
7) The organiser reserves the right to cancel the contest if circumstances arise outside of its control.
8) The sponsor's and the organiser's decision in respect of all matters to do with the giveaway contest will be final and no correspondence will be entered into.
9) Other terms & conditions applied.