To celebrate this Chinese New Year, Ding Yi will be staging a special "Singaporean" Chinese New Year concert titled Happy Chinese New Year 2018, 欢乐春节 – 新春音乐会 2018 showcasing music and sounds uniquely Singapore during the festivity period.
The third of its series, this concert features exciting line-ups such as rising jazz singer, Joanna Dong's debut performance with Chinese instrumental group, soprano He Cai Xia's mesmerising vocals as well as Ding Yi's young musicians Kenny Chan (ruan) and Chee Jun Xian (cello) performing their rendition of Chinese music classics.
Through the performance, Ding Yi aims to present a Chinese New Year performance with strong "Singapore" sounds and elements, emitting local culture and flavours to the music while retaining the joyous celebrative festivity.
The performance will be held on 4 March, 3.30pm and 7.30pm at the China Cultural Centre Theatre (Level 4). To find out more and to purchase the tickets, please visit https://www.sistic.com.sg/events/chcny0318
Exclusive Interview with Ding Yi's musician Kenny Chan
Our Parenting World (OPW) team is pleased to be able to interview Ding Yi's talented solo musician, Kenny Chan (KC) to find out more about him and the coming concert.
About Kenny Chan 曾靖文, he graduated from Nanyang Academy of Fine Arts with a Bachelor of Music (Honours), majoring in Ruan. Passionate to improve his skills for Ruan, he seeks tutelage from Singapore Chinese Orchestra musician's Zhang Rong Hui and Jing Po. In 2010, Kenny was awarded with the First Runner-Up for Ruan Solo Competition (Open Category) in the National Chinese Music Competition organized by the National Arts Council. In the following year, he presented a double Ruan concerto composed by local composer Jean. Y Foo with Ding Yi, and was conducted by Maestro Lim Yau.  He was appointed as Ding Yi's full time musician in April 2015.
1) Please share with us more about your background, when did you develop an interest in music and playing the Ruan?
KC: I started learning music when I first joined the Chinese Orchestra in Manjursi Secondary School. I was assigned to play an instrument called the suona, it resembles the oboe in the western orchestra. I wasn't very keen on learning this instrument as it reminds me of Chinese funeral, but I was kind of being coxed into learning it, the school paid my tuition fee so I thought, why not!? As the years gone by, I told myself, this isn't the right instrument for me. It was then, I was introduced to the plucked string instrument, ruan by my best friend from another orchestra. That was when I fall in love with the instrument, the mellow and warm sound of the ruan was like a magnet, the sound immediately imprinted in my head, and so my journey with it begins.
I was given a choice to change my instrument from suona to ruan in my orchestra during my polytechnic education. As I started learning the instrument, Singapore Chinese Orchestra (SCO) formed Singapore Youth Chinese Orchestra (now known as Singapore National Youth Chinese Orchestra). I successfully joined the youth orchestra, and was given a chance to study/ learn ruan from SCO ruan principal Zhang Rong Hui. I am really grateful for her, as she not only spurs my interests in playing ruan but also inspired me to listen and get in touch with Chinese traditional music. This led to me studying music full time after I completed my national service.  
2) What are some of the challenges you faced to pursue your interest?
KC: Coming from a traditional family, the main challenge for me was to convince my family that I wanted to study music. My mother wanted me to continue my studies in business as I graduated with a Diploma in Business from Temasek Polytechnic.  It took me some time to finally convinced my family and I am thankful for my mother to allow me to pursue my passion in music. 
The other challenge I faced was the support from my friends, it was difficult to put the message across to my peers that Chinese music/ traditional music is the same as any pop music, or even more important as it is part of our roots. Now, all my friends are fans of Ding Yi and they always attend our concerts.
3) What do you enjoy most about being a musician and playing the Ruan? What are some of your favorite musical pieces?
KC: I always say being musician, is like being a chef. The music notes are like ingredients from the fridge. We perform traditional music like how you prepare your chicken chop, your fish and chips; we perform contemporary or fusion music like how you prepare your nasi lemak, salted egg waffle etc. Our instrument, like ruan is used as medium to convey my musical thoughts and understanding to my listeners. I do not really have any specific favorite musical pieces as all music to me, are pleasure to my ears.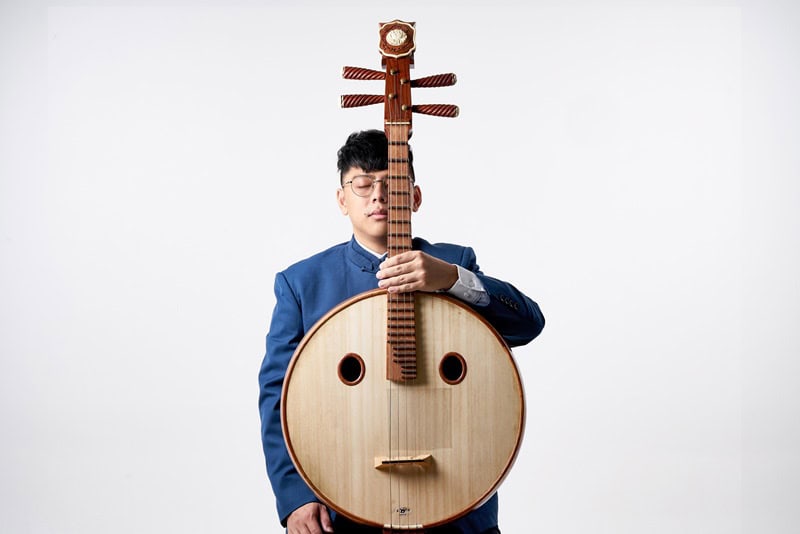 4) Can you share with us, what is a typical day of a full-time musician at Ding Yi?
KC: So we report at 9.30am for rehearsals. We go through the repertoires for the upcoming concerts. We spend 30min on each repertoire and we also discuss on how we could better put up a good performance for our audience. So on other days when we have school performances, we would report as early as 7am to set up and run a sound check. Then we would all head off for lunch, teach in the afternoon at various schools and lessons normally end at 6pm.
Just when you think we are done, we would have dinner, then self-practice with our instrument to hone out skills/ techniques, this is really important for any professional musician. So yes, this is a typical day for me. 
5) Please tell us more about the coming concert and your role in Ding Yi's Happy Chinese New Year 2018 concert.
KC: Happy Chinese New Year Concert 2018 will be a concert that fuses traditional Chinese music with a touch of jazz music. I will be presenting a concerto titled The Garden after Rain on the ruan, I hope through this piece, it will bring audience warmth and happiness like the scene of spring after the rain, ushering us into the new year!
6) Do you have any advice to someone who aspires to be a musician in Singapore?
KC: Never doubt yourself, believe in what you do because only when you believe then you can inspire other people…… 
7) Lastly, do you have anything you would like to add on and share with our readers about Ding Yi and the coming concert titled Happy Chinese New Year 2018? 
We are happy to work with Joanna Dong, jazz vocalist and top three finalist in Sing!China. Together with Ding Yi, she will be presenting a musical feast with specially arranged compositions for Chinese chamber music and vocalist. We also invited a reputable soprano He Cai Xia to the concert, she will perform reminiscing Chinese folk songs alongside Ding Yi. My fellow Ding Yi cellist Jun Sian, will also perform a newly arranged Chinese chamber music titled Metaphysical North by Zhong Zhi Yue.
Thank you Kenny Chan for taking our interview!
Round up this Chinese New Year with Ding Yi Music Company (鼎艺团) in a special "Singaporean" concert titled Happy Chinese New Year Concert 2018 《欢乐春节 – 新春音乐会 2018》in collaboration with China Cultural Centre (CCC) on 4 March 2018 at the CCC Theatre, showcasing music performance by renowned local artistes, musicians and works specially written for this concert.
Conducted by Ding Yi's assistant conductor, Wong De Li, Dedric (黄德励), the celebrative performance is Joanna Dong (董姿彦), local jazz vocalist's first-ever collaboration with a Chinese instrumental music group on stage, blending familiar Chinese New Year tunes together with a unique twist of jazz elements. Specially curated for the Chinese classic music lovers, the concert also put together a repertoire of evoking and reminiscing pieces, starring Ding Yi's two young musicians, Kenny Chan (曾靖文), Chee Jun Sian (徐君翔) and guest soprano He Cai Xia (何彩霞). Ding Yi's very own composer-in-residence, Phang Kok Jun (冯国峻) and local composer Sim Boon Yew (沈文友) are also specially commissioned for this celebratory showcase.
Don't miss the opportunity to catch Ding Yi's coming performances, Happy Chinese New Year Concert 2018 at China Cultural Centre Theatre on 4 March 2018!

Happy Chinese New Year Concert 2018 《欢乐春节 —新春音乐会 2018》
Show Date: 4 March 2018, Sunday
Show Time: 3.30pm & 7.30pm
Venue: China Cultural Centre Theatre (Level 4)
Ticket prices: $28 (Free Seating) 
To find out more and to purchase the tickets, please go to Sistic at https://www.sistic.com.sg/events/chcny0318