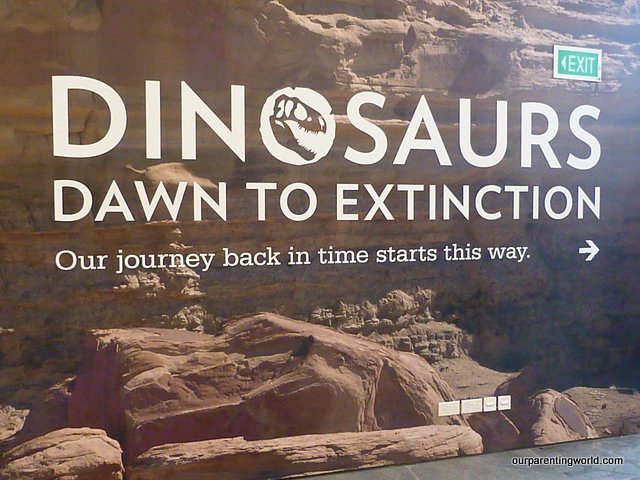 Our Parenting World team attended the preview of Dinosaurs – Dawn to Extinction at ArtScience Museum and are very impressed with the comprehensive lineup of South-east Asia's largest dinosaur exhibition. As usual, ArtScience Museum never fail to impress us!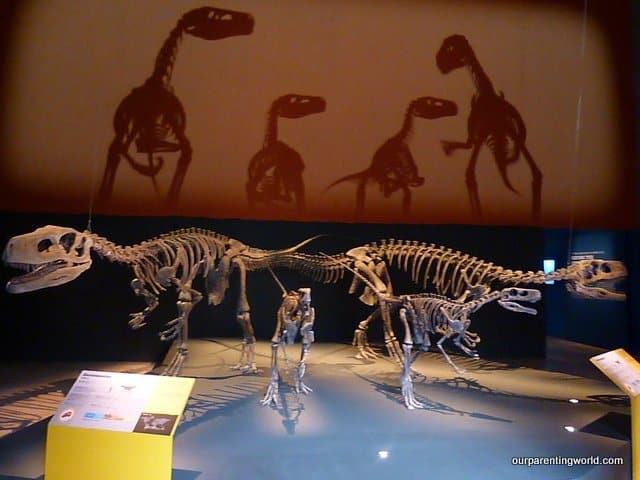 Upon entering the exhibition, visitors will be treated to a stunning display of a herb of Herrerasaurus at the first gallery. Herrerasaurus was one of the earliest dinosaurs and its name means "Herrera's lizard". It was first named after the rancher who discovered the first specimen.
The exhibition consists of more than 400 dinosaurs fossils, models and 50 artworks by Australian artist Peter Trusler. All meticulously brought to Singapore by sea and air. The exhibition is curated by paleontologist Dr. Patricia Vickers-Rich from Melbourne's Monash University and brings together four exhibitions from the American Museum of Natural History, San Juan National Science Museum, SCI! Expo at Monash University and artist Peter Trusler.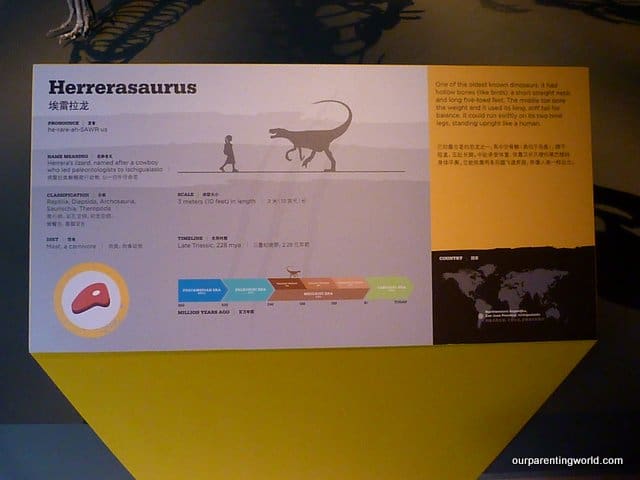 The museum is very thoughtful to display informative details of all its exhibits to let visitors have a better understanding of its displays.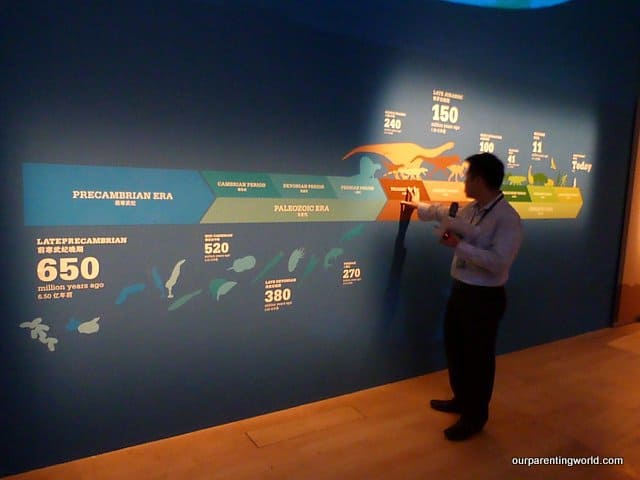 The exhibition will also bring visitors through the different periods where dinosaurs roamed on earth from the early Triassic period about 250 million years ago, to the Jurassic and Cretaceous periods, which ended over 90 million years ago. 
A segment of some of the interesting exhibits: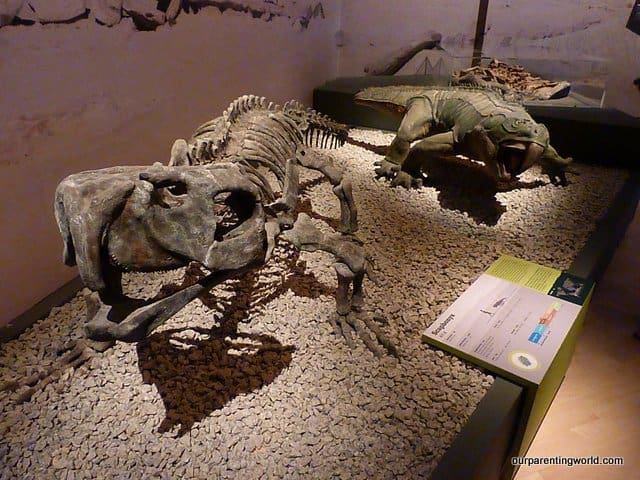 These were Scaphonyx (herbivores) with stocky bodies and powerful beaks from Triassic Brazil.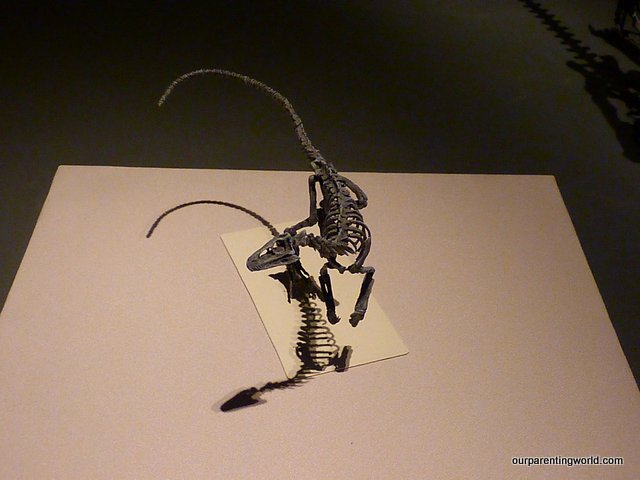 This was Marasuchus which was a tiny reptile closely related to the dinosaurs.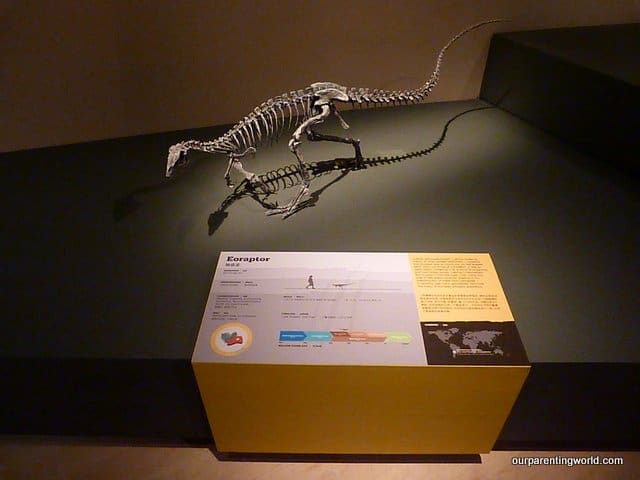 This was Eoraptor one of the world's earliest dinosaurs.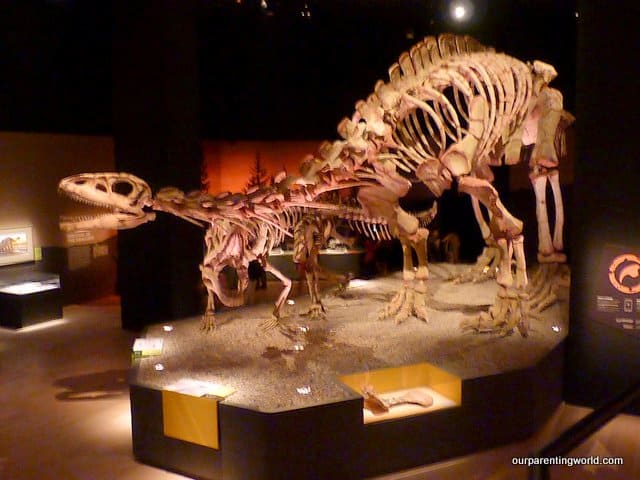 Key fossils on display includes a 18-metre long Apatosaurus, a 17.6-metre long Lessemsaurus sauropod specimen, a 2 billion year old rock (Banded Iron Formation) and a new fossil of Adeopapposaurs discovered in Argentina just recently.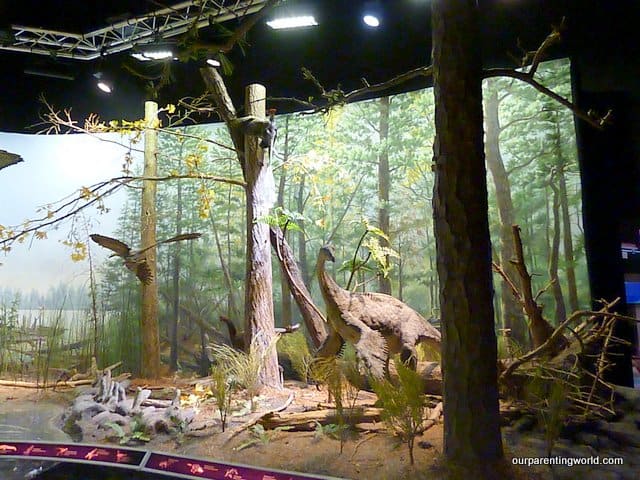 The Liaoning Forest section of the exhibition showcases 130 million years ago in eastern Asia where dinosaurs and other animals lived together in this forest.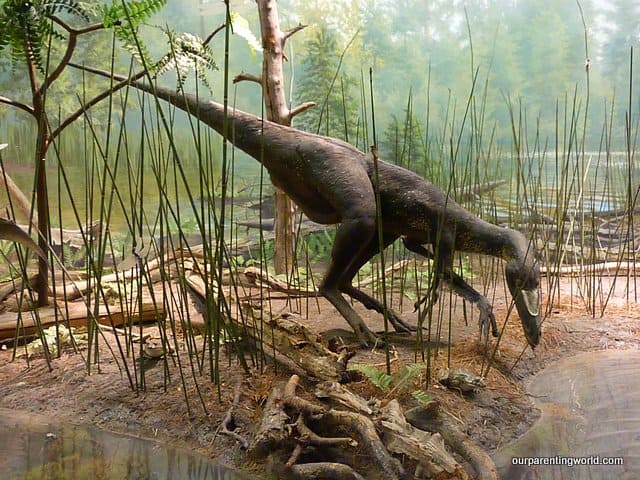 The displays look so real!
Visitors will be thrilled to know that the exhibition is highly interactive and educational. There is a free app called "ArtScience Museum: Dinosaurs Dawn to Extinction" for you to download onto your smartphone to personalise your dinosaur experience for different parts of the exhibition. The app also feature a mini game called "Rex Race" which you are able to race your virtual dinosaurs to the museum in the shortest time.
Children will be excited to know that there are many kids' activities available at the children's section. Kids can take part in Shadow Puppets, Sketch a fossil, Dinosaur Tale and many more. Children activities are complimentary and open to ticket holders. Please click HERE to find out more. Kindly take note that the activities are on first come first serve basis.
Additional Information:
Daily: 10:00am – 7:00pm
Including public holidays
Last admission at 6:00pm
Please click HERE for ticketing 
Don't miss this exhibition from now till 27 July 2014.
******
Dinosaurs are Gor Gor's and Di Di's all time favourite and stay tuned to our website where they will bring you round and take part in the children activities at the museum. Gor Gor and Di Di have visited the Titans of the Past – Dinosaurs and Ice Age Mammals at Science Centre, Singapore. 
You can read about their visits at these links Part 1 and Part 2.