Good news for Motorists! 
DirectAsia Insurance, the award-winning and pioneering online insurer, announces a new partnership with Shell Singapore. This new partnership will reward both new and existing DirectAsia customers, who are members of the Shell Escape loyalty programme, with a host of exclusive perks and services. This is a good money saving collaboration especially for parents who drive. 
Motorists can enjoy benefits including free 24-hour breakdown assistance, a dedicated claims hotline for Shell Escape Cardmembers, and up to 3,000 Shell Escape points that can be redeemed for $100 worth of Shell fuel, airline miles, or shopping vouchers with participating brands and malls. On top of earning up to 3,000 Shell Escape points ($100 worth of Shell fuel) through DirectAsia's motor insurance, Shell Escape Cardmembers can also earn 100 points each time they service their car at any Shell Autoserv. This is in addition to earning 1 point for every dollar spent at Shell Car Wash.
Open to both car and motorcycle owners, the partnership will benefit Shell Escape Cardmembers who sign up for car or motorcycle insurance with DirectAsia, as well as DirectAsia customers who renew their insurance policy.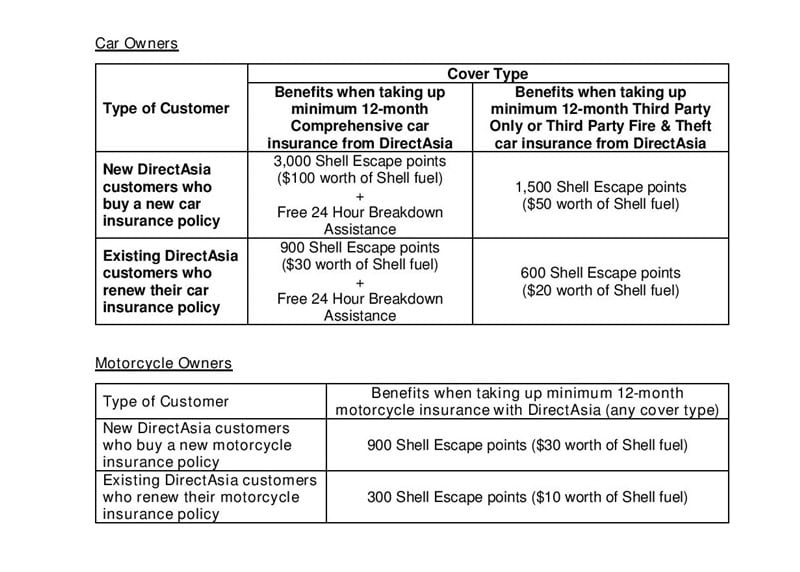 Sign up or renew your policy and enjoy these great deals by visiting www.directasia.com/shell or calling DirectAsia's customer service hotline at 6603 3636. 
To find out more about Shell Escape, please visit: www.shell.com.sg/escape. 
Additional Information: 
About DirectAsia Insurance
DirectAsia Insurance was launched in Singapore in 2010 and Thailand in 2013. DirectAsia's primary business is car insurance, also offering motorcycle and travel insurance. DirectAsia has a unique and strong business model serving clients directly, operates in markets where there is growing acceptance of digital as an e-commerce channel and uses market leading rating mechanisms. It has served more than 100,000 customers across car, motorcycle and travel insurance, and employs 192 people across the two locations in which it operates. In 2014, DirectAsia Insurance became a part of global insurer Hiscox. As one of the world's leading international specialist insurance groups listed on the London Stock Exchange (LSE:HSX), Hiscox brings decades of insurance knowledge and experience to Southeast Asia.
About Shell Retail
Shell aims to be the best fuels retailer in the world. Today, Shell has approximately 45,000 retail stations in more than 80 countries. Over 100 years of experience developing fuel technology and services make it one of the leading providers of innovative fuels.