7-Eleven's latest Shop and Earn stamps programme introduces an opportunity to expand your Disney family. Join in the excitement as Singapore's favourite convenience store unveils the new "Match & Go" collection of Disney merchandise, dedicated to celebrating Disney's 100th Anniversary.
This brand new line showcases two distinct sets: the practical yet stylish "Shopping Bag Set" and the convenient "Zipper Pouch Set," carefully designed with both functionality and aesthetics in mind. Each set contains three uniquely designed items. You can redeem a shopping bag or a zipper pouch, complemented by a head-shaped pouch and a special edition cardholder featuring a silver cartoon character silhouette with the "Disney100" logo. Don't miss the chance to complete your exclusive 7-Eleven collection, featuring eight iconic Disney and Pixar characters such as Mickey Mouse, Donald Duck, Sulley, Edna Mode, Chip 'n' Dale, Stitch, Lotso, and Alien!
Upgrade Your Shopping Style with the "Shopping Bag Set"!
Looking for a way to make a fashion statement while being environmentally conscious? Introducing the "Shopping Bag Set" that comes in four different designs! Each set comprises a tote bag, a cute head-shaped pouch, a cardholder decorated with fun Disney character patterns, and a carabiner clip.
1. The Incredibles' Edna Mode Shopping Bag Set
Amp up your outfit (without the capes!) with the help of The Incredibles' famous costume designer Edna Mode! This set is perfect for all super moms and dads out there – keep the spacious shopping bag at your fingertips by folding it up and storing it in Edna's head-shaped pouch as you go about your superhero duties.
2. Mickey Mouse Shopping Bag Set
A definite fixer-upper to your day, this set includes a Mickey-shaped pouch to clip onto your backpack, a black shopping bag for your everyday use, and a card holder in Mickey's classic red colour, with a silver silhouette of the beloved character, complete with the 'Disney100' anniversary logo!
3. Donald Duck Shopping Bag Set
Get ready for daily adventures with this fun and vibrant set featuring a colourful shopping bag in shades of orange and yellow, a charming blue card holder, and a head-shaped pouch adorned with a playful design of Donald Duck. Whether it's exploring the city or heading to the beach, this cute set will keep everything you need organised and easily accessible.
4. Monsters, Inc.'s Sulley Shopping Bag Set
Get ready to unleash your inner monster with the help of Sulley from Monsters, Inc.! Designed to be clipped onto daily items such as your favourite thermal flask, this pouch could also double as a convenient AirPods holder so you could pump up with your favourite tunes while you work out. After exercising, simply stash your sports stuff in the bag, and you're good to go!
Size of head-shaped pouch: Approx. 8cm (diameter)
Size of cardholder: Approx. 11cm (height) x 7cm (width)
Size of shopping bag: Approx. 60cm (height) x 40cm (width)
Revolutionise Your Storage Game with "Zipper Pouch Set"!
Gunning for a smaller bag? The "Zipper Pouch Set" is perfect for you! Comprising an endearing head-shaped pouch, a rectangular zipper pouch featuring an array of lovable Disney and Pixar characters, a lightweight cardholder, and a carabiner clip, this adorable collection features the likes of Chip 'n Dale, Stitch, Lotso, and Mickey Mouse.
1. Chip 'n Dale Zipper Pouch Set
If you're looking for a fun and functional way to store your stationery and small items, look no further than the bright and eye-catching zipper pouch featuring the mischievous chipmunk duo Chip 'n Dale. As the only double-sided design in the collection, with Chip on one side and Dale on the other, this pouch is a real standout!
2. Stitch Zipper Pouch Set
Add a touch of charm and playfulness to your look with this quirky pouch that is ideal for storing cash, tissues, ID cards, and other small essentials you may need on the go. Its purple and blue combination is a statement piece that is versatile, making it a good match for your favourite outfits. Along with the zipper pouch, it's easy to take Stitch wherever you go!
3. Toy Story's Lotso Zipper Pouch Set
Provide a forever home for Toy Story's fluffy pink Lots-o'-Huggin' Bear! The star of this set, the Lotso head-shaped pouch, can be attached to your bag as a decoration, while the zipper pouch is perfect for storing makeup and other essentials in your bag.
4. Toy Story's Alien Zipper Pouch Set
Be the clawwww to these adorable three-eyed aliens from Toy Story, and keep all your travel essentials in one place with this Zip-Up Pouch Set! The iconic and eye-catching green and blue colour scheme will elevate your outfit while our aliens help to keep an eye on your essential cards, hand sanitisers, and more!
Size of head-shaped pouch: Approx. 8cm (diameter)
Size of cardholder: Approx. 11cm (height) x 7cm (width)
Size of zipper pouch: Approx. 18cm (height) x 11cm (width)
"3-in-1 Match & Go" Set Stamps Programme and Redemption Details
Stamp collection period – 7 June to 1 August 2023

Redemption period – 7 June to 8 August 2023
7-Eleven's Shop and Earn stamps programme mechanics:
Receive 1 stamp upon a $5 purchase at any 7-Eleven store

Redeem one Match & Go Set (design will not be disclosed prior to purchase) with every eight stamps collected and a top-up of $8.90 cash or 400 YUU points and a top-up of $8.50 in cash

7-Eleven's star products will earn you an additional stamp
Jazz up your outfit with these enchanting accessories!
Get ready to conquer Singapore's hot and rainy weather with 7-Eleven's merchandise featuring Disney's endearing characters –Stitch, Lotso, Toy Story's Aliens, Sulley, and Chip 'n Dale. Be it an umbrella or a hat, these iconic characters are landing in 7-Eleven stores islandwide and will keep you cool and dry whilst looking cute as heck! Don't miss out on this opportunity to inject some Disney magic into your wardrobe!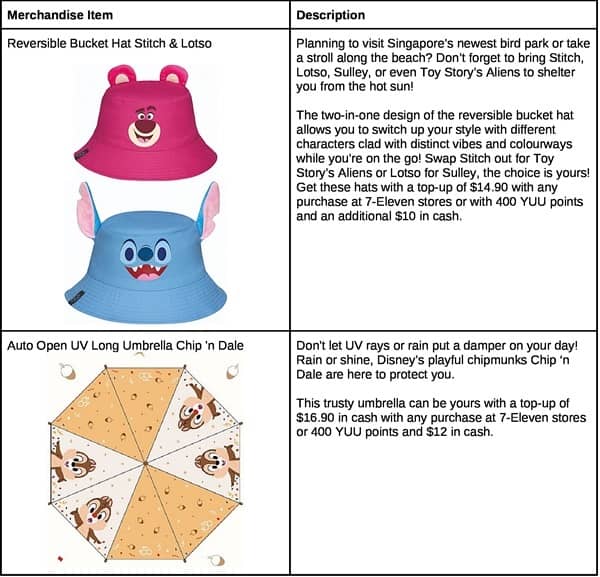 Transactions involving tobacco products, parking coupons, bill payments, top-up services, electronic gift cards, lottery sales, and sales from pre-order and delivery platforms do not qualify for stamp collection.
For more information, please visit www.7-eleven.com.sg