Traditional Chinese Medicine (TCM) has been proven to be able to complement Western Medicine in our society. Some of our public hospitals in Singapore actually have a TCM department in the hospital to provide treatment for the patients.
As Chinese, we know that Chinese medicine has a rich history of more than 5000 years and many people have been depending on it to protect themselves against epidemics. Even in this modern world, TCM remains a popular alternative for many people to seek treatment and to promote general well being.
TCM focuses on holistic approach that helps to repair, balance and restore the harmony of the patient's organ system. It is a way to cure diseases without any side effects.
Gor Gor has been having poor appetite and we decided to bring him to seek TCM treatment. Eu Yan Sang (EYS) with a heritage of 135 years is one of the leading and reputable TCM in Singapore. EYS is also one of the largest TCM groups in South East Asia and it has many child friendly clinics conveniently located in Singapore.
We brought Gor Gor to Eu Yan Sang TCM clinic at Sembawang and it was his first visit to a TCM clinic.
Wow, the TCM clinic by Eu Yan Sang looks like a modern Western medicine clinic. It is clean, bright and well organised. It does not resemble the Chinese "Sin Seh" shops which some of the Traditional Chinese Medicine providers work in.
EYS is very thoughtful to set up dedicated playrooms and corners which is well stocked up with toys and books at all their child friendly clinics. This will help to keep the children entertained and they will not feel so nervous while waiting for their consultation. EYS also sterilized their toys everyday so that parents and children can feel safe playing with them.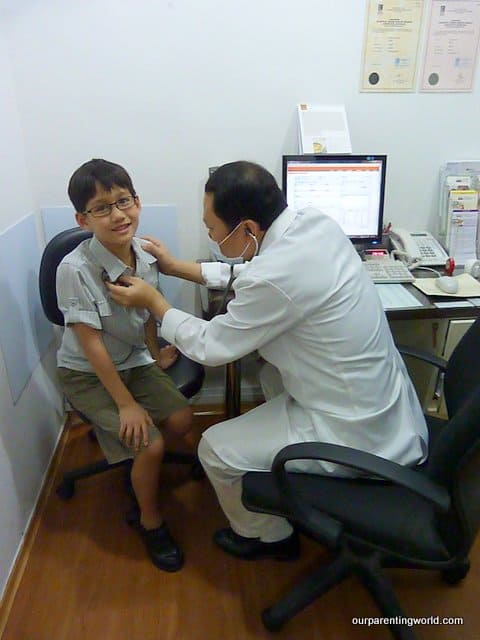 Soon it was Gor Gor's turn to see Physician Luke Huang Chun Xiang. During consultation, the physician asked us a series of questions to better understand Gor Gor's condition for his diagnosis.
The physician did a detailed check up on Gor Gor by observing, looking out for signs and symptoms on his body, check his breathing, feel his pulse and check his tongue to further determine his diagnosis and treatment. The physician was friendly and attentive throughout the consultation. EYS TCM believes in treating the root of the problem and not just the symptoms so that the ailment will not relapse easily.
The physician gave us a lot of advice as to how to improve Gor Gor's appetite. Each consultation at EYS provides individualized treatment based on the child's individual constitution and condition that means after the physician has completed Gor Gor's diagnosis, the physician will prescribe herbs that are customised for his condition.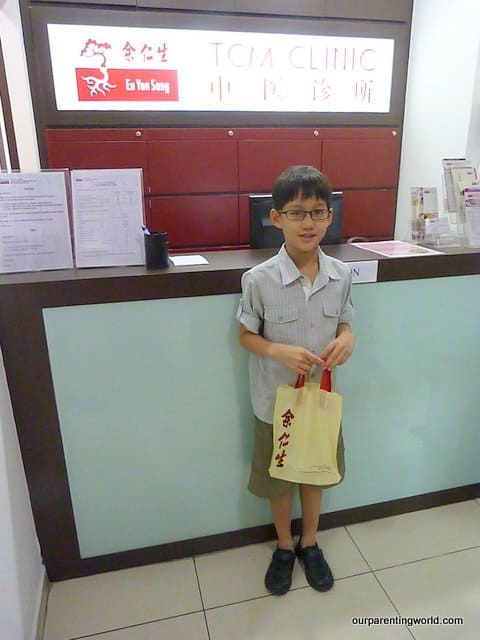 After the consultation, Gor Gor received his own prescription of herbal medication in powder form sealed in individual sachet which makes it very easy for consumption. You don't have to brew the medication, all you need to do is simply mix the powder with water. At first, Gor Gor was a bit apprehensive as he was not used to taking the powder form medication and to make it easier for him, we gave him a sweet after drinking the medication. He soon get used to taking the powder form medication. We were pleased to find out that his appetite did improve after taking the course of medication.
The clinic is children friendly and we also noticed other parents bringing their children to consult the physician there.
Eu Yan Sang TCM treatment is suitable for children from infants to 12 years old. It is a gentle and non invasive treatment that helps to restore your child's natural healing ability without any side effects. Look out for TCM Tuesdays with Eu Yan Sang starting on 2 September 2014. Please click HERE for more information.
To find out more about Eu Yan Sang TCM consultation and treatment rates, please click HERE.
Eu Yan Sang TCM clinics treat a range of conditions for children (infants to 12 years old), please click HERE for the complete listing of treatments available.
Please click HERE to find the locations of Eu Yan Sang TCM child-friendly clinics. 
Full Disclosure: Our Parenting World was invited by Rise and Shine to receive consultation and medication from Eu Yan Sang Clinic for review purposes. This is a sponsored post by Rise and Shine, however all opinions and views are entirely ours.