Disney On Ice Presents Mickey and Friends is currently showing at Singapore Indoor Stadium till Sunday, 19 March. Produced by Feld Entertainment, Disney On Ice Presents Mickey and Friends is a mesmerising show that allows guests to be part of adventures with Mickey Mouse and his pals as they glide through some of our most beloved Disney stories. 
We speak to Jessica Lee who plays the role of "Anna" from "Frozen" to share more about her role. Jessica grew up at Huntington Beach, CA and her industry achievements before joining Disney On Ice includes being a Member of Team USA (Junior Pairs; 2013-2016), 2014 International Challenge Cup Junior Pairs Champion, 2014 US National Novice Pairs Bronze Medalist, US Figure Skating Gold Medalist (Moves in the Field), Competitor on the 2014-2015 Junior Grand Prix Series and 2x National Competitor. She retired from competitive skating in 2017 and joined Disney On Ice as a professional figure skater. She hopes she can help bring the Disney On Ice magic to life for audience from her performance.

Interview with Jessica Lee who plays the role of "Anna" from "Frozen"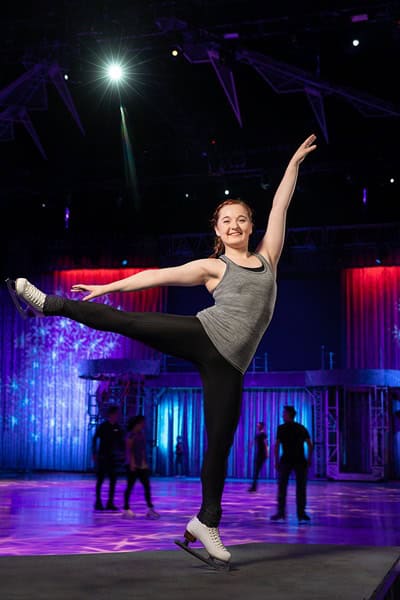 1. Can you share with us more about your role as "Anna"? 
Jessica Lee: In Disney On Ice presents Mickey and Friends, I portray the role of Anna from Frozen, and in this show, you get to see Anna fall for Hans during "Love is an Open Door", and go on the journey to find and save her sister, Elsa. By the end of the segment, the two sisters are closer than ever and they perform to the song "When We're Together," which is from the short film "Olaf's Frozen Adventure." Getting to portray this role is such a blast, and Frozen is just one of the many storylines that is highlighted in this show!
2. How do you prepare for each performance, both physically and mentally? Are there any particular rituals or routines that help you get into your character as "Anna"?
Jessica Lee: Before a performance, I like to be at the arena about 2 hours early to put on my makeup and warm up my muscles to skate. I don't have any particular rituals or routines, but I make sure to do a good warm-up and stretch routine to prepare me for each performance.
3. What's your daily work schedule like?
Jessica Lee: On opening night of each city, the cast arrives at the arena several hours before the first show. We have skating sessions and aerial practices to make sure that we are all ready to give our best performance. Once we get settled into the week, we usually arrive about 2 hours before the first show of the day, and have up to 3 shows in 1 day.
4. How has Disney On Ice played a role in your life and how do you think Disney On Ice can inspire audiences around the world?
Jessica Lee: Since joining Disney On Ice, I have had so many opportunities to travel to amazing places and share the Disney magic with audiences around the world. I think this show is so inspiring because there are so many different characters with inspiring attributes to follow. For example, Anna is a character that inspires determination and grit, and this show also features inspiring characters like Dory, Moana, and many of the iconic princesses. Each of these characters overcomes obstacles to reach their goals and follow their dreams.
5. Do you have any advice for children who aspire to become a professional ice skater and to perform for Disney On Ice?
Jessica Lee: To anyone aspiring to join Disney On Ice, I encourage them to keep working hard and to never forget their love for the sport! A true love for the sport helps bring every performance to life!
6. Lastly, what would you like to say to our readers who are looking forward to watch Disney On Ice and your performance as "Anna"?
Jessica Lee: I am so excited for people to come watch Disney On Ice presents Mickey and Friends. This show features so many different stories and characters, and there is truly something for everyone to enjoy! This show is great for people of all ages, and I think there are a bunch of fun surprises within the performance.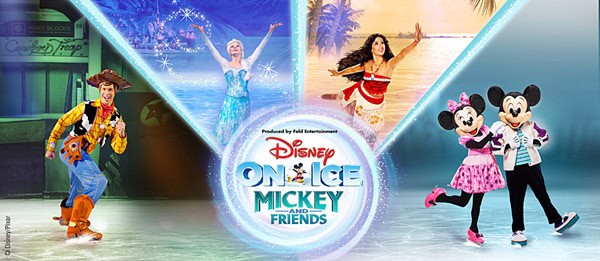 We thoroughly enjoyed Disney on Ice especially seeing all our favourite characters coming to live with breathtaking choreography, stunning costumes, and dazzling special effects all come together to create an unforgettable and memorable experience. This is a must-see event and an enchanting spectacle that will delight audiences of all ages!
Don't miss the opportunity to catch Disney On Ice Presents Mickey and Friends and embark on the ultimate journey down memory lane with Mickey Mouse! Get your tickets now till 19 March, tickets are still available from $25 at Ticketmaster.sg!
All images credit to Disney On Ice