Our Parenting World, Gor Gor and Di Di are so happy to know that Disney on Ice presents Treasure Trove will be coming to Singapore on 19 March 2014. They are looking so forward to the event!
Di Di attended the roadshow at JEM and was looking forward to meet some of the Disney characters and enjoy the fun-filled games and activities. About JEM, it is the first lifestyle hub in Jurong East, Singapore with integration of shopping, entertainment and residence all located in one place.
Let Di Di shown you around the road show and the various game stations that he participated in to discover his treasure.  
Di Di having fun colouring his favorite Disney characters.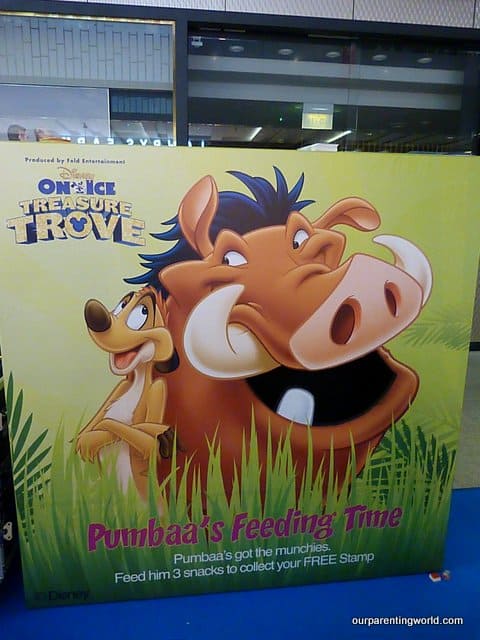 First game station that Di Di tried out is Pumbaa's Feeding Time. About the game, poor Pumbaa is hungry. Feed him as many items as you can before the time runs out.
Pumbaa is one of the characters from the popular Disney's 1994 animated feature film the Lion King.

The friendly helper at the game station was teaching Di Di how to play the game.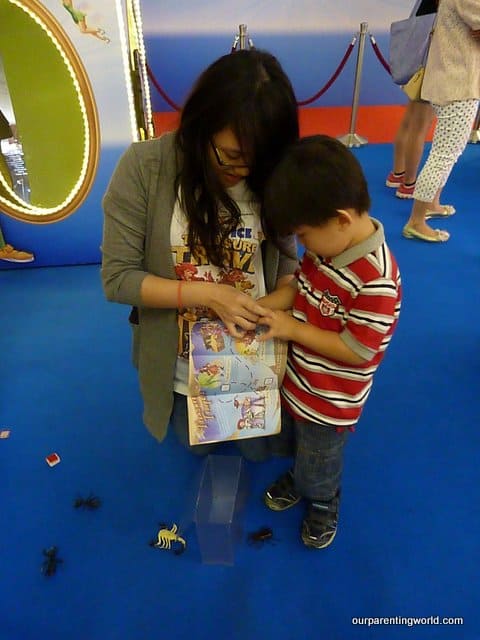 After Di Di has completed the game, he was given a stamp on his Treasure Troopers map. Di Di has to complete 3 game stations to collect a prize.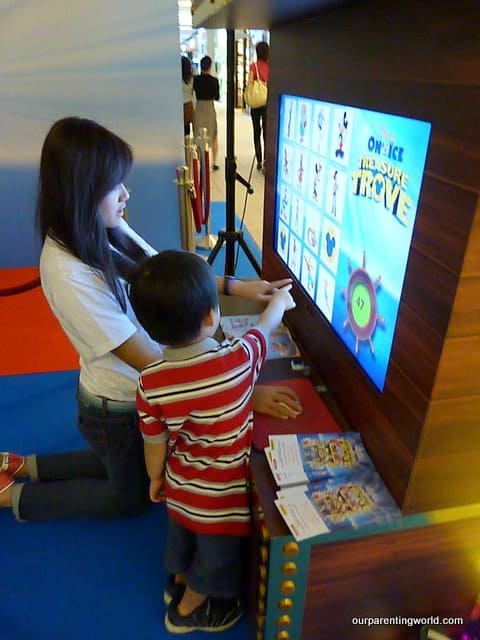 Second game station is Jolly Jumble. About the game, "We've lost our friends. Match the characters that appear in the same story. In all, there should be 8 matches" according to the Treasure Troopers map.
Di Di doing the matching under the instruction of the friendly helper at the station.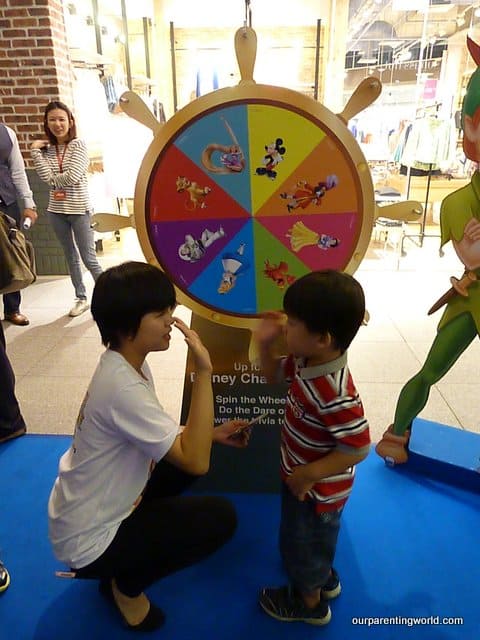 Third game station is Wheel of Destiny. You are required to spin the wheel and perform the challenge to know what your future holds. The friendly helper gave Di Di a high five for successfully completing all the game stations.
Di Di having fun posing with the various Disney characters.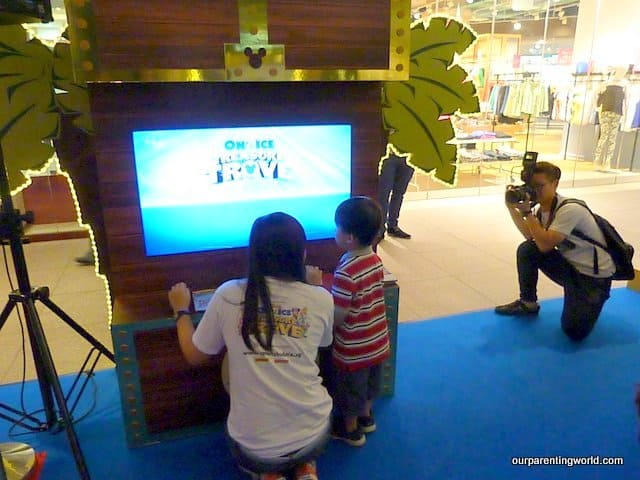 Di Di giving his ever-ready smile and posing for the event photographer.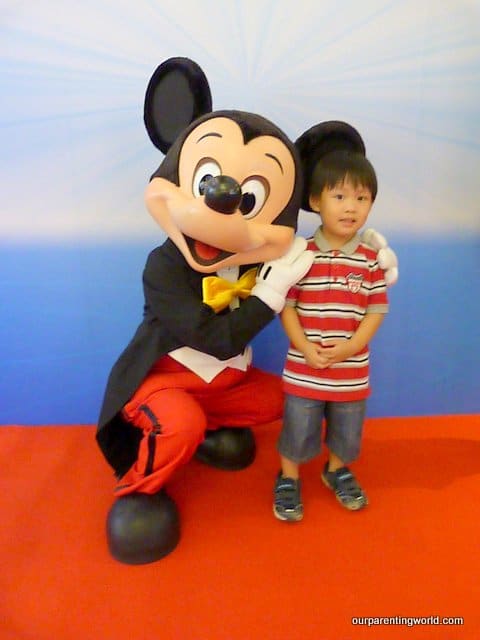 Di Di was so excited to see his favorite Disney character Mickey Mouse at the event!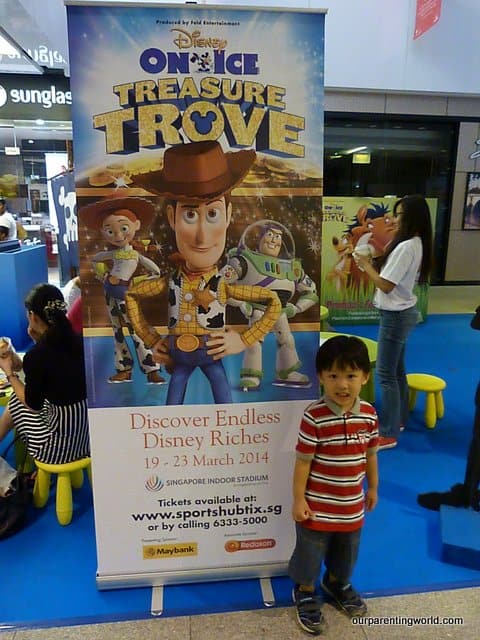 Catch the magical spirit when Disney On Ice presents Treasure Trove skates into Singapore from 19 March 2014 to 23 March 2014.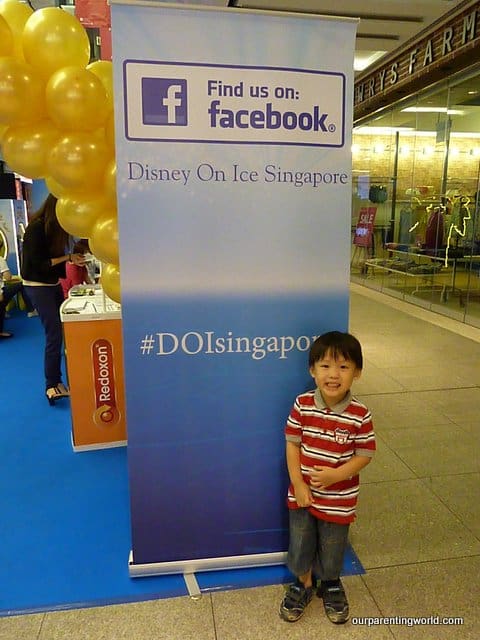 To learn more about Disney On Ice, please visit http://www.disneyonice-asia.com/treasure-trove/and https://www.facebook.com/DisneyOnIceSingapore.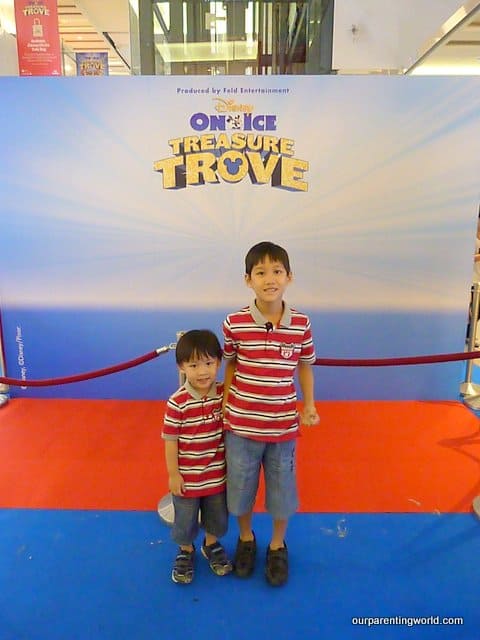 Our Parenting World, Gor Gor and Di Di would like to thank the kind and lovely organisers, Disney on Ice and team for inviting us to this event. We all had a good time and a very warm HELLO to all the friends we met at the event! See you at the show!
Don't miss this spectacular and magical Disney On Ice presents Treasure Trove which will skate into Singapore from 19 March 2014 to 23 March 2014. 
This year's theme, Treasure Trove, takes you on an action packed adventure with 50 of Disney's most loved characters. Experience a medley of your favourite animated Disney movies from the very first full-length animated film, "Snow White and the Seven Dwarfs," to the 50th Disney film, "Tangled." 
Tickets for Disney On Ice presents Treasure Trove can be purchased online at http://www.sportshub.com.sg/sportshubtix/events/details/disney-on-ice-presents-treasure- trove, via the tickets hotline at +65 6333 5000, by visiting the Sports Hub Tickets Box Office, or at any Sports Hub ticket outlet at all SingPost locations.