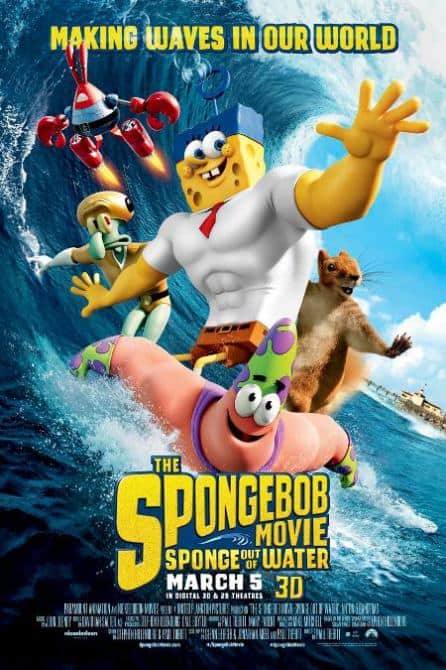 "… SpongeBob SquarePants!
SpongeBob SquarePants!
SpongeBob Squarepants!
SpongeBob… SquarePants! Hahaha! Ahh ha ha ha!"
Children and even adults are familiar with Nickelodeon's best-loved SpongeBob SquarePants and its theme song. Fans of SpongeBob SquarePants will be thrilled to know that Nickelodeon unveils themed activities in Asia around the highly anticipated "The SpongeBob Movie: Sponge Out of Water".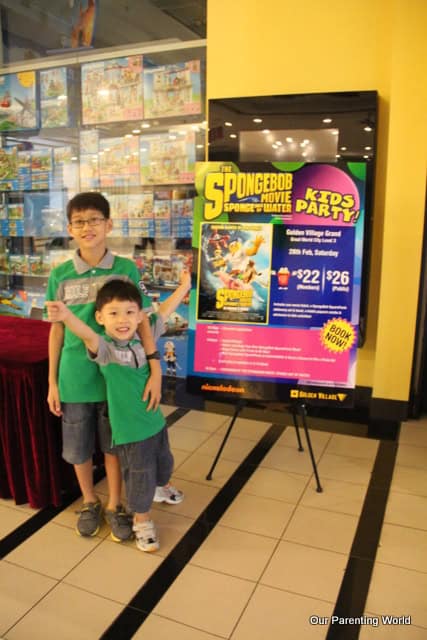 Thanks to the organisers of Nickelodeon and Golden Village, Our Parenting World attended the exclusive preview of "The SpongeBob Movie: Sponge Out of Water" and participated in its activities.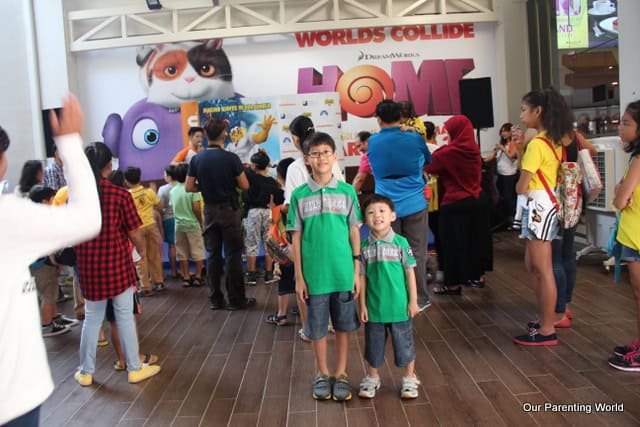 As part of the SpongeBob-themed activities in Asia, Nickelodeon together with its partners have arranged a host of activities to keep the children entertained prior to the preview screening which include stage games with prizes, colour and keep your own SpongeBob SquarePants mask, take instant photos with props provided, wear your favourite SpongeBob-themed outfit and get to win awesome prizes and more.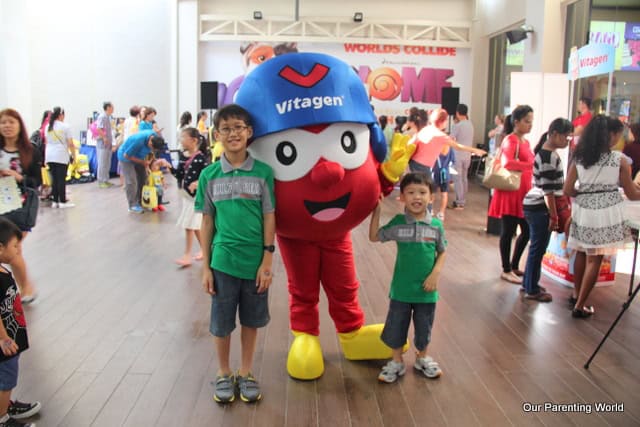 Getting up close with Vitagen, Singapore's 1st cultured milk drink which supplements your diet with billions of good bacteria and is high in prebiotic fibre (dietary fibre).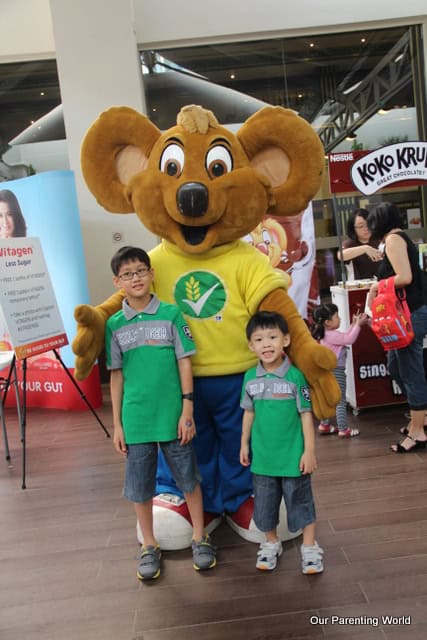 KoKo Krunch by NESTLÉ is one of the children's favourite breakfast. Kids love the tasty breakfast that comes with rich chocolate taste.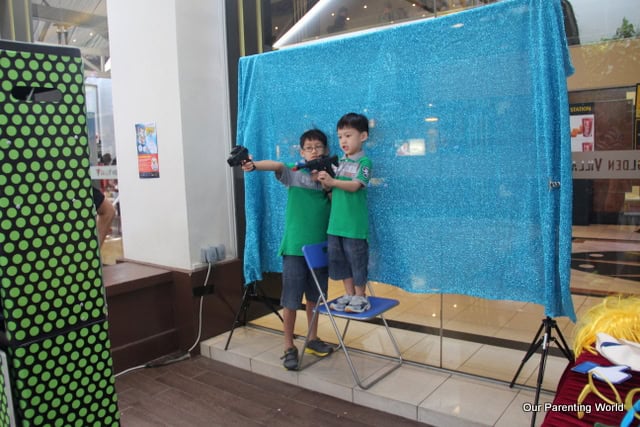 Children having fun using the props to come up with creative poses at the instant photo booth. 
One of the popular activities, create and colour your own SpongeBob SquarePants mask and you can get to keep the mask after that.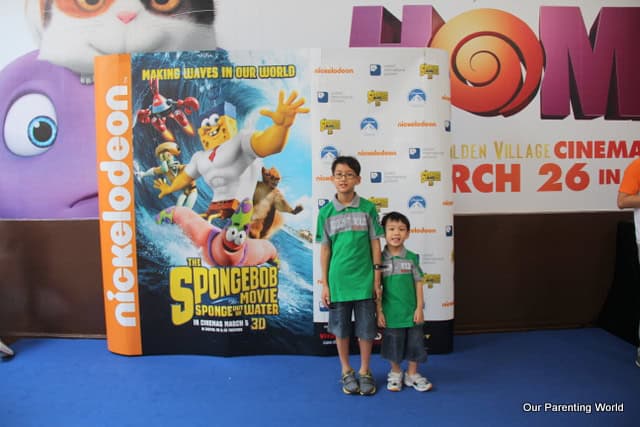 The most exciting part of all the activities is definitely to watch "The SpongeBob Movie: Sponge Out of Water". If you have watched the popular Nickelodeon television series "SpongeBob SquarePants", you will be familiar with SpongeBob and his friends. The movie is the sequel to 2004's "The SpongeBob SquarePants Movie". 
In the latest movie, Krabby Patty secret formula was stolen. SpongeBob and his friends embarked on an adventure to find the secret formula. In pursuit of Burger-Beard, a pirate who has stolen the formula, they travelled back in time and also out of the ocean to the surface to find the formula. During the face-off with Burger-Beard, SpongeBob SquarePants and his friends even transformed into Superheroes. 
To find out more, please watch the trailer above. Many love the likeable and overly optimistic SpongeBob SquarePants and if you are a fan of the TV series, you should watch the movie. It is interesting to see SpongeBob and his friends come to live in 3D especially the scenes where they moved out of the water and turned into Superheroes to fight Burger-Beard to retrieve the secret formula. The 3D effect is eye-popping and the kids love it! The movie is funny, fast-paced and highly entertaining, the whole cinema was filled with laughter throughout. It is an awesome animation movie that the whole family can enjoy! 
"Champ-packed" Marathon
Can't get enough of SpongeBob SquarePants, Nickelodeon has a series of activities coming up. The network will air a "Champ-packed" marathon of episodes from Nickelodeon shows featuring heroes-related storylines on Friday, 13 March at 4pm (HK/SG/TH/WIB) and 5pm (MY) before premiering a brand new episode of SpongeBob SquarePants. Together with Paramount Pictures, it has launched the all-new SpongeBob game SpongeBob: Sponge on the Run which was inspired by the upcoming movie. 
The hero-themed marathon consists of episodes from Nickelodeon's shows including The Thundermans, Henry Danger, Kung Fu Panda, The Adventures of Jimmy Neutron, and Teenage Mutant Ninja Turtles. These episodes contain heroes-related storylines and a brand new episode of SpongeBob SquarePants with the same theme will premiere on the channel. In this episode, an imprisoned Plankton teams up with his fellow inmates to break out of jail in order to steal Mr Krabs' secret formula and SpongeBob decides to intervene with the jailbreak plot. The second part sees SpongeBob replacing his broken spatula with one from Plankton, which may or may not have magical powers. 
SpongeBob: Sponge on the Run
The app is an endless runner mobile game now available for Android, available for iOS from 12 February and coming soon to Amazon app stores. In the app, SpongeBob and Plankton are racing to find the lost Krabby Patty formula through three seaworthy locations including Bikini Bottom, Apocalyptic Bikini Bottom and a real-world beach. When he is not running, SpongeBob is flying past obstacles with Plankton's jetpack, floating in a bubble through a coral forest, racing through Bikini Bottom in the Patty Wagon, or has Plankton jumping through his surreal imagination. When the running gets tough, SpongeBob gets heroic as he transforms into Super SpongeBob. The new upgrade allows SpongeBob to knock through any obstacle in his way without risk.
The game includes the following features:
• Customize SpongeBob with unique costumes like Caveman and Pirate
• Run through iconic locations including Bikini Bottom, Apocalyptic Bikini Bottom, Jelly Fish Fields and on a real-world beach
• Travel between locations with Plankton's time machine
• Become Super SpongeBob and knock everything out of SpongeBob's path
• Power up with Plankton using shields and magnets
• Hilarious dialog between SpongeBob and his arch-rival Plankton
• Compare distance and scores after your run with other players (for iOS and Amazon only)
• Custom animation and voice-overs with SpongeBob and Plankton created just for the game
SpongeBob: Sponge on the Run was developed by Playside Studios, creators of the App Store's Worldwide Editor's Choice game Catch the Ark.
SpongeBob: Sponge on the Run App Preview Video:http://youtu.be/dnzHx_LC_mg
Get the SpongeBob: Sponge on the Run app here:www.SpongeBobMovie.com/app