An internationally beloved heroine springs to life on the big screen in Dora and the Lost City of Gold , the feature film debut of Dora the Explorer, the iconic Latinx trailblazer whose exploits have delighted parents and children alike since her 2000 Nickelodeon debut. In her first live-action adventure, the now-16-year-old Dora (Isabela Moner) leads an action-packed expedition through the Amazon jungle to rescue her parents from treacherous treasure-hunters while also facing her scariest challenge yet ― high school!
An idyllic early life spent exploring the rainforest with her zoologist mother Elena (Eva Longoria) and archaeologist father Cole (Michael Peña) has done nothing to prepare Dora to face down the most unpredictable creature on Earth, the American teenager. Sent to stay in the city with her abuelita (Adriana Barraza) and her cousin Diego (Jeff Wahlberg), Dora finds herself in a blackboard jungle where her wilderness skills do her little good.
A school field trip to the local Natural History Museum seems like familiar territory to the intrepid traveler, until she and three friends are abducted by a band of thieves who need her to track down her parents and what could be the richest archaeological find in history: Parapata, the ancient Lost City of Gold. Transported to Peru, Dora and her friends are rescued from the bandits by Alejandro Gutierrez (Eugenio Derbez), a mysterious jungle inhabitant. Dora and her simian sidekick Boots (voiced by Danny Trejo) lead a trek into the unknown to save her parents and solve the mystery behind a centuries-old lost civilization.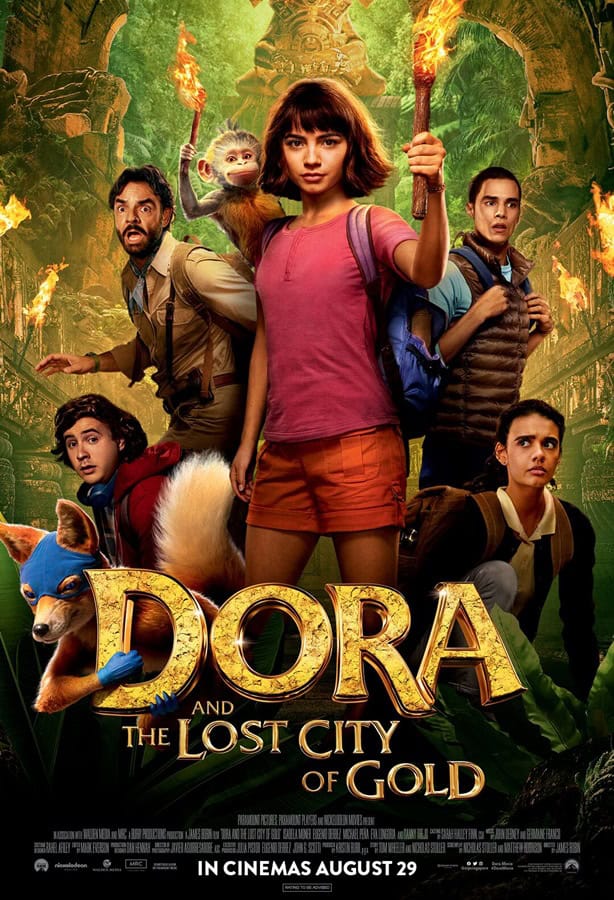 Dora and the Lost City of Gold stars Isabela Moner (Instant Family, Transformers: The Last Knight) in the title role, with an international cast including Latin American superstar Eugenio Derbez (Overboard, How to Be a Latin Lover), Michael Peña (Ant-Man and the Wasp, Crash), Golden Globe nominee Eva Longoria ("Desperate Housewives," Overboard), Jeff Wahlberg (Don't Come Back From the Moon, Future World), Nicholas Coombe ("Spy Kids: Mission Critical," Midnight Sun), Madeleine Madden ("Picnic at Hanging Rock," Tidelands), Temuera Morrison (Aquaman, Moana) and two of Mexican cinema's most acclaimed actresses: Isela Vega (Bring Me the Head of Alfredo Garcia, The Deadly Trackers) and Academy Award® nominee Adriana Barraza (Babel, Amores Perros). Lending their vocal talents to the film are Danny Trejo (Muppets Most Wanted, Heat) and Academy Award winner Benicio Del Toro (21 Grams, Traffic).
The film is directed by 11-time Emmy nominee James Bobin (Muppets Most Wanted, "Flight of the Conchords") from a story by Tom Wheeler (Puss in Boots, The Lego Ninjago Movie) and Nicholas Stoller (The Muppets, Muppets Most Wanted) and a screenplay by Nicholas Stoller and Matthew Robinson (The Invention of Lying, "The Power Inside").
Paramount Pictures, Paramount Players and Nickelodeon Movies Present In Association with Walden Media and MRC A Burr! Productions Production A James Bobin Film – Dora and The Lost City of Gold will be showing in cinemas from August 29 onwards. Don't miss it!
– Rating: PG – Some Intense Sequences
– Copyright: © 2019 Paramount Players, a Division of Paramount Pictures. All Rights Reserved.