Downtown East – Singapore's iconic lifestyle destination, will celebrate its 30-year anniversary and commemorate its rich history with Downtown East 30 – a day of revelry with star-studded local musicians and bands, and dynamic fun activities for all to enjoy.
DOWNTOWN EAST 30 – MUSIC FESTIVAL
Taking centerstage of Downtown East's festivities is the Music Festival, a momentous festival featuring the city's most popular music artistes, promising a melodious evening of hits and tunes that caters to both fans and casual listeners.
DE30 music festival opens with Boon Hui Lu, a singer-songwriter who embarked on her musical career with the music interest group of nEbO – the junior membership arm of the NTUC. The talented artiste is currently a SPOP Sing! ambassador and performed at Esplanade – Theatre on the Bay's Calling in::music earlier in June.
Similarly, popular Malay artiste Sufie Rashid, who also traced his beginnings back to nEbO, will be taking to the stage at Downtown East. The singer most recently won two awards at Anugerah Planet Muzik 2018.
Headlining the DE30 Music Festival is the highly-rated local pop band, The Sam Willows. The award-winning quartet will dish out their hit singles like 'Papa Money' while covering newly-penned singles from their latest EP 'I Know, But Where'. 
In addition, festive-goers can enjoy a wide spectrum of music genres from other talented and prominent local music artistes including THELIONCITYBOY, Sam Rui, Jack & Rai, Scarlet Avenue and Abbey Tan.
DOWNTOWN EAST 30 – FOOD & CARNIVAL
Well-known festival organiser Kassim Baba will host a special KBLIVE FEST UPSIZE food bazaar for the anniversary party. With an array of culinary treats from Singaporeans' favourite food establishments, to vendors showcasing quality products and wares, guests can take delight in the tremendous options available in this fusion of hipster food and shopping bazaar.
A game fair curated for both youths and families, Uncle Ringo Carnival invites all to join in the fun and partake in attractions like the 'Meteorite', a centripetal-force ride not for the weak-hearted, and old school favourites like 'Bumper Car' and 'Ghost Train'.
KBLIVE FEST UPSIZE and Uncle Ringo Carnival will run from 7 to 11 November.
A FULL DAY OF FESTIVITIES
Additionally, union members and public are invited to join in other fun activities at the Community Village. For those looking for a fun bonding activity with their loved ones, 'The Race Through Time' features an adventurous journey around Downtown East. Starting from the Membership & Union Community Engagement (MUCE) facility at Begonia, 'The Race Through Time' challenges participants to complete 15 fun, engaging game stations that focus on teamwork and is suitable for all ages to participate.
Specially customised booths are installed to engage and enhance the eventgoers' DE30 experience. The Community Instagram Booth features various creative and unique backgrounds for the public to take their ultimate "Instagram-worthy" photo to share with their friends. Guests can also find out more about the vibrant long history of Downtown East at the Heritage Walk exhibitions around Downtown East. Covering everything from its beginnings in the 1980s to the engagement efforts of Downtown East and NTUC Club, it will surely be a nostalgic walk down memory lane for all.
With its commitment to provide affordable fun experiences of great value, Downtown East will also be retailing an exclusive Downtown East 30 Celebration Booklet. Priced at SGD30, the booklet contains exclusive coupons and exciting deals valued at more than SGD800, including a chance at the Grand Lucky Draw where the top prize is a whopping $10,000.
n the spirit of celebration, on 10 November, NTUC members can claim freebies like ice cream and drinks through the myNTUC app, on a first-come-first-served basis. 
MYSTERY EVENT – #CHASINGROOSTER
Running alongside the November festivities is a special event #ChasingRooster, where more than $10,000 will be up for grabs. Downtown East More information about this will be shared in the upcoming weeks. For more information, please visit www.downtowneast.com.sg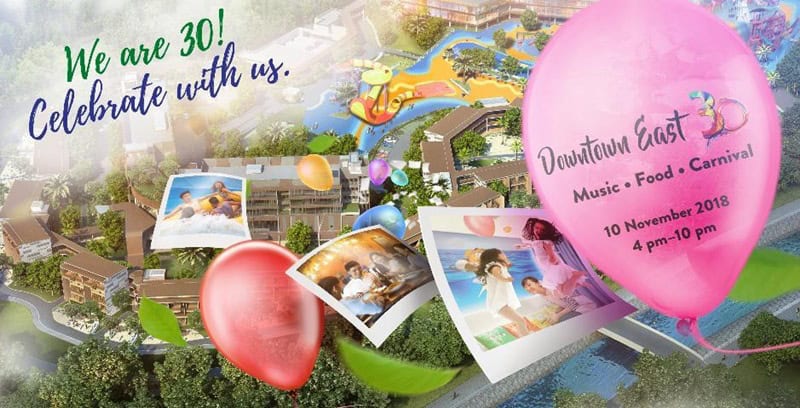 Downtown East 30 Celebration Event Details
Date: Saturday, 10 November 2018
Time: 10am – 10pm
DE30 Music Festival: 4pm-10pm
Venue: 1 Pasir Ris Close, 519599
For more information, please visit www.downtowneast.com.sg