Dr. Hauschka is a 100% natural and organic healing cosmetic brand from Germany since 1967. It emphasizes on being natural cosmetics with a difference as their skin care products are unique using selected medicinal plants from biodynamic or controlled organic farms, help the skin to nurture and renew itself. The beautiful natural scent of nature from the flowers and plants pampers your skin and senses to treat, soothe, relax and calm your body and soul.  
Introducing Dr. Hauschka's star product, its Renewing Night Conditioner which is a powerful ampoule for oil-free night care that will give you a renewed complexion in 28 days! This product is suitable for all skin conditions that provides a unique blend of rhythmitised ingredients to support the skin's natural processes of night-time renewal.
What are the rhythmitised ingredients in this star product?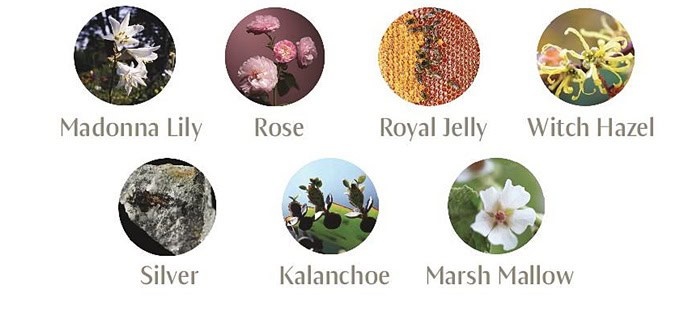 It consists of key ingredients as follows:
Madonna Lily help to prevent dark spots caused by aging or UV radiation and encourage increase cell renewal and contribute to an uniform tone.

Antioxidant healing plant Rose Flower Oil & Extract

Royal Jelly with Vitamin C to brighten up the skin.

Witch Hazel, Silver, Bryophyllum (Kalanchoe) and Marsh Mallow promote the skin's essential night-time tasks of cleansing, balancing and renewal.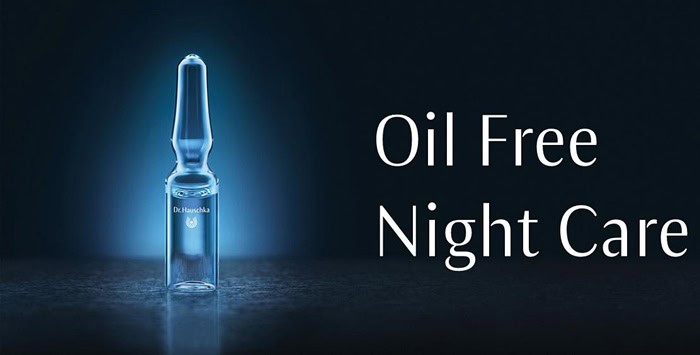 How do you use it?
Use the Renewing Night Conditioner for 28 days, after cleansing your face at night, twist off the tab of the ampoule, press gently and spread the ampoule evenly on your skin until it is absorbed. Just use the Renewing Night Conditioner to replace your toner and serum. 
Best to use one 28-day cycle of Renewing Night Conditioner per year for each decade of life (for example, 3 times a year at the age of 30) or when your skin is going through a transition or during period of stress. Please use the entire content of the ampoule after opening and do not keep it for later use.
This oil-free product enables your skin to promote regeneration. It is easy to use and convenient as it is a one step product that will help to deal with any skin issue, bring your skin back to its normal state and at the same time giving you a more brighter and radiant skin in 28 days!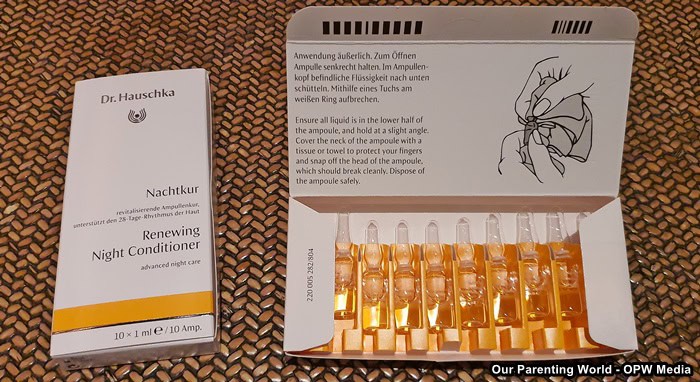 This product mirrors the natural skin cell renewal rhythm which is every 28 days. The product has a lovely scent, it is non sticky and has a watery texture which is very easy to apply. After using the product continuously for 28 days, we are delighted to find noticeable results, skin is more plump up and softer, fine lines look more relaxed and less obvious. It is a great product to help to rejuvenate our skin to reveal a smoother and more radiant complexion. 
Dr. Hauschka Renewing Night Conditioner – a powerful ampoule for oil-free night care for a renewed complexion in 28 days is available for (10amp/50amp) at $63/$199.
Dr. Hauschka's Christmas Promotion and Holiday Gift Sets
Christmas is coming, thinking of what to get? 
To sparkle and enjoy this festive season…choose Dr. Hauschka Holiday Gift Sets for face or body to treat someone special or yourself. 
Dr. Hauschka is 100% Nature certified, natural and organic cosmetic with beautiful scent to relax, activate, pamper and nurture your skin.
Available from $79-483 at its flagship store at the Star Vista as follows: 
1 Vista Exchange Green
#01-03 The Star Vista
Singapore 138617
Tel: 6262-6602
Opening hours: 11am-9pm daily
Or to find out more Dr. Hauschka's holiday gift sets, products, ongoing promotions, retail outlets and more, please visit its official website: https://www.drhauschka.sg/
Giveaway Alert! We will be giving away Dr. Hauschka's products, please check this space and stay tuned to our announcement!