In the world of vacuum cleaners, there are many different brands and there is Dyson. Just like in the world of cars, there are many brands and there is Mercedes Benz. The Dyson brand in the world of vacuum cleaner is similar to the luxury, sophisticated brand of Mercedes Benz in the world of cars, where everyone aspires to have one!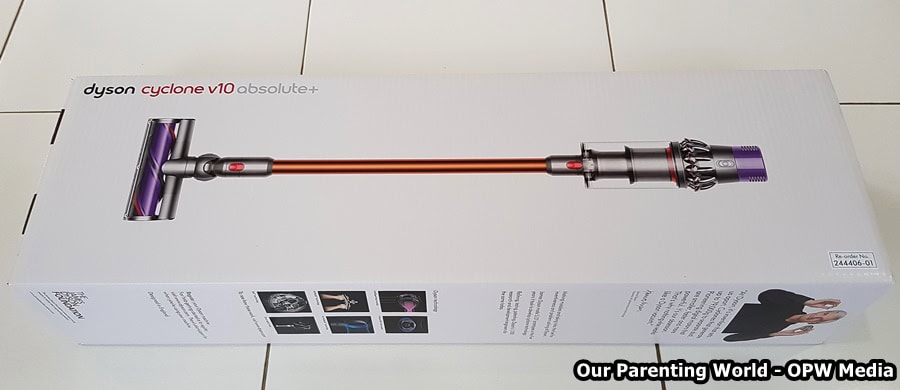 There is a new revolution in the world of vacuum cleaners, and this is called the cordless vacuum cleaners. If you are a regular user of a normal vacuum cleaner, you would normally start with say the living room and after that when you move to one of the bedrooms, you would realise the wire cord is not long enough and you have to unplug it from the living room and then look for a socket to plug back in the bedroom that you are going to vacuum. That can be so inconvenient! If you are going to vacuum your whole apartment or house, likely you would need to do this many times and there maybe a risk of your family member suffering injuries if he/she trips and falls by the wire running in the house for your corded vacuum cleaner.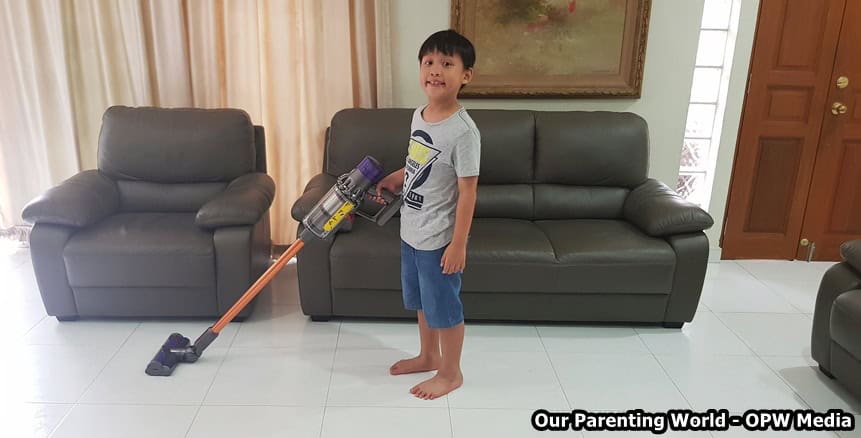 Now with the cordless vacuum cleaner like the one from Dyson, you will no longer need to suffer from this inconvenience because similar to a cordless phone, you can use it anywhere in your home. How convenient! It is so easy to use that even our kids find doing household chore a breeze and would always volunteer to vacuum the house.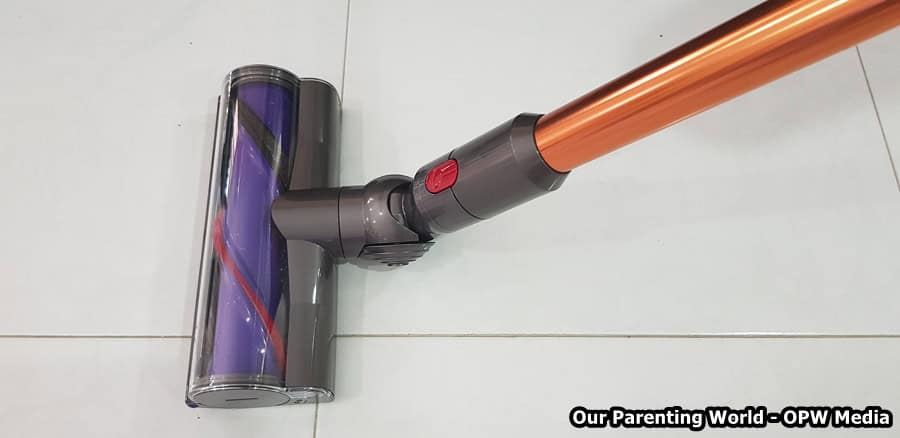 Traditionally, one of the weakness of a cordless vacuum cleaner is the suction strength is not as strong as the corded version because the corded version has direct electricity supply whereas the cordless version relies on charged batteries. Today, introducing this model of Dyson V10 promises to be as powerful as any of the corded cleaners currently produced.
The main reason a family uses vacuum cleaner is for sucking up dirt off the floor, and here the Dyson V10 works very well. This latest version with V10 motor is the company's most powerful yet and we have been using the vacuum cleaner for two weeks daily and we can say that it's really the best we have ever experienced!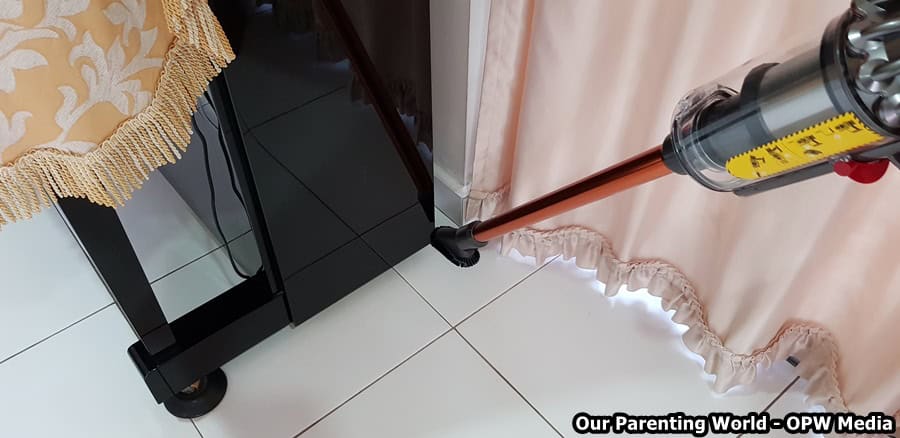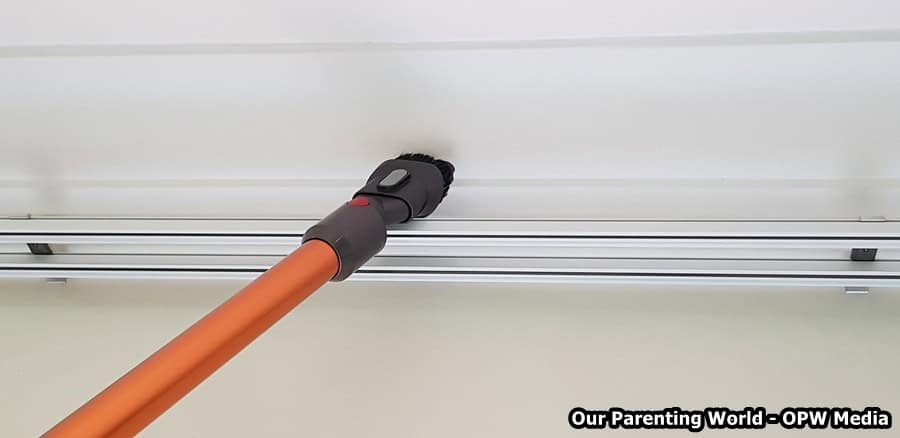 When we use this Dyson V10 vacuum cleaner in our home, we were truly impressed with its capabilities. The machines can run at 125,000 revolutions per minute. Just to give a comparison, our car engines at highway speed only runs around 2,000 revolutions per minute and even during the occasional time when we have to accelerate our cars to overtake, it would normally go up to around 6,000 revolutions per minute only. This Dyson V10 running at 125,000 revolutions per minute is certainly a very strong motor and an engineering masterpiece.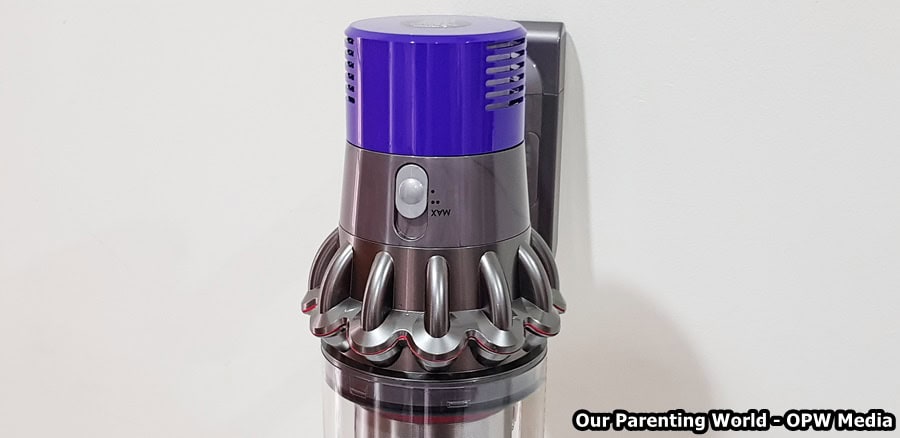 Dyson previously had launched the popular V6 and V8 model in Singapore in the last few years. How does this new V10 compared to them?
Comparing the V10 with the earlier V8 model, the new V10 is about the same size as the V8 but able to clean better and a longer battery life. The Dyson V10's 125,000 revolutions per minute is faster than the V8's 110,000 revolutions per minute. We also found out that the bin in the V10 is about 40% larger than the V8 and this means you can use it longer before you need to empty the bin.
The Dyson V10 now comes with three power levels instead of previously two (one dot, two dots and "MAX"), and the run time estimated to be for each of the setting:
Extended: 60 minutes
Increased: 40 minutes
Maximum: 6 minutes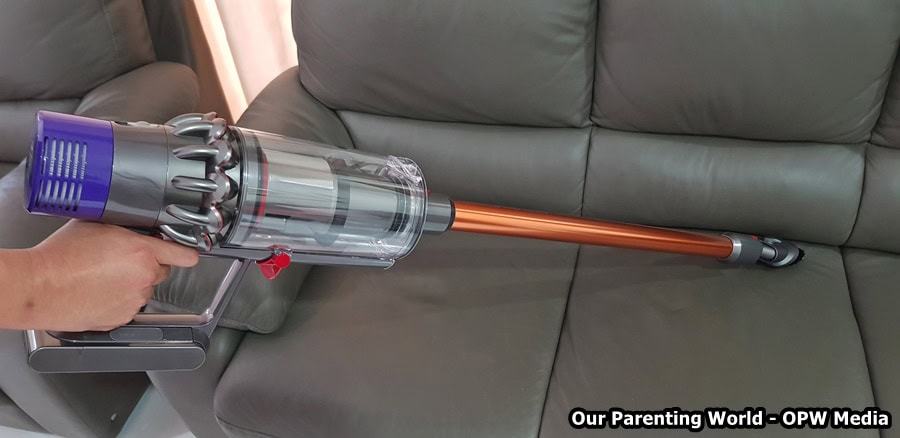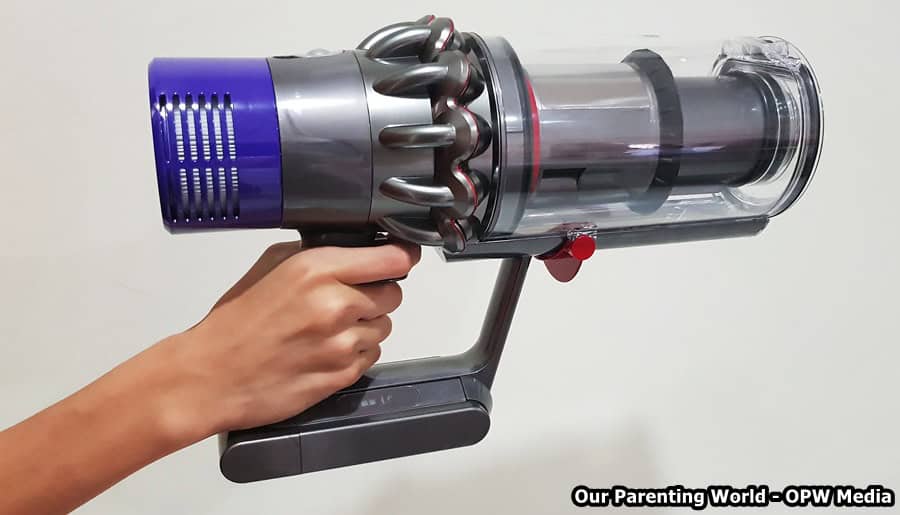 With a stronger battery packed in this handheld cordless vacuum cleaner, you must be wondering it has to be quite heavy, right? No, although the device looks fairly big and with a battery which can last a fairly long duration of usage, it is actually less than 2kg in weight and even a child could handle it fairly easily.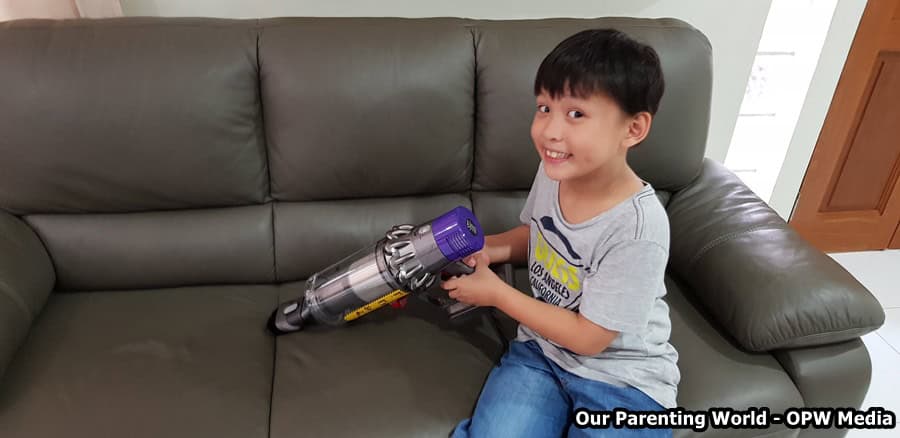 Our Parenting World's Top 5 reasons to choose Dyson Cyclone V10 Cordless Vacuum for your family:
This is a cordless vacuum cleaner which is more convenient to use than the traditional wire plug-in, corded vacuum cleaner.

It has very strong suction which can suck dirt off the floor very easily.

It is light and portable, easy to use even for kids. 

The set comes with a few different extension accessories, which you can choose for vacuuming different types of surfaces and sites.

Comes with 2-years warranty.
We know from some of our friends who are using Dyson cordless vacuum cleaners, their feedback have been unanimous that once they have experienced the cordless vacuum cleaners from Dyson, they would not consider any other brands of vacuum cleaners especially those which are corded. Needless to say, our kids love using the new vacuum cleaner so much that we have no problem asking them to do housework. 
Thank you Dyson for letting us try out this amazing Dyson Cyclone V10 Cordless Vacuum! 
The Dyson Cyclone V10™ is available at major departmental and electrical stores. To find out more, please visit  on https://shop.dyson.com.sg/