Celebrate this coming Easter at Shangri-La Hotel's Easter Enchanted Mushroom Workshop where you can have endless fun decorating your own edible yummy masterpiece!
Our Parenting World's boys are so excited to see the talented Area Executive Pastry Chef Hervé Potus and looking forward to learn from him how to create their own enchanted chocolate mushroom filled with sweet treats, edible frosting and decorations.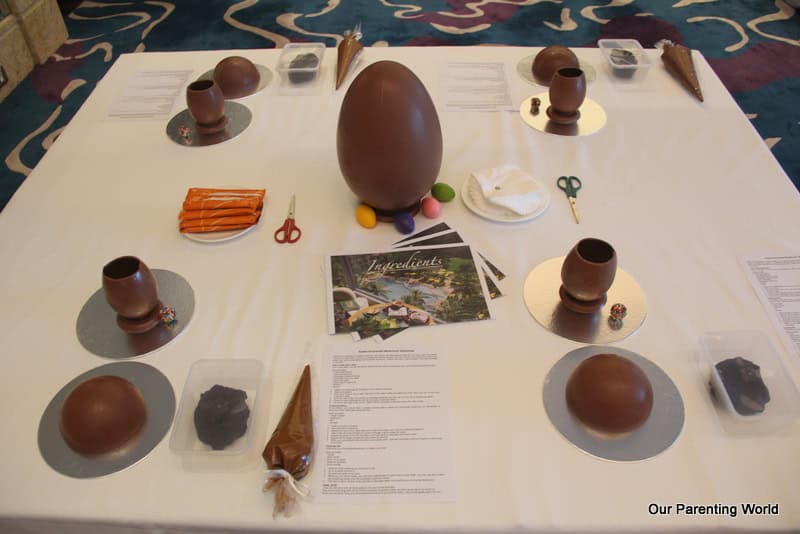 This is the Cake Truffle Work Table which is well laid out with all the necessary tools and ingredients to start making and creating your own Enchanted Mushroom. The whole workshop will take about one and a half hour approximately. At your work table, you will find cake truffle mixture, chocolate ganache, chocolate mushroom dome and base, silver cake base, piping bag of royal icing, scissors and gloves.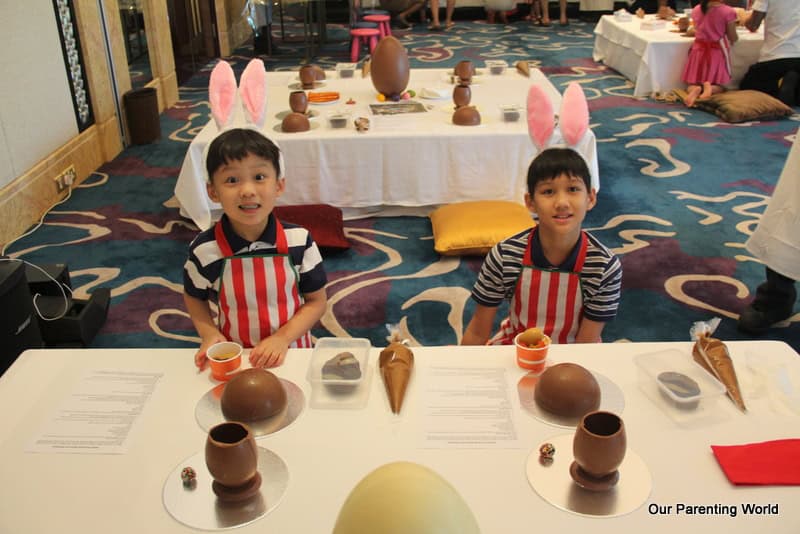 Do you like our bunny ears?
We are all given our own bunny ears, aprons at the start of the workshop. We are so excited and we can't wait to start working on our creation!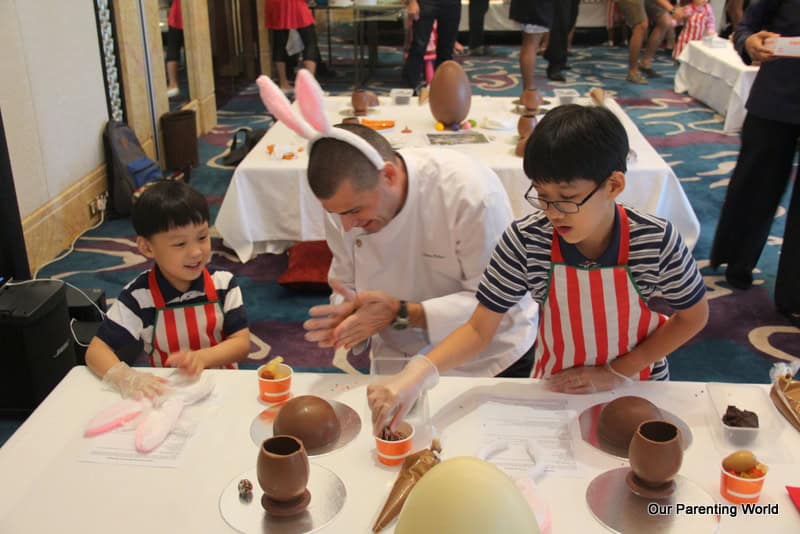 Chef Hervé Potus taught us how to make cake truffle by rolling the mixture into a ball and coat the cake truffle with some chocolate ganache. After that, roll it in the cup of rainbow sprinkles and fill up the chocolate mushroom base with cake truffles.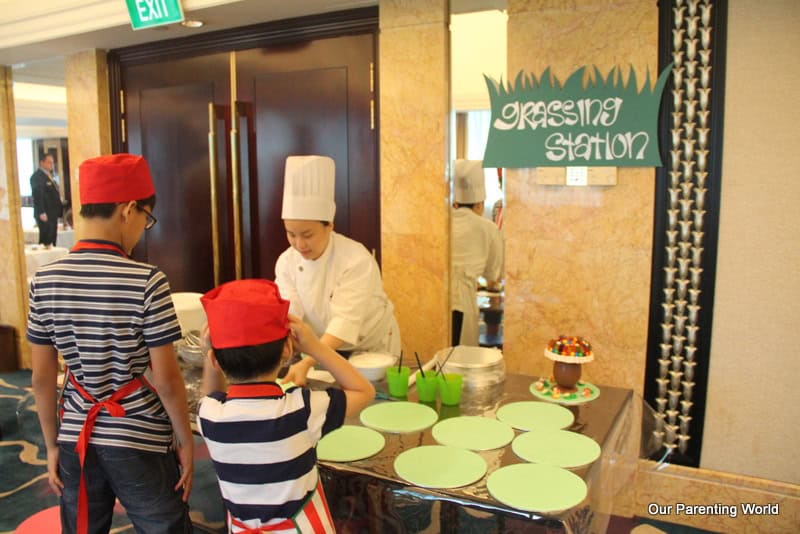 We are now at the Grassing Station where we will need to create a grassy base to put our Enchanted Mushroom on.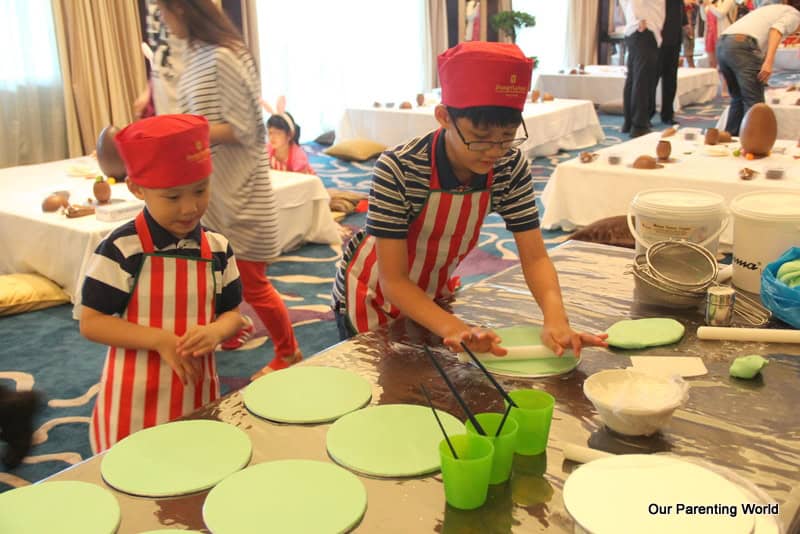 The boys get hands on creating their grassy base by grabbing a handful of green fondant, rolling it flat with a rolling pin till they are happy with their grass patch.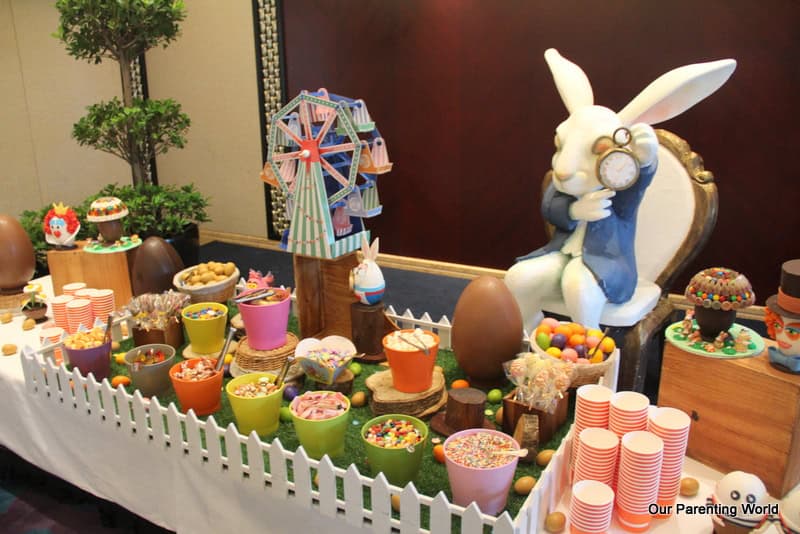 Jump for joy! This is the part that most children love best, a table full of candies at Toppings Bar. You have the opportunity to grab as many candies as possible in a cup to decorate your creation or if you can't wait, you can eat the candies while working on your masterpiece.
After getting the candies, stick the candies using the piping bag of royal icing onto your Enchanted Mushroom and you can also place the icing animals and candies on the grass patch surrounding your Enchanted Mushroom.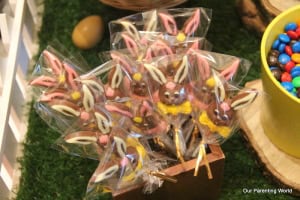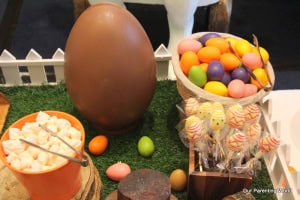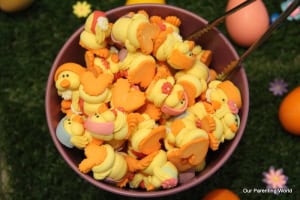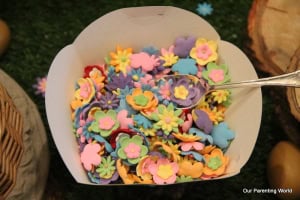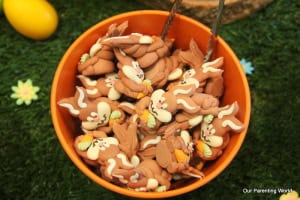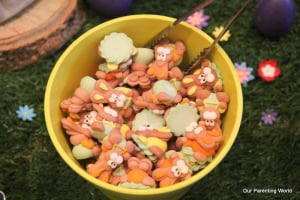 A closer look at the wide assortment of candies, jelly beans, rainbow sprinkles, gummies, icing animals and many more. Children and even parents are excited to see this beautiful and exquisite spread of candies!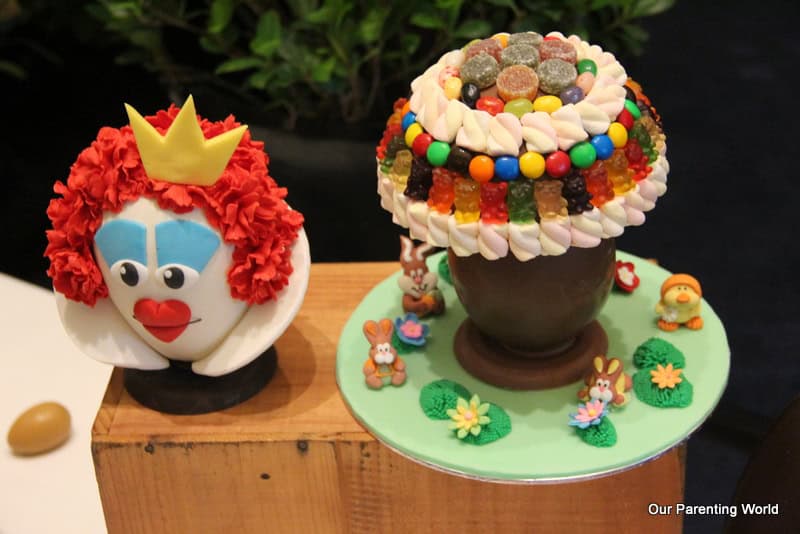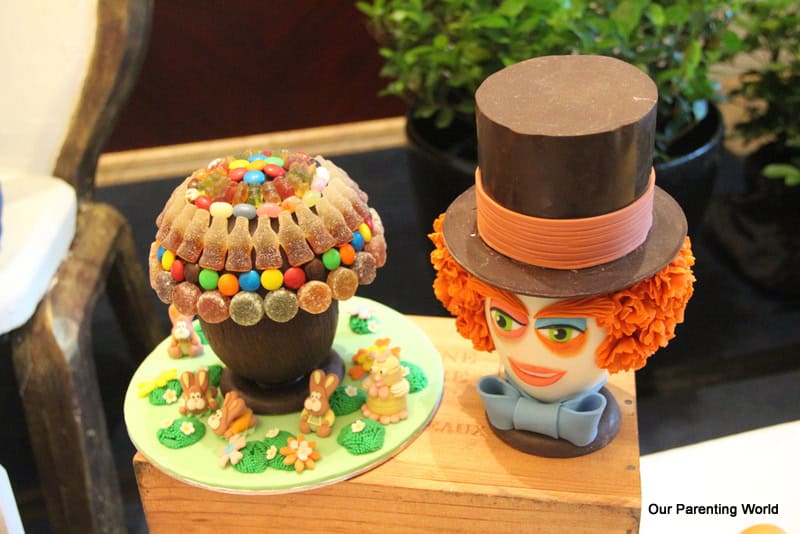 These are some of the beautiful Enchanted Mushroom done by Shangri-La pastry team. They are so pretty that we won't even bear to eat them.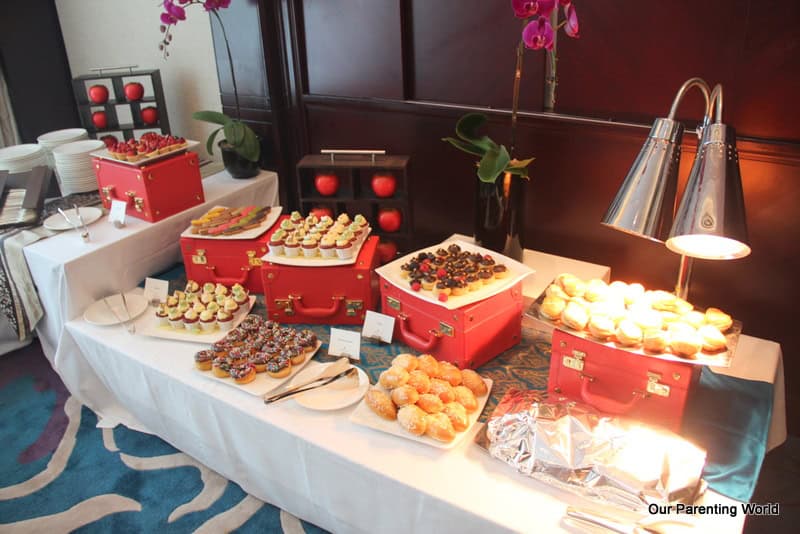 While working on your creation, you can help yourself to a delicious spread of high-tea buffet with sandwiches, pastries, chicken pies, adorable Easter-themed decorated cupcakes and many more. 
After you have completed the three stations from the Cake Truffle Work Table, Grassing Station and Topping Bar. Place the dome onto the chocolate mushroom base by piping some royal icing onto the rim of the chocolate mushroom base. Bring your creation to the packing station, the friendly staff will help to pack it nicely for you to bring home. Please remember to put your Enchanted Mushroom into the fridge or else it would melt. 
Easter Enchanted Mushroom workshop is a good way to have an enjoyable and fun bonding session with the whole family, to create your own masterpiece and at the same time, soak in the Easter atmosphere!
Enchanted Mushroom Workshop 2016
Create your very own edible masterpiece at the Enchanted Mushroom Workshop conducted by Area Executive Pastry Chef Hervé Potus. Parents and children are invited to create their own enchanted chocolate mushrooms filled with sweet treats, edible frosting, decorations and a high-tea buffet. As a memento of their time in Wonderland, each child may bring home their completed masterpiece with a mini chef's toque and apron.
Dates: 19, 20, 26 and 27 March 2016 (Saturdays and Sundays)
Time: 3:00pm to 5:00pm
Venue: Shangri-La Hotel, Singapore
Ticket price: $88 nett per child (three to twelve years of age), accompanied by up to two adults. 
Registration: [email protected] 
Tel: 6213 4398.
Please click HERE for more information and to sign up for the workshop.
To find out more about Easter offerings, celebrations and promotions at Shangri-La Hotel, please click HERE for the full list.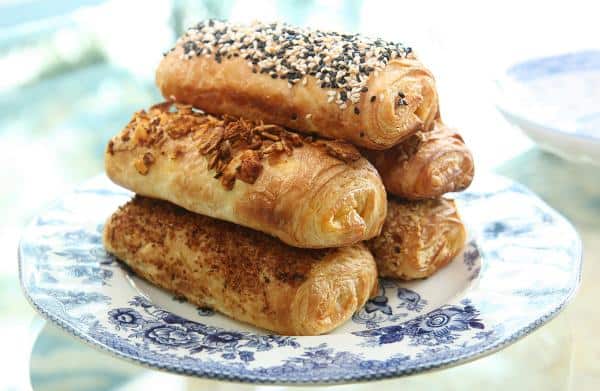 Photo Credit: Shangri-La Hotel, Singapore
In addition, the talented Area Executive Pastry Chef Hervé Potus has combined the well-loved Danish pastry with five iconic Singapore dishes to create the "Singapore Danish". The Five Flavours are Otah-otah, Chicken Curry, Chilli Crab, Braised Soya Sauce Pork and Chicken Satay. 
Chef Hervé Potus is inspired by the salted egg yolk croissant trend, commented that "Singaporeans love to eat and they know good food. We see a lot of adventurous guests who love to experiment. We opted to use Danish pastry which is chewier and provides a nice contrast to the softness of the filling. The five flavours of the filling were selected based on 5 of the most iconic Singapore dishes that could be enjoyed as a Danish filling." We have tried this innovative Danish filling with 5 iconic Singapore dishes flavours, they are simply delicious! The new pastries are available at The Line Shop (Level 1 at Shangri-La Hotel, Singapore) priced at SGD$5.80 nett each.