Ebi Bar is a modern Singaporean noodle bar, which aims to elevate Singaporean cuisine, while still staying true to our heritage. The 22-seater Ebi Bar is located at the basement of Cuppage Plaza and helmed by Partner & Head Chef, Jeff Tong and his team. 
Diners visiting Ebi Bar can enjoy a unique twist on well-loved Singaporean dishes such as prawn noodles. Using only the simplest ingredients, Chef Jeff and his team will be creating flavour profiles that will send tastebuds on a culinary journey. Chef has more than 16 years of experience in the F&B industry, he has a personal passion for creating the perfect prawn noodle broth and prides himself on creating a recipe that is second to none.
Signature "Chao Da" or Charred Ebi Noodles at $14.90 
Here comes "Chao Da" or Charred Ebi Noodles, this is the signature dish at Ebi Bar served with a pair of prawns charred to perfection. The rich and flavourful prawn broth which Chef makes on a daily basis by using 40kg of prawn shells and heads and broiling the soup for 8 to 10 hours. The hand-crafted ramen is full of umami, it is a hearty and delicious bowl of noodles filled with goodness that you would love.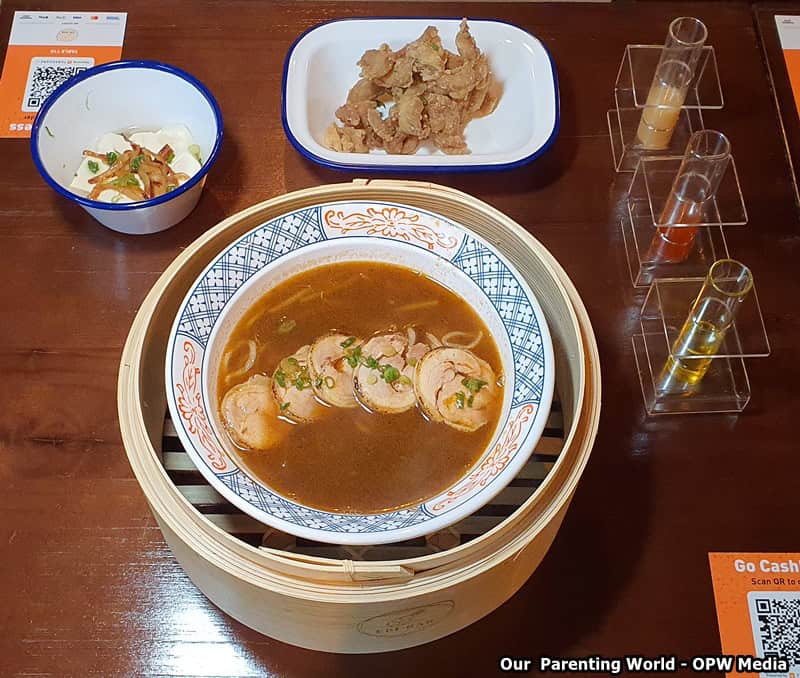 Pan-Seared Chicken Noodles at S$10.90 
This sumptuous bowl of Pan-Seared Chicken Noodles consists of tender and juicy, pan-seared chicken thigh roulade using the same rich prawn broth. At Ebi Bar, you can choose to change the flavour profile of your soup to suit your preference with the broth boosters such as Truffle, Mala and Miso-flavoured Broth Booster Shots (from $1.90). Personally, we felt that the soup is flavourful enough but you can use the broth boosters to create some fun element and to intensify the soup base to suit your tastebuds.
For side dishes, look out for the Salted Mackerel Fried Chicken ($6.90) which is Ebi Bar's rendition to the ubiquitous Prawn Paste and Salted Egg Yolk Chicken dishes. The Ah Ma's Achar Gone Fancy ($4.90) that comes with well-made vegetable achar with a surprising addition of jelly fish, and the Chilled Tofu with Homemade Sauce ($4.90).
Diners can order food and beverage using the QR codes on the table and all mains can be completed with a snack and drink for just $3.90. 
Ebi Bar is the first restaurant under The Eminent F&B Group, come visit Ebi Bar and try out its delicious noodles and dishes today! 
Ebi Bar
Address:
#B1-21 Cuppage Plaza
5 Koek Road
Singapore 228796
Opening Hours:
Tuesday – Sunday: 11am – 10:30pm
Monday: Closed