ECOM Singapore is partnering with NDP for the first time to lend a hand in this year's parade! In line with this year's NDP theme — Together, Our Singapore Spirit; ECOM Singapore is standing together with the community by shielding and protecting all NDP 2021 participants. ECOM Singapore will be providing NDP staff and participants with its specially designed NDP 2021 Care Kits and filtering the air they breathe with its EA Mask 030+ Air Purifier.
Our editorial team speaks to Desmond Teo, Managing Director of Mamoru Marketing, the exclusive distributor of ECOM products in Singapore to share about their partnership with NDP 2021 and more. 
Exclusive Interview with Desmond Teo, Managing Director of Mamoru Marketing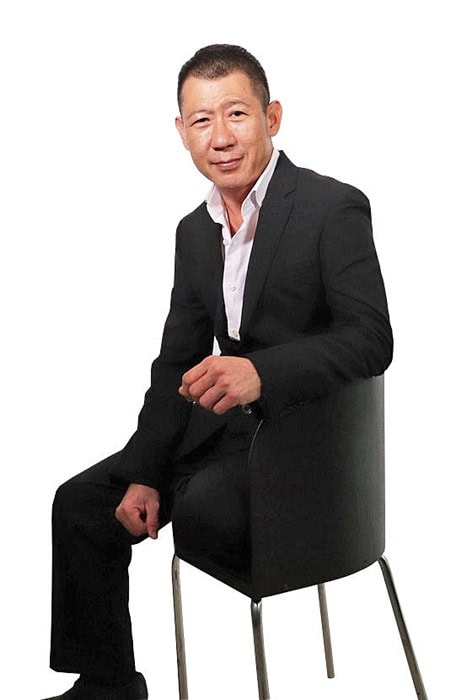 1. Please share with us more about your company, ECOM and your products.
Mamoru Marketing was established in 2019 and we are the exclusive distributor of ECOM products within Southeast Asia. Our mission is to provide protection to our customers' family and friends while specialising ourselves in developing, creating and exclusively representing brands and products that have been proven to improve consumers' quality of life brought in by ECOM. To assure reliability, Mamoru places importance on transparency and shares any research papers and relevant information to support the effectiveness of our products.
ECOM has revolutionary range of products that promises to improve the quality of air that you breath in and protect you and your loved ones from the harmful germs and bacteria in the air. As passion for a better, healthier world lies in the heart of ECOM, our products have been perfected by Japanese-patented technology and rigorous manufacturing standards. ECOM has been established since 2002 and EA Mask products were launched in 2012 way before the world has to combat the pandemic. The range of ECOM products spans from household disinfectant to industrial-grade air purifier which include the ECOM Mask 030+ air purifier, ECOM E.A. Mask, environmentally friendly Bion Spray, ECOM Car and ECOM Wash, just to name a few.
2. Why did ECOM Singapore decide to be the principal partner of NDP 2021?
To extend protective efforts to a larger consumer group, ECOM is proud to collaborate with NDP 2021 as the principal partner.
Inline with this year's NDP theme, "Together, Our Singapore Spirit" we view this collaboration as a channel to reach a larger group of consumers by protecting NDP's participants through the distribution of care kits and the installation of world's first CIO₂ air purifier ECOM Mask 030+ at NDP 2021 key venues such as VIP holding rooms, routine testing sites and performers' holding areas. For an event of such magnitude, we are extremely honoured to be able to play a part in protecting the participants while celebrating Singapore's independence.
Above: More than 12,000 NDP Care pouch containing ECOM EA Mask and Bion Spray are given to NDP participants and ECOM Mask 030+ installed at NDP key locations.
3. What does ECOM Singapore aim to achieve through the partnership with NDP this year?
We want the community to know that ECOM stands together with them in combatting and managing the pandemic. Through this partnership with NDP 2021, we hope to establish ourselves as a key player in the industry for both consumers and businesses through the building of trust and credibility for ECOM products in the market. We hope that the community are excited to explore and try these ECOM products for themselves.
4. How are ECOM products different from the rest of the disinfectant/sanitising industry?
ECOM is the revolutionary spatial disinfectant that harnesses the power of CIO2. In compliance with safety regulations by international authority, the World Health Organization (WHO) as well as the US Food and Drug Administration (FDA). Our range of ECOM products have been independently tested internationally and clinically proven to kill germs, bacteria, viruses and fungi.
In fact, using Japanese-patented technology, ECOM products utilize the effectiveness of CIO₂ as a disinfectant instead of the usual ethanol-based products. The range of ECOM products spans from EA masks, disinfectant sprays to industrial-grade purifiers, aiming to protect consumers in every phase of their life, wherever, whenever. The range of ECOM products spans from masks to household purifiers.
Tested independently since 2012 by research centers in Japan, Lebanon & China, as well as FDA registered and CE marked, the ECOM EA Mask, EA Bear and EA Mask Mobile achieves 99% bacterial kill in its 11th test by Setsco Singapore in 2021.
We are proud to claim that our ECOM Mask 030+ is the first industrial-grade air purifier and is the leader in this product category. A 4-in-1 air purifier incorporating a large CIO₂ filter, primary anti-bacterial filter, world's longest HEPA filter – 12m in length, and a negative ion plasma generator, it actively detects the pollution level in the room to adjust the filtration level. Strong enough to eliminate, deodorize and humidify a space of up to 1,000 square feet, yet quiet enough to ensure that you get a good night's sleep. The ECOM Mask 030+ is also an internationally certified air purifier with a CADR (Clean Air Delivery Rate) of 870m3/hr.
To learn more about our ECOM Mask 030+, you can watch the informative video produced by Just Keep Thinking here: https://fb.watch/7pU1koHxQZ/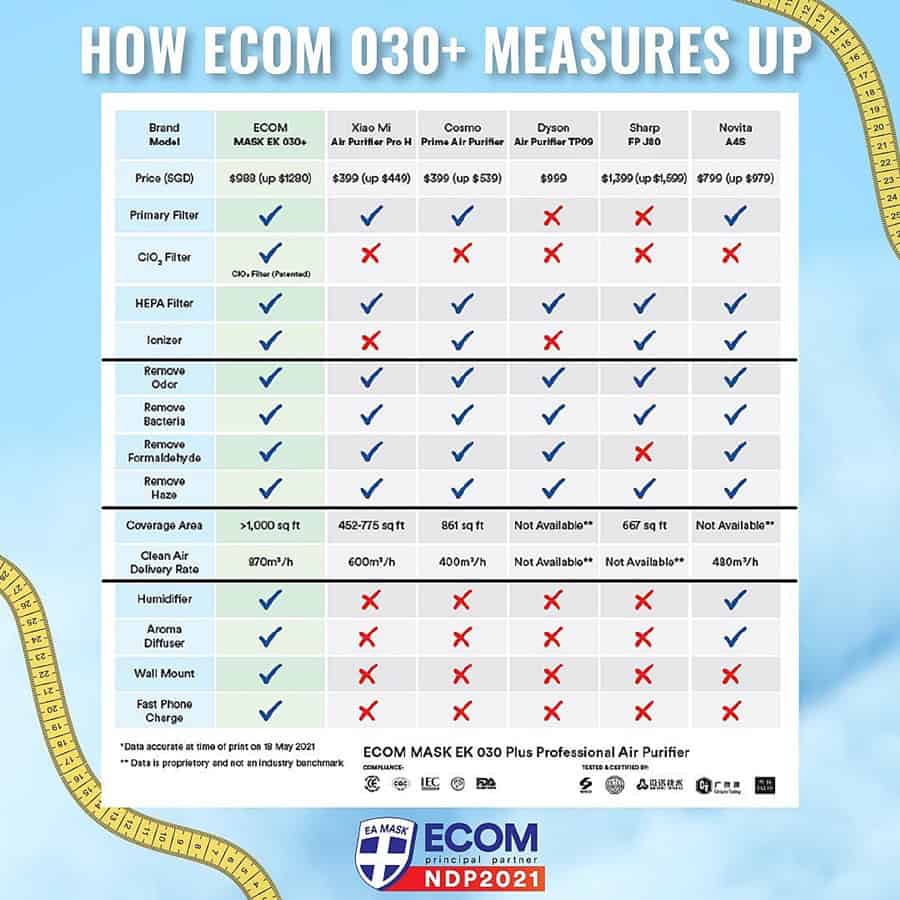 Above: ECOM Mask 030+ Comparison With Other Air Purifiers in The Market
Additionally, our Bion Spray is a food-grade deodoriser and sanitizer which is environmentally-friendly with no harmful by-products. It is made up of 100% refined Bio-ionised water, for safe & mobile sterilisation on-the-go with 99.998% bacterial kill as tested by TUV Singapore in 2020. It is even safe for you to use on cutleries when you dine-out!
5. Lastly, what would you like to say to our readers who are looking forward and planning to try out ECOM Singapore's products and what's your next plan/project if any?
ECOM products are created for the sole purpose of protecting you and your loved ones. We want to make the world a safer and healthier place with our quality-assured as well as internationally tested and certified products. We want you to trust us in protecting your loved ones!
With the community at the heart, ECOM chose to give back by launching the ECOM 5:1 Shield for Community Charity Campaign 2021-2022. In partnership with REACH Community Services, ECOM will be providing purified air to REACH Community Services with its ECOM Mask 030+ Air Purifier. ECOM pledges to donate one unit of the world's first chlorine dioxide (ClO2) professional-grade ECOM Mask 030+ Disinfectant Air Purifier to REACH for every five purchased.
Moving forward, ECOM hopes to establish itself as a key player in the wellness industry for both by partnering with organisations such as schools and charitable organizations. With the COVID-19 becoming endemic, not only do we want to protect students and school-going children, we want to protect the next generation!
To find out more about ECOM Singapore, please visit https://www.ecomsingapore.sg/