In the midst of the 2023 trend known as 'Quiet Luxury,' where a mindful lifestyle takes precedence over conspicuous consumption, two Singaporean women are making waves by redefining an unexpected realm – the laundry room.
Cloversoft, established in 2014, is not just a brand; it's a commitment to toxin-free and eco-friendly daily consumables for sustainable living, accessible to all. Angela Sim and Lynn Yeo, the co-founders, believe that luxury should transcend price tags and focus on quality, efficiency, and enduring benefits.
At the heart of Cloversoft's mission is a dedication to environmental conservation. All their products, made from high-quality bamboo, are unbleached and free from harmful chemicals. Their products have also been tested to be biodegradable within 90 days, which allows a reduction of waste in landfills. All products are made of the best-quality bamboo, and safe for babies, pets, and pandas alike. Cloversoft is also an official partner of Polar Bears International, donating part of its proceeds to save these endangered creatures. 
Angela and Lynn understand that luxury is an experience, and they've translated this philosophy into their 4-in-1 plant-based laundry pods. Unlike traditional detergents laden with harmful chemicals, Cloversoft's pods are crafted from 100% natural ingredients. But they don't stop there:
Sensory Cleaning Experience: Cloversoft's laundry pods incorporate natural essential oils like eucalyptus, rose, and cedarwood, ensuring not only a safer cleaning experience but a gratifying one as well.
Color-Protect Softeners: These laundry pods simplify laundry routines with antibacterial and anti-dustmite properties, ensuring efficiency in every wash.
Skin-Friendly Formula: With 0% harsh chemicals, these plant-based pods are ideal for sensitive skin, making them a safe choice for both kids and pets.

(Above: Cloversoft's 4-in-1 Plant-Based Laundry Pods in Fresh Pine (left), Gentle (centre) and Cotton Candy (right))
Chores, often seen as mundane, become enjoyable with Cloversoft. QR codes on their products link to fun music for dishwashing sessions, injecting a sense of joy into routine tasks. Even toilet cleaning, usually associated with strong fumes, becomes a safe and pleasant experience with Cloversoft's bleach-free toilet cleaners, available in rosemary or ginger scents.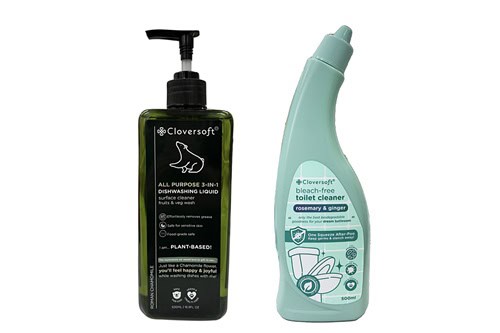 (Above: From left: Cloversoft's 3-in-1 dishwashing liquid and bleach-free toilet cleaner)
Cloversoft's products are available in over 300 supermarkets across Singapore, including selected convenience stores in Taiwan. But they're not stopping there; their sights are set on expanding into over 1,000 retail outlets in Indonesia by the end of 2023. 
For further details and to purchase their products, please visit Cloversoft's website and embark on a journey into a world where luxury meets sustainability, one laundry pod at a time.