Free radicals can originate from various sources, both internal and external, including prolonged exposure to the sun, environmental pollution, unhealthy lifestyle habits, and even chronic stress.
These free radicals play a pivotal role in triggering a phenomenon referred to as "cellular destabilization," ultimately leading to noticeable skin concerns such as diminished elasticity, the emergence of fine lines, a coarse skin texture, and heightened hyperpigmentation.
Although we cannot entirely shield ourselves from these free radicals, we do possess the capability to bolster our skin's natural defenses against these detrimental factors. By doing so, we can preserve our skin's youthful appearance, maintain its hydration, and retain its supple quality throughout the day.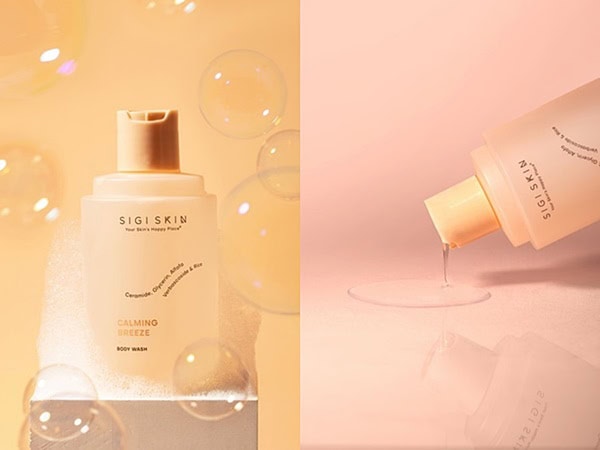 Sigi Skin Calming Breeze Body Wash 
Your body's skin is an extension of your facial care regimen, deserving equal attention and care. Embracing the addition of Calming Breeze to your daily shower routine can contribute to nurturing and pampering your skin, leaving it well-nourished and beautifully cared for.
Unlike any other body wash, Calming Breeze is skin care tailored for your body:
Eases redness and irritation

Strengthens and repairs skin barrier

Improves skin texture

Vegan superfood ingredients like Alfafa, Verbascoside, and Rice work together to nourish your skin from deep within

Suitable for all skin types, including sensitive and eczema skin, those with body acne, and it is also kid-friendly
A Cocktail of Superhero Ingredients
Alfafa
A powerful provider of phytonutrients and antioxidants, such as vitamins A, B, D, E, and K, chlorophyll, polyphenols, and amino acids. It is rich in antioxidants and high in vitamin and mineral content to diminish skin ageing and soothe sensitised skin.
Verbascoside
A plant stem cell that boasts anti-inflammatory and antioxidant properties. It prevents pigmentation from forming, regulates sebum production, and is a great ingredient for those battling with acne and wounds.
Rice
Apart from its gentle nature that soothes and calms irritated skin, it contains loads of vitamins and antioxidants that brightens, strengthens and hydrates the skin.
Ceramides
An anti-ageing force that fortifies and rejuvenates the skin barrier, sealing in moisture to enhance hydration whilst acting as a protective shield against external irritants. Ceramides also soothe inflammatory skin conditions and fights visible signs of ageing caused by collagen breakdown.
Glycerin
A humectant that draws moisture from the atmosphere and traps it in the skin, making it a prevalent ingredient in water-based skincare items. It works by preserving ideal hydration levels within the skin's layers and fostering skin softness to maintain a smooth and supple complexion.
The Sigi Grocer Pop Up
Sigi Skin is thrilled to announce a pop-up at Tanglin Mall Atrium, where skincare enthusiasts can delve into the world of Sigi Skin to discover the new Calming Breeze Body Wash and other Sigi Skin favourites!
Venue: Tanglin Mall Atrium
Date: 3 October to 15 October 2023
Time: 10.30AM to 9.30PM
Attendees will get to experience a range of exciting perks like: 
Pop-Up Entry Exclusive: Only registered attendees will have access to the pop-up space. Fear not if you haven't signed up yet—registration is available at the door. All attendees will get a free skin analysis too. 
Capture the Moment: Create memories with your best pals at the free photobooth.
Share the Love: Follow @sigiskin on Instagram and receive a complimentary drink. Likewise, those who follow @sigiskin on TikTok will receive a free sticker pack! 
Exclusive Deals: The Calming Breeze Body Wash Launch Kit, Oh So Breezy!, will be available at the pop-up event, which includes a free bubble headband, perfect for elevating your skincare routine. In addition, spend a minimum of $250 nett to get a chance to spin the gachapon machine for a surprise!
Revive and Enrich Your Skin with Calming Breeze
Crafted with a thoughtfully curated blend of ingredients designed to nourish and provide soothing relief to your skin, Sigi Skin's latest offering, the Calming Breeze Body Wash, stands as the ideal choice for fulfilling all your body care requirements.
Sigi Skin Calming Breeze Body Wash ($49 for 326ml) is available at www.sigiskin.com