Image Credit: Singapore Repertory Theatre (Set sail with Captain Smollet and his crew on the Hispaniola!)
Finding lost treasure is something many of us would dream of when we were younger. Certainly, reading the story of "Treasure Island" when we were young definitely contributed to this childhood dream. Imagine how exciting it would be if we could quit school and embark on an adventure to sail to some remote island, find some long lost buried treasure and come back home rich and don't need to study or work anymore. This type of childhood adventure dream explains why Harrison Ford's Indiana Jones series of movies remain timeless classic till today.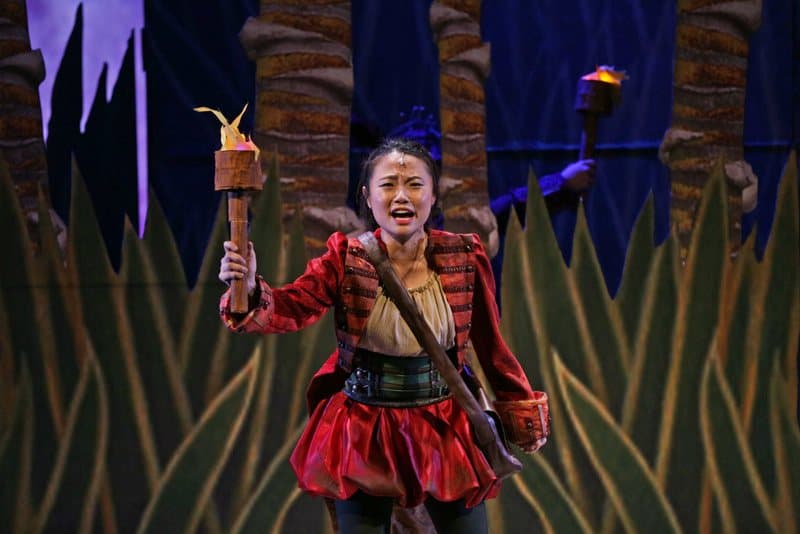 Image Credit: Singapore Repertory Theatre (Ann Lek as Jim Hawkins, a lion-hearted 13 year-old girl who seeks friendship and adventure).
Now, Singapore Repertory Theatre's (SRT) together with The Little Company (TLC) present Treasure Island, a funny and exciting musical production suitable for the whole family. The musical is based on the adaptation of Robert Louis Stevenson's popular novel. The star of the story is Jim Hawkins, a brave young lady who joined a group of sailor, including some pirates to find the hidden treasure.
Image Credit: Singapore Repertory Theatre (Long John Silver doing his thing!)
The casts are excellent and the storyline filled with suspense, betrayal and finally long lasting friendship. During the voyage towards the island, Jim became friends with the notorious pirate, "Long John Sliver" who then staged a mutiny on board causing Jim and the ship Captain to escape to the island. Eventually the pirates caught up with them and wanted to kill them. But Jim managed to convince "Long John Silver" to spare her life as she believed deep inside, Long John Silver was not an evil person and all of them eventually returned back to their home with all the treasures.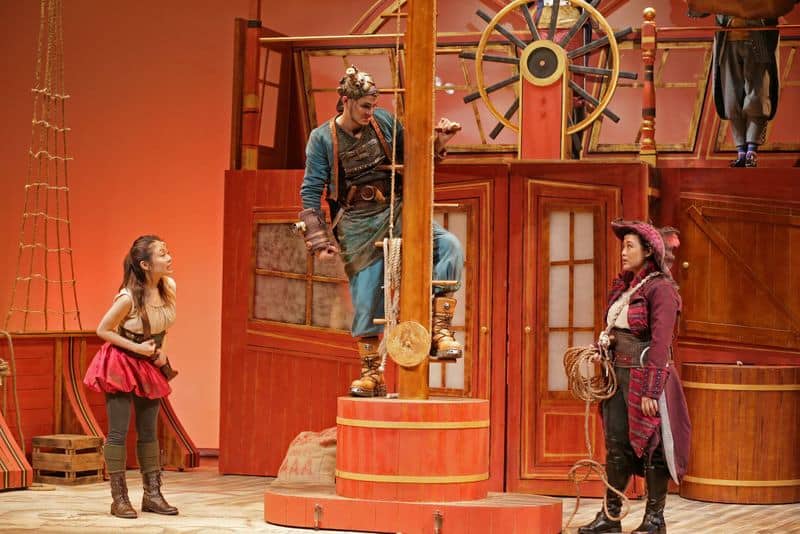 Image Credit: Singapore Repertory Theatre (Jim Hawkins and her pirate friends).
Like most children productions, there are good morals story behind it. In this case, the musical is about everyone having a kind nature in their hearts and about friendship and achieving their dreams together. The audience comprising both children and adults are equally impressed with this production. During this coming year end school vacation, this should be one of those events that parents should bring their children to attend.
For more information on Treasure Island, please click HERE.
Additional Information:
Treasure Island
Event Date
Friday, 30 October – Sunday, 13 December 2015
Monday – Friday : 10am
Tuesday(10 November):11am
Saturday & Sunday : 11am, 2.30pm
Venue
DBS Arts Centre – Home of SRT
Ticket Pricing
(Excludes Booking Fee)
Weekdays (Tuesday – Friday)
Standard: S$35, S$32
*Family Package of 4: S$119 for Cat 1 tickets
*Family Package of 4 (with TLC CD Vol.2): S$131 for Cat 1 tickets
Weekends (Saturday & Sunday)
Standard: S$45, S$42
*Family Package of 4: S$153 for Cat 1 tickets
*Family Package of 4 (with TLC CD Vol.2): S$165 for Cat 1 tickets
Tickets booking can be done at Sistic website: http://sistic.com.sg/events/island1215