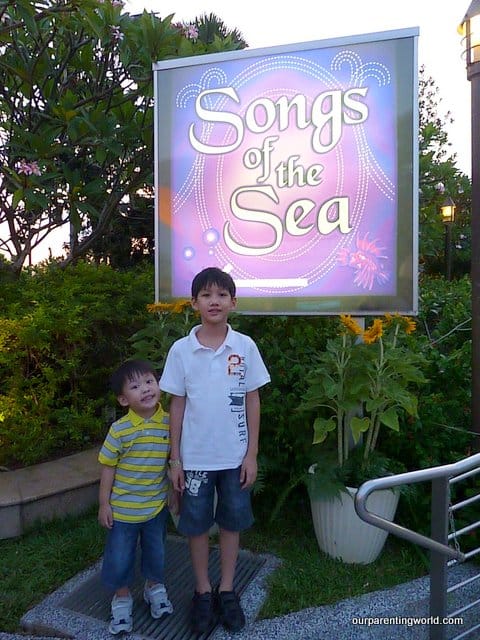 Our Parenting World, Gor Gor and Di Di were at one of our favourite places, Sentosa! We were at Sentosa to watch its signature Songs of the Sea as after a successful seven-year run, the show was coming to an end. Songs of the Sea was the world's only night extravaganza set in the sea has captivated 8.5 million guests with an unique blend of live cast, dramatic effects and pyrotechnics.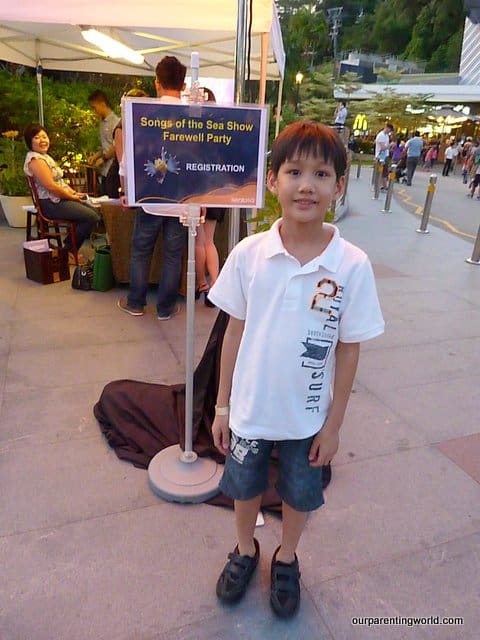 Many thanks to the organisers and Sentosa for inviting us and we had an opportunity to watch this well-loved and spectacular show. Songs of the Sea cast its spell over the audiences from Singapore and the world one last time on the evening of 4 May 2014.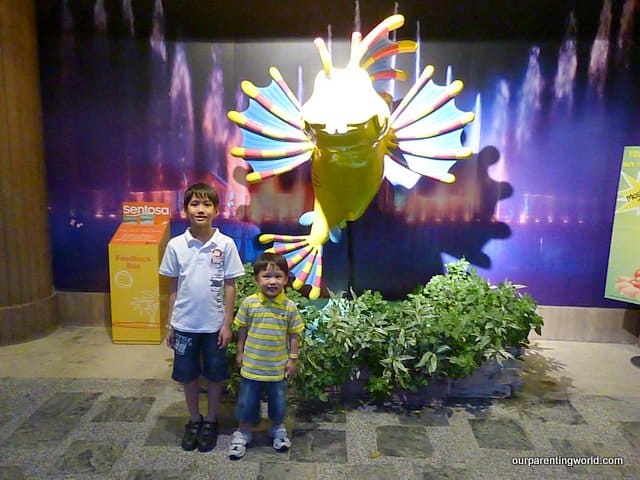 Before we went to catch the show, Gor Gor and Di Di went to the gift shop to get some souvenirs. The main character of the show is Oscar the Tiger Fish as shown in the above picture. The boys love this character.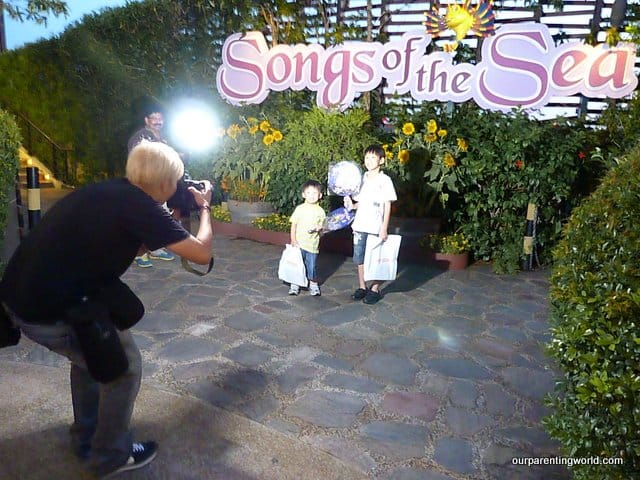 "Cheese!", the boys poising for the photographer.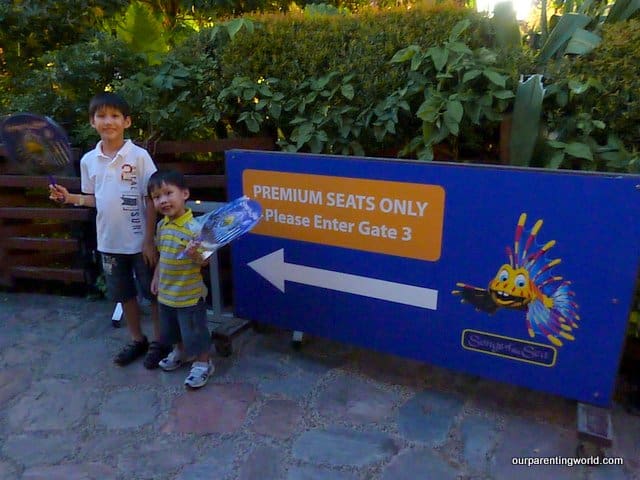 The boys were chatting excitedly about the show as they made their way to their seats.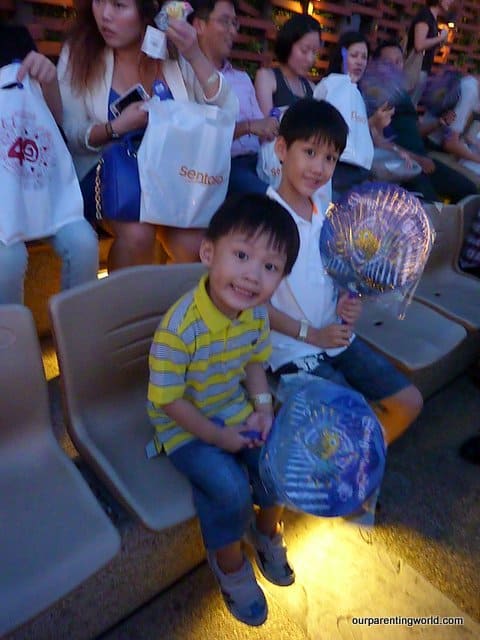 Di Di says: "We are waiting for the show to start and I can't wait to see my favorite character, Oscar. Can you tell that I am wearing the same colour as Oscar the Tiger Fish?"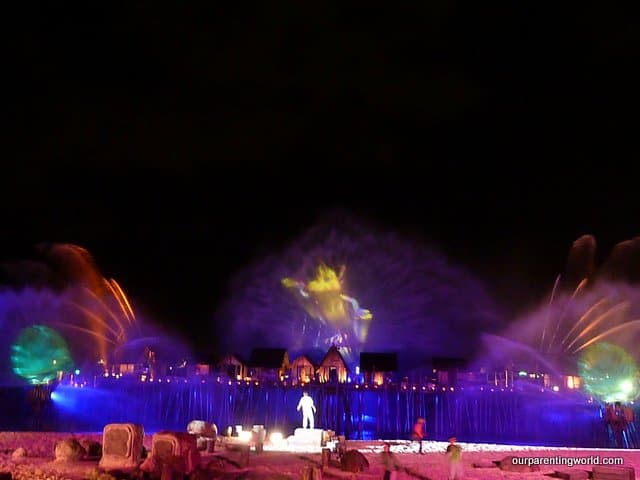 The highly entertaining show displayed dramatic effects with laser shows, water jets, dazzling fireworks display, computer animation and enthusiastic sing-alongs live cast.
The show also featured captivating music like "It's Me", "Magical Song", "You're Not in This on Your Own", We Did It!" etc.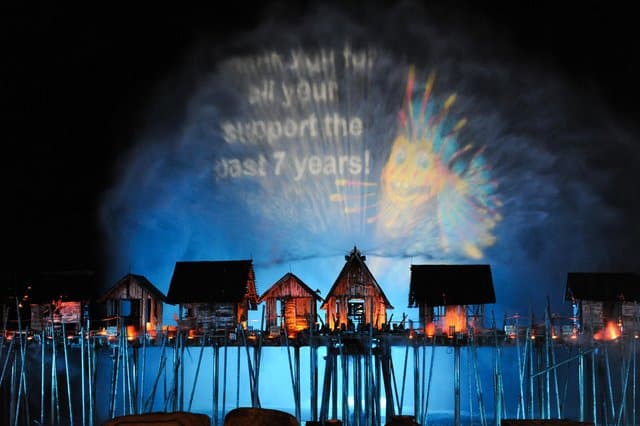 Photo Credit: Sentosa
"Songs of the Sea ends with a special "thank you" note on the water screen, ending its successful 7 year run as one of Singapore's most successful permanent night attraction."
Some of the memorable highlights at the closing event: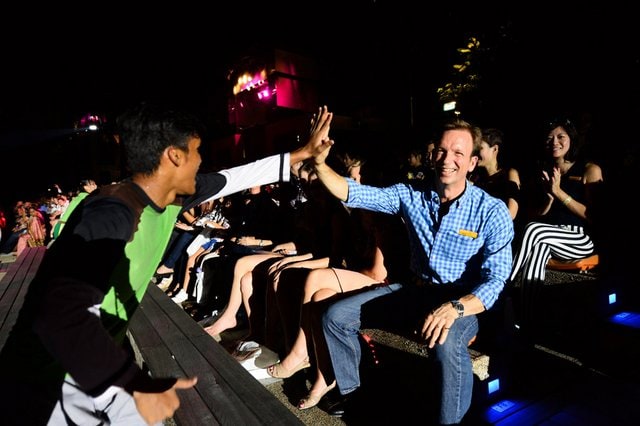 Photo Credit: Sentosa
"Guests were in for a delightful surprise, as several cast members specially dived into the audience gallery during the finale segment, singing and doing hi-fives with the guests. A key cast member doing a high-five with Mr Mike Barclay, CEO of Sentosa Development Corporation."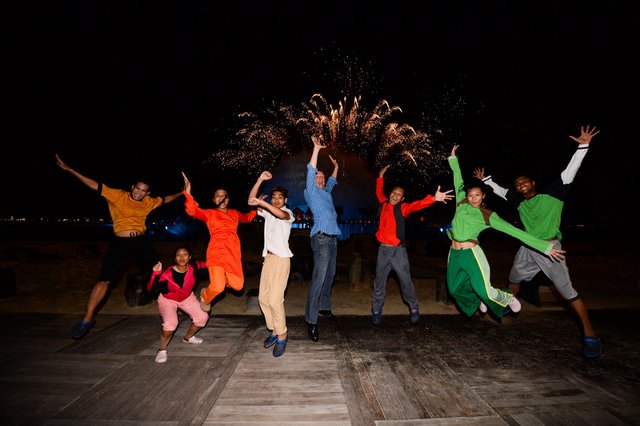 Photo Credit: Sentosa
"The cast of Songs of the Sea and Mr Mike Barclay (CEO of Sentosa Development Corporation, fifth person from the left) take a final celebratory jump as the show ends its successful 7 year run on 4 May 2014, entertaining over 8.5 million guests."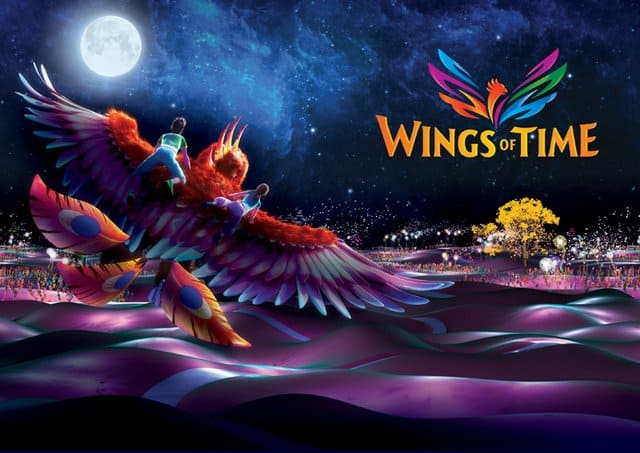 Photo Credit: Sentosa
Starting 5 May 2014, the show grounds will close in preparation for the new multimedia night spectacular – Wings of Time.
About Wings of Time, it is produced by the award-winning events company ECA2, will unveil its majestic charm from 17 June onwards at the same outdoor theatre as Songs of the Sea. The show will present a never-seen-before ensemble of artistically choreographed multimedia effects, a talented live cast, and fun audience engagement.
With a new 10-metre tall backdrop against Sentosa's Siloso Beach's picturesque scenery, the 25-min spectacular will take the audiences on a magical journey of regal proportions, with new robotic fountains, 3D video mapping and enhanced pyrotechnic effects. A talented cast will take audiences on a journey filled with adventure, courage and friendship in this family-friendly extravaganza.
Wings of Time will be a ticketed performance, with daily shows at 7.40pm and 8.40pm along Siloso Beach. Premium seats are available at S$23 per person, while standard seats are at S$18 (standard rate), and S$15 (for local residents).   Advance tickets are available from 12 May onwards at store.sentosa.com.sg. For more information, please visit www.sentosa.com.sg or call 1800-SENTOSA (736 8672). 
Storyline

Wings of Time tells the story of a fantastic journey through time and space. A bird-like creature, Shahbaz, from prehistoric times goes on an adventure with two modern-day teenagers in search of home. Along the way, they discover the world by exploring wondrous locations around the world. As the teenagers assist their newfound friend to find his way home, they too must face a test of their courage and friendship. What decisions will they make and will they too, be able to find their way home?

 

Date

Starting from 17 June 2014

 

Show Times

Daily (Monday – Sunday), 7.40pm and 8.40pm

 

Venue

Siloso Beach, Sentosa Island, Singapore 099538

Nearest Train Station

Harbourfront MRT

[take the train from Sentosa Station (located in Vivocity) to Beach Station]

 

Show Tickets

Premium seats: S$23

Standard Seats: S$18 [Local rates: S$15]

(Ticket prices are inclusive of taxes)

How to Buy Tickets

Available online from 12 May 2014 onwards at http://store.sentosa.com.sg