Our Parenting World team visited the beautiful glass building of Fish & Co located at Park Mall. We have been to Fish & Co numerous times and have always enjoy dining at Fish & Co. The kids are especially happy when they know that they are going for the food tasting at Fish & Co for its Children Day's promotion. 
Upon arriving at the restaurant, the kids immediately checked out its Kid's menu which looks like a storybook and they are delighted to see the colourful comprehensive menu with pop up designs. The Kid's menu is specially designed for children age 12 years and below. 
Fish & Co kid's menu features a wide variety of healthy and nutritious meals for your child to choose from. All kids meal come with a choice of drink and dessert at $8.95 each. The choice of dessert even include fruits for a healthier choice, you can choose from apple or banana and ice cream is available, if your child prefers ice cream as a treat for dessert. Drinks include a selection of orange juice, cranberry juice, Milo or UHT milk. 
There are 7 main dishes to choose from which include: 
Bowline (Farfalle pasta in cream cheese sauce with fish nuggets),
Chicky Coop (Golden chicken drumlets),
Captain Hook (Fish & Chips),
King's Ransom (Mac & Cheese),
Pirates' Treasure (Spaghetti in homemade tomato sauce, topped with chicken nuggets), 
Mermaids' Tales (Fish Fingers)
Treasure Trove (Golden nuggets done to perfection)
All the above comes with a side dish of carrots which is full of vitamin A that gives children good eye, healthy skin and teeth. You can also order Kids Soup of the day at $5.95 that is served with bun if your kid likes to drink soup. 
With such a wide variety of kids meals, the boys can't wait to choose and take their order.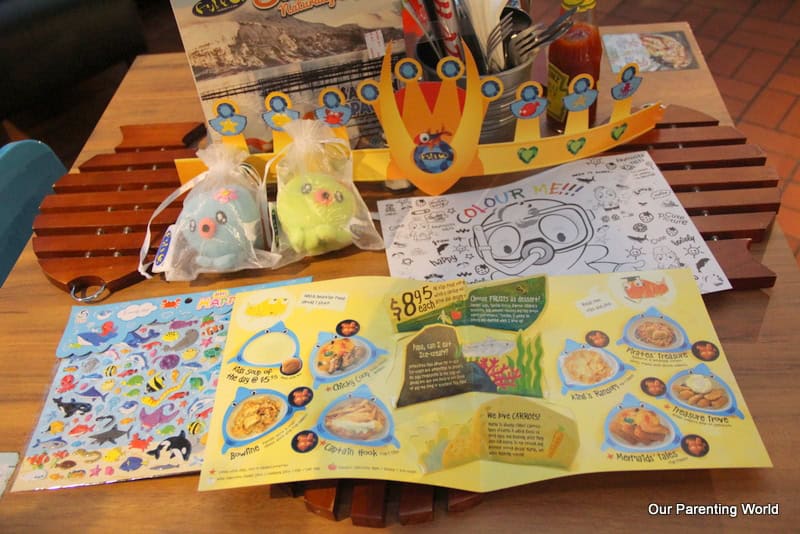 Fish & Co is so thoughtful, the boys are delighted to know that while waiting for their food to come, they are given a children's fun pack to work on. The younger one started working on the colouring sheet while the older one is busy working on the word search activity sheet. There is something for all children to do regardless of their age in this fun pack.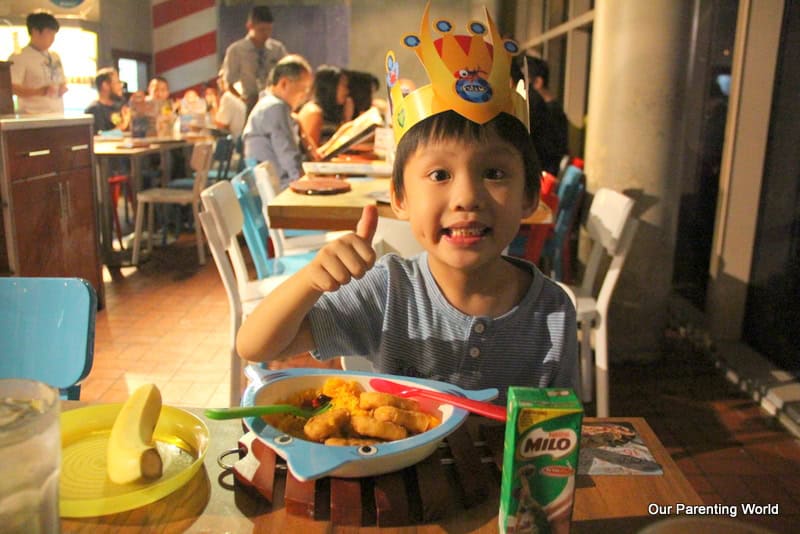 My older brother ordered Pirates' Treasure, he always like to eat pasta. The homemade tomato sauce is tasty and goes very well with the pasta. I ordered Mermaids' Tales that comes with flavourful rice and crispy crumb fish fingers. The outer layer of the fish fingers is crispy and the meat inside is soft and tender. For our kids' meals, we chose Milo as our drinks and bananas as our desserts. We enjoyed our kids' meals very much! Yummy!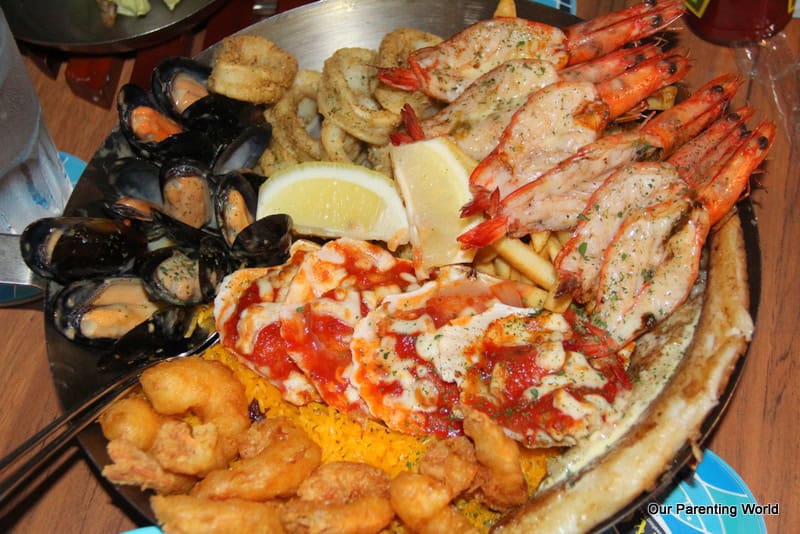 While the children are enjoying their kids' meal, adults can indulge in a wide variety of meals. To enjoy the seafood offerings at Fish & Co, try its Seafood Feast, the quantity is huge filled with blue mussels, king prawns with ebiko roe, scallops with homemade tomato sauce, fried calamari, prawn fritters, white fish all rest on a bed of flavourful paella rice with chips at the side. This is a grand feast filled with all kinds of seafood goodies!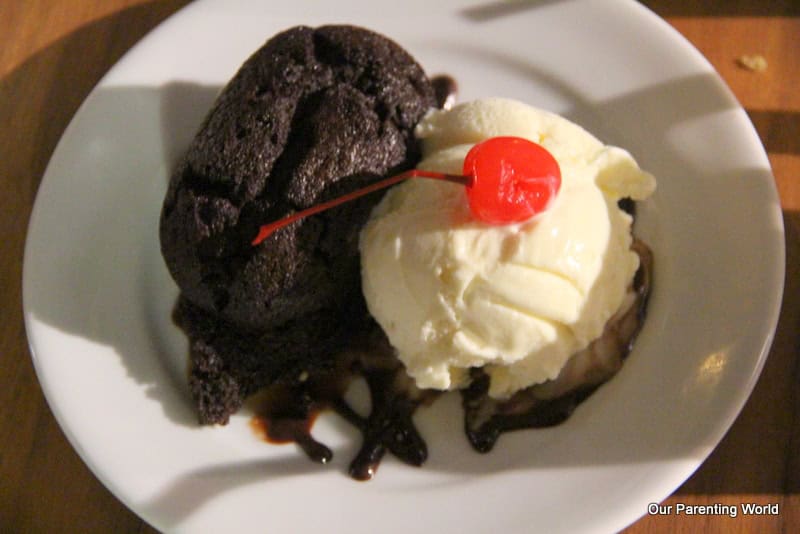 For desserts, we chose Hot Fudge Cake that comes with warm chocolate cake filled with exquisite homemade chocolate sauce served with a scoop of vanilla ice cream. It is a warm and delicious way to end a perfect meal. 
Don't forget to try out Fish & Co's speciality drinks, we had Mojito which is fresh mint leaves and lime juice, the drink is so cool and refreshing especially in this warm and hazy climate.
Children's Day Promotion at Fish & Co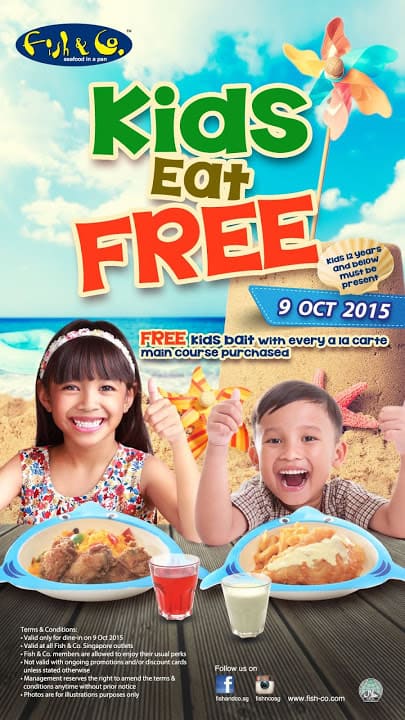 Come celebrate Children's Day at Fish & Co as on 9 October 2015, kids eat for FREE for every ala carte main course ordered!
Fish & Co outlets available at the following locations:
AMK Hub

Bugis+

Changi Airport Terminal 2 Departure Hall

Clementi Mall

Downtown East

East Coast

Glass House Park Mall

Jurong Point

NEX Mall

Novena Square

Paragon

Seletar Mall

Sun Plaza
For more details on Fish & Co, please visit http://www.fish-co.com