Are you craving for delicious hotpot?
COCA, the popular hotpot restaurant originated from Bangkok, specialises in providing an endless array of Thai-Chinese hotpot delicacies. COCA first opened its doors in Singapore in 1987 and remains well-known amongst Singaporean diners as an established Thai-Chinese hotpot restaurant. COCA marries authentic Thai cuisine with traditional elements of Cantonese home-style cooking that resonated well with diners over the years. 
Now diners can look forward to enjoy COCA Hotpot Set at the comfort of your own home!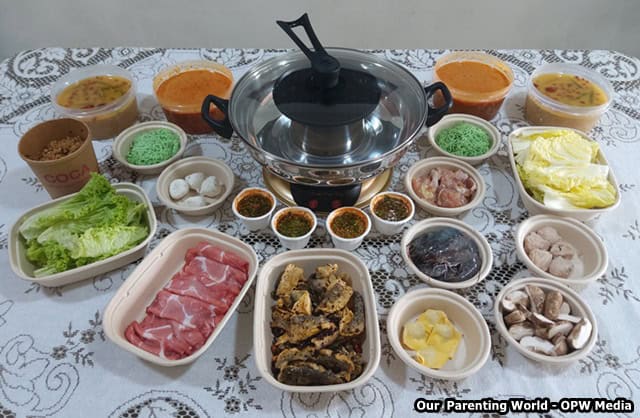 Introducing COCA's Hotpot Set A (serves 3 to 4 persons) priced at $82 consists of the following items as follows:
-Complimentary Mala Fried Rice
-Complimentary Mala Fish Skin
-2 soup bases 
-Thinly Sliced Pork Collar
-Chicken Fillet
-Prawns
-Chicken Meat Paste
-Shrimp Wanton
-Fishball with Roe
-Chinese Cabbage
-Local Lettuce
-Emperor Shiitake
-Green Noodle
-COCA Chilli Sauce 
This sumptuous COCA's Hotpot Set has all the ingredients that you can enjoy at the restaurant including house specialties along with fresh seasonal vegetables, meat offerings like prawns, pork collar, chicken fillet and noodles.
The two soup base consists of the signature Hua Diao Phoenix Pot and Tantalizing Tom Yum. The signature Hua Diao Phoenix Pot, this double-boiled delicacy is very aromatic, mildly sweet and full of goodness with Chinese rice wine and other ingredients that is being added to further enhance the taste of the broth. Tantalizing Tom Yum is a delight to those who enjoy sour and spicy flavors.
This is one yummy hotpot set filled with fresh and delightful ingredients and comes with flavourful, savory broths that the whole family will enjoy! That's more, this set also come with free delicious, fiery Mala Fried Rice and spicy, crunchy Mala Fish Skin.
What's more, COCA is having a promotion, you can enjoy 20% off self pick up orders or FREE delivery with minimum spend of $100!
Order now at https://ordercoca.oddle.me/
Self-pick up available at all COCA outlets from 11am – 8pm.
Click on COCA @ Leisure Park Kallang for islandwide delivery, available from 11.30am – 8.30pm daily!