MOONBOW located at the heart of Dempsey Hill, serves a delectable menu of Modern European cuisine with an Asian influence. Helmed by Chef Heman Tan who is a passionate ceramist, triathlete and celebrated chef, Chef's inspiration of the MOONBOW menu allows you to dine and truly savour the dishes on remote or at home.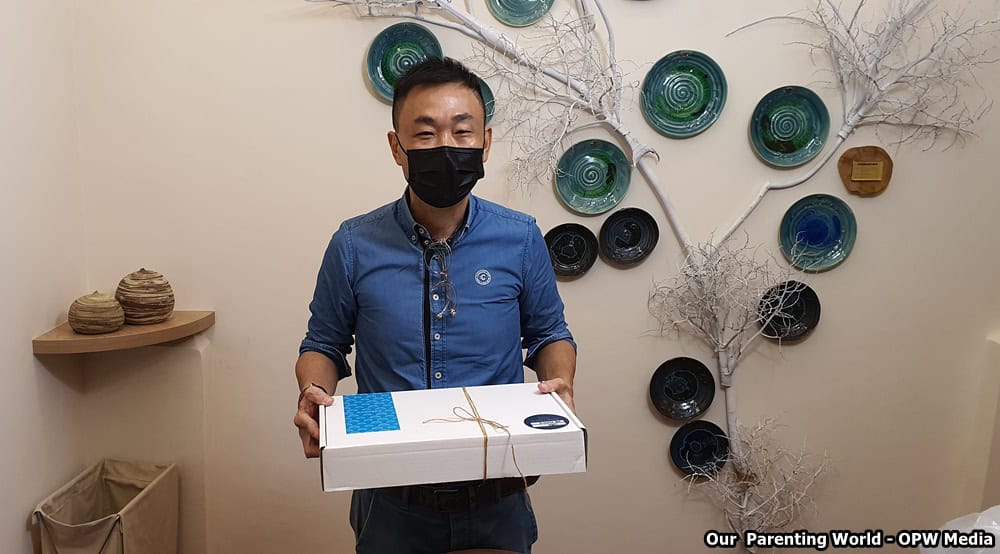 Introducing MOONBOW's exquisite menus for takeaways from European plates to dessert selections, and stylish Royal Mid Day High Tea that are sure to delight foodies!
Look forward to indulge in the flavourful dishes created by Chef Heman Tan at the comfort and safety of your home including Heart Of Palm: Sous-Vide & Grilled Heart Of Palm, with Aged 3 years Balsamico Pipette, Balsamic Pearl, Mesclun Salad, Honey Mustard – A must-try dish!
Other MOONBOW's highlights include Fermented Red Yeast Wine dish for those with discerning palates, comprising Filet de Barramundi, Fermented Red Glutinous Rice Wine, alongside Oyster Mushrooms, baby bok choy, sweet tomatoes and deep-fried crispy barramundi roe. The Fermented Red Yeast Wine brims with Asian influence and a MOONBOW inspiration, a dish that Chef Heman holds dearly to his heart. He first learned and got the inspiration for this dish from a canteen cook. Chef Heman Tan further improvised the dish by changing the protein to fish, as a healthier alternative.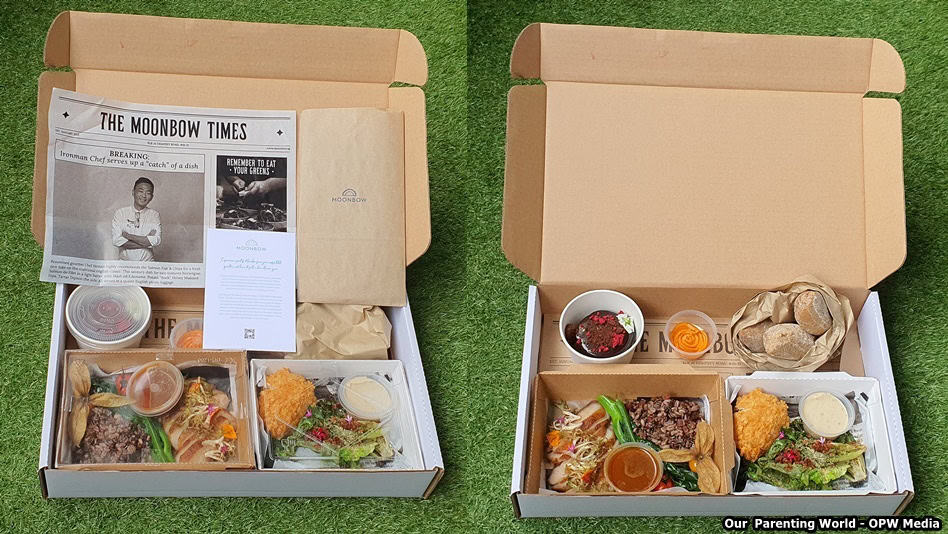 The Takeaway Menu consists of the following:
2-COURSE SET @ $38 (CHOICE OF 1 SMALL PLATE & 1 BIG PLATE)
3-COURSE SET @ $48 (CHOICE OF 1 SMALL PLATE, 1 BIG PLATE & 1 DESSERT)
Check out Heman's Impossible Shakshouka made with the Impossible Meat Ball. A dish made up of plant-based Impossible Meat, baked with Feta Cheese and garnished together with 64 degree Sous Vide Eggs.
For the health-conscious, you can fulfill your cravings with Chef Heman's BlackBerry 4-Grain Healthy Rice consisting of the Impossible Meat, BlackBerry Rice, Red Rice, Barley, Pearl Rice, Olive Leaves, and Chinese Lap Cheong Sausage. You can also combine this with the main dish, Roasted Pork Jowl "Ton Toro" or Impossible Meat Patties.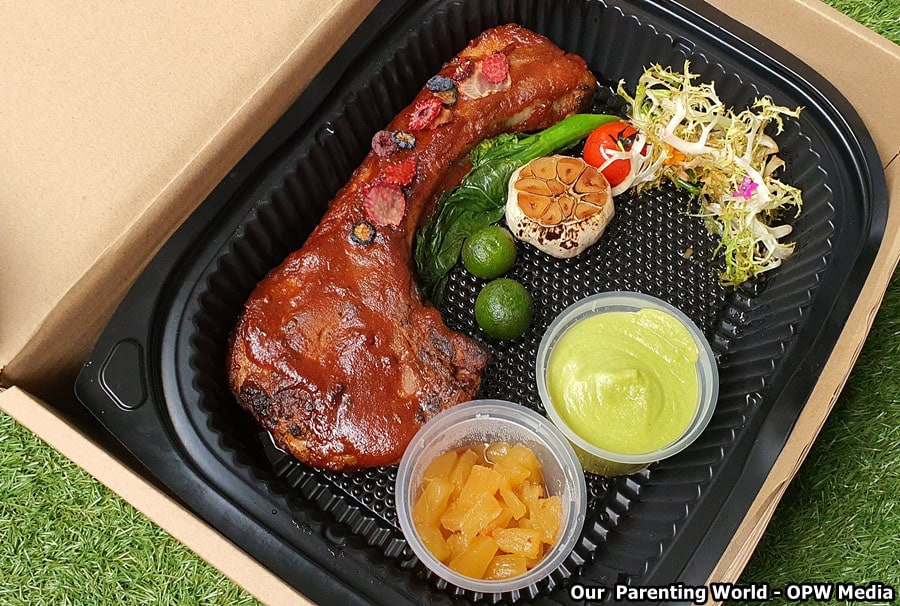 Tomahawk de Swine
The European Sharing Plates are the plates that will satisfy your palates, and MOONBOW's recommended will be Tomahawk de Swine (Serves 2) at $68.
This shareable plate is completed with Untrimmed 4-Day Aged Young Pork Tomahawk Chop, Roasted Garlic, Caramelized Lime, Pineapple Compote, and BBQ Glaze. The Tomahawk de Swine uses a cut of prime rib that is attached to the loin. Since each pig only has two tomahawk cuts, it is considered a highly prized cut. MOONBOW aims to delight with The European Sharing Plates such as Salmon Fish & Chips (Serves 2), The Sea Master Treasure "Tingkat Box" (Serves 2 to 3) and Heman's BBQ Iberico Prime Ribs (Serves 2), with Roasted Potatoes and Waldorf Salad. Chef Heman Tan, with dedication, attentively crafts each dish and the European Sharing Plates to loving perfection that will surely impress foodies!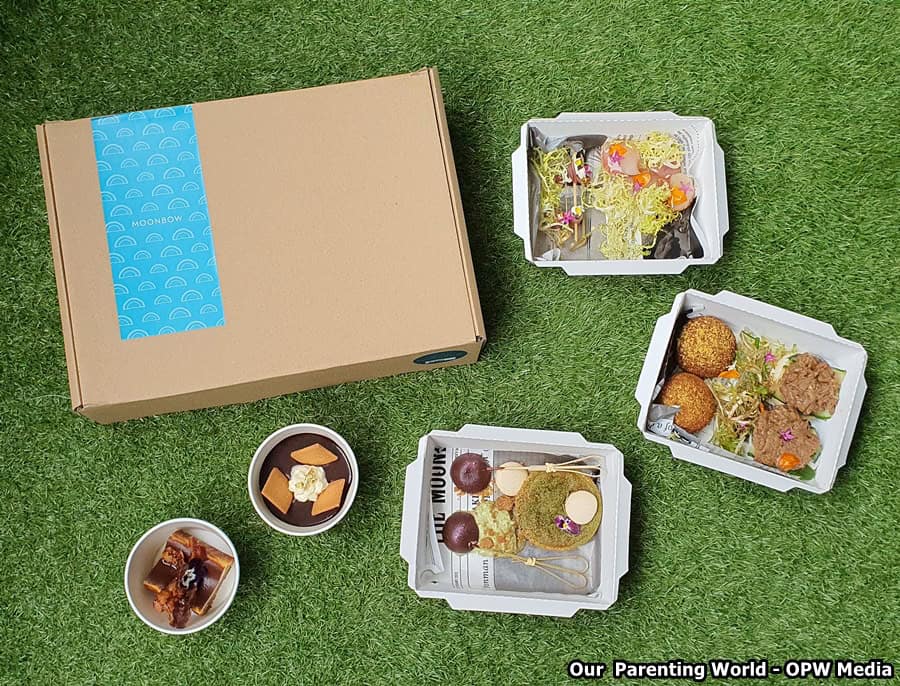 High Tea fans can enjoy the following high tea sets: 
MOONBOW Royal Midday High Tea, a high tea set for two persons, served for the guests as treats to indulge with a tête-à-tête, and elegantly presented for takeaways. This could also be a gift to your family, friends and partner!
Royal Mid Way of Tea is a High Tea Set for 2 at $68.80 consists of savoury dishes are Parma Ham Rose, Evvo Caviar, Salted Egg Bacon Bits Choux Pastry, Scallop Flower Amuse Bouche, Braised Short Rib Artisan Squid Ink Bread, and to look out for Dark Chocolate Coated Foie Gras Lollipop. Sweet items are Green Tea Fondant, Black Berries Rice Sorbet, Bacon Cheesecake and Mango Chocolate Mousse.
The MOONBOW Royal Mid Noon is a Royal High Tea that will satisfy high-tea palates. The set includes savouries such as Sea Prawn Polenta Cheese Cake, Salted Egg Choux Pastry, Forest Mushroom Canapé and Shredded Spicy Chicken Artisan Squid Ink Bread. Sweets delicacies in the Royal Mid Noon that would appeal are the 75% Chocolate Fudge Cake, Crème Brulee Cempedak and Mango Chocolate Mousse.
The Royal Mid Noon is a High Tea Set for 2 at $58.80. For self pick-up orders, MOONBOW is offering a 15% discount on ALL ITEMS till 18 August 2021!
MOONBOW Butter Scones with
Tomatoes infused semi sundried tomatoes and butter
Also look out for MOONBOW's Chef Heman's Artisan Butter. Relish in MOONBOW Freshly Made Tomato Infused Butter and MOONBOW Freshly Made Parmesan Infused Butter, which is limited daily at $15 each. Come and try out Chef Heman's fabulous and flavourful menu, Chef has over 38 years of culinary experience, he brings his vast expertise in European and local Asian cuisine, as well as his lifelong love of the arts, together in a dining adventure that will take you over the moon.
MOONBOW
Opening Hours:  
Daily (22 July – 18 August):
11.30am – 8.30pm (Last order at 8.15pm)
Venue:
Block 10 Dempsey Road, #01-21
Singapore 247700
Reservations: +65 9010 2717 (WhatsApp) | [email protected]
General Enquiry & Feedback: [email protected]
Website: https://moonbow.sg