BOTAN Japanese Restaurant is a traditional Japanese restaurant helmed by Executive Chef, Thomas Kok who is a pioneer of the Japanese culinary scene in Singapore with over 40 years of experience, he uses premium ingredients air flown from Japan, offering diners the best of Japanese classics including Sushi, Sashimi, Tempura and inventive Omakase. Chef believes in using only the finest ingredients, a testament to his dedication, professionalism and love for his craft.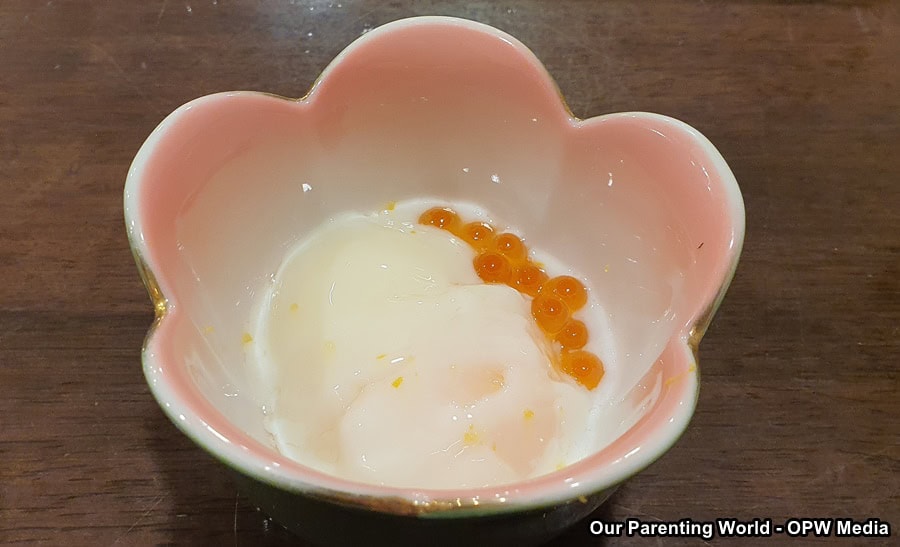 For starters, tantalise your taste buds with Ikura Onsen at S$15++ consists of silky smooth soft boiled egg yolk topped with Ikura (Salmon Roe).
Ei Hire (Grilled Marinated Dried Stingray) at S$12++ has been well-seasoned and grilled to perfection giving a sweet and chewy texture to each bite. It reminds us of Bak Kwa.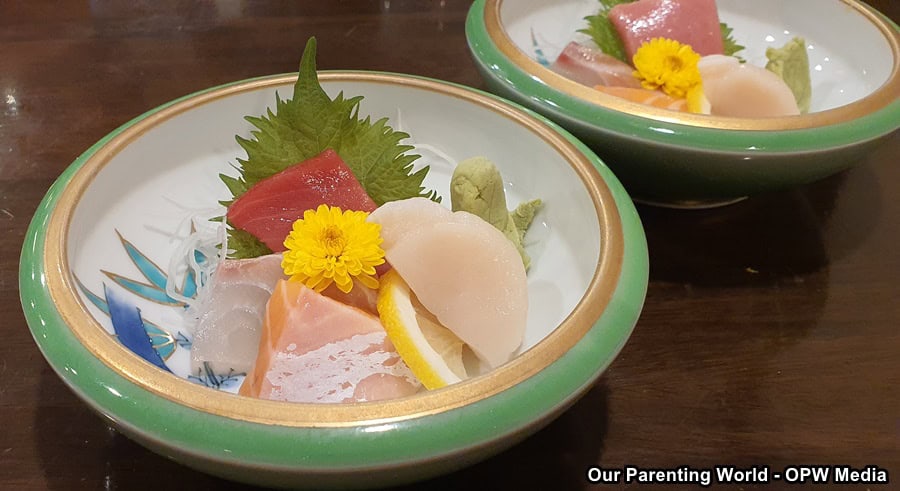 Sashimi (3 kinds at S$48++, 5 kinds at S$88++)
This delightful Sashimi consists of Salmon belly, Otoro (Tuna Belly), Nama Hotate (Scallop) and Tai (Red Snapper), each Sashimi piece is thick and very fresh.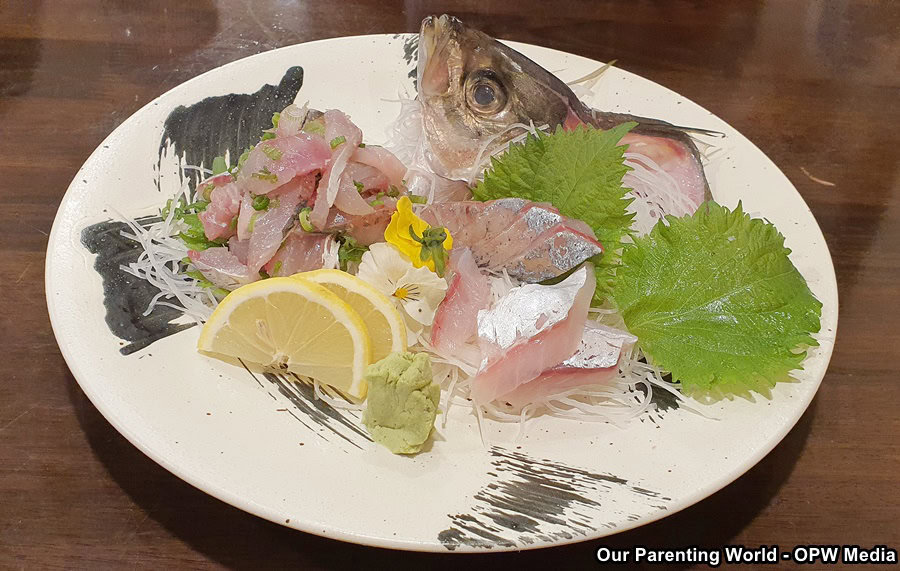 Aji Tataki (Horse Mackerel served with Grated Ginger and Spring Onion) at Market Price
We understand that this is a seasonal fish that is only found fresh in quality Japanese restaurants. The fish is so fresh and tasty, the taste is further enhanced with a touch of grated ginger and spring onion.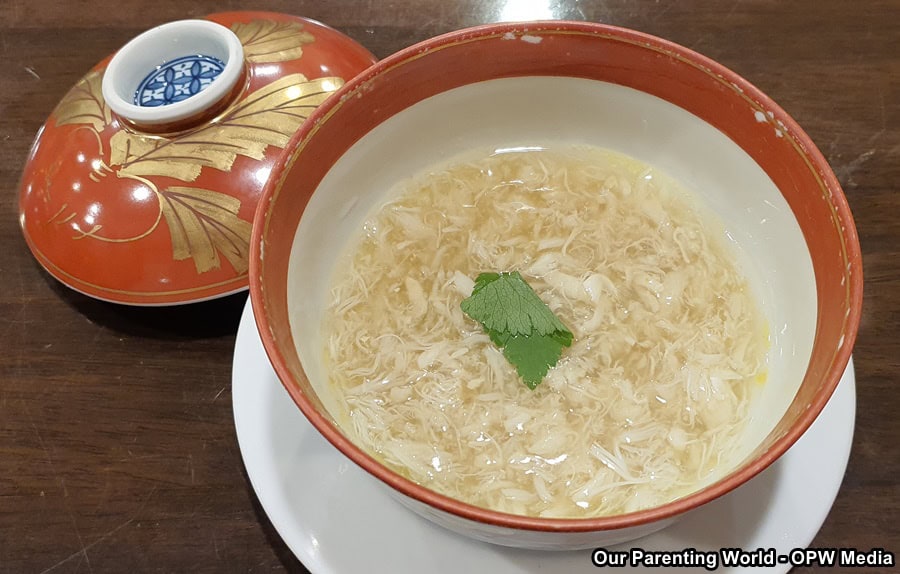 Foie Gras Chawanmushi at S$25++ , this is an umami-rich and savoury bowl of steamed egg custard filled with premium ingredients.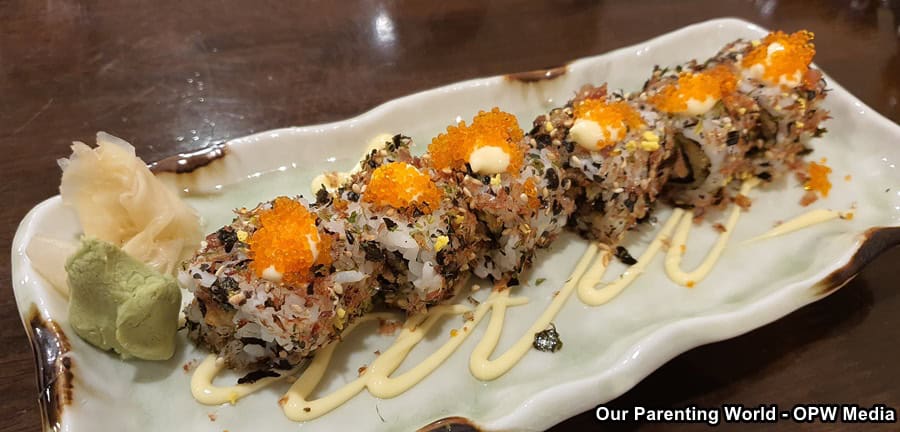 Crispy Maki (Deep-fried Salmon Roll with Furikake and Tobiko) at S$16++, this is a satisfying maki that is deep-fried with crunchy texture on the outside while the inside remains moist and flavourful. The maki is nicely rolled and visually appealing too.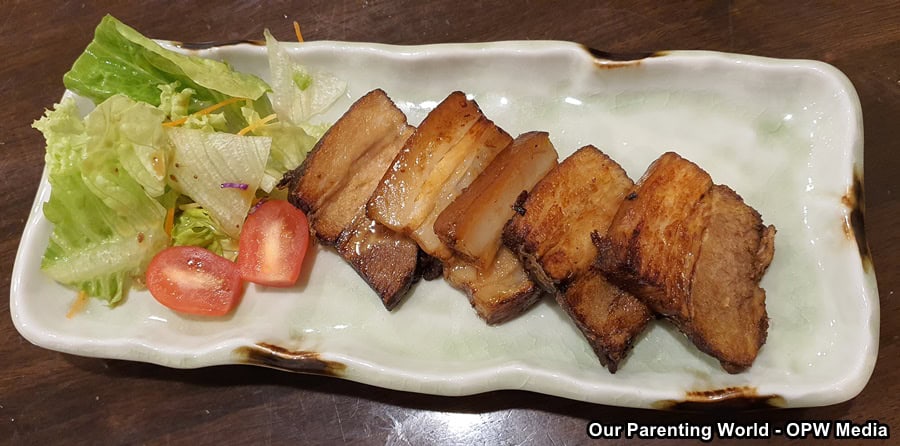 Hokkaido Pork Honey Black Pepper Yaki at S$18++
Hokkaido Snow-White Pork is bred of 4 kinds of races of pigs (Landrace, LargeWhite, Duroc and Berkshire). If you enjoy pork, you have to try this succulently sweet and fatty pork slices that will make you crave for more!
Miyazaki A5 Wagyu Beef at S$80 for 100gram
Beef lovers will absolutely enjoy indulging in this top grade Wagyu that is produced in Miyazaki prefecture renowned for their exquisite marbling and excellent flavour. Miyazaki Wagyu is now a brand sought by many food connoisseurs for their exceptional quality. Each piece of beef is so tasty and juicy that will melt in your mouth.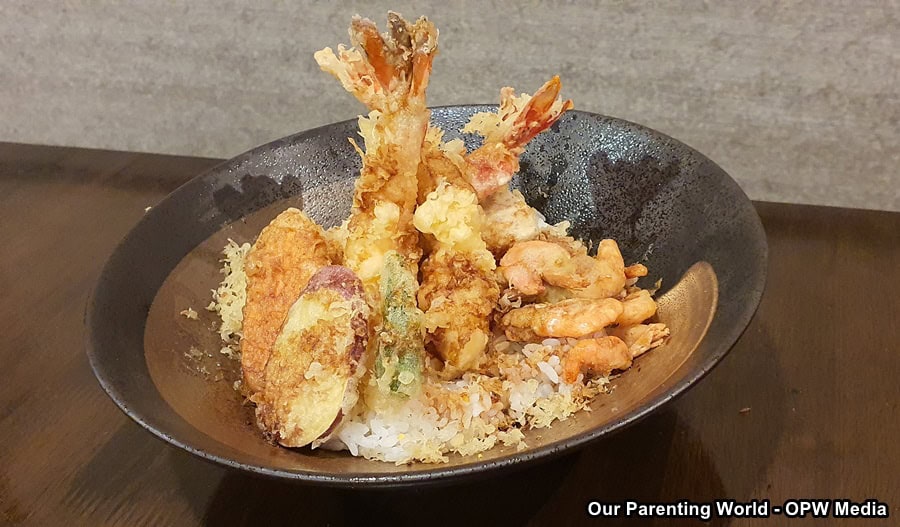 Tendon at S$15++ consists of assorted Tempura over Rice drizzled with Homemade Sauce. Chef told us that he uses wild prawn and Hokkaido rice to create this dish. It is a joy to tuck into this bowl of freshly made tempura coupled with fragrant Hokkaido rice that is smothered with delicious sauce.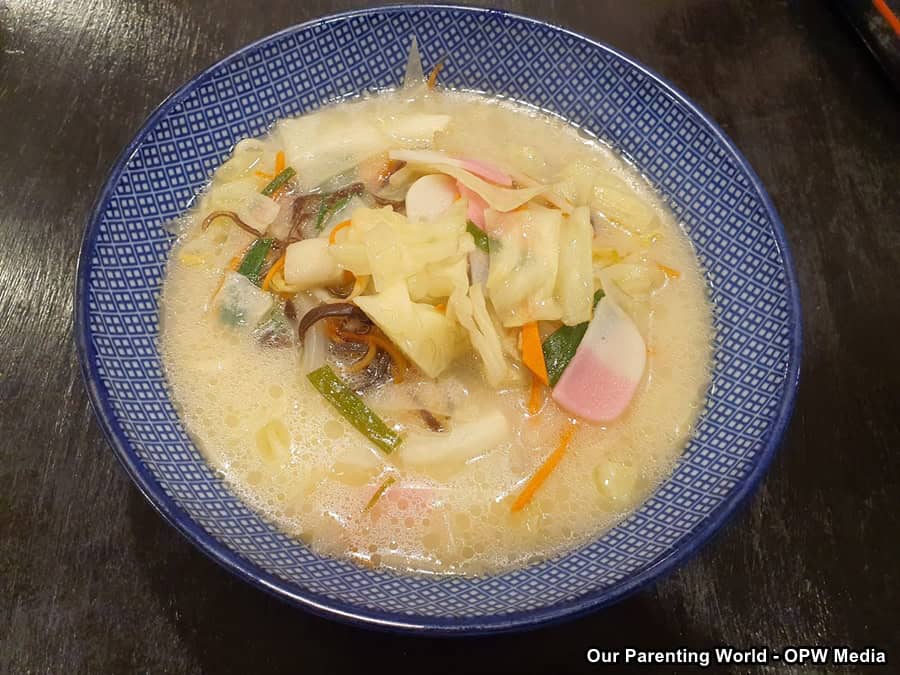 Nagasaki Chanpon at S$16++
Don't miss the signature Nagasaki Chanpon consisting of light and tasty noodles with seafood and pork meat cooked with lots of fresh vegetables in soup.
In addition, BOTAN Japanese Restaurant also specialises in exquisite Omakase curated by Chef Thomas using seasonal ingredients. After a hearty meal, you can satisfy your sweet tooth with its refreshing range of ice cream and sorbet like Matcha Ice Cream (Japanese Green Tea Ice Cream) at S$7++, Kuro Goma Ice Cream (Japanese Roasted Black Sesame Ice Cream) at S$7++ and Yuzu Sorbet (Japanese Citrus Fruit Sorbet) at $7++.
Now you can enjoy delicious authentic Japanese cuisine right here in Singapore at BOTAN Japanese Restaurant without flying all the way to Japan! 
Prices start from S$10++ for starter, S$35++ for main course and S$7++for dessert. Omakase starts from S$68++ per person.
BOTAN Japanese Restaurant is located at 36-37 Pekin Street, #01-01, Far East Square, Singapore 048766.
Operation Hours as follows: 
Monday to Friday:
Lunch: 11.30am to 2.15pm
Dinner: 5.45pm to 10pm
Saturday and Sunday:
Lunch: 11.30am to 2pm
Dinner: 5.45pm to 9:30pm
For reservations please call 6536 4404 or 9271 5004.