Amara hotel is one of the most popular hotels around the Tanjong Pagar area. It is conveniently located within walking distance from the Tanjong Pagar MRT station and next to a newly renovated shopping mall, 100 AM Mall.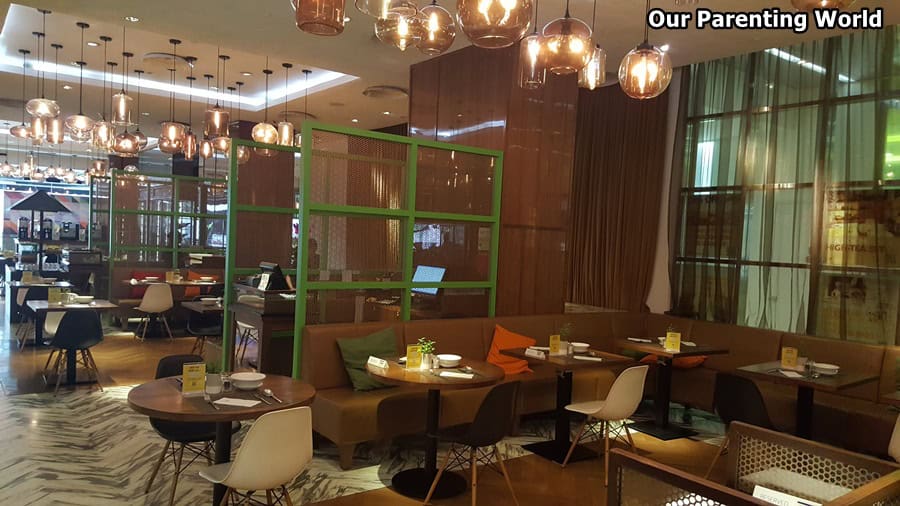 Upon entering Element, you can find that the restaurant is elegantly decorated with warm lightings, it is very cosy and a comfortable place to dine with family and friends. 
Diners will be pleased with a wide spread of International cuisine from Japanese, Western, Chinese to local favourites on the buffet spread waiting for you to indulge in.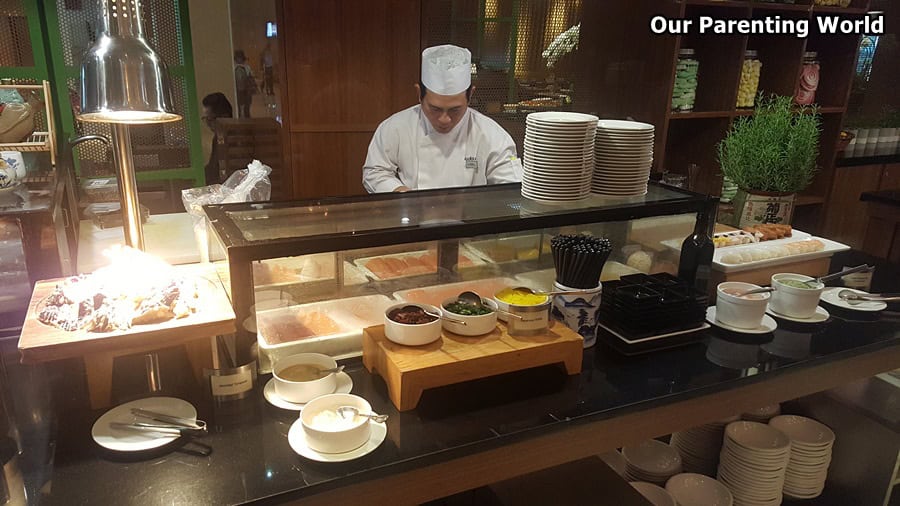 Not many hotel buffet restaurants serve Japanese sashimi as they would normally need a dedicated chef to slice the sashimi and served fresh.
We are impressed with the service provided by the chef at the Japanese station. In addition to salmon and tuna sashimi, he also prepared a variety of sushi at the station.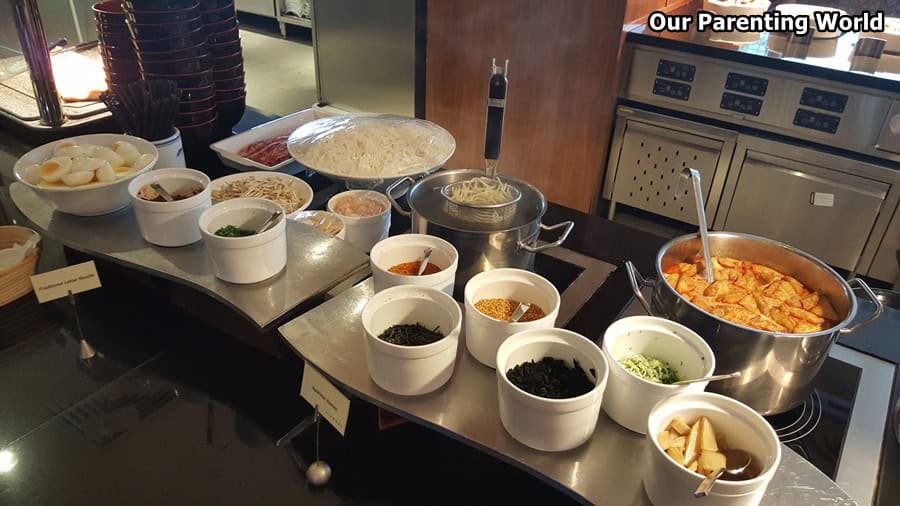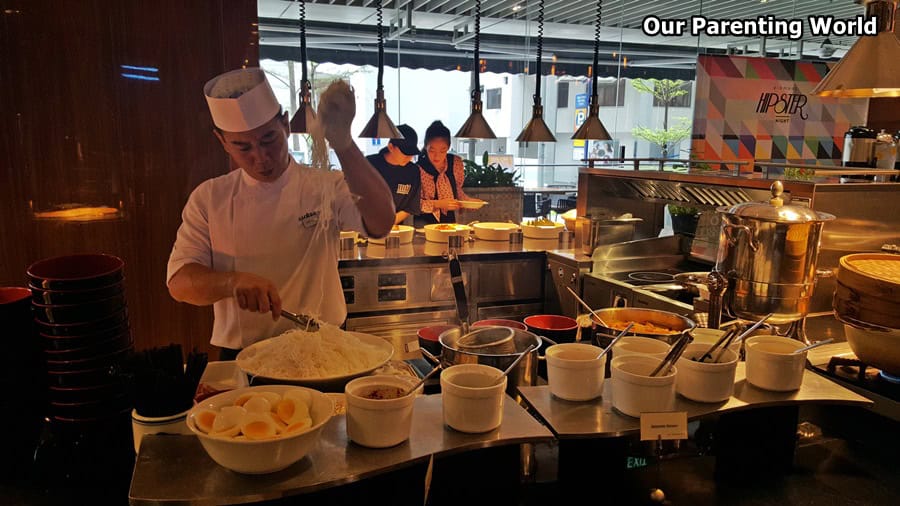 Another station which is also our favourite is the noodle station where the chef will cook the noodles on the spot for you. Enjoy a bowl of piping hot and freshly cooked noodles. We had authentic Laksa noodle on the day of our visit.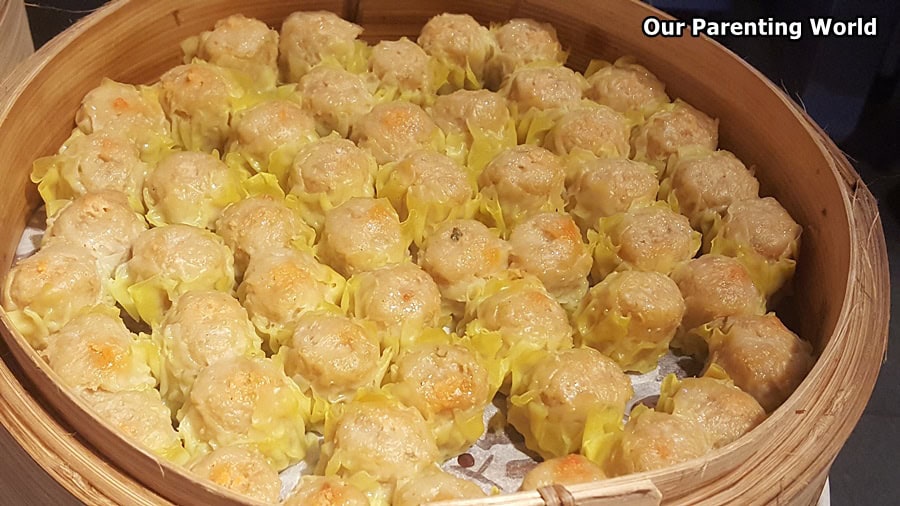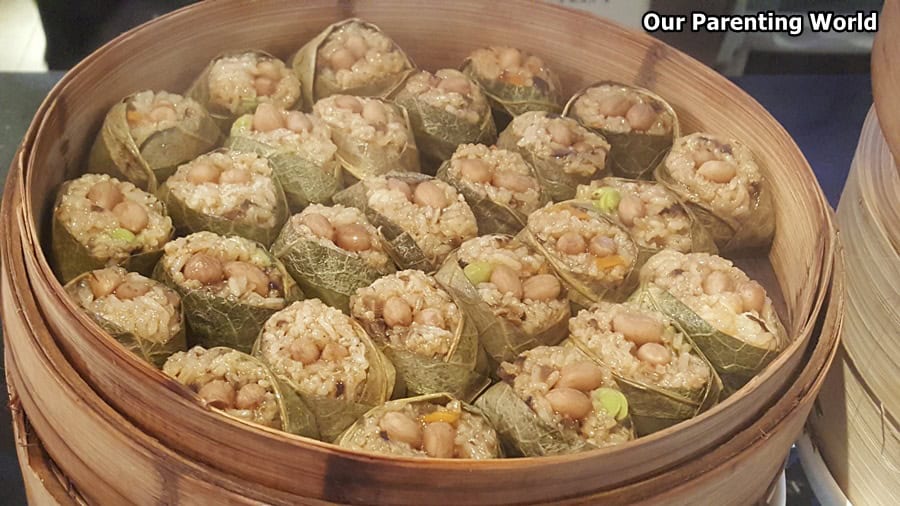 For Dim Sum fans, there is also a fairly good selection of savoury Dim Sum items available, ranging from Siew Mai, Prawn Dumping (Har Kau), Lotus Leaf Glutinous Rice and different types of Steam Pau like Chicken Pau and Char Siew Bun.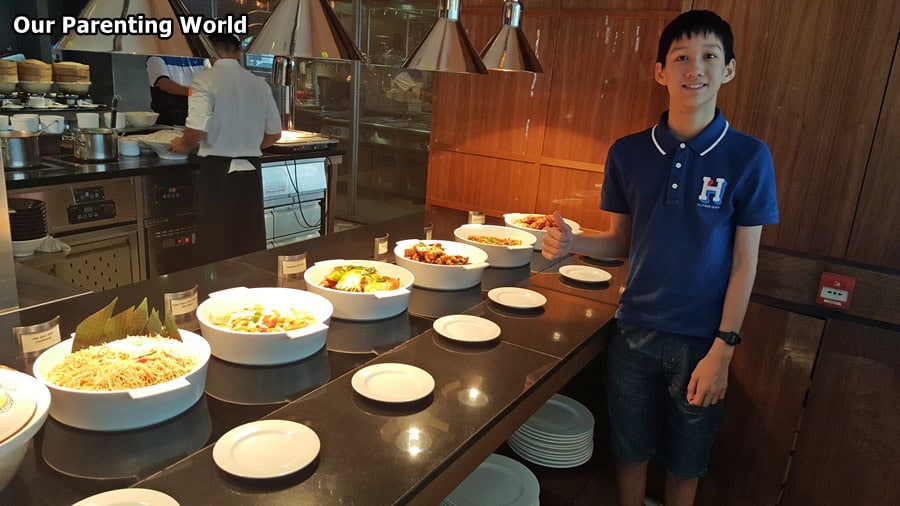 Delight in a range of delectable hot food items and popular items like Singapore Chili Crabs, Fried Black Pepper Crayfish, Fried Carrot Cake and more!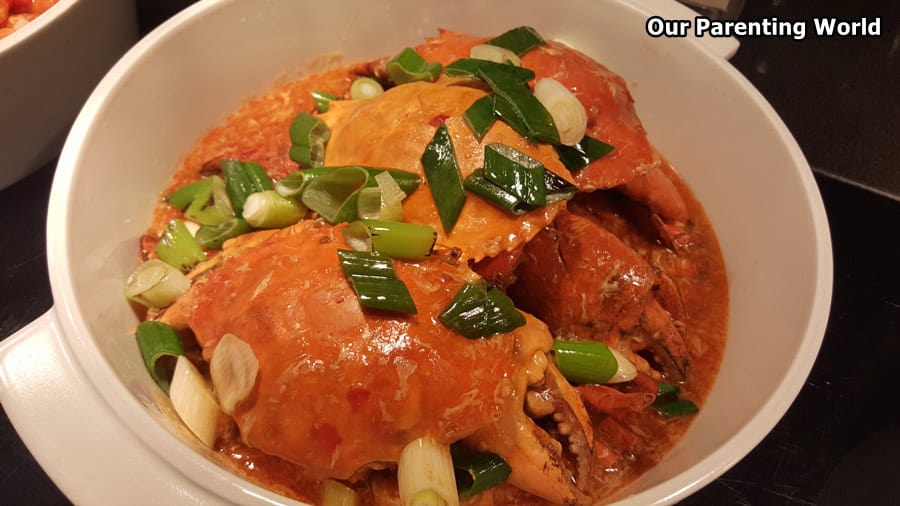 Chilli crab is a must have for all the top buffet restaurants in Singapore and it is also available at this buffet spread. At Elements, the crabs are fairly large, succulent and juicy. The chili gravy is excellent and comparable to some of the top Chinese restaurants which serve chili crabs.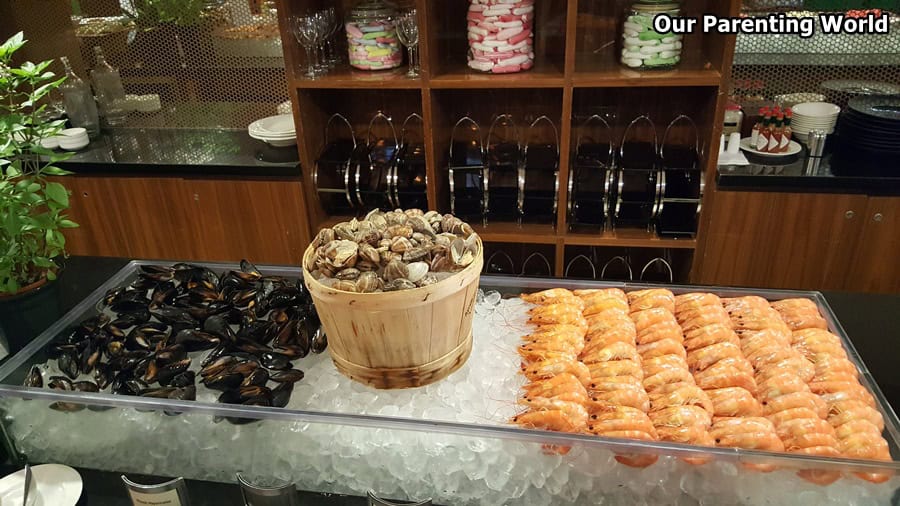 Seafood lovers can also look forward to the fresh seafood station where it served an impressive range of fresh moreton bay bugs, mussels, clams, scallops and cooked prawns on ice.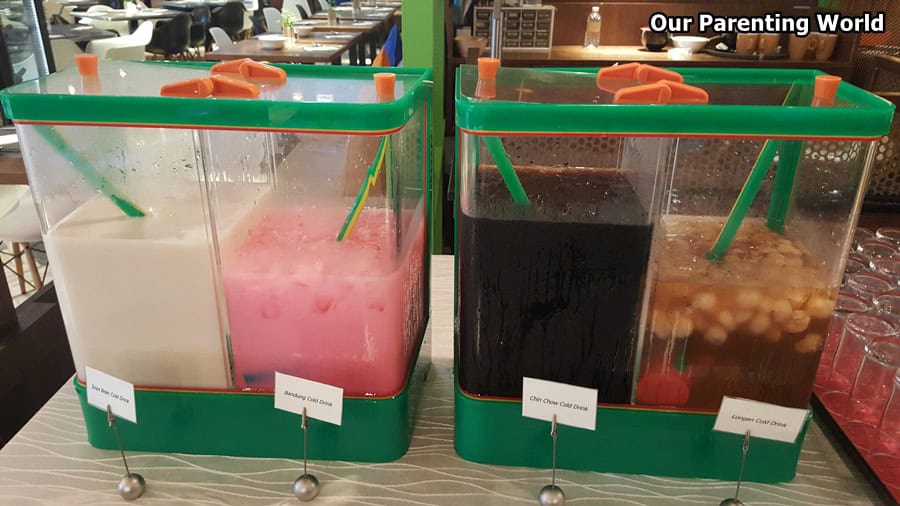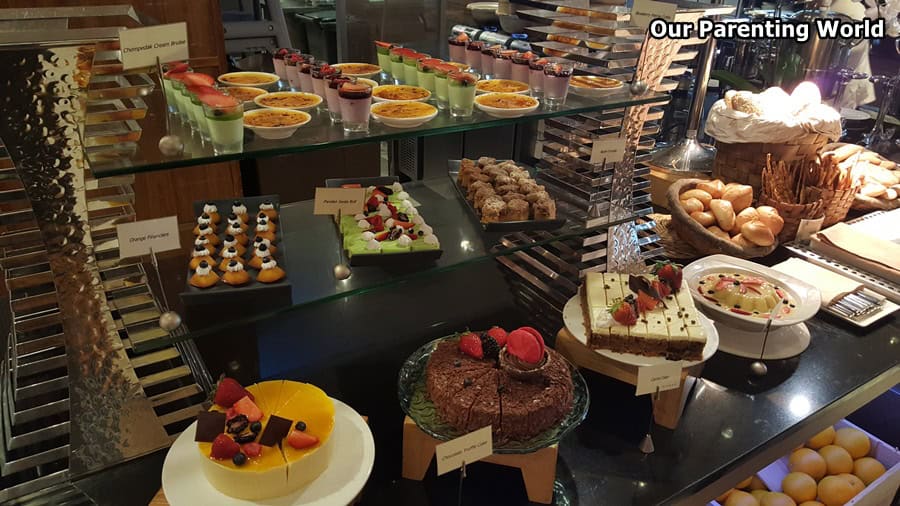 This is a family friendly restaurant with a large variety of food items that will cater to the taste and preference of everyone in the family, from young to old. In fact, we noticed a few three generation families (grandparents, parents and children) dining together at the restaurant on the day of our visit.
We ended our sumptuous brunch with a wonderful range of assorted yummy desserts, cakes and freshly cut fruits and refreshing drinks from the drinks station, comprising of  local-flavoured drinks like Chin Chow, Longan and more. Coffee and Tea are also available. 
Our Parenting World top 5 reasons why you should visit Element Restaurant Amara Singapore:
1. The sumptuous and tasty buffet spread has a lot of variety suitable for everyone in the family, ranging from Japanese to Western to Asian stations.
2. The operating hours for weekend brunch is very long, suitable for busy family who may wish to come in early to dine or come in late. Weekend brunch (and public holidays) is available from 11.30am to 3.30pm.
3. The location of the hotel is within walking distance from the MRT station, convenient for those who take public transport.
4. Service is excellent. We noticed many of the food stations like the Japanese and the noodle stations are manned by restaurant chefs who prepared the dishes for the diner. Our plates are cleared promptly once we finished them by the friendly and attentive staff. 
5. Value for money buffet spread compared to many of their similar competitors which charges more. Buffet brunch price for Adult (12 and above): S$49++, Child (5-11 years old): S$25++
Element Restaurant 
Amara Singapore
Address: 165 Tanjong Pagar Road, Singapore 088539
Tel: (65) 6879 2607
Email: [email protected]
To find out more, please visit http://singapore.amarahotels.com/dining/element/