Thunder Palace is founded by a mother and son team, Chef YC previously owned Art of Dao and his mother, Mdm Wong is the founder of Ci Yan Organic Health Food Restaurant. Both of their restaurants closed due to Covid-19 and Mdm Wong's battle with cancer, as such Chef YC decided to close the business and stay home to care for his aging mother.
To realise Mdm Wong's passion for her authentic traditional flavours of food she has served since the 1990s and her wishes to pass to future generations, the traditional dishes and the authentic flavours that are lacking in many of the modern days' variations especially Thunder Tea Rice for its healthy benefits, they have launched Thunder Palace serving traditional, authentic Thunder Tea Rice, Handmade Yam Abacus Seed and other Hakka cuisine. 
Thunder Palace is a new brand managed by Astute 7 Pte Ltd, created to bring to loyal customers once again, the famous, traditional dishes from the founder of Ci Yan Organic Health Food Restaurant.
Diners can look forward to enjoy Thunder Palace's main Signature Dish – Thunder Tea Rice, a very popular dish which Mdm Wong's customers all loved and missed. This dish is filled with beneficial, nutrient-packed power detox and healing food using Mdm Wong's traditional secret recipe. Other must-try delicious dishes include Handmade Yam Abacus Seeds, Handmade Carrot Cake, all with the traditional flavour and made with passion from the founder's secret recipe that you will love! 
Now you can enjoy bundle deals and Mother's Day promotions at the comfort of your own home as follows:
Thunder Meal $49.90 (UP$56.30)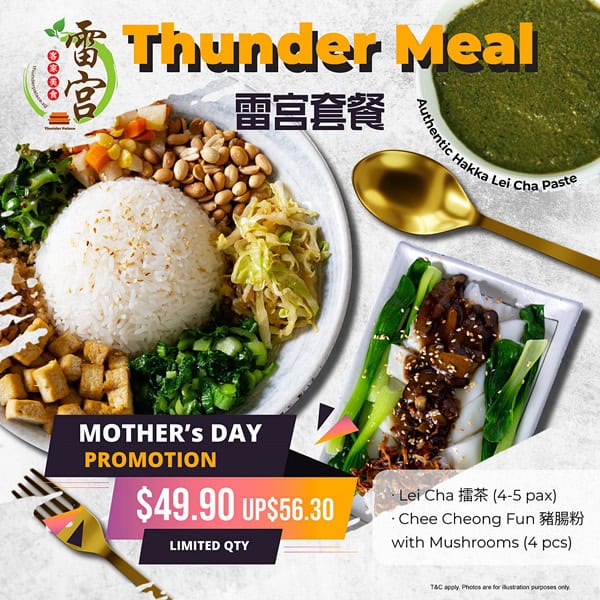 Thunder Tea Rice/Lei Cha for 4 to 5 pax
Chee Cheong Fun with Mushrooms (4pcs)
Thunder 10-pax Feast $109.90 (UP $130.30)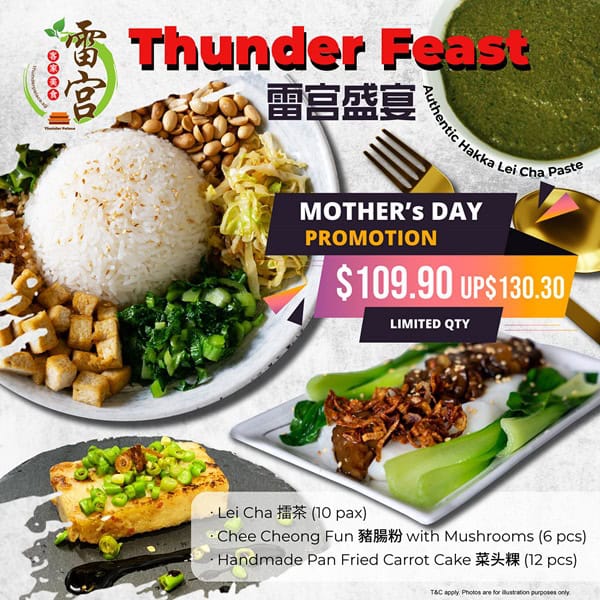 Thunder Tea Rice / Lei Cha 10pax
Chee Cheong Fun with Mushrooms (6 pcs)
Carrot Cake (12pcs) 
Fully-Cooked Yam Abacus Seeds – REDEEM Gu Ma Jia vouchers with purchase of Yam Abacus Seeds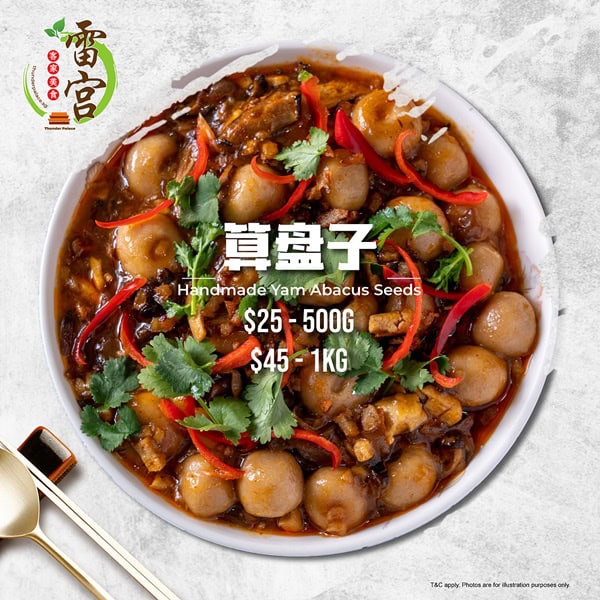 Pre-order 2 days in advance
500g purchase – $10 Gu Ma Jia voucher
1kg purchase – $20 Gu Ma Jia voucher
We are a big fan of healthy and wholesome meals, Thunder Palace offers delicious and nutritious dishes that we thoroughly enjoyed! Our favourite dishes include tasty and flavourful Thunder Tea Rice, soft and chewy Yam Abacus Seeds, freshly-made silky-smooth Chee Cheong Fun and savoury Carrot Cake.
Check out Thunder Palace, customers can order via GRAB Food delivery platform or Whatsapp to 8775 1289 directly. Delivery only for now and promotion ends 31 May 2022. Customers can opt for vegan, vegetarian, non-vegetarian/vegan options by selecting their preferences on Grab and on the website (website will be launched in another month's time).