Fans of OWL, now you can enjoy your delicious OWL Coffee even more with the Ultimate Coffee Break Bundle : The Old Chang Kee Snack Set with OWL Coffee promotion from now till 30 June 2020. 
Fans will be rewarded when they collect two original sticker cut-outs from the OWL Everyday Favourites Freeze-Dried Range and OWL Kopitiam Roast & Ground Range. Each snack set comprises one signature curry puff and one packet of Original Curry Puff Flavour Potato Chips. Each pack of coffee carries one promotional sticker and is available at all major supermarkets, hypermarkets and provision stores.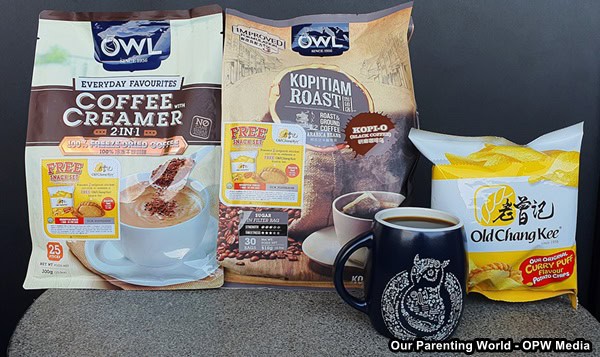 Indulge in the aromatic authentic Straits Asian coffee and at the same time, enjoy it with the curry puff that is jammed packed with zesty curried potatoes, an all-time favourite snack in this region. The same can be said about a packet of curry puff flavoured potato chips, an irresistible nibble. 
Old Chang Kee Original Curry Puff Flavour Potato Chips has the distinctive taste of the homegrown brand's signature curry puff. Savoury, crunchy, buttery and packed with herbs and spices, the flavour mirrors the signature recipe and provides a kick for all fans of the pastry.
You can redeem the Old Chang Kee Snack Set at all Old Chang Kee outlets in Singapore from now to 30 June 2020. For more information on the Old Chang Kee outlets, please refer to the OWL Facebook page at http://www.facebook.com/OWL.INT.