Our Parenting World team went to another hotel staycation during this year end school holidays, this time is at Marina Mandarin Hotel. There are a number of luxury hotels around Marina Square and Marina Mandarin is one of them. We are delighted to stay in this 5 star hotel!
Marina Mandarin Hotel is conveniently located at the heart of the City with easy access to Marina Square Shopping Mall which is connected to the hotel. It is also within walking distance to other shopping malls like Suntec City which has many restaurants, boutiques and more to satisfy your shopping needs and to popular attractions like Singapore Flyer and Gardens by the Bay.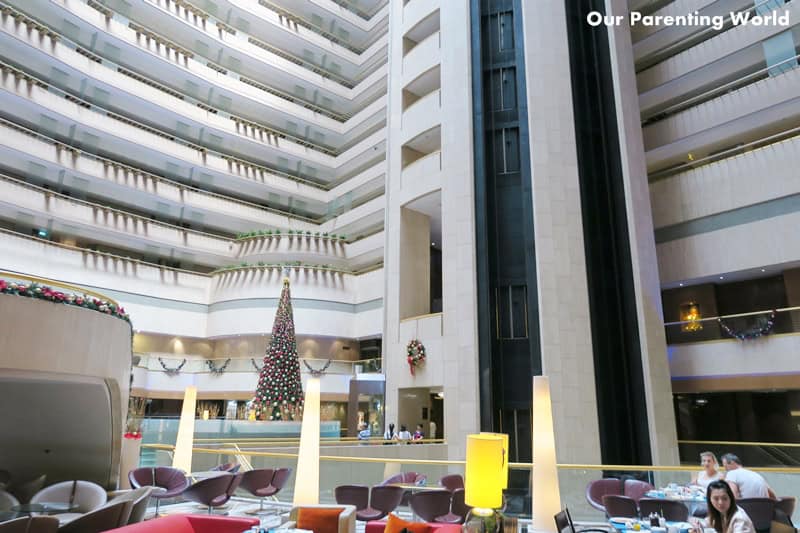 Many hotel guests and visitors to Marina Mandarin hotel love to admire its natural sunlit atrium. Throughout the daytime, the natural sunlight streams from the glass roof all the way to the atrium area. The architecture design of the hotel is certainly one of the most unique in Singapore. In fact, it's open atrium is one of the highest among all the hotels in Southeast Asia at 21 storeys.
Marina Mandarin has 575 rooms and each room is connected to wireless or broadband Internet access and comes with city skyline view.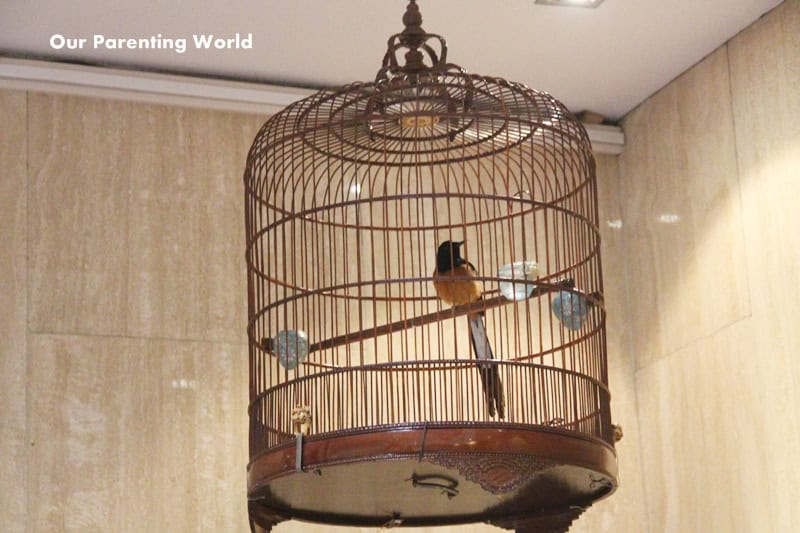 In the morning, we are surprised to hear birds chirping merrily! Guests can enjoy listening to the beautiful birds singing as they relax around the atrium.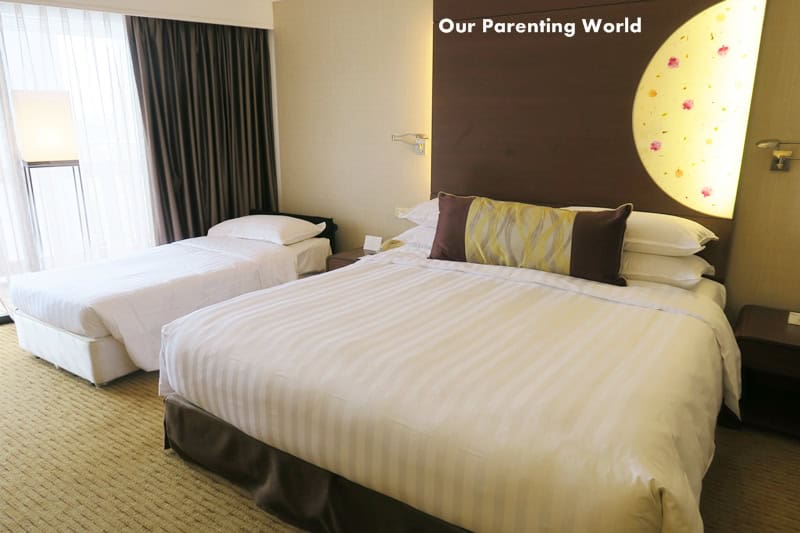 We checked into our Executive Deluxe Marina Bay View Room at Marina Mandarin. The Executive Deluxe room is spread over 11 to 15 floors. Our room is fitted with a King bed and an extra bed. The additional bed is available upon request and subject to additional charges per night. 
The room is so spacious with the size of 31 – 33 square metre! It can easily accommodate a family of four comfortably!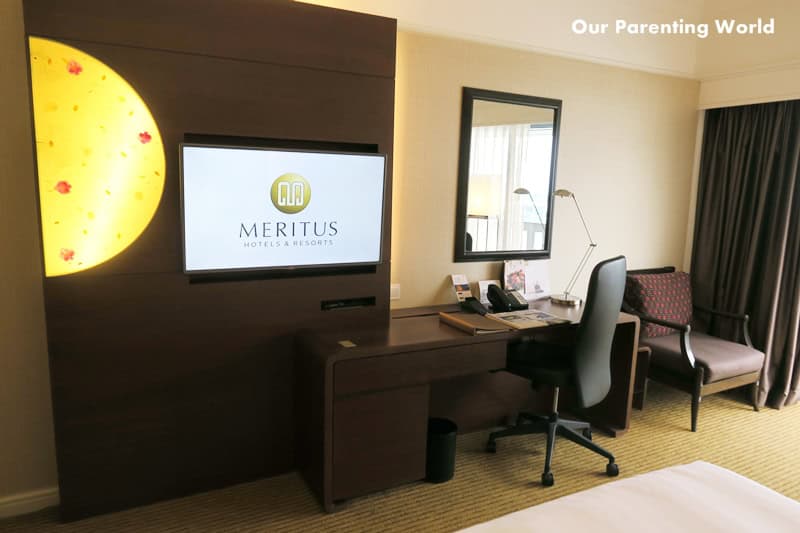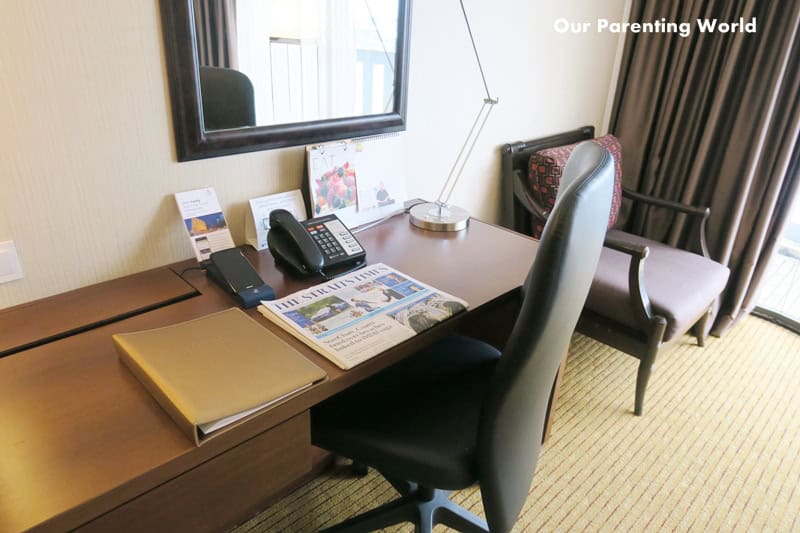 This comfortable, elegant and luxurious room comes with a large work space, flat screen TV with 42 local and international channels and offering complimentary WIFI for up to 4 devices, the rooms are also designed to cater to the business or leisure traveller.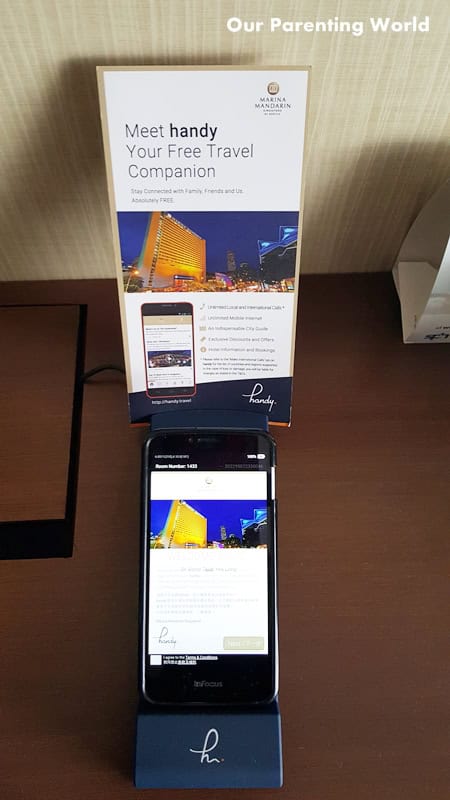 A "Handy" smart phone is provided at the hotel room. You can use it to make phone calls and surf the Internet, free of charge.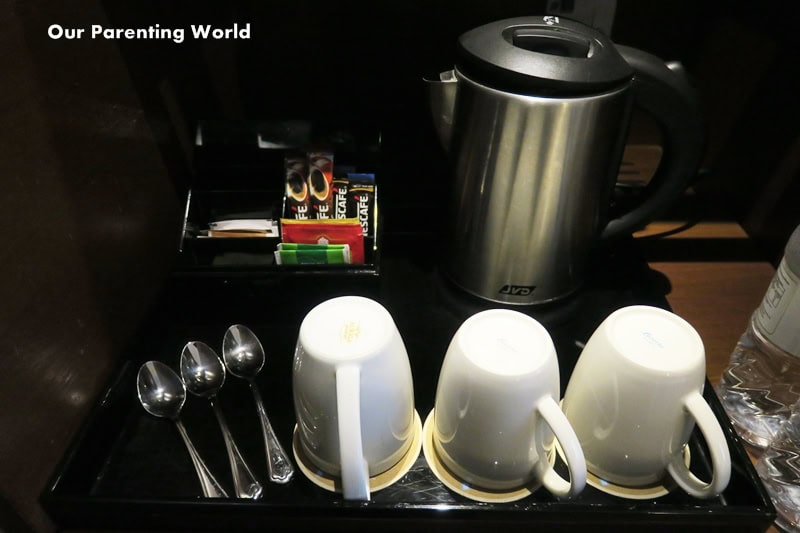 Tea and coffee making facilities, complimentary bottled mineral water are supplied daily and a well-stocked up minibar are available.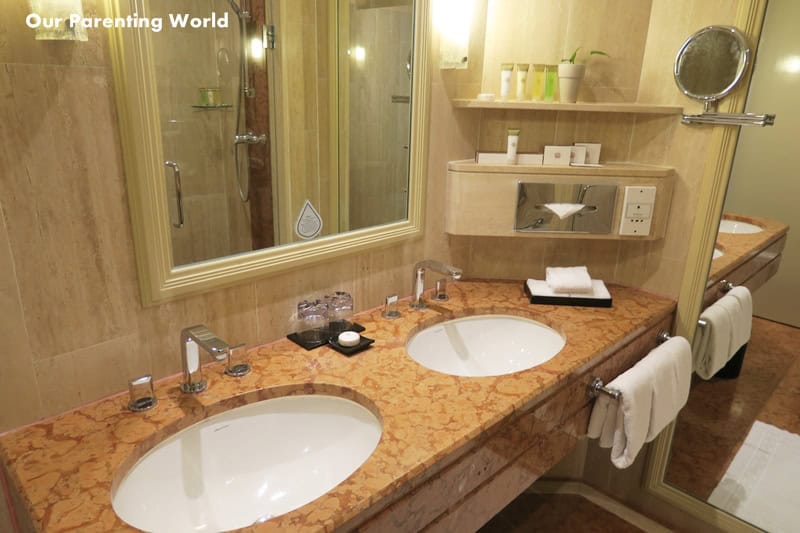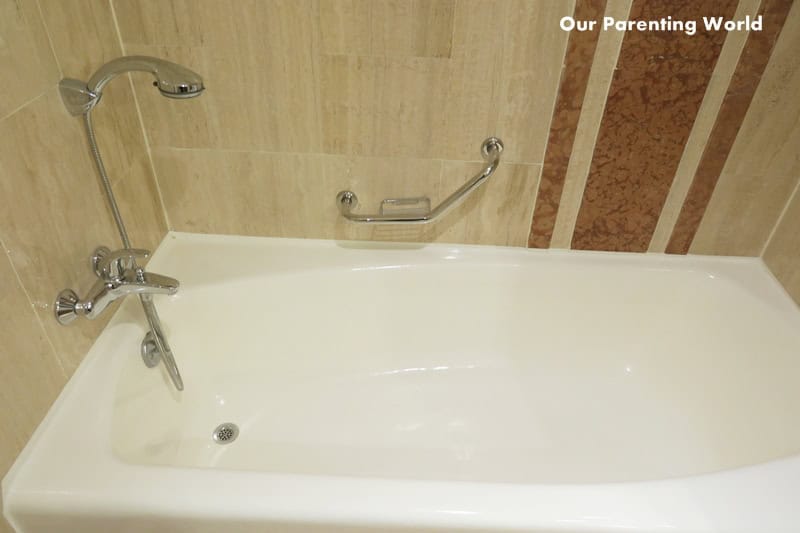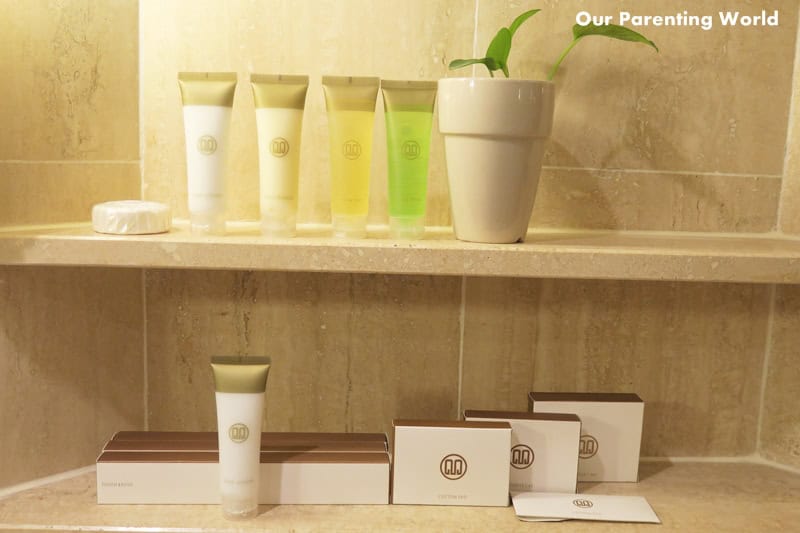 The spacious hotel bathroom comes with separate bath and shower, dual vanity and bidet in most rooms. Toiletries are from Marina Mandarin own in-house brand. If you require additional toiletries and or towels, you can call housekeeping service and they will attend to your request quickly.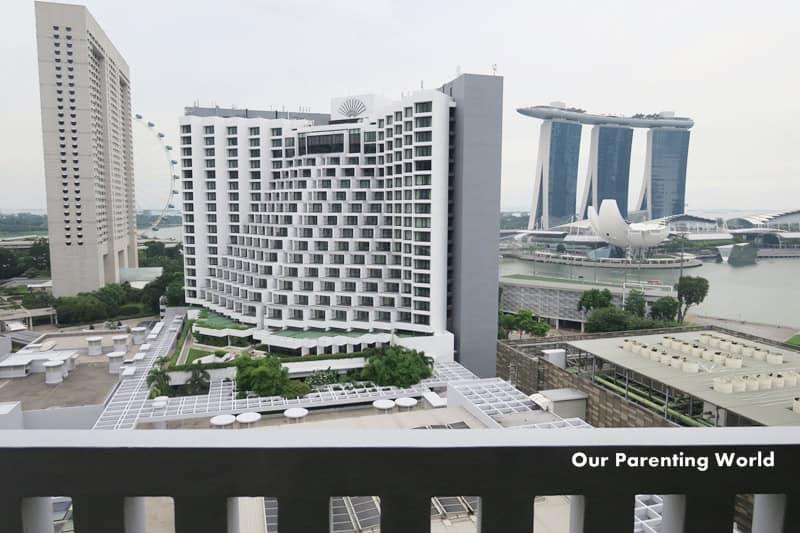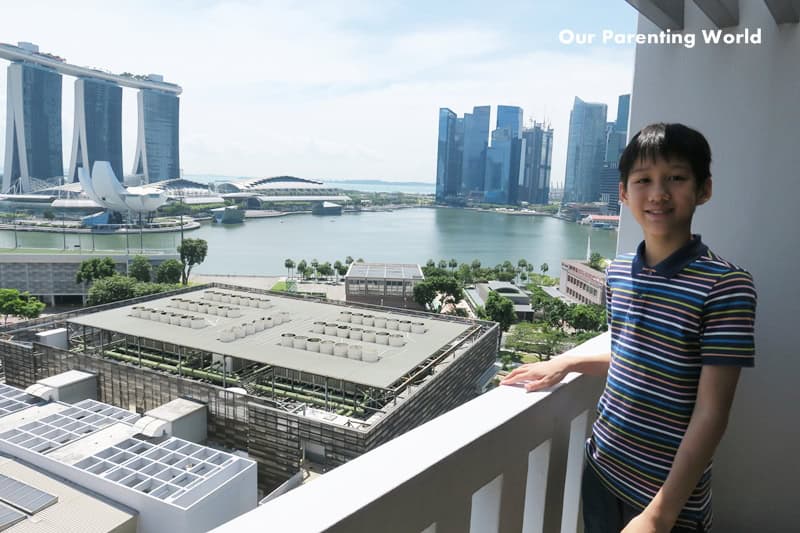 Our hotel room balcony oversees a stunning scenic view of the city, the beautiful Marina Bay and National Stadium. We can step outside of our room to enjoy the cool year end weather, relax and enjoy the scenery.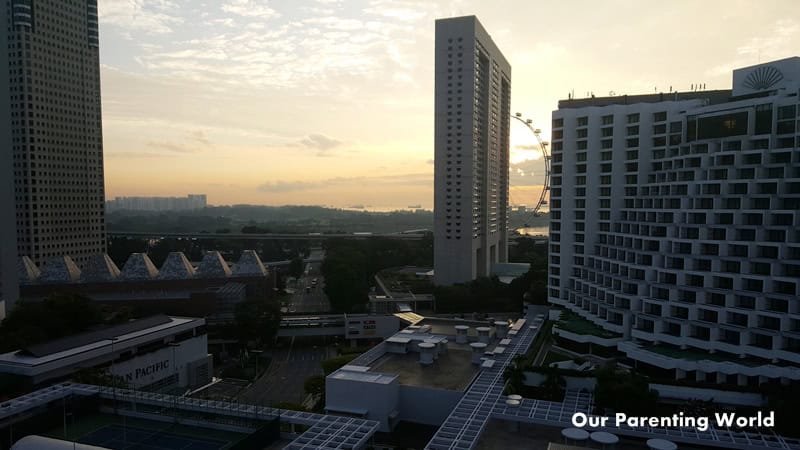 Having a room with a balcony is quite rare for hotels in Singapore nowadays due to land constraint and this additional balcony certainly makes the stay more enjoyable. We even saw the beautiful Singapore skyline during the sunrise period at around 6.45am in the morning.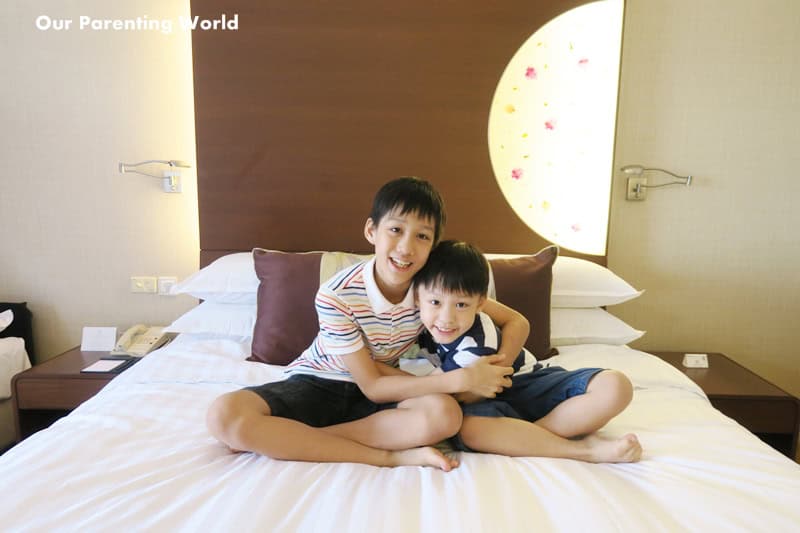 We love our hotel room! It is very spacious, comfortable and cosy!
To find out more and to book the Executive Deluxe Room at Marina Mandarin Hotel, please click HERE.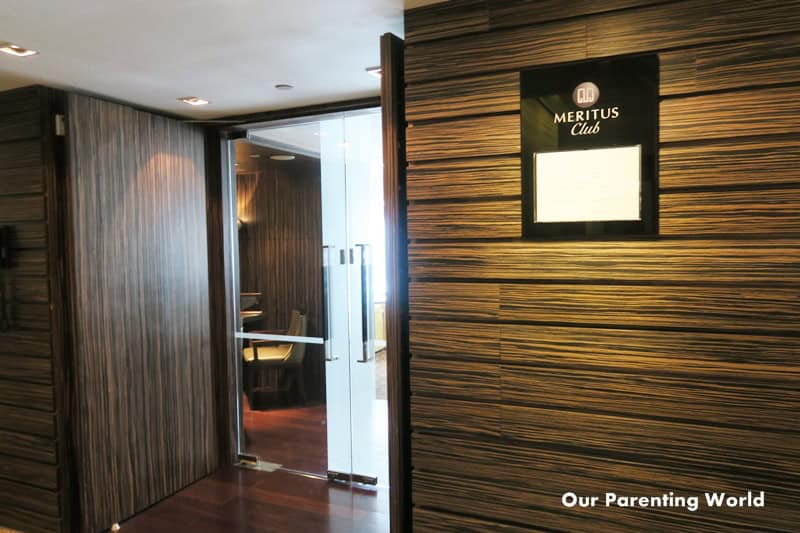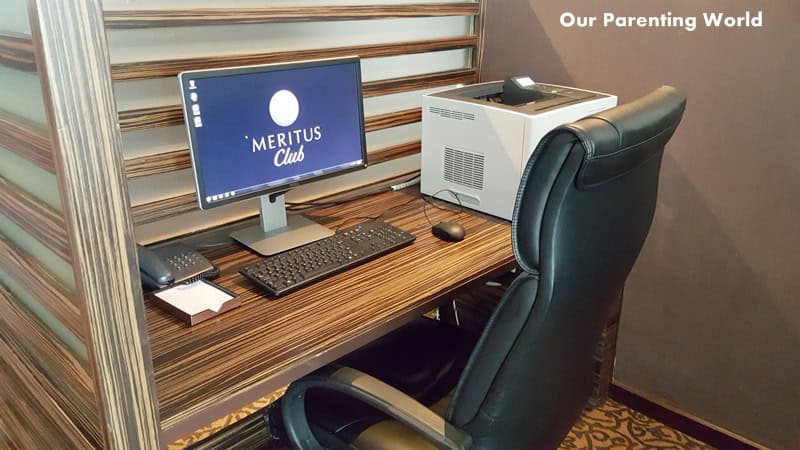 We checked out the Meritus Club Lounge* located at level 21. Guests can enjoy dining at this lounge where it provides a wide spread of full breakfast, afternoon tea, evening cocktails and canapes. The lounge at the Meritus Club is very spacious with a number of rooms, one with couches and sofas, one with work desks for you to do surfing or work, one with tables and chairs for you to dine. 
*Children aged 12 years and under are not permitted in the Club Lounge.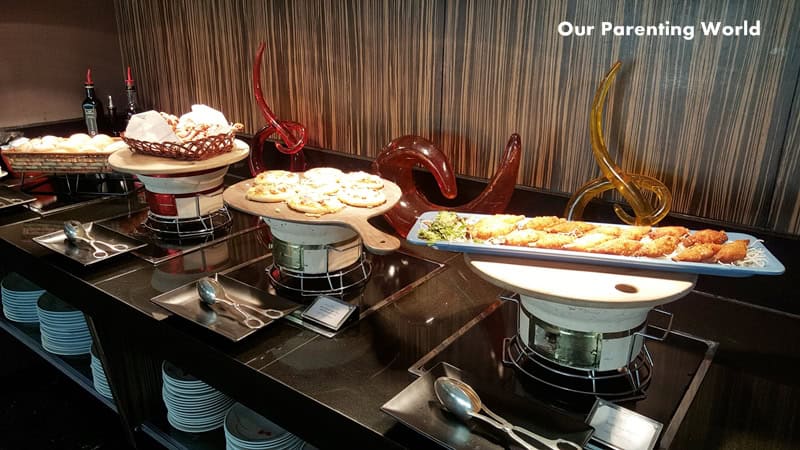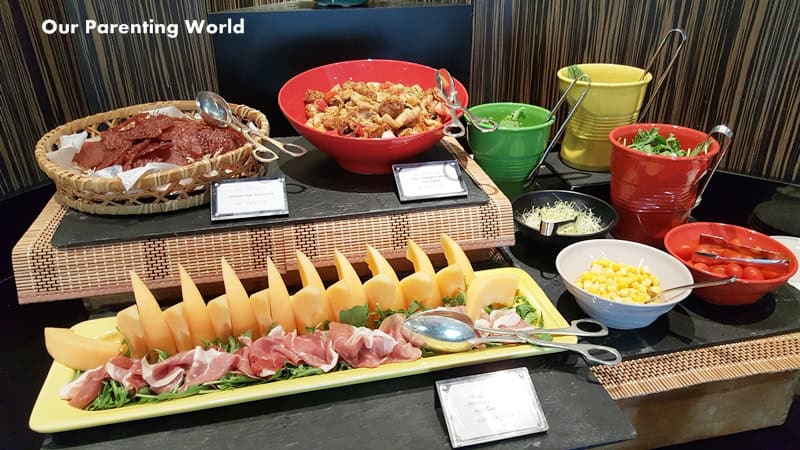 We visited the Club Lounge during the evening cocktails starting from 6pm to 8pm. It serves a wide spread of delicious food which include 3 hot dishes like sugar crane prawns, mini chicken satay pizza with pineapple puree and prawn paste chicken lollipop. Other food items like cold cuts, assorted breads, cheeses, pastries and many more! A variety of drinks are available including a selection of wines and cocktails. 
Enjoy your food and drink while overlooking a scenic view of the City. It is a good place to relax and chill out. 
Special mention to the excellent services at the Club Lounge, we are very impressed with the attentive and friendly services provided by the staff! 
The Meritus Club Lounge benefits and privileges include:
Exclusive check-in and check-out

VIP Welcome amenities

Buffet Breakfast from 6.30am to 11am

Light snacks and refreshments

Daily evening cocktails from from 6pm to 8pm

All-day coffee, tea, and refreshments

Complimentary Internet access

Complimentary use of the Meritus Club Boardroom for 2 hours per day; subject to availability (non-accumulative)

Complimentary pressing or normal laundry of 2 pieces per day (non-accumulative)

Complimentary local telephone calls

Complimentary local newspaper

Late check-out up to 2pm; subject to availability
To find out more about Meritus Club Lounge, please click HERE.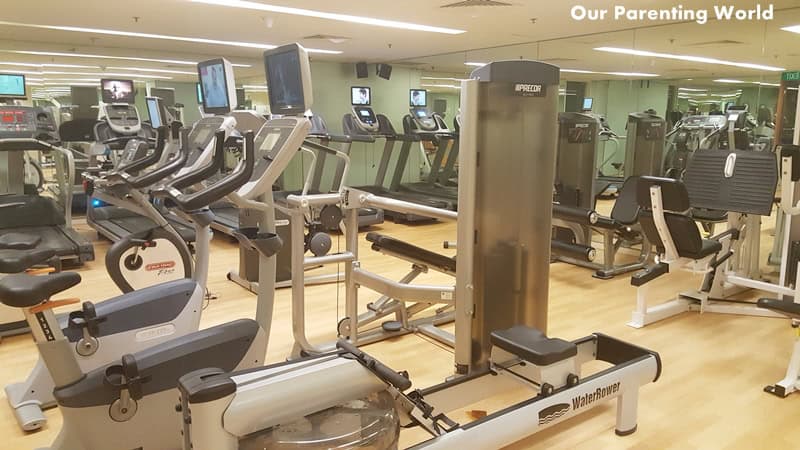 Eat too much, want to burn off excess calories or just to keep fit, head off to the well-equipped Fitness Centre gym located at Level 5.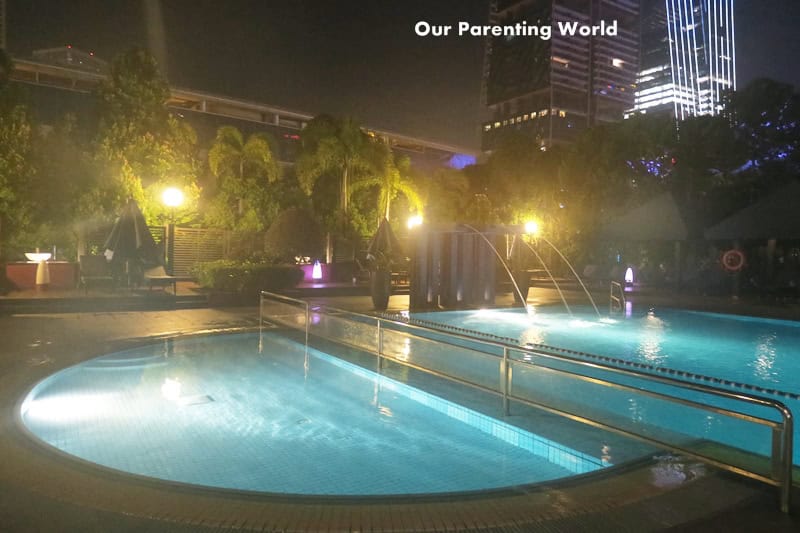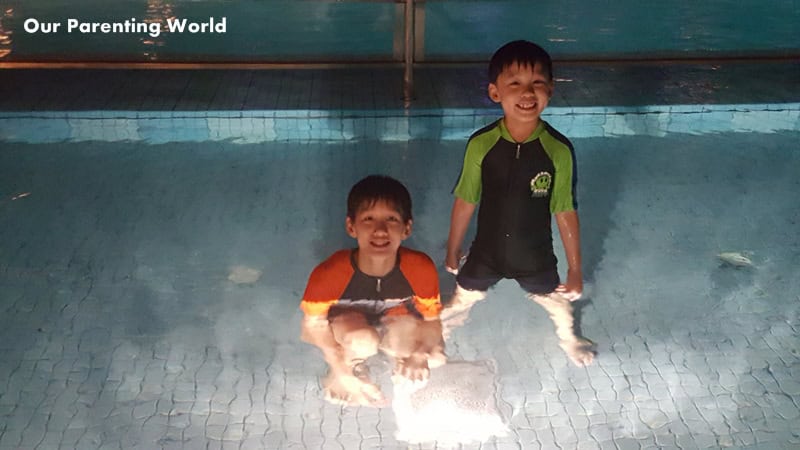 When you stay at Marina Mandarin, you must try out its mineral water pool located at Level 5. The pool water is purified by the National Aeronautics & Space Administration (NASA) patented Carefree Ionisation system to create a pool of 100% mineral water. The mineral pool does not use chlorine and is very popular with hotel guests.
This water pool is one of the first in Singapore and at Marina Mandarin, it boasts a 25-metre mineral water pool. Have fun, go swimming and enjoy the mineral pool!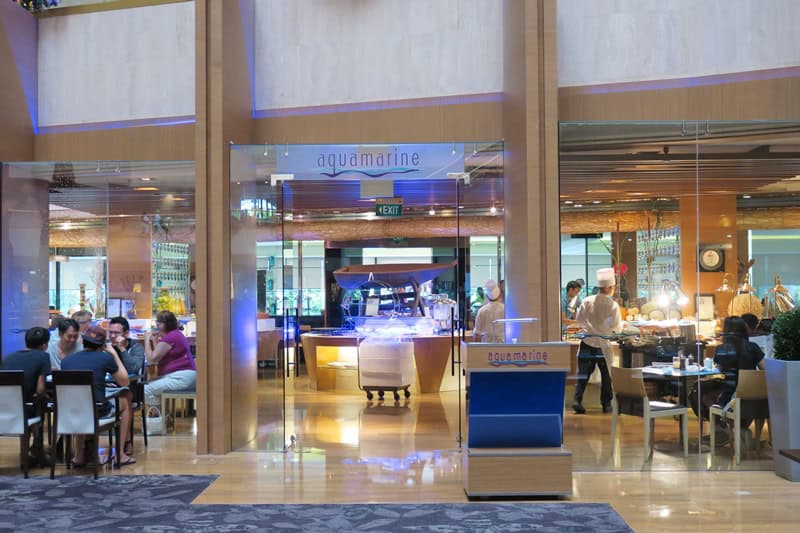 Rise and Shine! 
Breakfast is served at the very popular AquaMarine Restaurant located at Level 4 Atrium. AquaMarine has Halal-certified food buffet stations. The buffet spread is extensive, and you can feast on both Asian and Continental choices. For Asian, there are Japanese sushi, Indian rice and curry and Chinese noodles. You could also order different types of eggs from the eggs station. Whatever your preferences are, you can be sure to find your favourite food at the Breakfast buffet.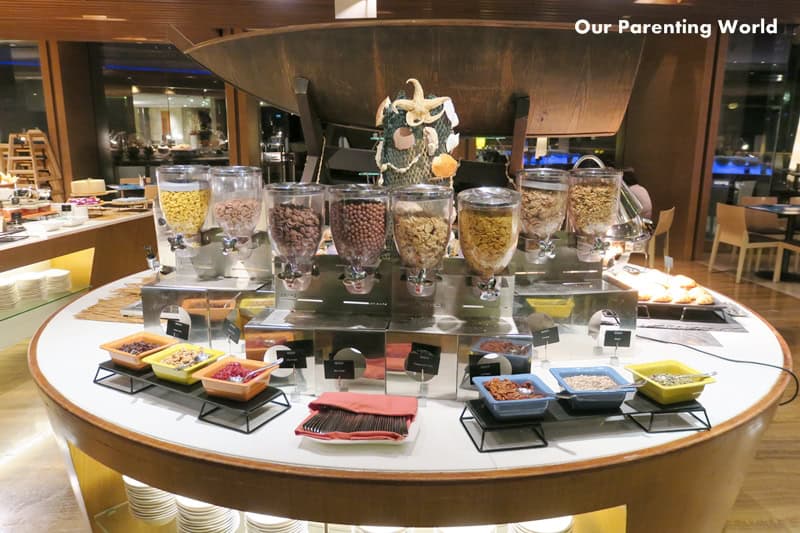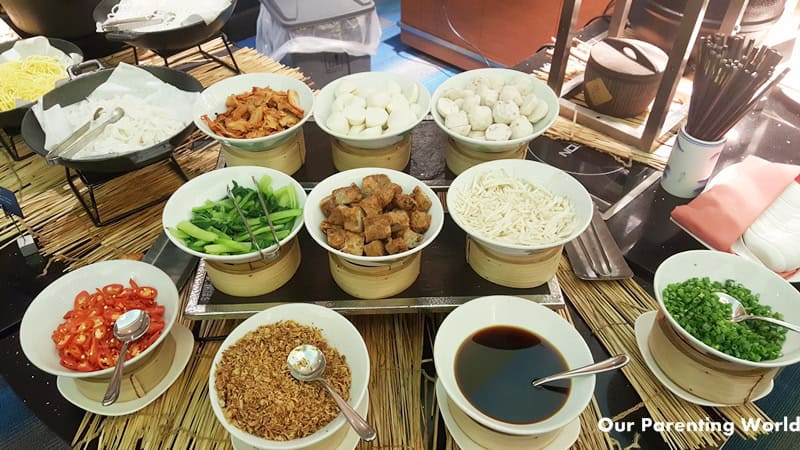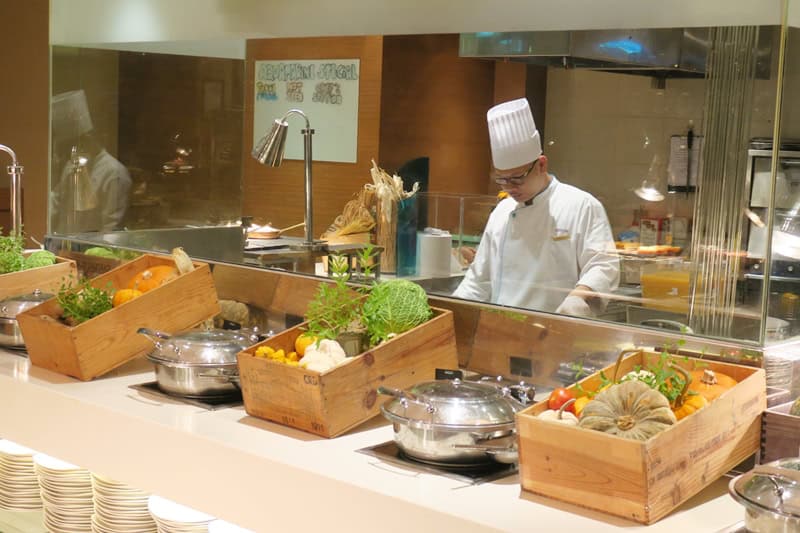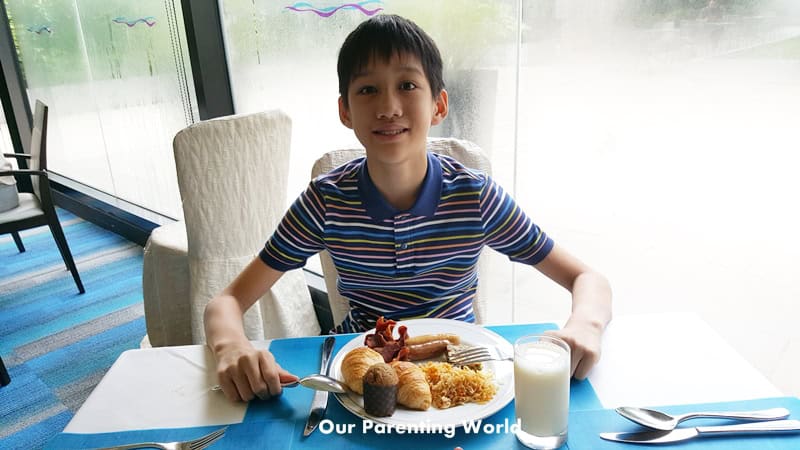 We have such a sumptuous and delicious breakfast at AquaMarine. What a great way to start the day!
Our Parenting World team have always been impressed with the delectable food and impeccable services at AquaMarine. We have earlier reviewed the food at AquaMarine, you can read about them as follow: 
1)http://ourparentingworld.com/indulge-in-detectable-buffet-spread-at-aquamarine-at-marina-mandarin-for-lunar-new-year-celebrations/
2)http://ourparentingworld.com/festive-feasting-at-aquamarine-marina-mandarin/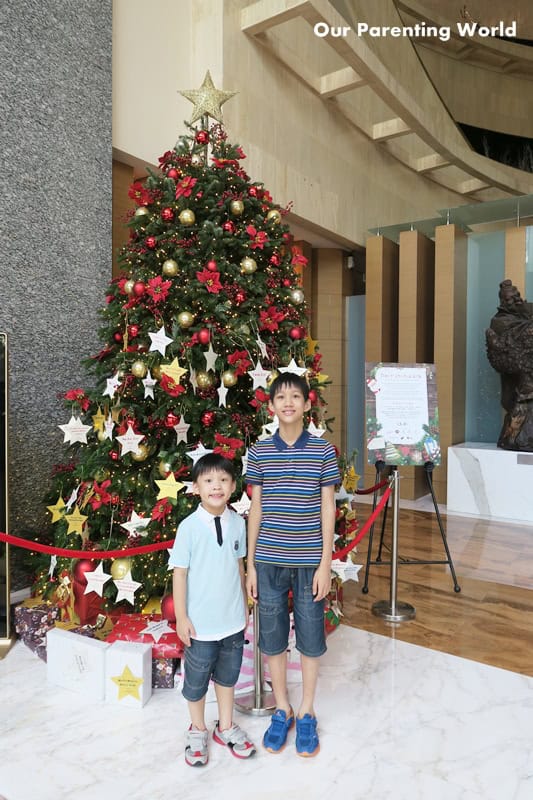 This is not the first time we have been to Marina Mandarin Hotel and each time, we thoroughly enjoyed our stay and are impressed with its services. It is definitely suitable for busy family who wants to have a short relaxing weekend getaway from home. Most importantly, it is a great way to spend family time together at this beautiful and luxurious hotel! 
We would like to thank the organisers and all at Marina Mandarin for the wonderful stay at the hotel. Here, we would like to wish everyone, Merry Christmas and a Happy New Year!
Marina Mandarin Singapore
6 Raffles Boulevard
Marina Square
Singapore 039594
Tel: (65) 6845 1000
Fax: (65) 6845 1001
To find out more about Marina Mandarin Singapore, please click HERE