Universal Studios Singapore's latest brand new experience is based on DreamWorks Animation's hit movie Trolls where visitors can look forward to step into the happy and colourful world of TrollsTopia. Join the ever-optimistic Poppy and her ever prepared Branch on a journey filled with music, heart and hair-raising adventures. Experience a new immersive world with two all-new musical shows, a glitter-filled dance party, as well as exciting virtual reality games. TrollsTopia is included with theme park admission. Additional charges may apply for select experiences from 9 March to 29 April 2018.
Let Our Parenting World (OPW) team brings you to the fascinating world of TrollsTopia at Universal Studios Singapore as follows: 
Two Live Musical Shows: TrollsTopia and Hug Time Trio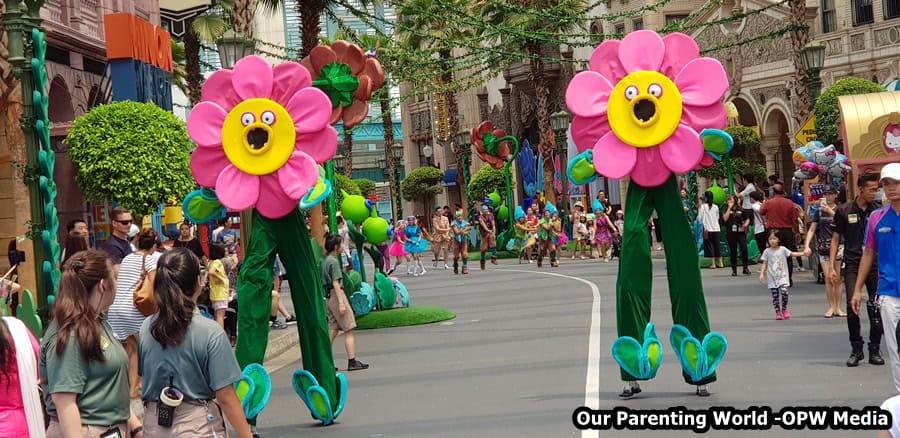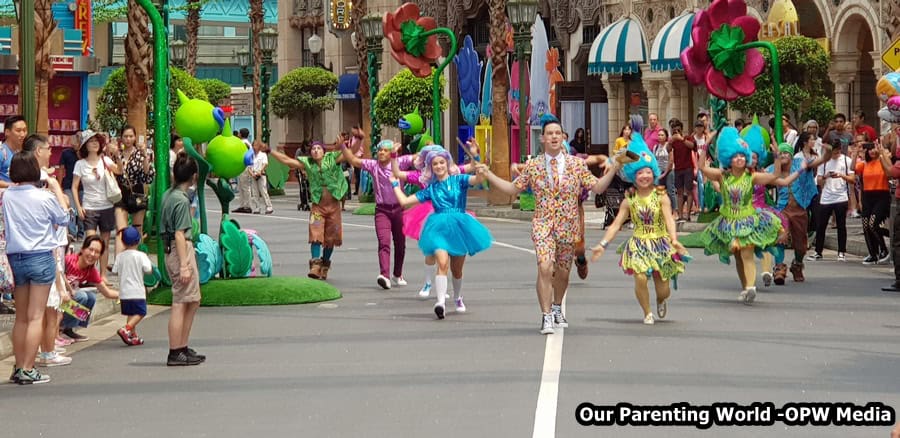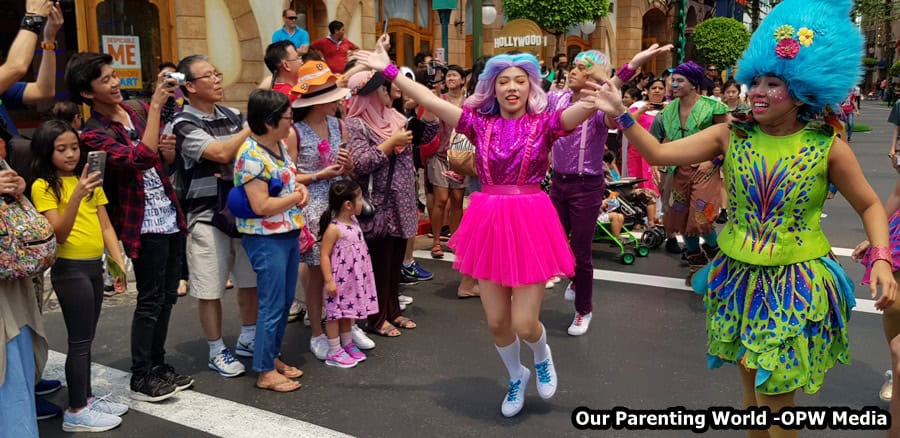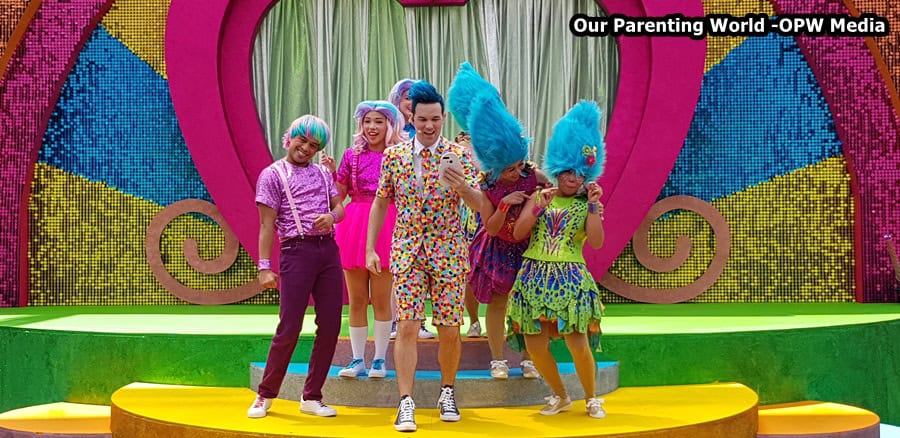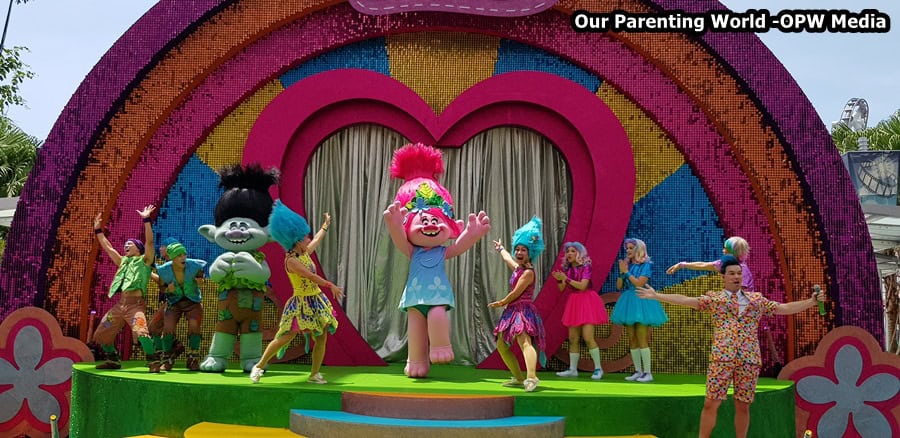 TrollsTopia Show
Audience is all gear up to join the eternally optimistic Princess Poppy and her fun-loving friends as they come together to celebrate her coronation as the Queen of DreamWorks TrollsTopia at the shimmery rainbow-inspired Hollywood Lagoon stage!
Cheer and tap your feet along to the hit songs from the Trolls soundtrack such as Justin Timberlake's 'Can't Stop The Feeling'. We just can't help feeling happy, singing and dancing along with Trolls Queen Poppy and her friends.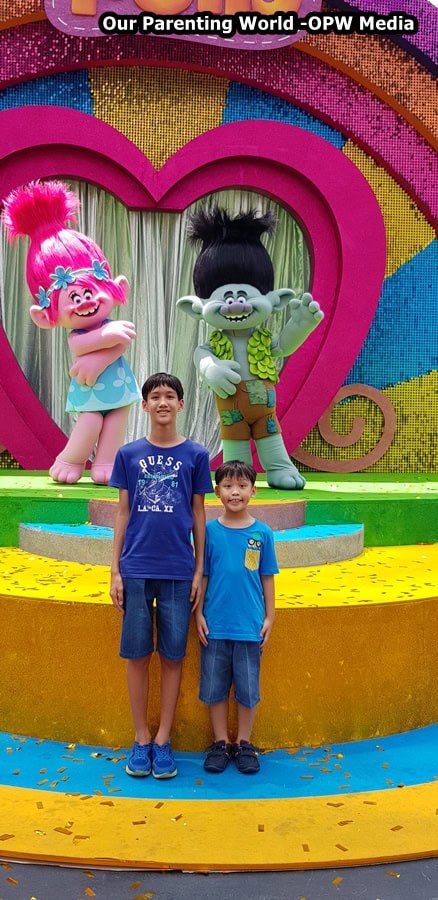 After the show, get up close with the adorable duo, Poppy and Branch for a warm, fuzzy hug time and memorable photo moments.
Hug Time Trio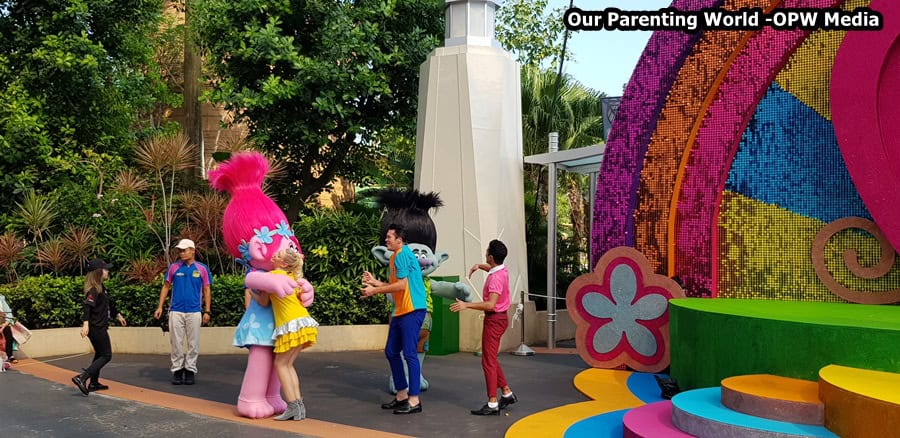 Groove to the beats and sing to your heart's content, join the dynamic Hug Time Trio who will belt out up-tempo songs from the Trolls animated film and top 40 hits.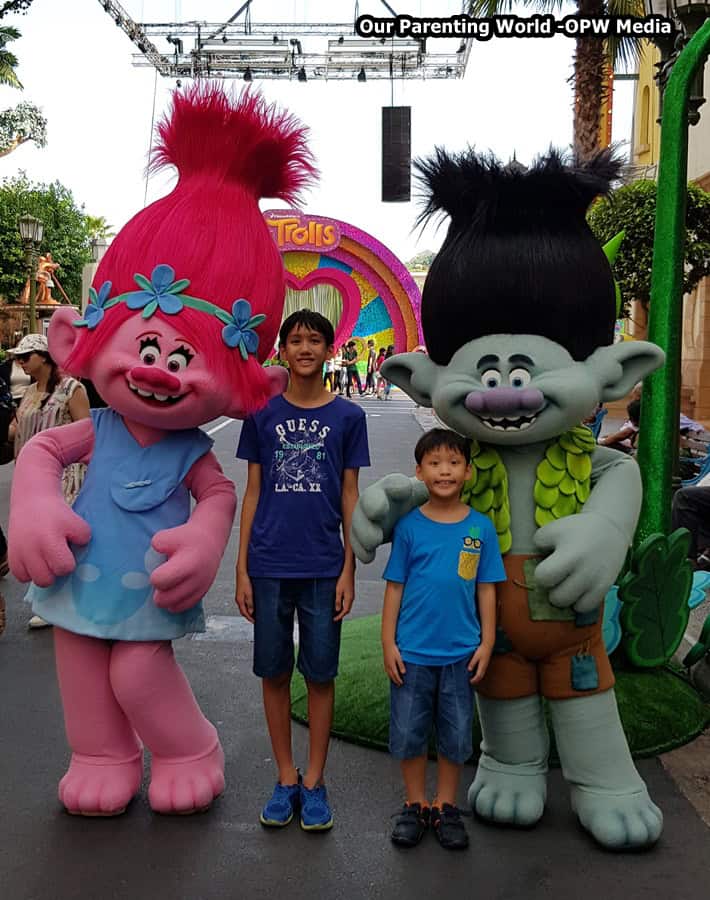 Get up close and personal with adorable Poppy and Branch for photo-taking after the show! 
Trollify Yourself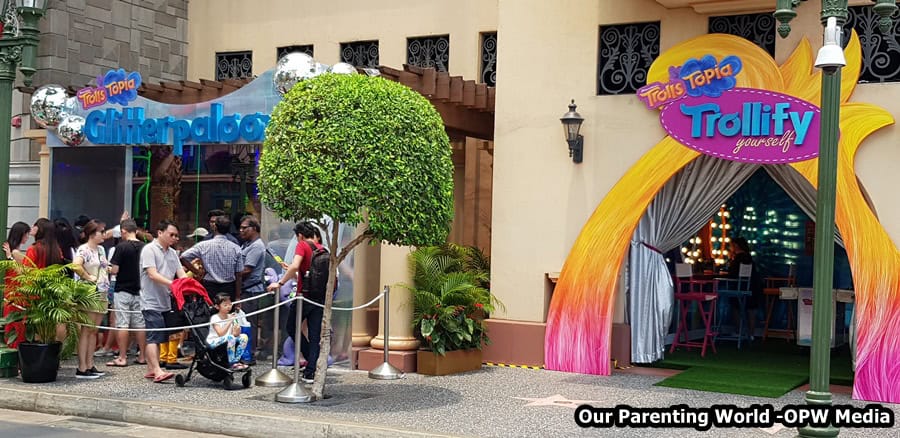 Visit Trollify Yourself station to experience the ultimate Trollification with face painting, temporary tattoos, and the signature DreamWorks Troll wigs, for a picture with favourite DreamWorks Troll characters, larger-than-life flowers and or your very own Trolls-selfie moments. 
Glitterpalooza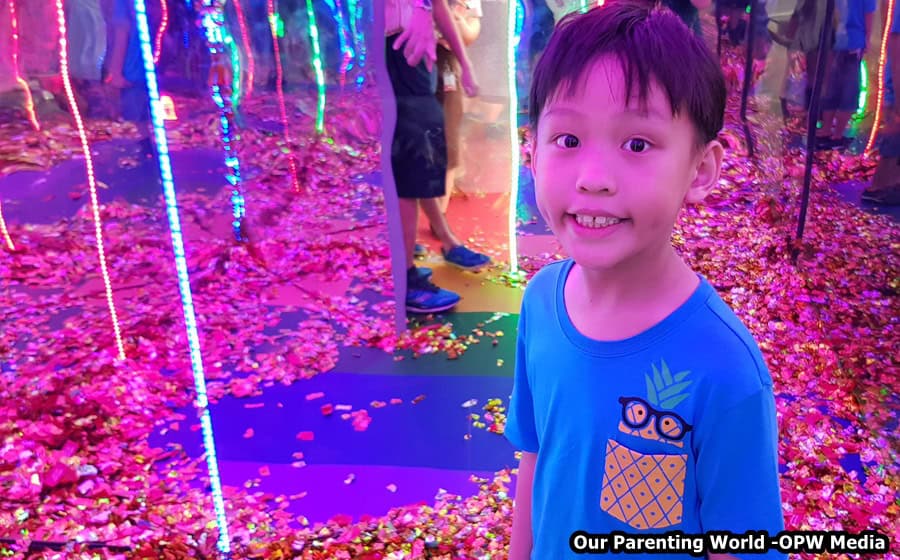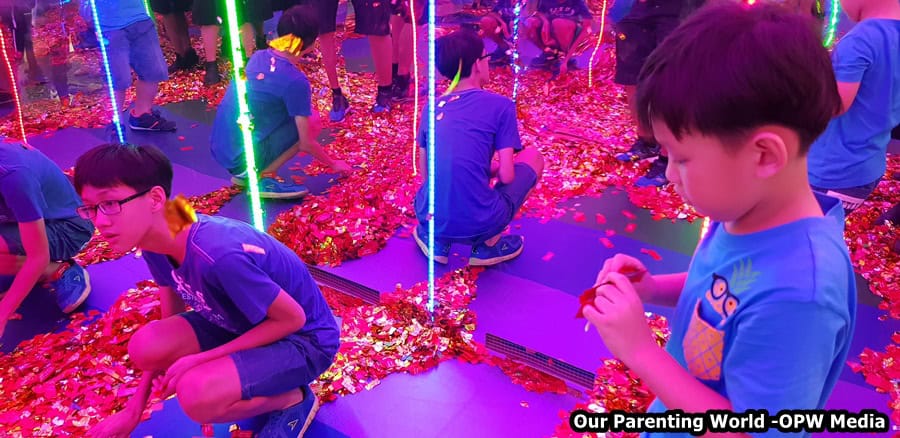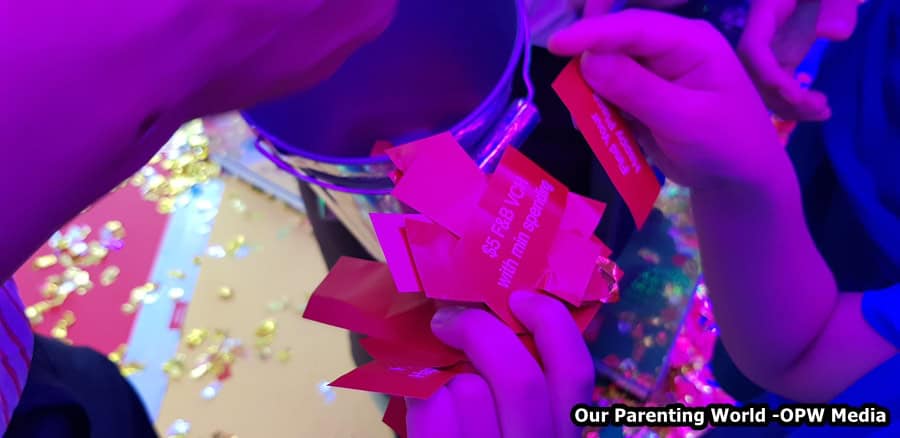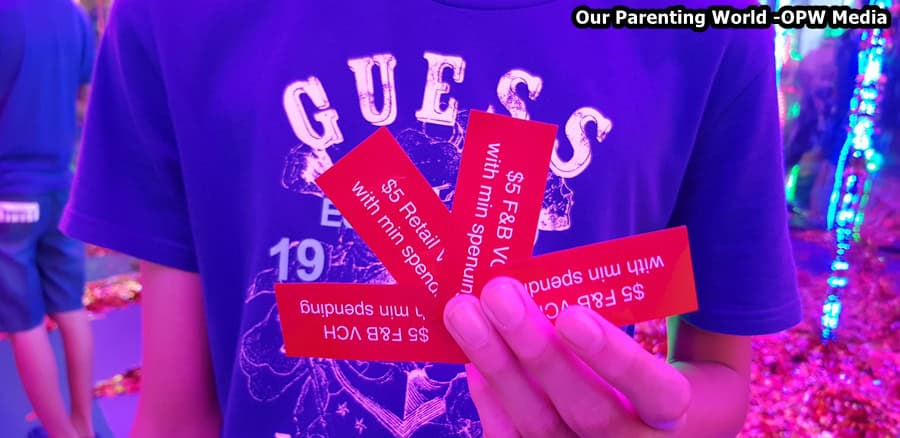 Both Trollify Yourself and Glitterpalooza stations are located side by side near to the shimmery rainbow-inspired Hollywood Lagoon stage. Step into this glittery confetti wonderland, you can poise, dance and take some instagram worthy glittering moment however do take note, you have 30 seconds inside the box to catch the confetti to win some exciting prizes flying through the air. Hint: Please collect only the red tags that contain prizes to be won! 
Trolls Virtual Reality Experiences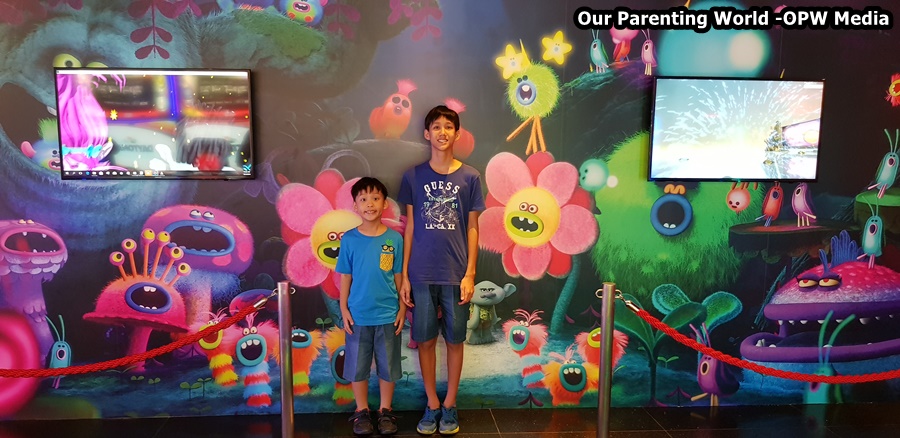 Visitors can participate in two different multi-dimensional virtual reality (VR) consisting of VR Beat Feat and VR Troll Art. Both VR stations are located besides each other.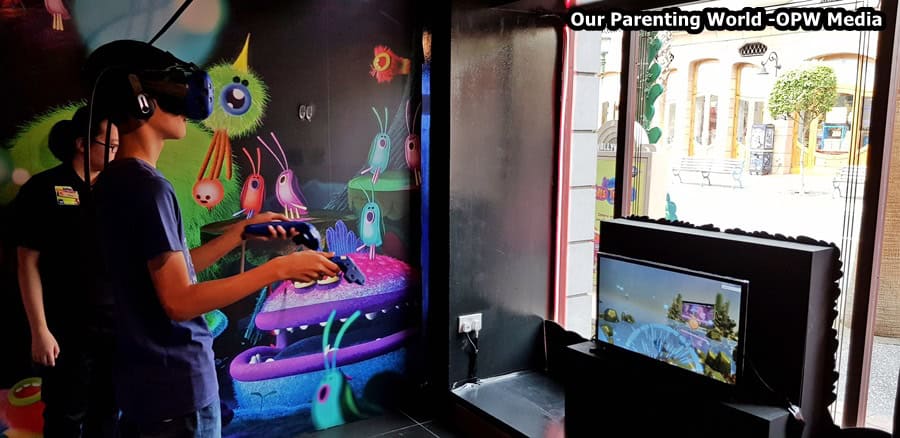 VR Beat Feat 
Participants can wear VR goggles for both VR stations and immerse into a vibrant virtual reality world. At this station, you can feel the harmony, dance to the rhythm and take part in a thrilling VR music video game and 'bash the beats' from the catchy soundtrack of Trolls.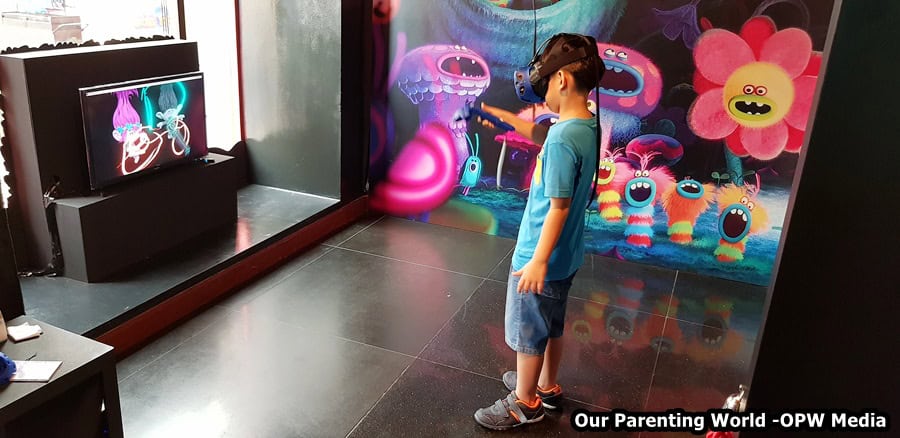 VR Troll Art
Using state of the art VR goggles, you can unleash your talents to create 3D virtual art using all the colours of the rainbow with Tilt Brush and the symphony of colours from the world of DreamWorks Trolls. 
Both add-on experiences are available at the Hollywood China Arcade which features old school arcade machines, from racing games to classic claw crane machines.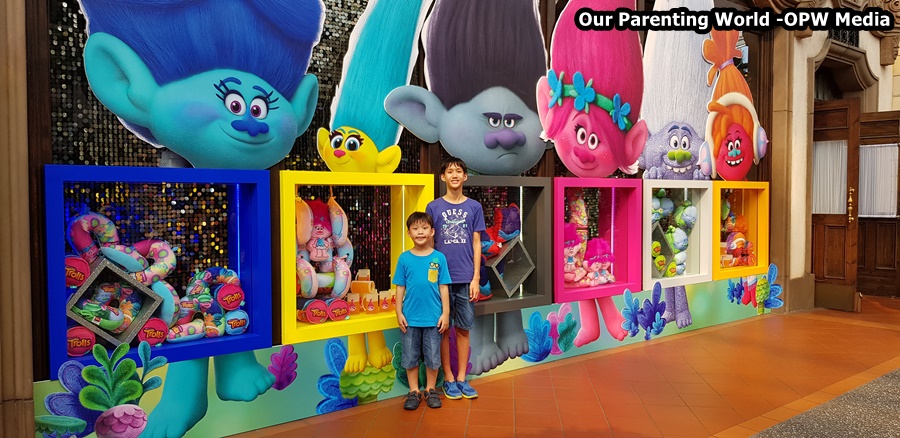 Fans, you can indulge in Trollific Finds at Universal Studios Singapore! 
Enter the happy place at DreamWorks TrollsTopia, the first ever experience of its kind based on the DreamWorks Trolls franchise to arrive at Universal Studios Singapore from 9 March to 29 April 2018 that the whole family can have an enjoyable and fun time together! 
Additional Information: 
DreamWorks TrollsTopia is included with regular park admission, where guests can also continue to enjoy the adrenaline-filled rides and world-class attractions at the theme park. Additional charges apply for the VR experiences and Trollify Yourself. 
Singapore residents enjoy online savings on admission at S$72 for an adult one-day ticket (U.P. S$76), along with a complimentary S$5 meal voucher. For more information, please visit www.rwsentosa.com/uss/trollstopia.