We have been searching for a while for the right study table and chair for our child. Our home study table and chair which are designed for adult use tend to be too high and too big for our boy. Many of the tables and chairs we viewed previously were not ideal as these were not ergonomically designed for school children to use, until we came across this special offering from ErgoEdge launching their new kid's ergonomic study desk and chair, ErgoBloom.
An ideal kid's study table and chair should grow with the child; as children tend to grow up quite fast during the school going age. If we don't change the table and chair, they will outgrow their study table quickly and thus the table maybe too low and compromise their posture, causing them to slouch if they continue to use the same table.

Now with ErgoBloom, both the table and chair can be adjusted according to the child's height as the child grows, in a way, the table and chair "grows" with him as they can be adjusted to fit the child's taller stature when he grows. It is almost like having a custom made study table and chair constantly for the children at home.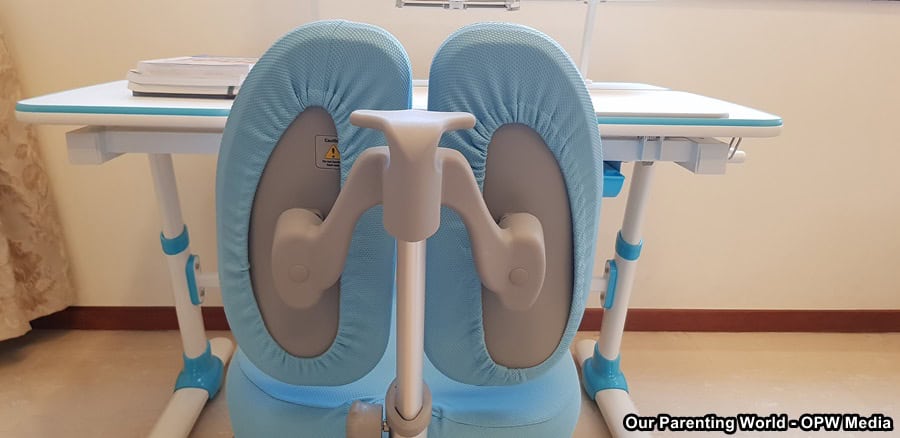 Another important point when choosing the right kids table for studying is POSTURE. 
As parents, we are rightly concerned with our child's posture. Good posture is crucial!
Poor posture not only affects the children's physical look when they grow up, it can also reduce their confidence, not to mention long term damage to their musculoskeletal system including misaligned spine and chronic backache.
With the ErgoBloom range of BloomDesk and BloomChair, these are ergonomic study desk and ergonomic study chair which will always fit them perfectly.
In the time we've used it, it's noticeable how our kid sit and study more comfortably. This in turn result in our kid being more effective in his learning process and thus achieve better academic results.
A unique feature of the BloomChair is that it comes with a Flexible Split Backrest, similar to some of the high-end office ergonomic chairs.
This reduces pressure to the spine by nearly 75% by automatically adjusting to any shifts and movements in the spine. What's great is that your kid's spine gets the support it needs – eliminating slouching, back and shoulder aches – to sit and study comfortably.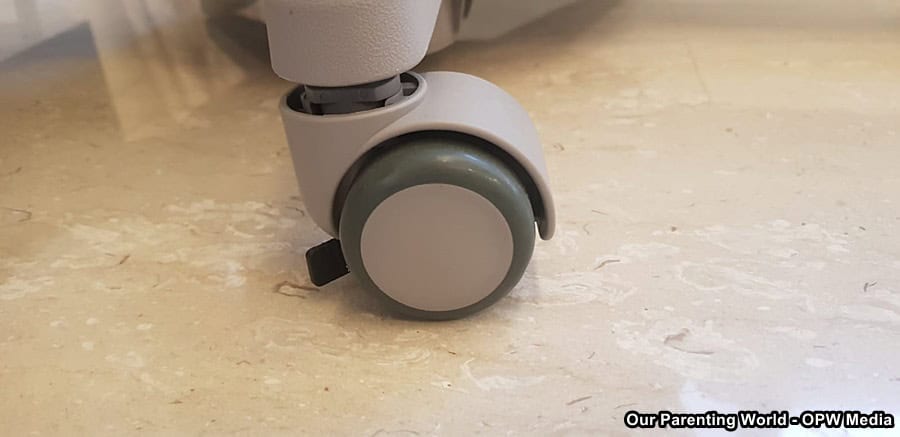 The chair comes with additional features like double lock design, washable cushion cover, aluminium support frame and self-braking caster.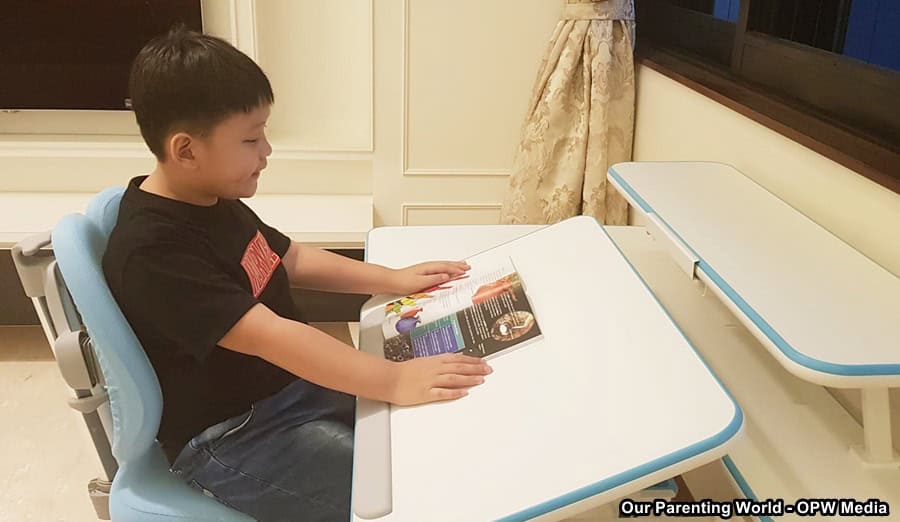 Unlike the conventional study table which are flat, the BloomDesk surface can be slightly slanted upwards for better ergonomics when the child writes or reads. With this slight slanting angle (0 – 25º), it brings the books closer for more comfort in reading or writing.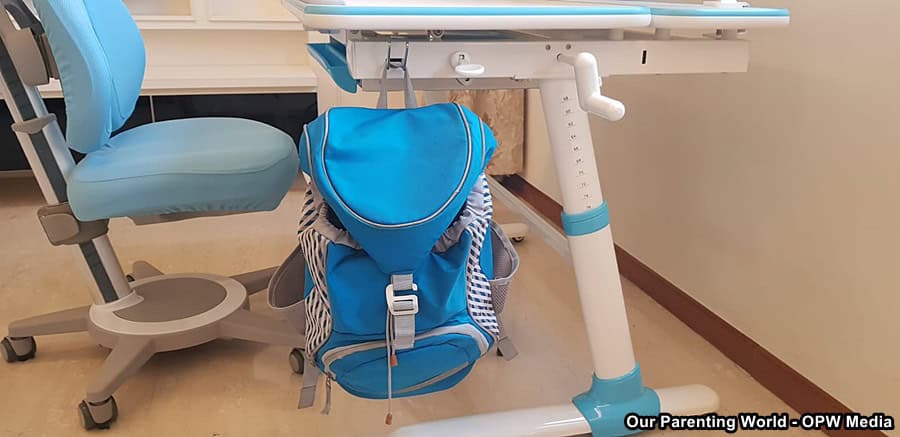 The BloomDesk's star feature is its Easy Glide Crank that easily adjusts the desk's height (from 58cm to 80 cm), so you can make the desk a perfect fit for your child's comfort.
There are additional useful functions like a side hook for your child's school bag to save space, and a non-reflective surface to protect your child's eyes and help to reduce eye strain.
Built in drawer that is spacious enough to put A4 paper, stationery and keep the table tidy.
Foot stand reduces pressure to the knee and strain to the feet.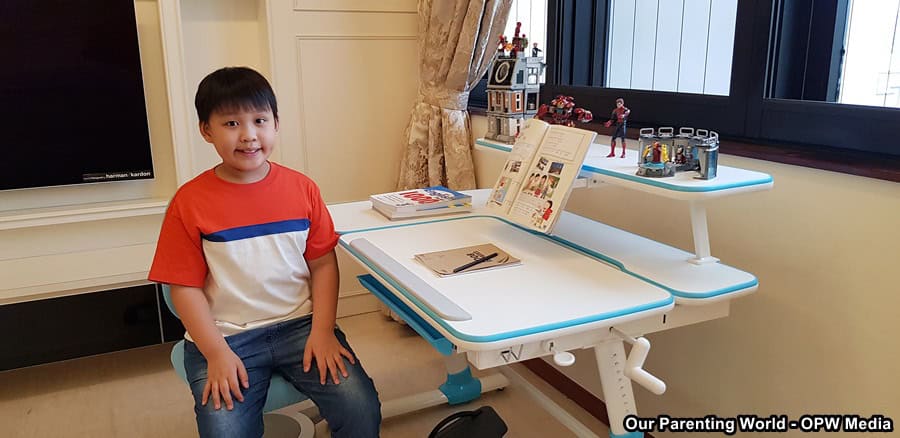 If you get the value bundle with the table and chair, you will get extra accessories like a foot stand, wrist pad and additional self for free which is a very good deal!
We let our boy tried the BloomDesk and BloomChair, after adjusting them according to his height, he mentioned that they are very comfortable to use, for reading, writing and even computer work. It is very easy to adjust the desk and chair, and if you have more than one child at home to share the table and chair, you can adjust the table and chair to suit each child when they use.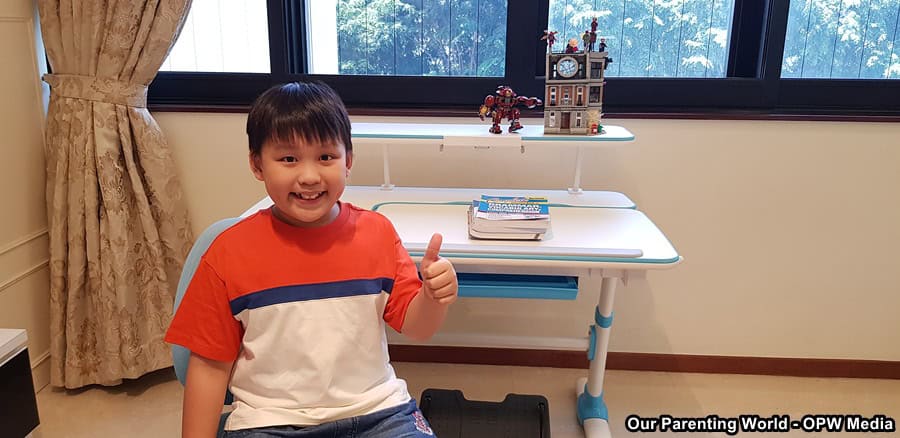 We live in an era where our kids spend an insane amount of time at their desk. The ErgoBloom is the perfect partner to ensure your kids develop the right posture in their critical development years. We recommend this for any kids in their school going age.
GIVEAWAY CLOSED   <GIVEAWAY ALERT> 
To celebrate the launch of ErgoEdge's Kids Ergonomic Series "ErgoBloom" ErgoEdge is giving out 3x ErgoBloom Bundle to 3 Lucky Winners! To participate, head over to Our Parenting World FB page to find out HOW! 
Contest ends 29 September 2019, 2359hrs. Winners will be announced on ErgoEdge's Main Giveaway post, so stay tuned!
<GET YOURS NOW AT $58 OFF>
In addition, readers of Our Parenting World will be entitled to $58 off all ErgoBloom product if you quote the promo code: "OPW58" if you purchase within 1 month from the publication of this article.
 <TO PURCHASE>
Visit ErgoEdge Website to buy directly or; check out their showroom at the following address:
ErgoEdge
110 Lorong 23 Geylang, #07-09,
Victory Centre, (opposite Alijunied MRT)
Singapore 388410