ESTA's natural plant based hand sanitiser with the refreshing scent of Yuzu ushers in the Year of the Tiger Chinese New Year 2022, with certified efficacy to kill 99.999% of SARS-CoV-2 Covid-19 virus. This ESTA's collectable design of the Porcelain Pocket Hand Sanitiser was sold out previously and is now back due to popular demand. The new collection comes with a Lunar New Year Crane Collection design, in pink and blue, making the "ESTA Yuan Yang Gift Set" an attractive gift for your friends and family.
ESTA products are proudly designed, developed, and made in Singapore.
ESTA Hand Sanitisers, Air & Surface Sanitisers to now the new ESTA Foaming Hand Soap (launched in November 2021), are plant based and derived from natural botanicals, non-toxic, and with long lasting 24 hours continuous protection, with its key active antimicrobial agent "UltraBactech". For the ESTA Air and Surface Sanitiser, if left untouched, the efficiency in killing of the microbes will last up to 90 days.
ESTA Hand Sanitizers are Eco-Friendly and use a twist and spray refillable bottle. ESTA Hand Sanitizer is also multi-purpose and can be used to disinfect products that are commonly used with high touchpoints such as handphones, wallets, keyboards, bags and on materials such as plastic, metals, leather, fabric, silicon and wood.
In preparation for the Lunar New Year season, to spring clean the house, ESTA Air & Surface Sanitiser is the ideal choice to clean and disinfect your house from Covid-19 SARS-CoV-2 with speed and efficiency, leaving the house smelling fresh and clean.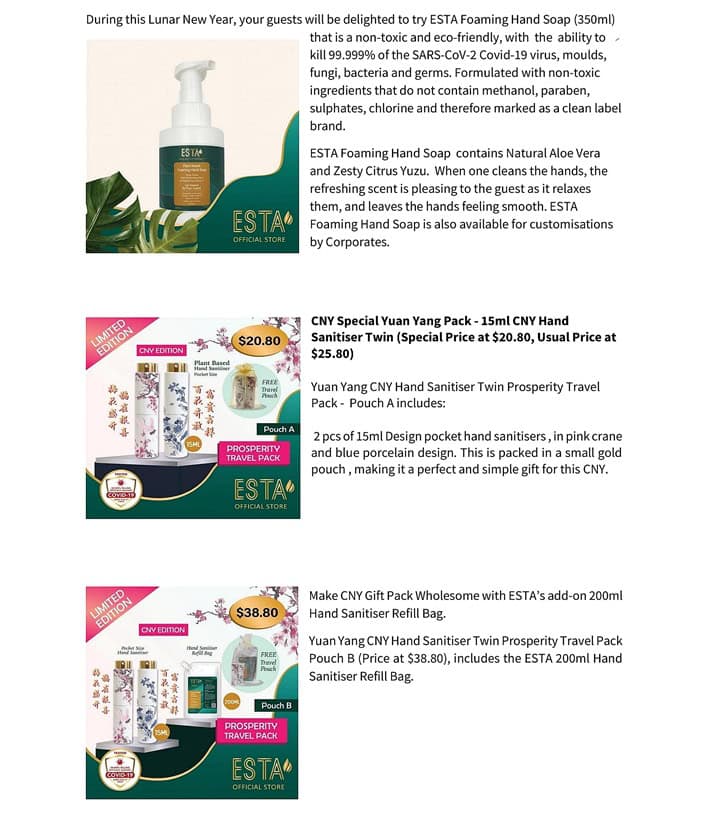 All images credit to ESTA Technology
In addition, ESTA Technology has also proudly launch the floral based ESTA ULTRABloom. Made purely from botanical floral sources, with a subtly sweet fragrance, ESTA ULTRABloom is the first of its range under ESTA Technology Pte Ltd. It is alcohol free, thus suitable for sensitive skin and is also kid friendly. Non-alcohol sanitisers are moisturizing and good for use daily. The alcohol in sanitisers, to some extent, takes away the natural moisture from the skin. ULTRABloom foam hand sanitiser kills 99.99% of microbes, including bacteria, yeast, viruses, fungi and mould.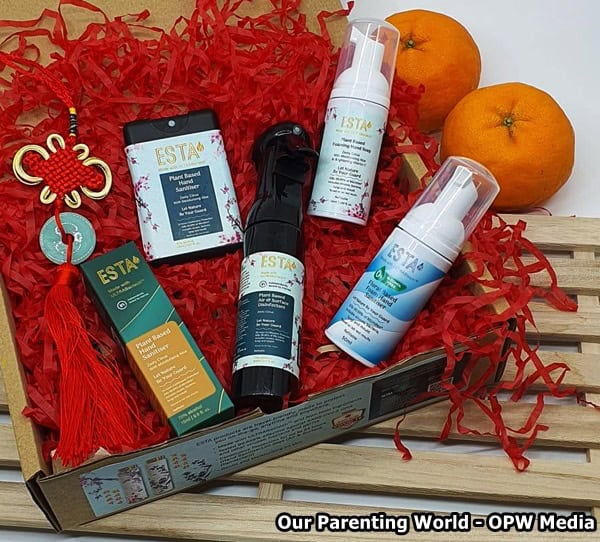 Get your plant based ESTA products for your protection and guard this Lunar New Year! Enjoy 10% discount storewide at https://es-ta.com till 31 March 2022, with the Promo Code: ESTAxVU10.